Site Search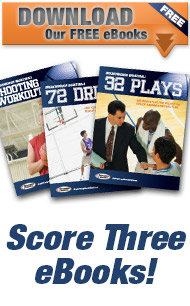 Q & A Forum
Experienced coaches are ready to answer your basketball questions! Visit our forum
Camp Instructors
Adam Hepker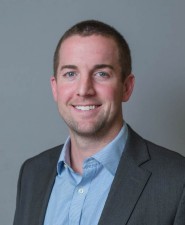 Coach Adam Hepker was the starting point guard for Coach Lamar at MidAmerica Nazarene from 2004 - 2008. They qualified for the national tournament in each of his four years, advancing to the Final Four three times and winning the National Championship in 2007. Hepker earned All-American honors his sophomore, junior, and senior year, and was MVP of the National Tournament in 2007.
Some of Coach Adam Hepker's credentials include:
Currently, Adam is is the Lead Assistant at Ottawa University in Arizona
Coach Hepker was the Lead Assistant at Grand View University in Des Moines, Iowa for the last two years
Three years with MoKan, the top AAU program in the Midwest


Coached 16U Select and now 15 Elite's the last two years


Hepker has coached multiple D1, D2 and NAIA guys in those three years


At MNU he coached two All Americans himself but was part of a program that has had 28 total


Adam worked at Rocky Lamar's Fundamentally Driven Basketball Camp for 5 seasons, in that time working with over 3000 campers


Hepker has worked for a coach that has won over 650 games


Adam was named the HAAC Player of the Year in 2007 & 2008


He has been named a Champion of Character Award winner, and was a two-time NAIA-Daktroncis Scholar-Athlete


He was elected to into the MidAmerica Nazarene's Hall of Fame in 2013


Played professionally in Germany for a year and a half season in the ABA in Kansas City
Adam Short


Coach Adam Short is currently the Assistant Men's Basketball Coach at State Fair Community College in Sedalia, Missouri along with coaching for MOKAN where he has coached & mentored over 20 college players ranging from Division 1 to JUCO. Coach Short has also helped MOKAN win several national and regional tournaments. He also helps lead the youth side for MOKAN
Previously, he was the Assistant Men's Coach at Missouri State - West Plains and defeated two top ten teams in the country, and helped coach four all region players
Adam played his collegiate basketball at Avila University where he was team captain and a 1,000 point scorer. Additional credentials while playing were team MVP, 2nd team all conference, and honorable mention all conference honors
Coach Short has been working Breakthrough Basketball camps for the last three years and has been receiving GREAT reviews from parents & campers
Adam Utz
Adam Utz is an All American and Hall of Fame basketball player from Mid America Nazarene University. During his college career he scored 1,826 points and pulled down over 1,200 rebounds.
The last game he played for MNU as a Senior is still referred to as "the Perfect Game". Adam was 12 for 12 from the field and 10 for 10 from the line in a night MNU fans will never forget. Adam signed a professional basketball contract with the Southern Peninsula Sharks of Australia.
Adam has coaching and training experience with players of all ages from grade school to college and professional players.
Adam takes great pride in teaching "the little things" that define tough players and winners. Doing the "little things" himself, he led a team that played in 2 elite 8's and 1 final 4 during his career.
Aundrey Wright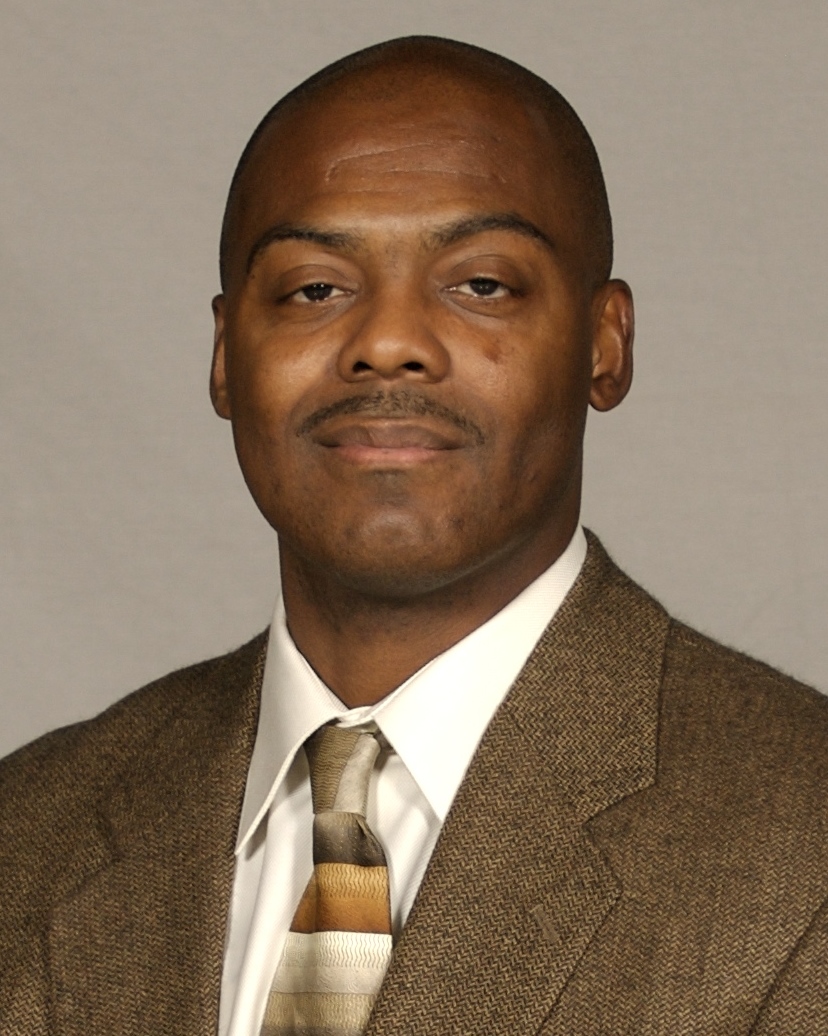 Coach Wright has over 22 years of experience including stints at 7 different colleges; man of high integrity; dedicated professional; demonstrated leader; a tireless worker and effective communicator; determined to motivate students.
Served an integral role in leading University of Indianapolis to 6 straight NCAA Tournament appearances (2010 – 2016)

Instrumental is helping Univ. of Indianapolis climb to as high at #1 in the nation during the 2014-2015 season

Developed three All-American guards as an assistant at the University of Indianapolis

At Southern Illinois, instrumental is helping team secure an NIT bid and advance to the second round

At California University of PA, instrumental is earning co-champs of the PSAC and #16 nationally ranking

At St. Louis CC – Meramec, developed All-American Mike Branson and advanced to the NJCAA National Tournament

Additional camp coaching experience includes: University of Kansas, University of Illinois, University of Oklahoma, St. Louis University, St. Mary's College, Southwest Missouri State, Stephen Bardo Camp, Ballstar, Rich Falk Basketball Camp, Shoot 4 The Stars, and a variety of Breakthrough Basketball Camps

Brett McFall
In his coaching career, Coach Brett McFall has coached over 45 D-1 players and 1 NBA draft pick.

Some of Coach McFalls' credentials as a player are:
1996 Kansas 6A State Basketball Runner-Up (23-1)
1997 Kansas 6A State Champions (22-3)
1997 Mr. Kansas Basketball
1997 McDonald's All-American Nominee
3rd All-Time leading scorer in Olathe South HS History
1st All-Time Leader in Assists in Olathe South HS History
1997-2001 = University of Wyoming Full-Ride Scholarship
1998, 1999, 2001 – 3 Post Season Tournaments
1999-2000 – 9th in the nation in 3pt %
1999-2001 – ESPN/Fox Sports "Player of the Game" – 3 occasions
1999-2000 – Mountain West "6th Man of the Year" Award (Coach's Selection)
2000-2001 – Wyoming Team Captain
2000-2001 – Barry M. Carter Award – "Most Inspirational Player"
2001-2002 - Professional Contract in The Hague, Netherlands (Europe)
2001-2002 – Netherlands "Player of the week" – 2 occasions
2002-2004 – Played for EA Sports All-Stars (USA)
2002-2004 – Lead EA Sports team in: Points and Assists
Aside from coaching high school, Coach McFall currently works with basketball players from all over the Kansas City metro area. In his small group basketball clinics (McFall Ball), Coach McFall has been able to work with more than 800 players in the past 13 years. Numerous players have gone onto the Division I, Division II, or NAIA level.

Brice Searles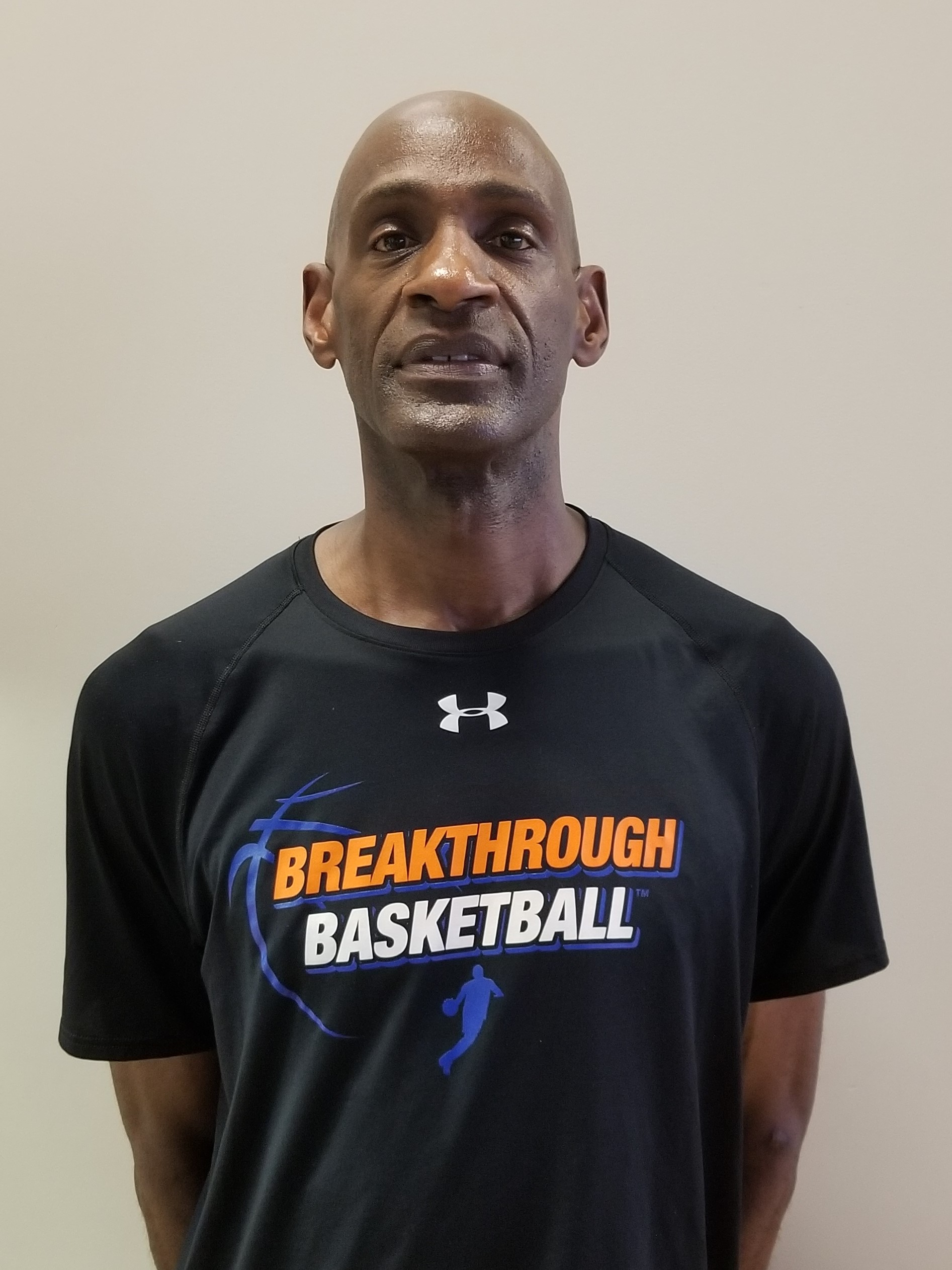 Brice is currently the assistant coach/consultant with the 4A Alaska State Champion Juneau Douglas Crimson Bears. Coach Searles himself won back to back 4A Alaska State Basketball Championships in 1996-97 and again in 1997-98 with now NBA Star Carlos Boozer.
Coach Searles does basketball clinics with Durango Parks and Recreation in Colorado the last 2 years prior to his recent move to Alaska.
Brice spent 6 years with the Los Angeles Lakers Summer Youth Camps, 2 years at the Michael Jordan Flight School, Snow Valley Basketball School and University Of Colorado Summer Basketball Camps.

Charlie Miller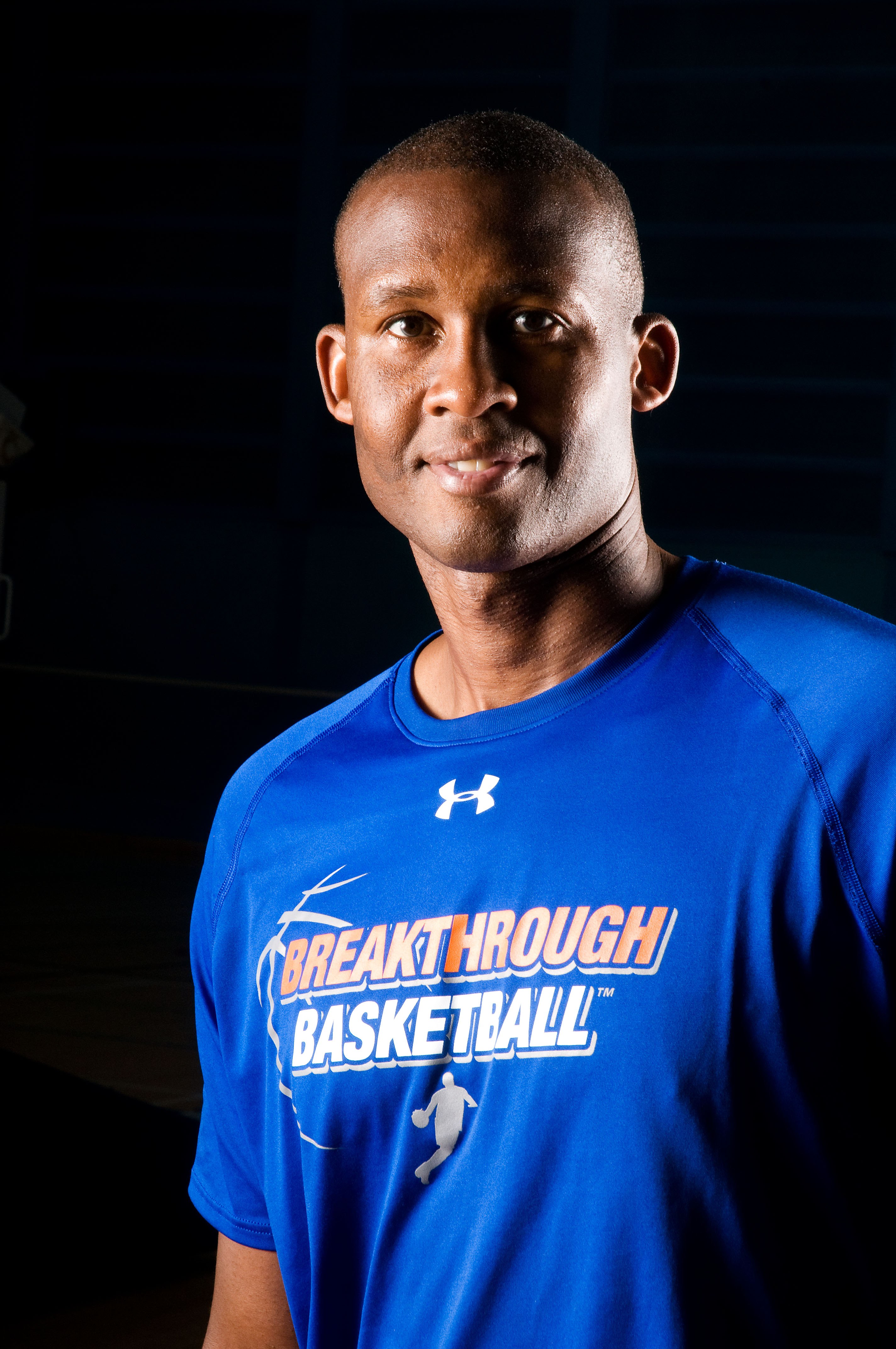 • 1990 – 1994: Lettered all 4 years for varsity basketball team at South Miami
H.S. Leading scorer in the state of Florida senior year averaging 32 points per game.
• 1994: Selected as a McDonald's All-American. In the same year selected to play in
• 1994: Florida's Gatorade Player of the Year. The player chosen for this award is
• 1995: Represented the United States in basketball at the Junior Olympics in Athens,
• 1994 – 1998: Accepted Scholarship to play at Indiana University at Bloomington under
• 1998 – 2004: Played basketball professionally across Europe and in the U.S.
Chris Oliver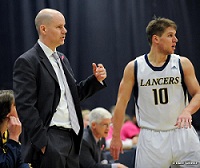 Chris has 20 years of university coaching experience. For the last 8 years he has been head coach at the University of Windsor where he has compiled a .750 winning percentage. His teams have been nationally ranked seven of the last eight seasons. He has won multiple coach of the year honors and his teams have won three conference league championships and made two trips to the elite eight. He has coached against top-level NCAA programs like Kentucky, Ohio State, Virginia Tech, St Louis and many others. His players have developed to play professionally in Europe and for the National Program.
He has a Master's in Education, a Bachelor of Education and a Degree in Kinesiology. Chris currently resides in Windsor, Ontario but travels world-wide teaching the game of basketball. To learn more about Chris, visit his twitter @Chris__Oliver, or
http://basketballimmersion.com/breakthrough-basketball-camper
Christian Hildebrandt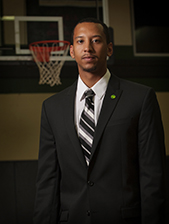 Darnell Ford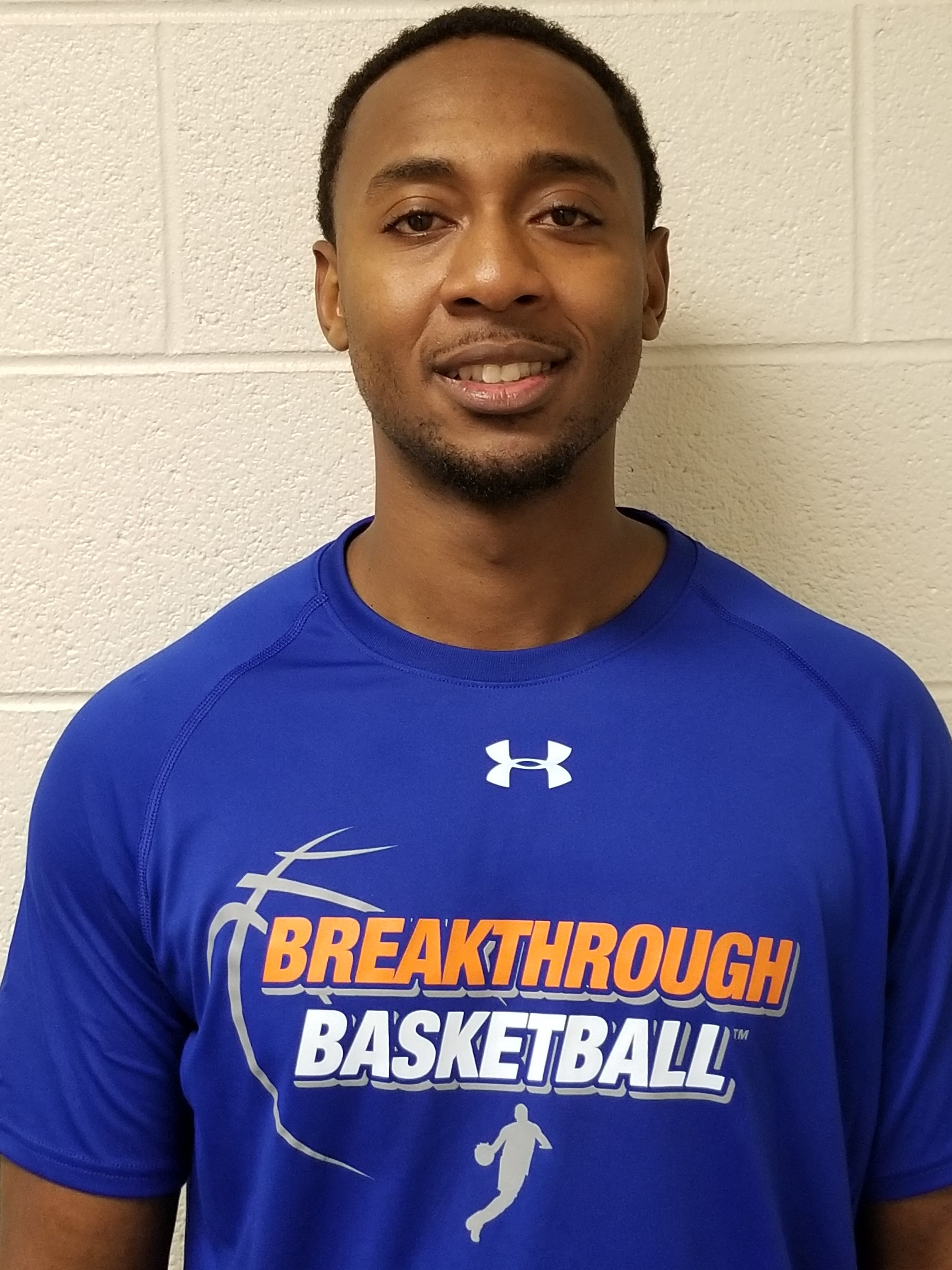 Coach Ford has been working Breakthrough Basketball camps for the last three years. Darnell brings many years of experience including:
4 years Assistant Women's Varsity Basketball Coach where he was the head of development and helped them to conference and district championships.
8+ years AAU/TRAVEL Basketball Head Coach for multiple teams, 4th - 12th grade boys & girls.
8+ years Skill Development Coach where he coached over 1,000 student athletes, 3 McDonald All - American nominees, and ten 1,000+ scorers. Coach Ford has had over 30 players go on to play at various levels of collegiate basketball.
3+ years Point 3 Basketball Alpha Trainer. This is an exclusive group as there are only 27 Alpha Trainers in the world.
8+ years Tournament, Camp, & Clinic Director
Dexter Lyons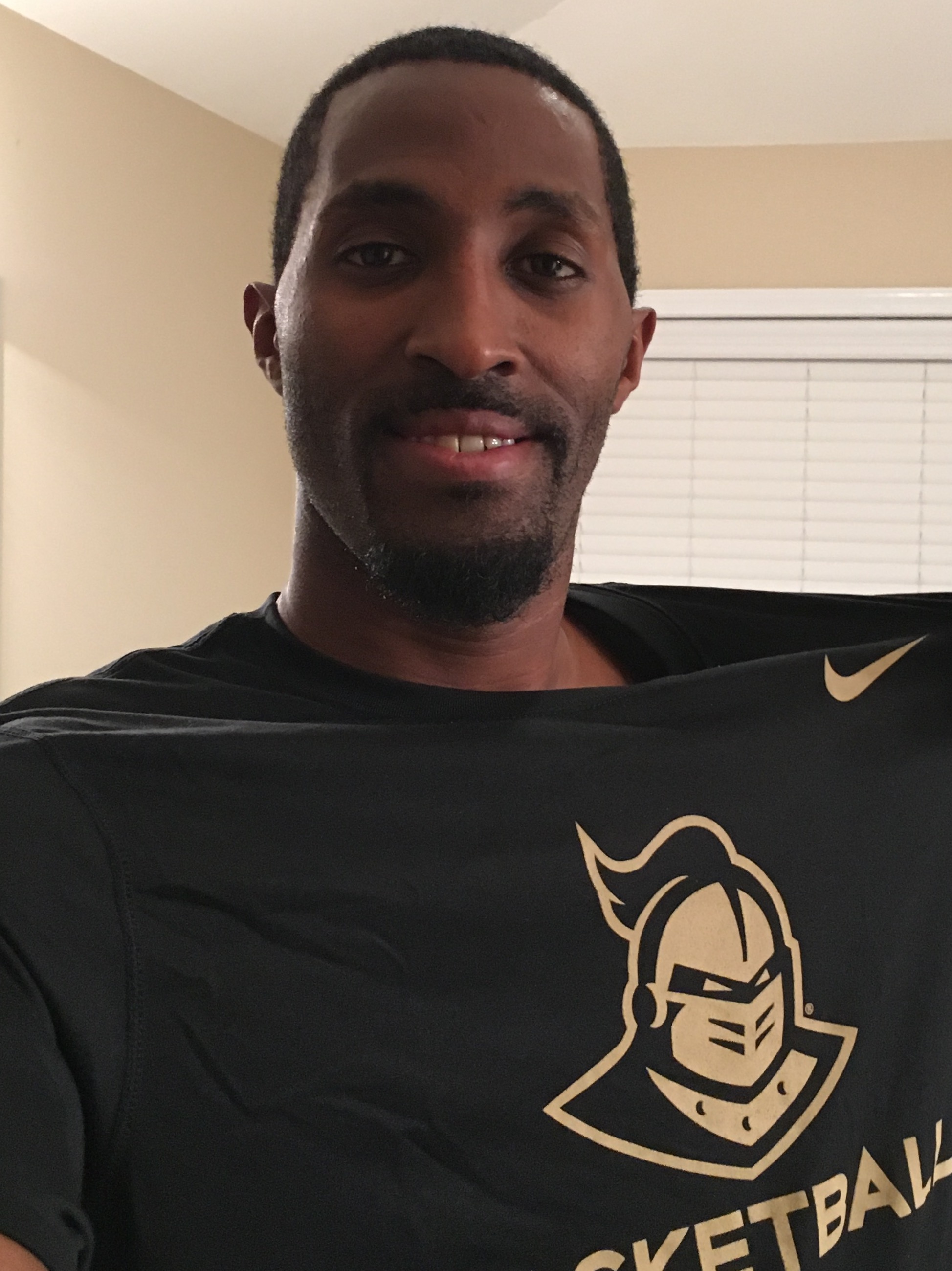 Here are some of Coach Dexter Lyons Achievements & Experience:
2000-2002 Played at Daytona Beach Community College
2002-2004: Played D1 at the University of Central Florida
2001-02: Conference Defensive Player of the Year
2003-04: NBA Summer League (Orlando Magic)
Conference Defensive Player of the Year (A-Sun), First Team All-Conference (A- Sun), NCAA Tournament Participant
2004-05 NBA Summer League (Boston Celtics), First Team All-League, First Team All-Imports, Team MVP
2006-07: 3rd Round 33rd Overall Pick in 2006
NBA Development League Draft (Idaho Stampede)
2007-08: League Champion, League Cup Finalist 2009-10: Spain LEB Silver League Champion
2011-12: Player of Week (Miyazaki)
2012-13: 2 time MVP of the Week (Takamatsu)
Camp Experience:
2003-2006 was a Camp Coach/Counselor at the Kirk Speraw Camp at USF
Held leading role as camp advisor for summer basketball program by providing direct supervision and fundamental basketball instruction to children ages 9 to 13
Assisted the Head Coach in scheduling events, and contribute to the development of plans for the basketball camp and game responsibilities
Served as Camp Coach and positive role model for children attending basketball camp by displaying enthusiasm, sense of humor and patience
Assisted daily with coaching teams, officiating games, and scorekeeping while distributing game play time equally amongst all campers
Responsible for coordinating the overall practice
Coach Dexter has been working Breakthrough Basketball camps for the last two years, mostly working around the Southeast part of the country and based in Atlanta, Georgia
Don Kelbick
Some of Don Kelbick's credentials include:

Over 35 years of basketball coaching experience at the high school, division I college, and professional levels.


Has provided individual training for more than 14 different NBA players, 50 European and professional players, and hundreds of college basketball players.


Developed dozens of basketball DVDs and books.


Has scouted for NBA teams and served as a general manager in the USBL.



Traveled to over 20 different countries training players and teaching basketball.


Conducted over 1000 basketball clinics and camps training players of all age levels.
Don Kelbick is a long time contributor to Breakthrough Basketball developing dozens of articles, products, and providing ongoing consultation for the site. He also runs the Attack and Counter Skill Development Camps which are offered nationwide.
Don currently lives in Miami Florida training players and running the Drillz N Skillz Basketball Academy He has worked with a variety of great players including Raja Bell, Carlos Arroyo, Rasual Butler, and many other college and NBA players.
Italo Araujo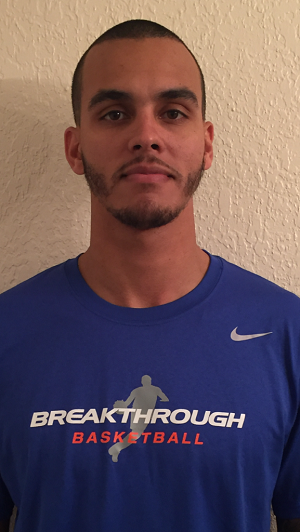 Coach Italo played for Western Wyoming Community College in 2011 where he played for two years before transferring to MidAmerica Nazarene University where he played another two years. Italo was part of a Final Four team his Junior year
Italo has been a part of the Breakthrough Basketball team since 2013, helping coach our Attack & Counter, BDT, Elite Guard, and Youth Basketball Camps
Additionally, Italo has coached for MoKan Basketball for two years, and is a Varsity assistant coach for Immaculata High School in Leavenworth, Kansas
Jamal Edwards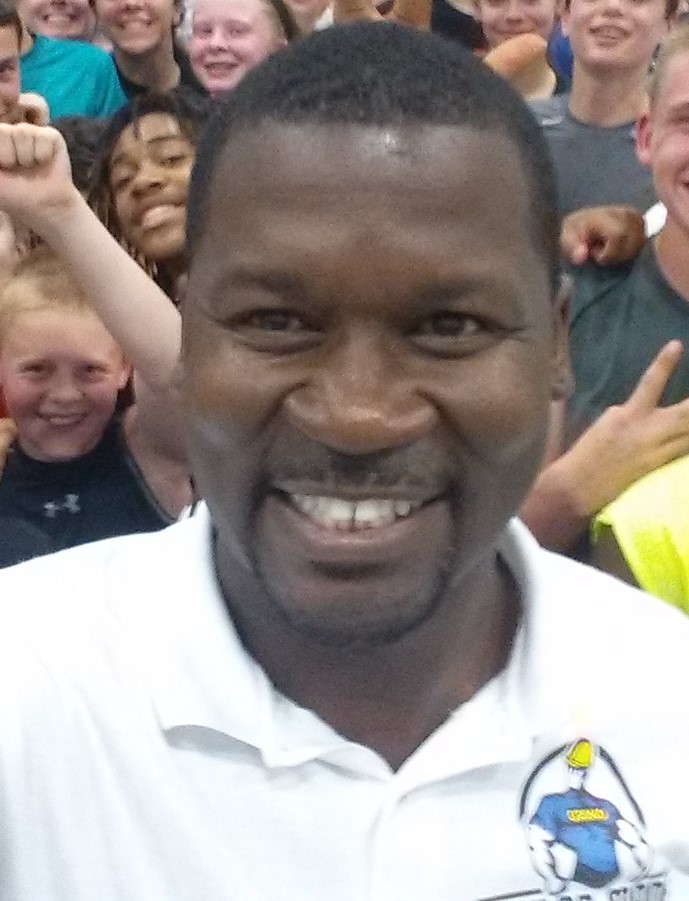 Coach Jamal Edwards has had the opportunity to learn the BDT concepts from our very own Coach Chris Oliver who has put on over 100 BDT Camps throughout the United States. Jamal's road to how he got to this point in his life is outlined below.
During a basketball course in his senior year of college, Coach Edwards had an assignment to teach one offensive drill and one defensive drill to a group of classmates. His group consisted of international students with no experience in basketball and English was their 2nd language. He felt at ease instructing his group through the drills, and it was from that experience he realized his true calling, "coaching".
Coach Edwards was invited back to be an assistant coach at his alma mater (University of Windsor) and wasted no time in making an immediate impact. Under the guidance of current Head Basketball Coach Chris Oliver, Coach Edwards mastered the key components of Oliver's Basketball Decision Training (BDT) and was responsible for player development and recruiting.
Having a desire to give back to those who gave so much to him, Coach Edwards started the Taylor Made Basketball Academy (2005) in efforts to give the kids from his hometown the same instruction he was exposed to.
After executing many successful events through the Taylor Made Basketball Academy, Coach Edwards realized teaching fundamentals and discipline needed far longer than a 3-5 day camp to make a lasting impact in the lives of youth. Now he's offering programs targeting underserved communities (inner city, rural, international and military youth), through Taylor Made Prep in Phoenix, AZ (2014).
Coach Edwards is committed to spreading his passion for academics, athletics, and the benefits of organized sports from the grassroots level to his post graduate college sports prep program.
He has played at Alpena Community College, University of Minnesota- Crookston, the University of Windsor, and in Switzerland, Germany, and Austria
Coach Edwards has worked camps throughout Michigan, Ohio, Minnesota, Iowa (Breakthrough Basketball), Kentucky, Arizona, and Ontario, Canada.
In addition to coaching at multiple levels (College Basketball, AAU, Nike Elite Training Programs), Coach Edwards has trained and developed multiple Division I student athletes.
Coach Edwards has a bachelor's degree in Communications from the University of Windsor and is currently pursuing his Master's in Sports Management at American Public University.
Jamal Mosley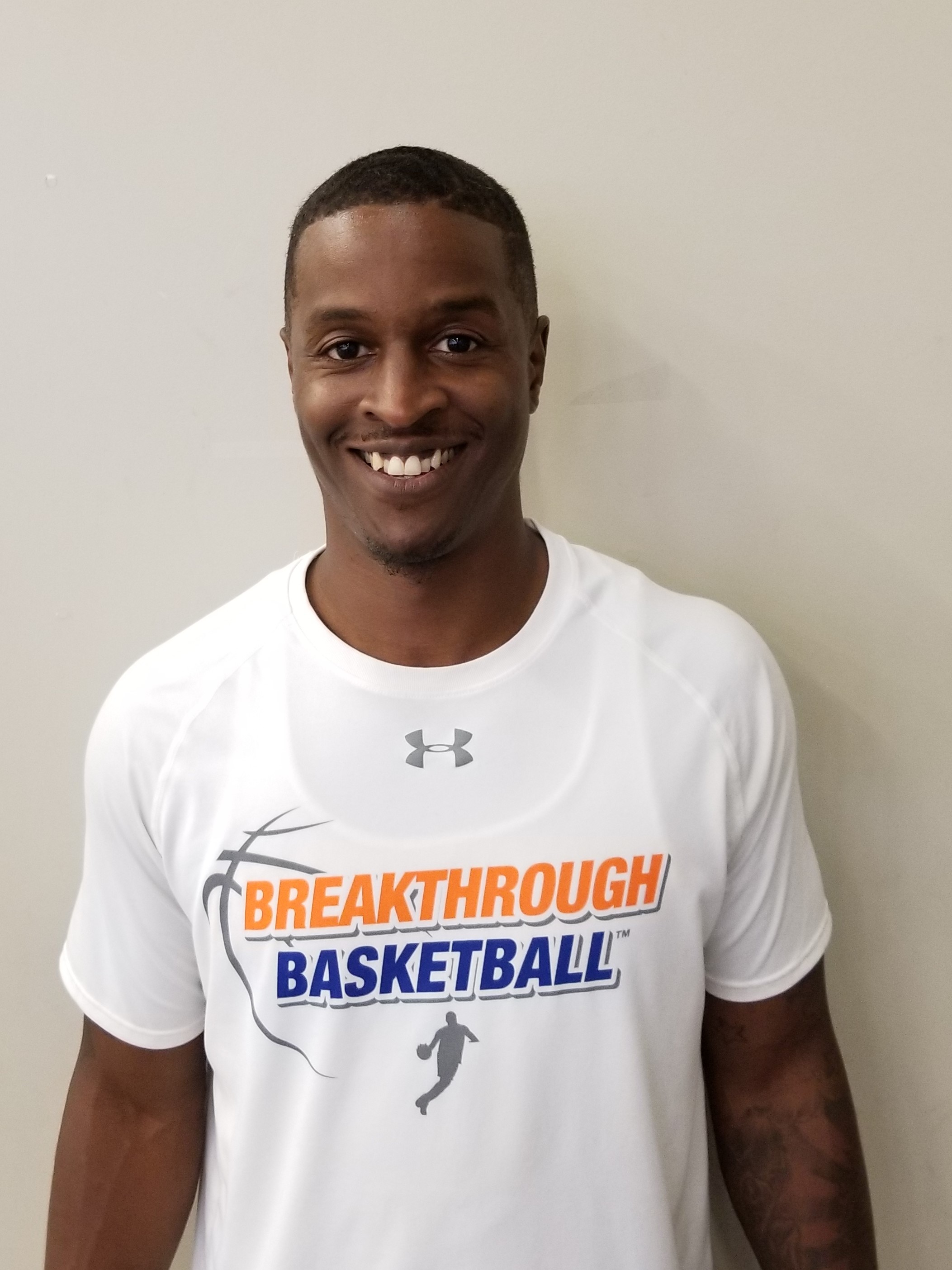 • Coach Mosley was heavily recruited as a high school player. Drake University, Marquette University, Loyola University- Chicago, and Siena University were D1 schools interested, just to name a few. Jamal ended up choosing the University of Texas at San Antonio to play his collegiate basketball under scholarship
• Jamal has extensive experience as a camp clinician having worked numerous skill development camps. Ganon Baker & Jordan Lawley Elite Camp in San Diego, Advantage, Future Stars and numerous Breakthrough Basketball camps
• Recently, Mosley has been a Youth Camp Coordinator for the city of Sun Prairie in Wisconsin
• Currently, Coach Mosley is the Head Men's Coach at Fox Valley Technical College in Appleton, Wisconsin
Jarod Kelly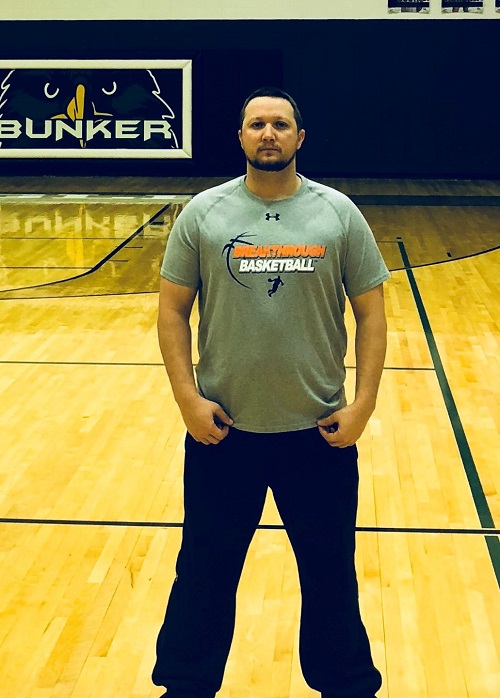 Coach Kelly is currently the Head Coach at Bunker in Missouri where he has compiled a 49-15 record
Previously, Coach Kelly was the JV coach under Mike Wilson who has 4 Final Four appearances at Strafford High School.
During Jarod's playing career at North Central Missouri College, he set school record for 3 point percentage, which still stands at 48%.
Coach Kelly has been working Breakthrough Basketball camps for the last two years and has been trained under the wing of our Elite Skill Development Coach, Jim Huber who has worked with some of the best players in the world!
Jason Holzer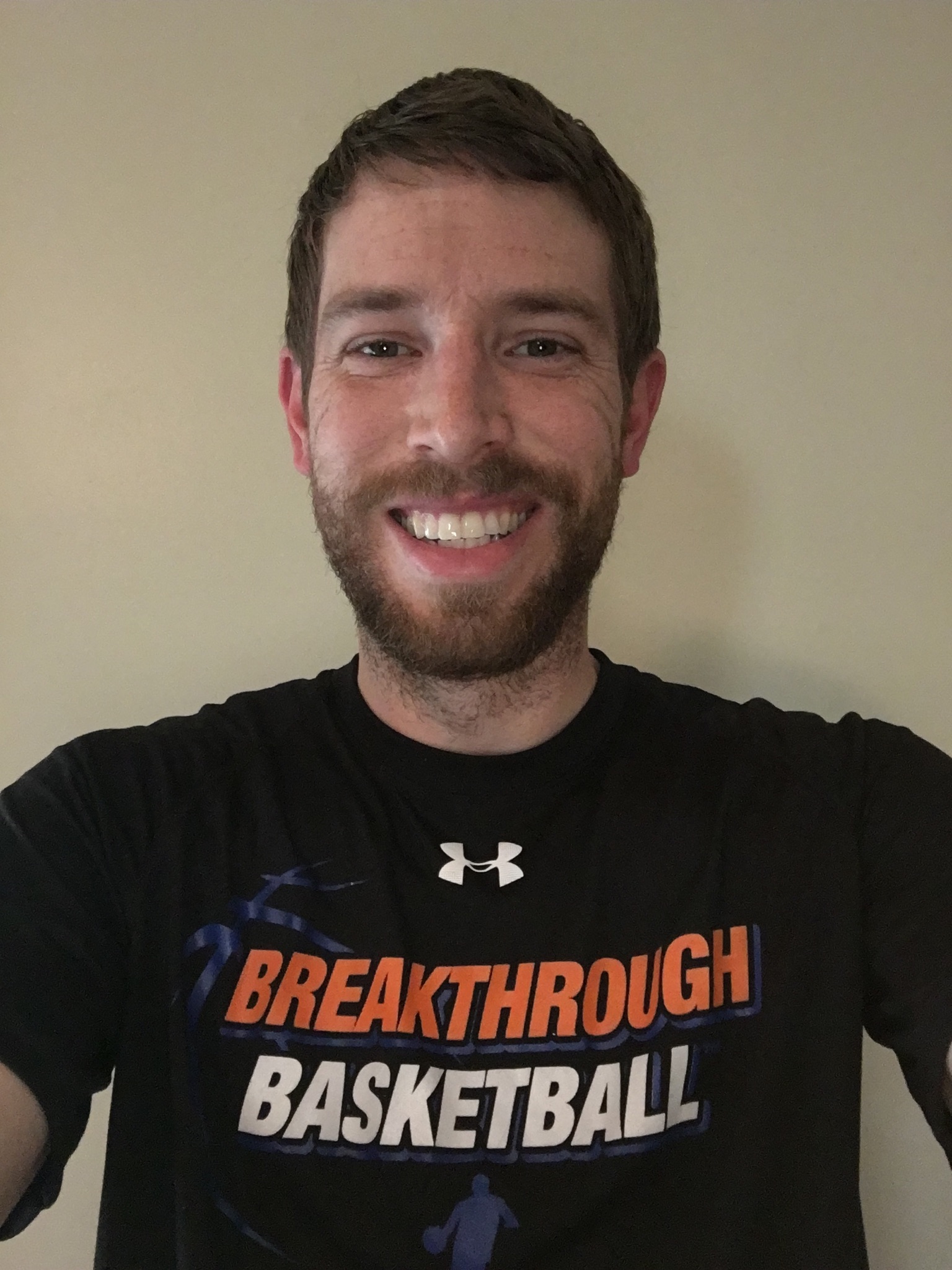 Coach Holzer has been doing Breakthrough Basketball camps for 4 years, learning under the wing of our Elite Skill Development Coach, Jim Huber who has worked with some of the best players in the world!
Holzer started the basketball program at Alta Vista High School and is currently an assistant coach at Shawnee Mission West, a 6A school in Kansas. Jason also coaches with MoKan, which is a Nike sponsored AAU program out of Kansas City
His best season as a coach was his Freshman A team going 17-3 at Shawnee Mission West
Coach Holzer has also worked for Pro Camps with Bill Self

Jeff Haarlow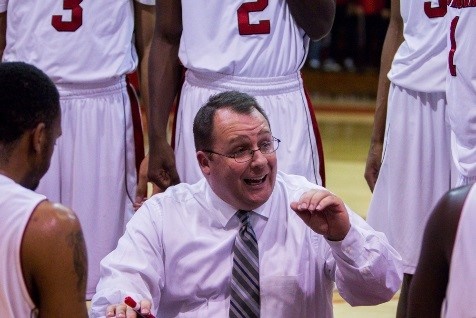 Owner of Haarlow's Hoops Academy...skills & team training
Played 2 years of college basketball and golf at Berry College, Rome, GA
19+ years of college coaching experience
12 years college head basketball coach (Berry College and Tennessee Temple University)
Over 150 career wins, NCCAA Regional Coach of Year '13-'14
Coached over 20 All-Americans and 6 professional athlete
Worked numerous Breakthrough Basketball camps since summer of '15
Jeff Stapleton
Coach Stapleton has been a part of the Breakthrough Basketball team since 2012, leading and assisting in our Attack & Counter, Shooting, Post Man, Elite Guard, and Youth Basketball Camps, as well as coaching in our small group academy in Kansas City.
Jeff has been coaching and training in basketball for the past 20 years at all levels, from youth, to AAU, to high school. His focus is helping kids learn what it takes to make it to the next level. His coaching style is to "Train up" without fear of failure, as well as teaching the "little things" that make that big difference between an ordinary player, and an extraordinary player.
Jeff was a multi-sport athlete in college. Full scholarship playing basketball and baseball at Avila University. Selected team captain and team MVP (Jr. and Sr. year in basketball). Team captain for the baseball team Sr. year.
Jim Huber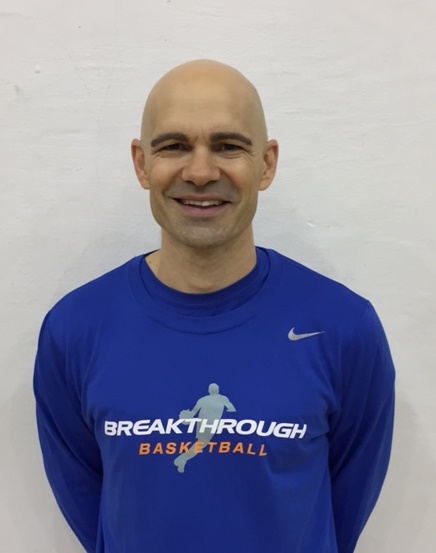 Jim Huber has developed and coached some of the best players in the world including current NBA players and elite players that attended some of the best college programs in the nation such as Duke and Kentucky.
Some of Coach Jim Huber's coaching credentials include:
Over 20 years of basketball coaching experience at the youth, high school, and college levels.


Coached a team to a 1st place finish at the 2013 Nike Global Challenge.


Coached at the Nike Elite 100 Camp which selects the top 100 high school players.


#1 Team Defense at 2013 Nike EYBL which has the top 40 Nike High School teams from North America and consists of 18 regular season games. Qualified for 2013 Nike Peach Jam.


A head coach for Mokan Basketball. Mokan is a direct Nike sponsor program. In 2012 when Coach Huber was Director of Basketball Operations, Mokan reached the Final Four at the Peach Jam, which only selects the top 24 teams from the Nike Elite Youth Basketball League (EYBL).


45 Championships, 13 Runner-up Finishes, and 26 Final Four Finishes at regional and national tournaments since 2004.


42 Collegiate players and 22 at Division 1 level.
Jonathan Bluitt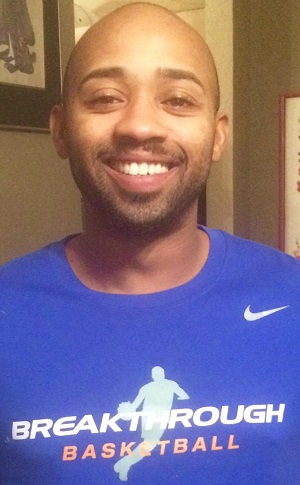 Jonathan Bluitt a 4 time high school state basketball champion from OKC McGuinness from 1998 to 2001. Bluitt also played for Athletes First and was the main catalyst for leading Athletes First to its 1st Nike Super Showcase in Orlando, Florida. From there Bluitt took his savvy skills and leadership abilities to Bridgton Academy, being one of the 1st guys out of Oklahoma City to explore the postgraduate experience.
As a collegiate player, Bluitt was a three-year starter and four-year letter winner from 2002 to 2006. Bluitt helped guide Oral Roberts University to a pair of Mid-Continent Conference regular-season Titles, a Mid-Continent Tournament Championship, NIT appearance and the 2006 NCAA Tournament.
Bluitt led the Mid- Continent in assist 3 out of the 4 seasons he played also ranks 2nd as the all time assist leader at Oral Roberts University.
Some of Coach Jonathan Bluitt's coaching credentials include:
Two years as a graduate assistant under Scott Sutton at Oral Roberts University, where he assisted the coaching staff with player development as well as helping with scouting reports for the opposing team.


Two years as a JUCO men's assistant at Western Texas College. During his two years at Western Texas College, Jonathan helped coach the team to their first conference tournament in 21 years, since the NolanRichardson era.


Bluitt has helped with the coaching duties of Athletes first; which is one of the nation's top AAU elite programs in the country. As well as assistant coaching duties with the Oklahoma Storm (home school) leading the Storm to a Gold Ball Championship and Tulsa Noah.


Bluitt has worked multiple basketball camps such as the Harlem Globetrotter camp, Kansas University, Oklahoma State University, Oral Roberts University and Oklahoma Christian University.


He has developed and trained a number of pros as well as some of the top prep basketball players throughout the country.


Jonathan is a specialist in developing basketball players and inspiring each individual to improve in dribbling, shooting, creating space from the defender and much much more!!!


Kellen McCoy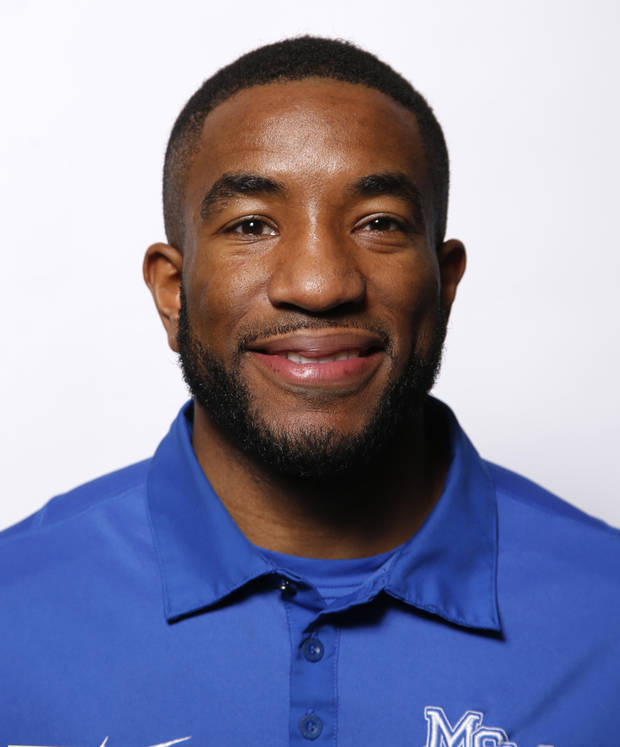 Matt Keeley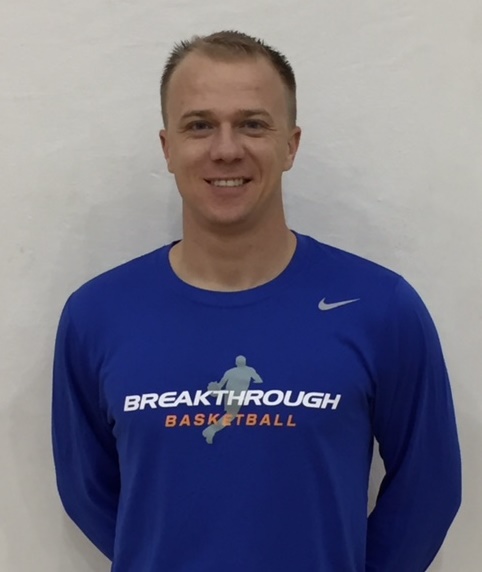 Coach Matt Keeley started coaching as a Assistant at MidAmerica Nazarene University during the 2009-2010 season. A 2004 graduate of MNU, Keeley spent the two seasons prior as a full time assistant at Washburn University. Before Washburn, he taught and coached at Manhattan High School.
Some of Coach Matt Keeley's credentials include:
Keeley has recruited and coached 3 All Americans and 2 Conference Players of the Year and 13 All Conference Players


Matt Keeley has coached for 7 college seasons and in over 225 games


He is currently in his 5th season to have coached with Nike EYBL program, MoKan Elite


In 4 completed seasons Coach Keeley has directly coached over 25 players earning college scholarships including players in the SEC, Big10, Missouri Valley, Big East and Mountain West conferences


Matt has been the Camp Director at Rocky Lamar's Fundamentally Driven Basketball Camp for the past 5 seasons in that time working with over 3000 campers


Starting point guard for MNU 2000-2004


During his playing career at MNU, his team advanced to the Elite Eight three times


Keeley earned All-American honors his junior and senior seasons, leading the NAIA in assists as a senior


Matt was named the HAAC Player of the Year in 2004, a Champion of Character Award winner and was an Academic All-American


Along with conducting Breakthrough Basketball camps, Keeley is in charge of recruiting as well as help with scheduling, travel, and on-floor coaching duties at MidAmerica Nazarene
Mike Rocca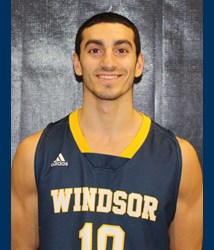 Paris Davis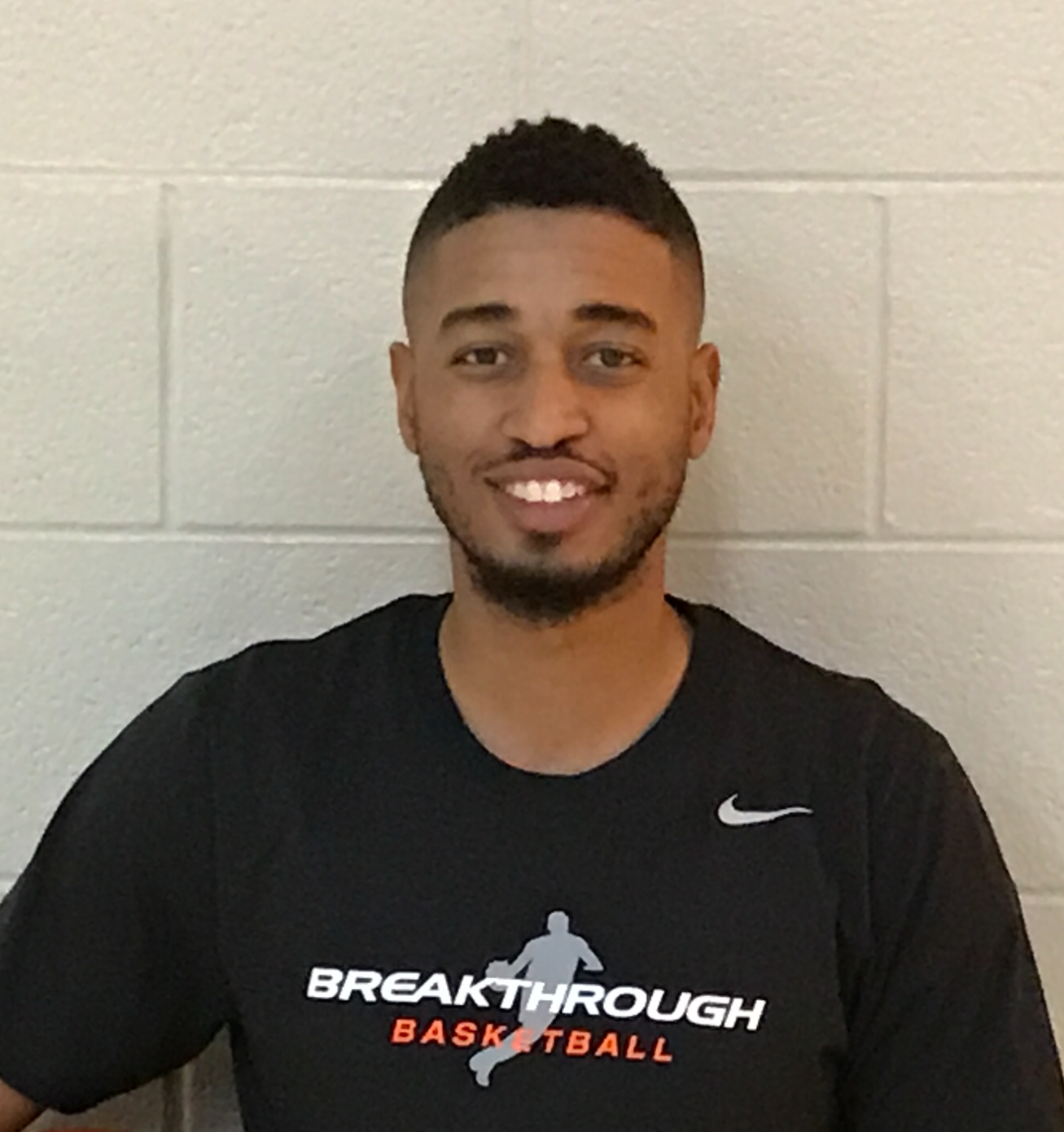 Coach Paris has over 11 years of basketball experience and extensive experience as a Breakthrough Basketball Skills Coach.
Paris is a CoachUp Captain, has completed over 1,000 basketball training sessions, and is ranked #1 in the state of Illinois for basketball training on CoachUp.com
(www.coachup.com/coaches/parisd).

Paris is the Program Manager of basketball camps and individual training at several locations in Chicago (Bensenville Park District, Lexington Elementary, ect).

He played varsity basketball for the legendary coach, Gene Pingatore (2002-2005)

-Ranked top 100 in the state of Illinois (2005)

-Named East Suburban Catholic Conference All-Star (2005)

Received academic and basketball scholarship to Saint Xavier University (2005)

-Second leading scorer at Saint Xavier University (2006-2007)

-Helped lead team to the NAIA National Tournament (2007-2008)

-CCAC Honorable Mention Player of the Week at Saint Xavier University (2009)


Other coaching achievements include, but not limited to...

-Christ the King Girls HS Basketball Tournament Champions (2014-2015)

-Christ the King Girls HS Basketball Conference Champions (2014-2015)

-District 89 Boys Basketball Holiday Tournament Champions (2010)
Prileu Davis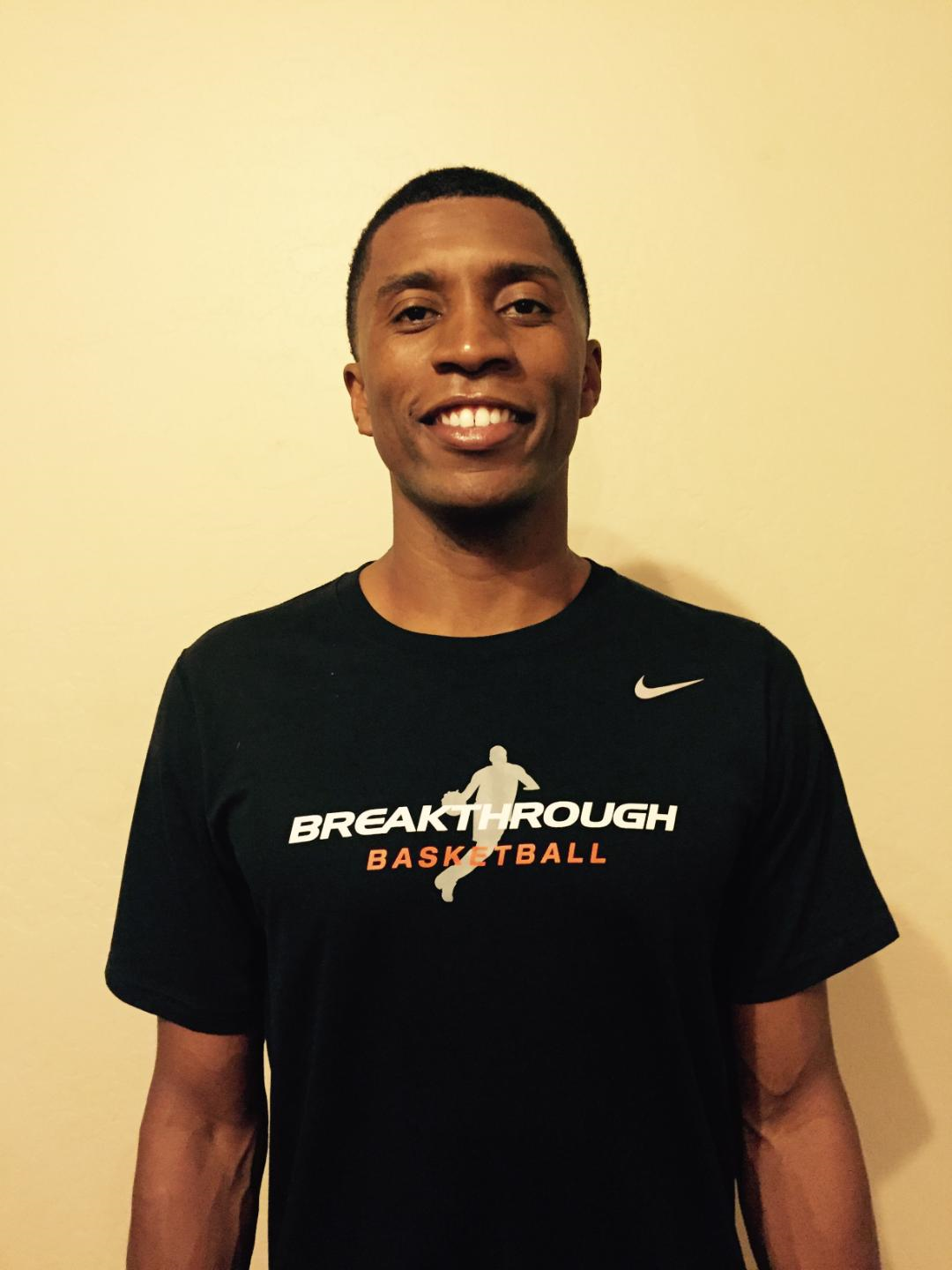 Prileu played division 1 basketball at The University of Louisville from 2002-2004 getting a chance to experience the Sweet 16 in 2004
In 2006 he received an invitation from the Phoenix Suns for workouts
Coach Davis played for professionally in the ABA in Mexico in 2006 averaging 25 points, 8 assists and 7 rebounds per game
In 2007, Davis played for the IBL's Arizona Lightning averaging a whopping 35 points, 7 assists and 5 rebounds per game
Currently, and for the past 4 seasons, Prileu has been the Freshman Coach for Moon Valley High School in Phoenix, Arizona
Quentin Mitchell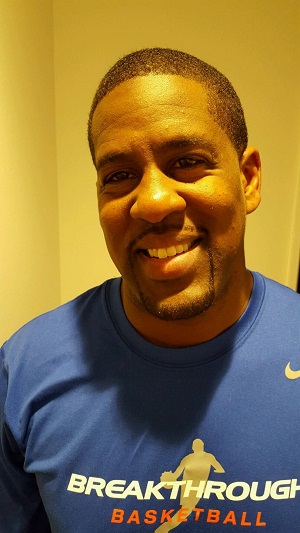 Quentin Mitchell has coached 40 college players, 23 of which have played at the Div 1 level. 6 professional players (one of which was an NBA pick) and has coached over 1,000 kids at various camps and clinics
Quentin was all conference in high school and a McDonald's All-American nominee.
He went on to play at Western Illinois University where he holds the records still today for for most 3 point field goals in a game (9), most consecutive games with a 3 point field goal (6), and highest 3 point field goal percentage in a game going 9/11 for 82%.
Quentin has played all over the world professionally, helping his teams make the playoffs and win championships.
Some of Coach Quentin Mitchell's coaching credentials include:
Assistant varsity coach at Redford Covenant High School in Detroit, Michigan. Responsibilities included practice planning, organizing game plans, scouting and team development.


Head JV Coach at Rock Bridge High School in Columbia, Missouri. Team records were as follows: 18-6 (2012-2013), 18-4 (2011-2012), 14-2 (2010-2011), 17-1 (2009-2010)


Assistant Coach at MOKAN, in Kansas City, Missouri from 2009-2012 and their record was as follows: 36-5 (2012), 50-9 (2011), 56-9 (2010), 57-9 (2009)


Most recently, along with working with Breakthrough Basketball, he was the head coach for Tilton Elementary School in Chicago where they finished 8-1 and made the Chicago league playoffs for the first time in 4 years!
Daughter's Confidence Has Doubled!"This is our second camp we've attended. Coach Q. doesn't miss a beat. My daughter's confidence level has doubled now that she knows in depth what each drill does for her. She loves it." Instructor Quentin Mitchell with Taya Ferguson pictured below....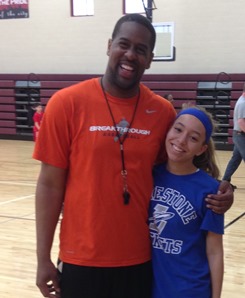 - Jennifer Metz - Peoria, Illinois - 10 Rating



Rustin Dowd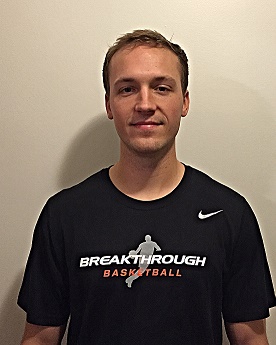 Some of Rustin Dowd's credentials include:
2 Time NAIA DI All-American
Heart of America Conference Player of the Year
Helped his team win Conference Title and Conference tournament Title
Scored over 2000 points in his college career
Named Champion of Character Award winner
Played Professionally in Australia
Averaged 19 points per game while playing professionally in Australia
Was awarded Golden Hands Award for the Werribee Devils
Had the opportunity to run his own camps in Werribee, Australia.
Ryan Thomas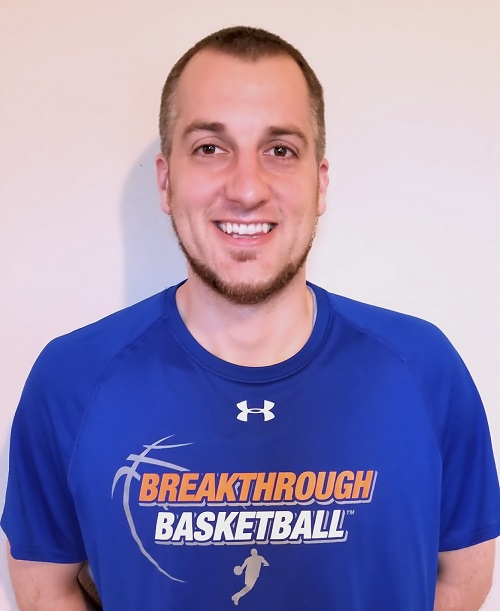 After a strong high school basketball career, Ryan earned a scholarship to play college basketball at Concordia University where he played for 2 years before transferring to finish his college basketball career at Central Michigan University.
Coach Thomas has over 12 years of experience coaching at multiple levels (youth, AAU, YBOA, and High School). Through his dedication, leadership, innovation and tireless work ethic Thomas has become a sought after skills trainer. As a skills trainer he has helped mold thousands of young people around the country developing their game.
Here is a brief overview of Coach Thomas' coaching credentials:
Owner of HoopGrind Basketball - Basketball Development Program (www.hoopgrind.com)
o Trained and developed many college and professional players
o Currently trains players from youth to professional level
2016-Present Associate Head Coach / Athletic Director Impact Christian Academy
2011-2015 Assistant coach at Edward H. White High School - Jacksonville Florida (6A)
Multiple top 5 FHSAA state rankings
Multiple District Championships
1 FHSAA Final Four appearance
Coach Thomas began working for Breakthrough Basketball as a lead assistant in 2015
Troy Slavin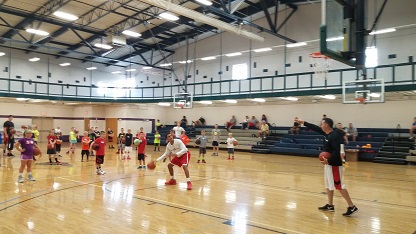 Troy Slavin graduated from Northeast High School where he was selected First Team All CNC League and All Tournament Team at the Riverton Invitational while averaging 19 points a game, with a CNC season high game of 35 pts. An athletic six foot guard known for his leaping ability, Troy once shattered a backboard and led the CNC in dunks his senior year.
Troy accepted a basketball scholarship to Fort Scott Community College but injuries soon ended his college career. He went on to graduate with a Bachelors degree in Radio and TV Production from Kent State University, and began a career in professional broadcasting for some of the nation's premiere radio stations. At 35, he was nominated for radio's highest honor, the Marconi Award, as the nation's best Large Market Personality. At 37, he was awarded the Butterfly Award, the highest honor given by the Children's Cancer Research Fund, for his work in raising over six million dollars to find a cure.
During his radio career Troy stayed connected to basketball and kids, coaching at St. John the Baptist in Minnesota and playing in exhibition games against the University of Kentucky and Deion Sanders' Dallas Cowboy All Stars. His career took him inside Minnesota Timberwolves practice with Kevin McHale and Sam Mitchell, and on the court to learn a few tricks from the legendary Harlem Globetrotters.
Troy has head coach, assistant coach and instructor experience with kids of all ages and abilities. He is ASEP certified in Coaching and First Aid. His unusual life experience and unique communication and motivational skills all come into play as he teaches the game he loves to young people.
Troy also directs Breakthrough Camps for the Kansas City region. You can view the camps at the following link:
https://www.breakthroughbasketball.com/kc/