Site Search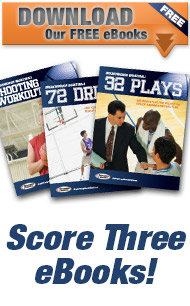 Free Newsletter
Get our free monthly newsletter with new drills, plays, scoring tips & coaching strategies... Signup for our newsletter
Q & A Forum
Experienced coaches are ready to answer your basketball questions! Visit our forum


Subscribe for FREE and Get 3 eBooks…
Just for subscribing to our free newsletter you'll get these 3 eBooks for free…
72 Basketball Drills & Coaching Tips – 136 page eBook.
21 Basketball Tips & Tricks for Players – 20 page eBook.
32 Winning Basketball Plays – 96 page eBook.
Plus you'll get ALL updates to this website delivered to your inbox for free. Over 100,000 other coaches, players, & parents have already subscribed.
We will never send you spam or share your email address, guaranteed!
Close
Breakthrough Basketball Camps in Georgia
Get Notified About New Basketball Camps in Georgia
To get notified about new camps, clinics, and training opportunities in your area, enter your name and email address below:
More Camps in Other Regions
Host a Camp in Your Region
We're looking to add a few more camps across the country. If you would like your area to be considered, you need to be able to secure a gym with 10 or more baskets (high schools or colleges with multiple courts/gyms can work). Please
fill out this form
if you would like us to consider your region.
Here's What Players & Parents Say About the Camps