Site Search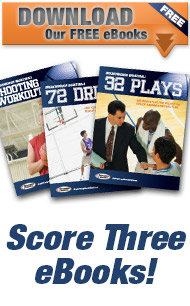 Q & A Forum
Experienced coaches are ready to answer your basketball questions! Visit our forum
About Breakthrough Basketball
Breakthrough Basketball provides a variety of resources and information for basketball coaches, trainers, players, parents, and fans. Some of the resources include instructional DVDs, eBooks, camps, apps, newsletters, online videos, online articles, and forums.
On this site, you'll find information about virtually all aspects of basketball, with the emphasis on fundamentals, positive impact coaching, and "doing the right thing"!
Thanks to our experienced group of coaches, ranging all the way from youth coaches to the NBA, you will find new and extremely valuable information for players, parents, and coaches of all levels and ages.
We are very passionate about coaching basketball and we firmly believe that coaches have very important responsibilities and amazing opportunities to have a positive impact on their player's lives.
Too many coaches get caught up in winning only to lose sight of the bigger picture. Don't get us wrong, we're very competitive, but we never let winning take precedence over what really matters.
We are here to help you improve your basketball IQ and remind you of what's important.
Our primary objective is two fold...
Provide you with comprehensive resources and virtually everything you need when it comes to basketball.


Make a positive impact on players' lives either directly or by educating coaches and parents around the world.
Company Timeline
2006:
Breakthrough Basketball began as an online content provider -- offering drills, tips, plays, and advice for basketball coaches and players around the world.
The content was an immediate hit with coaches and players.
2007:
The first employee, Tonya Krause, is hired!
2008:
Breakthrough released their first eBook to give coaches access to helpful material with just the click of a mouse.
2009:
Breakthrough released their first instructional DVD.
A forum is added to the website where coaches, players, and parents can ask questions and interact. And the very first post gets submitted.
2010:
Breakthrough started offering skill development camps and training. The camps saw instant success and expansion began.
According to Alexa.com, Breakthrough is now the most popular basketball coaching site in the world!
2011:
The site surpasses 1 million unique visitors in 2011.
2012:
Breakthrough reaches a milestone receiving over 10,000 article comments! Excluding the spam, of course. :)
2013:
In 2013, Breakthrough released their first app, Breakthrough Stats. The app quickly climbed the Apple Store charts to as high as number 3 in the sports category.
The website surpasses over 2 million unique visitors in 2013.
Our forum exceeds more than 10,000 total questions and posts.
2014:
In 2014, Breakthrough released their Attack and Counter skilll development system.. This system has been very well received and continues to enhance players' skills.
2015:
In 2015, Breakthrough released their one-of-a-kind web-based workout app that players are able to follow along on their smartphone or mobile device.
Breakthrough also conducted over 100 camps across the United States that have resulted in a 9.1 out of 10 satisfaction rating from campers and parents.
2016 & Beyond:
Today Breakthrough has over 200,000 newsletter subscribers and millions of unique website visitors each year.
Breakthrough offers over 200 camps all across the United States to go along with dozens of eBooks and DVDs available for basketball coaches, players, and parents.
Breakthrough Basketball is still growing rapidly, hiring employees, developing new DVDs, new apps, and new tools to help basketball coaches and players. We also are beginning to host our first tournaments.
See below to meet some of the people behind the scenes.
Who We Are
Executives
Jeff Haefner, Co-Founder

Jeff Haefner is a co-founder of Breakthrough Basketball, skill development trainer, and basketball coach in the Cedar Rapids Iowa area. He is a basketball junkie who loves the game of basketball -- whether he is playing, coaching, watching, or writing about it.
Jeff has been very fortunate to coach basketball and train players at a number of different levels over the past 20 years. On a daily basis, he gets the opportunity to collaborate with, and learn from some of the best NBA, college, high school and youth coaches all across the country. He has viewed and studied thousands of articles, books, DVDs, and resources about basketball and player development.
Jeff has written and developed hundreds of articles, books, videos, and instructional resources about coaching basketball. Over 200,0000 coaches around the world subscribe to and read the Breakthrough Basketball Newsletter that Jeff and his brother Joe publish.
But what Jeff enjoys the most is teaching young players the fundamentals of basketball, how to gain confidence, and how to be successful in life. That is his passion! To him, practice is more fun than the games because that's where he gets the opportunity to teach and have a positive impact on young player's lives.
Jeff graduated from the University of Northern Iowa with his Coaching Certificate and a Degree in Computer Science. Jeff grew up in Iowa and currently lives there today with his wife and two kids. In his spare time Jeff enjoys boating, water skiing, traveling to sunny places, working out, and playing with his kids as much he can!
Connect with Jeff via: Email | Google+ | LinkedIn | Twitter | Coaching Blog
Joe Haefner, Co-Founder

Joe is the other co-founder of Breakthrough Basketball.
Joe has head coach and assistant coach experience at every level from 3rd grade to High School Varsity. He was an assistant coach for a Blue Valley Northwest team in Overland Park, KS that reached the 2011 state championship game. He has also been fortunate to coach multiple division 1 college athletes and player of the year award winners.
Joe started playing basketball when he was 5 years old and he played all the way through high school where he was an All-Conference player as a junior and senior at Anamosa High School. Joe also played in the Big Bend / Big East All Star Game and won the 3-point shooting contest.
Joe is also very passionate about athletic development. He also became certified as "Level 1 Youth Fitness Specialist" by the IYCA (International Youth Conditioning Association).
If you'd like to send Joe an email, click here.
Directors & Camp Coaches
Dennis Haefner, Software/App Department Manager
Dennis Haefner is the father of both Jeff and Joe Haefner. He currently acts as the Manager of Breakthrough Basketball's software and app department.
Dustin Pierson, President of Camp Operations

Dustin Pierson is the President of Camp Operations for Breakthrough Basketball. His responsibilities include booking facilities, marketing, advertising & managing nationwide camps.
Prior to his time with Breakthrough Basketball, Dustin worked for 6 years at a fundraising management company whose clients included colleges/universities throughout the country.
Dustin graduated from the University of Iowa in 2007 with a bachelor's degree in Sports Studies and a Business concentration.
If you'd like to send Dustin an email, click here.
Clint Dalrymple, Camp Operations Manager

Clint Dalrymple started working part time for Breakthrough Basketball in the fall of 2014 as a marketing specialist and started full time in February of 2016 coordinating events and handling the day to day support emails and phone calls in the camp division.
Clint began playing basketball as a young kid. Basketball is his passion. He was conference MVP his senior year in high school in Washington, Iowa. Clint went on to play at Division III Luther College where he graduated in 2007 with a B.A. in Communication Studies.
Before Breakthrough Basketball, Clint worked for Coca-Cola for 3 years as an account manager. Prior to that he worked for 3 years at RuffaloCODY in Cedar Rapids, Iowa where he served as a Center Manager overseeing several higher education clients.
Don Kelbick - Contributing Editor, Camp Director and Consultant

Don Kelbick has had 27 years of coaching experience, 25 at the college level including 14 years as a head coach and 10 years as a spanision I assistant including stops at Hofstra University, Marist College, Keene State College, and Florida International University. In 2 years as a high school coach, his teams produced 6 spanision I players and was ranked #1 in Florida 28 out of a possible 34 weeks. In addition to coaching he has scouted for NBA teams and served as a general manager in the USBL.
Don currently focuses on inspanidual player development and has worked with a variety of great players including Raja Bell, Carlos Arroyo, Rasual Butler, and many other college and NBA players.
If you'd like to chat with Don or learn more about his player development programs, you can email him or go to: www.donkelbickbasketball.com
If you are interested in some of the products Don has available, view the Don Kelbick Products page.
Jim Huber, Director of Coach Development/Camp Director

Jim Huber has developed and coached NBA players as well as elite prospects who have attended the nation's top college basketball programs, including Duke and Kentucky.
Jim features 20+ years of basketball coaching experience at the youth, high school, and college levels. His resume includes 45 championships, 13 runner-up finishes, and 26 final four appearances at regional and national tournaments. He has coached more than 40 collegiate players.
He is currently the head coach for Mokan Basketball, a Nike sponsored team. Mokan reached the Final Four at the 2012 Peach Jam, which was made up of the top 24 teams from the Nike Elite Youth Basketball League.
In 2013, Jim coached his team to a 1st place finish at the 2013 Nike Global Challenge.
Troy Slavin, Camp Director/Creative Director
Troy Slavin's basketball experience includes playing the game, coaching the game and broadcasting the game. As a First Team All CNC League performer at Northeast High School, Troy went on to play basketball at Fort Scott Community College. He later received his Bachelor's degree in Radio and TV Production from Kent State University. That led him to a professional broadcasting career during which he was nominated for the Marconi Award, as the nation's best Large Market Personality. He was awarded the Butterfly Award, the highest honor given by the Children's Cancer Research Fund, for his work in raising over six million dollars towards finding a cure for the horrible disease.
Troy has experience as a head coach, assistant and skills instructor with kids of all ages and abilities. His rare life experience and unique communication and motivation skills all come into play as he teaches young people about the game he loves.
Camp Coaches
Chris Oliver, Lead Clinician Basketball Decision Training

Chris Oliver is the head coach of the University of Windsor men's basketball program. In his 8 seasons at the help for the Lancers, he has compiled a .750 winning percentage. Chris is a two-time Ontario University Athletics (OUA) Coach of the Year and has earned two berths to the CIS National Championship to go along with five OUA West regular season titles, two OUA West playoff titles, and a Wilson Cup Ontario Championship.
Chris has developed players who have gone on to play professionally and with Canada's Senior Men's National team. He has also assisted with the National team's camp.
A graduate of McMaster University (Bachelor of Kinesiology), Chris also holds a Master's in Physical Education and Coaching Studies from the University of Victoria.
Chris runs Breakthrough Basketball's Ballhandling, Shooting and Decision Training Camps.
Jonathan Bluitt, Lead Clinician Youth
A 4 time high school basketball state champion from OKC McGunniss, Jonathan was the main catalyst in leading Athletes First to its 1st Nike Super Showcase in Orlando, Florida. From there, Jonathan became a three-year starter for Oral Roberts University. He led Oral Roberts to a pair of Mid-Continent Conference titles, a Mid-Continent Tournament Championship, NIT appearance and the 2006 NCAA Tournament. He ranks 2nd all-time in assists at Oral Roberts.
Once his playing days were over, Jonathan transitioned to coaching. He spent two years as a graduate assistant at Oral Roberts, two years as an assistant at Western Texas College and has worked with Athletes First, one of the nations top AAU programs.
Jonathan has worked basketball camps for the University of Kansas, Oklahoma State University, Oral Roberts University, Oklahoma Christian University and The Harlem Globetrotters. He is the instructor of Breakthrough Basketball's Ball Handling and Skills Camps.
Quentin Mitchell, Lead Clinician Youth

As a McDonald's All-American nominee, Quentin Mitchell is no stranger to success on the basketball court. Quentin went from all-conference in high school to a record-breaker in college. He still holds the Western Illinois University's record for the most 3-point field goals in a game (9), most consecutive games with a 3-point field goal (6), and highest 3-point field goal percentage in a game (82%).
Quentin has transitioned from a successful collegiate and professional playing career into an exceptional coaching career. He has spent time coaching at Redford Covenant High School in Detroit, Michigan, Rock Bridge High School in Columbia, Missouri and with the Mokan Basketball in Kansas City.
Most recently, he was the head coach for Tilton Elementary School in Chicago where he led his team to their first Chicago League Playoff appearance in four seasons.
Quentin handles Breakthrough Basketball's Skill Development Camps.
Daniel Marklewitz, Lead Clinician Youth

Daniel Marklewitz has transformed players into starring roles in the ACC, SEC, Big 12, Big Ten as well as NBDL, and professionally in Germany, Scotland and Russia.
His credentials include Mokan Basketball 15U Select, 17U Select & Sunrise Christian Academy, which finished 30-1 in 2012-13 including Top 10 in the nation according to MaxPreps.
Daniel concentrates on helping players develop and understanding of the game. This allows them to develop a wide range of skills and reach their highest potential.
Daniel conducts Breakthrough Basketball's Youth Ball Handling and Skills Camps.
Matt Keeley, Lead Clinician Elite Guard

Currently a MidAmerica Nazarene University assistant coach, Matt Keeley knows what it takes to become elite. In seven seasons of coaching, Matt has recruited and developed 3 All-Americans, 2 Conference Players of the Year and 13 All-Conference Players.
Matt's success at MNU extends well beyond his coaching days. He was the team's starting point guard from 2000-2004 where he guided the Pioneers to three Elite Eight appearance. Matt earned All-American honors in his junior and senior seasons. He led the entire NAIA in assists as a senior and was named the HAAC Player of the Year. He was also an Academic All-American and the Champion of Character award winner that season.
Currently in his 5th season with Mokan Basketball, Matt has coached over 25 players who've earned college scholarships to schools in the SEC, Big East, Big Ten, Missouri Valley, and Mountain West Conference.
Matt operates Breakthrough Basketball's Elite Guard Camps.
Adam Hepker, Lead Clinician Elite Guard

During Adam Hepker's time as the starting point guard for MidAmerica Nazarene University (2004-2008) the school advanced to three Final Fours and won the 2007 National Championship. Hepker earned All-American honors as a sophomore, junior, and senior and was named MVP of the National Tournament in 2007. He was elected into the MidAmerica Nazarene Hall of Fame in 2013.
Adam went on from MNU to play professionally in Germany and then in the ABA.
Though his playing days have ended, his impact on the game has not. Hepker is currently an assistant coach at MNU as well as with Mokan Basketball. He has also worked with more than 3000 campers at Rocky Lamar's Fundamentally Driven Basketball Camp over the past five years.
Adam runs Breakthrough Basketball's Elite Guard Camps.
Jason Holzer, Coach Kansas City

Currently the Freshman A coach at Shawnee Mission West, Jason Holzer has six years of coaching experience. His Shawnee team had a great season in 2013-14, finishing 17-3.
A high school basketball player at Helias high school in Jefferson City, Jason went on to receive his Bachelor's in Physical Education with a minor in Human Resource Management from Missouri State. He also received a Master's in Sports Management from Missouri State.
When he is not coaching at Shawnee, Jason coaches Mokan Basketball.
Adam Utz, Coach Kansas City

One of the most highly decorated players in MidAmerica Nazarene University history, Adam Utz's accomplishments include: 2003 MNU Male Athlete of the Year, 2003 NAIA All-American & 1st team All-Conference, the "Prefect Game" (12-12 from the field and 10-10 from the free throw line) in his last contest at Cook Center, 1,826 career points and 1,209 career rebounds. If all that wasn't enough, he was also a tight end of the 2003 undefeated HAAC MNU Football Championship team.
In 2011, Utz was named to the MNU Athletic Hall of Fame.
Following his time at MNU, Utz played professionally with the Southern Peninsula Sharks in Australia. He has coached the last five years at Rocky Lamar's Fundamentally Driven Camp. His vast array of success and experience on the basketball court make him a valuable asset to the Breakthrough Basketball Team.
Chris Glenn, Coach Kansas City

As a coach for 20 years, Chris Glenn finds great satisfaction in being able to motivate and bring the best out of players. A coaching career that began as a way to teach sportsmanship, teamwork and a good sound work ethic to his two sons, has blossomed into a position with MoKan Basketball. With MoKan, Glenn has the opportunity to develop some of the very best high school talent as they stage a showcase of their skills in front of every major D1 coach in the country.
With a 12-4 record, his MoKan team placed 3rd in their division and qualified for the Peach Jam, which is one of the highest tournaments at the high school level. Glenn has been with Breakthrough Basketball for 2 years.
Office Managers & IT
Tonya Krause, Customer Service & Administration

Tonya Krause has been with Breakthrough Basketball for 8 years and she prides herself in providing the best customer service and high quality administrative services.
Tonya received her Bachelor of Arts Degree in Business Management from Buena Vista University and has spent 20+ years working as an administrative assistant and office manager. She possesses advanced experience with data entry, proofreading, invoicing and product fulfillment.
If you'd like to send Tonya an email, click here.
Heather Tupper, Bookkeeper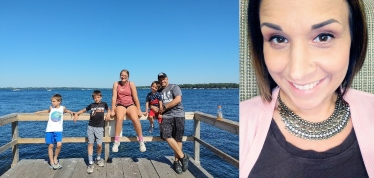 Heather Tupper's knowledge and reliability make her a valuable asset to the Breakthrough Basketball team. In addition to her degree from Iowa State University, Heather brings to the table experience from working with a variety of different companies, includes Parks of Iowa, Countryside Turf & Timber, and Casey's where she spent 4 years as a store manager.
Tony Adragna, Marketing Specialist & Project Manager

Tony is able to intersect both of his passions with his role at Breakthrough Basketball. Tony's marketing expertise helps the Breakthrough Basketball brand grow and his basketball expertise helps to develop creative content ideas for the website.
Tony was a three-year letterwinner on the Southport High School basketball team in Indianapolis, IN and studied Sports Communication at Indiana University. In addition to his role with Breakthrough Basketball, he currently serves as an assistant coach on the Southport High School basketball coaching staff.
Ross Wilson, Programmer & IT Consultant

With 10+ years of experience in Web application development (HTML5, CSS, PHP, JavaScript, AngularJS, EmberJS, SQL), Ross Wilson is the reason that you are able to read this webpage.
With a proven history of performance, Ross possesses a hard-working, can-do attitude. His outstanding ability to foresee, identify and resolve problems allows Breakthrough Basketball to stay one step ahead of the game.
Ross graduated from Kansas State University with a degree in Computer Engineering and received a Master's in technology management from the University of Colorado, Colorado Springs.
Will Brandt, Programmer

Will, hailing from Marion, IA, is a programmer for Breakthrough Basketball. Completing his undergrad and masters from Northern Iowa, Will is able to help Breakthrough Basketball fulfill their visions with his expertise in programming.
Previously, Will has worked as a supervisor for University of Northern Iowa's ITS User services. He has also enjoyed being an official for soccer in the state of Iowa.

Content Providers
Nate Sanderson, Product Development Director

At Breakthrough Basketball, Nate works to develop educational materials for coaches. He manages our DVD production process, and is a frequent contributor to Breakthrough Basketball's newsletter. Sanderson's area of expertise is in developing program culture and teaching leadership development for players and coaches.
Nate is currently the varsity girls basketball coach at Springville High School in Springville, Iowa. During his tenure at Springville he has coached multiple All-State players, and in 2015, he led the 11th-ranked Orioles on a cinderella run to the 1A state championship game. Sanderson has received numerous regional and statewide coaching awards. His program has been recognized by Character Counts of Iowa for their commitment to community service and character development. In five years at Springville, his basketball program has raised over $20,000 for various local and international charities.
Nate is also the all-time winningest coach at Louisa-Muscatine High School (L-M) where he taught and coached prior to moving to Springville. When he began at L-M the girls program was mired in a 33-game losing streak. Over the next seven years he transformed the program setting the school record for victories in three consecutive seasons. He also led L-M to their deepest post-season run in school history. He left L-M as the school's winningest girls basketball coach in the 5-on-5 era.
Nate graduated from the University of Northern Iowa with a degree in Social Studies Education. He was a high school social studies teacher before joining the Breakthrough Basketball team. Nate has a masters degree from Gonzaga University in Organizational Leadership. His research emphasis was on the application of servant leadership to sports - a philosophy that forms the foundation of his approach to coaching. He has been married over 10 years and has the cutest daughter in the entire world. With the help of his basketball team, he built a wiffle ball field in his yard where they host tournaments for charity.
Tony Huml, Video Editor

Spanning nearly 30 years, Tony Huml has coached boys & girls basketball at the youth, high school and college levels. Most recently, he co-founded the Janesville Basketball Association in 2012 for boys & girls 4th through 8th grade, a program focused on fundamental skill development. Huml believes defense is the most important side of the ball.
In his current role, Tony manages all of the video editing for Breakthrough Basketball'ils DVDs and YouTube videos.
Adam Baker, Contributing Writer

No stranger to the game of basketball, Adam Baker has spent time covering the sport in many different venues. Adam played point guard at St. Martin's University before earning his degree from Arizona State University. Following college, Adam has worked for Clear Channel Radio, the Phoenix Suns and most recently, Idol Sport & Entertainment, where he scheduled and promoted spanision 1 basketball games for over a dozen universities.
When he is not writing about what happens on the court, Adam is creating stories for young players to read off the court. Adam recently published his first children's book, titled Maury C. Moose and The Forest Noel.