2019 Summer Basketball Camps in Florida
Multi-day basketball camps for boys and girls of all ages and skill levels.
Average instructor satisfaction rating of 9.3 out of 10
Over 300 camps across the United States
40,000+ camp attendees since 2012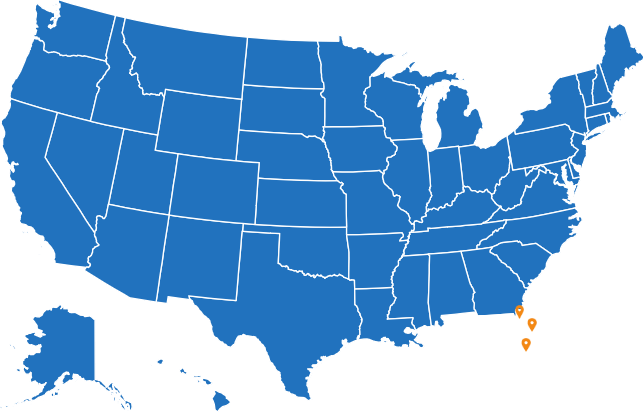 "The Breakthrough Basketball camp was one of the best sports experiences my son has had."
"I am glad there are mentors like you out there to teach kids this game and try to break the bad habits they have acquired."
"It was refreshing to see & participate in a camp that focuses on fundamentals, fundamentals & more fundamentals."
62 Camps Sold Out this Year. Register Today!
Summer 2019 Basketball Camp Schedule
Elite Youth Scoring & Playmaking
GENDER: BOYS & GIRLS
This is a youth and middle school camp (4th to 9th grade boys & girls), that is NOT for beginners (who never played recreation basketball). We will build on the basic skills you have already obtained. We will further develop shooting, ball handling, passing, footwork, 1 on 1 moves, how to play in game situations and athleticism to take your game to the next level. You will learn game like shooting drills, including off the dribble moves to get 2-3 feet of separation from a defender to get an uncontested shot, which will help you become a great shooter.
DATE
LOCATION
PLAYER LIMIT
GRADE LEVEL
July 26-28
Orange Park, FL
Shooting, Ball Handling & Finishing Camps
GENDER: BOYS & GIRLS
This is a hybrid of our popular "Shooting" and "Ball handling & Finishing" Camps. Your shooting mechanics will improve, and your shooting range will increase! We will work on ball handling drills to beat your defender off the dribble, and finishing moves to become crafty around the rim. In additional to all of this, we will focus on confidence, mental toughness, hard work, smart work, and other intangibles to develop great shooters & ball handlers. This camp is for for a variety of ages depending on the location below. The curriculum and drills are tailored to the age ranges that are specific to that location. Both boys & girls are welcome.
DATE
LOCATION
PLAYER LIMIT
GRADE LEVEL
June 4-6
Winter Haven, FL
Only 3 spots remaining!
June 18-20
Daytona Beach, FL

Get Notified About New Camps
To get notified about new camps, clinics, and training opportunities in your area, enter your name and email address below:

Host A Camp In Your Region
We're looking to add a few more camps across the country. If you would like your area to be considered, you need to be able to secure a gym with 10 or more baskets (high schools or colleges with multiple courts/gyms can work).
HOST A CAMP
What People Are Saying About Our Camps
"Just wanted to thank you guys again for the great camp in Libertyville over the weekend with Mr. Kelbick. My son's footwork became much more fluid by the end of the camp that we are excited to see the benefits during the upcoming season."
"It was refreshing to see & participate in a camp that focuses on fundamentals, fundamentals & more fundamentals. With so much focus on winning within youth sports today, this is an area that is often left behind within the development with kids."
This is my son's second Breakthrough Basketball camp and he has only had good things to say both times. First, he had fun. He liked the scrimmages and felt the competition was good. Second, he definitely felt that he got useful instruction/lessons - some things that he already knew that Chris reinforced and some things that were new. Also, he felt that he learned some useful variations on some moves that he was already using, which he was very happy about. Both times, as a parent, I've been impressed with how well organized your camps are and the respectful/serious approach you take to working with the kids. Definitely worth the cost and the time!
READ MORE TESTIMONIALS