Brice Searles Camps
Who is Brice Searles?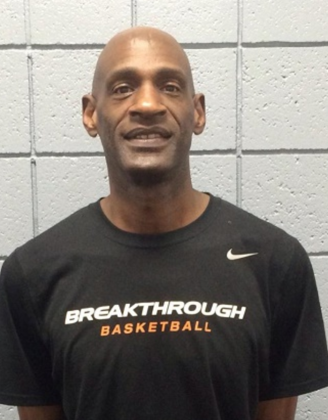 Coach Searles is a Breakthrough Basketball veteran, having been with us for the last 5 years! Brice is currently working for the Durango 9R School District in Durango, Colorado . He works at both Park Elementary and Florida Mesa Elementary Schools as a special education paraprofessional. Brice has worked in Special Education for over 22 years. He finds serving students and others with special needs very rewarding and fulfilling. He also coaches at St. Columba Catholic School.
Coach Searles does basketball clinics with Durango Parks and Recreation in Colorado
Brice spent 6 years with the Los Angeles Lakers Summer Youth Camps, 2 years at the Michael Jordan Flight School, Snow Valley Basketball School and University Of Colorado Summer Basketball Camps.

As a player, he attended Cabrillo Senior High School in Lompoc, California where he was the Northern Scoring Champion, 2nd Team All-C.I.F. and went on a scholarship to Gonzaga University back in 1977.

He then transferred to Fort Lewis College in Durango, Colorado for 1 year. He won the R.M.A.C. Scoring Championship at 25.0 pts. per game, was an All-District 7 1st Team leading that region in scoring, rebounding and blocked shots. He was an All-American Honorable Mention in 1985.

Brice then went on to play in the Denver Pro Am league before playing professionally in Quito, Ecuador for 3 years with LaSalle and Liga Deportiva. Coach Searles won the Ecuadorian League Scoring Title there averaging 39.5 points per game and has 3 international scoring records of 60 points twice and 72 points in a game. His team went on to win the Ecuadorian Championship and represented Ecuador in the South American Championship in Caracas, Venezuela.

Coach Searles has a lot of valued experience that he is willing to share with your campers.
| | | | | |
| --- | --- | --- | --- | --- |
| Date | Location | Type | Age Level | Player Limit |
| April 2-3 | Windsor, CO | Shooting & Offensive Skills | 5th - 10th | 60 Players |
| April 23-24 | Durango, CO | Shooting & Offensive Skills | 5th - 10th | 50 Players |
| May 14-15 | Lakewood, CO | Shooting & Offensive Skills | 5th - 10th | 60 Players |
| June 7-9 | Colorado Springs, CO | Ball Handling and Scoring Skills | 3rd - 8th | 40 Players |
| June 14-16 | Glenwood Springs, CO | Essential Skills | 3rd - 8th | 60 Players |
| June 24-26 | Colorado Springs, CO | Shooting & Ball Handling | 7th - 12th | 60 Players |
| July 5-7 | Denver, CO | Ball Handling and Scoring Skills | 3rd - 8th | 75 Players |
| July 22-24 | Denver, CO | Shooting & Ball Handling | 7th - 12th | 60 Players |
| August 2-4 | Monte Vista, CO | Shooting & Ball Handling | 7th - 12th | 60 Players |
| October 1-2 | Parachute, CO | Shooting & Offensive Skills | 5th - 10th | 50 Players |
| April 1-2 | Windsor, CO | Shooting & Offensive Skills | 5th - 10th | 60 Players |
| April 22-23 | Durango, CO | Shooting & Offensive Skills | 5th - 10th | 60 Players |
| April 29-30 | Parachute, CO | Shooting & Offensive Skills | 5th - 10th | 60 Players |
| May 12-14 | Lakewood, CO | Shooting & Offensive Skills | 5th - 10th | 60 Players |
| June 6-8 | Colorado Springs, CO | Essential Skills | 3rd - 8th | 40 Players |
| June 13-15 | Glenwood Springs, CO | Ball Handling and Scoring Skills | 3rd - 8th | 60 Players |
| July 5-7 | Lakewood, CO | Essential Skills | 3rd - 8th | 60 Players |