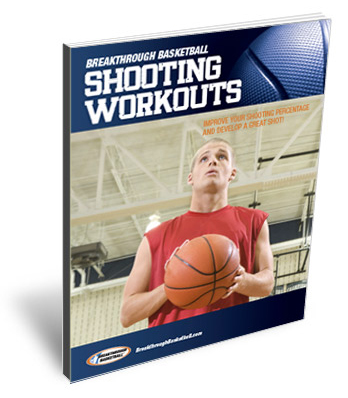 Good shooters play and the better your shot, the more playing time you'll get. Getting to the next level requires hours of practice both during team practice and independently. When you practice on your own, the shooting workouts in our FREE 22 page eBook will help improve your technique and teach you to take the right kind of shots for a better shooting percentage. If you are willing to put forth the time and effort, these proven independent shooting workouts will help you get to the next level.
Our FREE 22-page eBook includes:
detailed descriptions and photos showing proper form and technique
workouts you can do by yourself or with a partner
shooting charts so you can track your progress
The experts at Breakthrough Basketball developed these workouts with players at all levels in mind. Each player is unique so feel free to use these workouts as-is or customize them to better fit your needs. Complete this form to receive our FREE 22 page eBook: Breakthrough Basketball: Shooting Workouts.