Kristina Danella Camps
Who is Kristina Danella?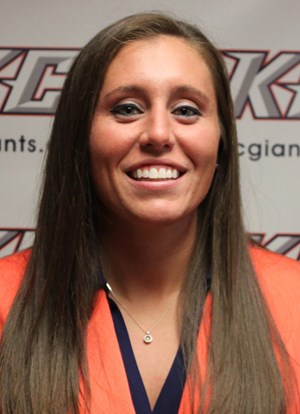 Kristina Danella is currently in her third season as the Head Women's Basketball Coach at Keystone College in La Plume, Pennsylvania. Danella's career coaching record is 125-73 after seven active seasons. Danella is also in charge of Game Day Management at Keystone College.
Danella was named the 2020 CSAC Coach of the Year after winning the 2020 CSAC Championship. This marked the first ever conference championship for Keystone College. With this victory, Keystone made their first ever NCAA Tournament appearance. Keystone ended their historic 2019-2020 run with a record of 21-7 and 19-1 in conference.
Additionally at Caldwell, Danella served as the Associate Director of Athletics and Senior Woman Administrator, where she served on the Gender and Equity Committee for the Central Atlanta Athletic Conference, and oversaw Caldwell's Student-Athlete Advisory Committee, helping fundraise for charities such as Make-A-Wish.
Danella also serves as the High School Director and Head Coach of the Jersey Cardinals AAU program.
Danella graduated from Marist College in 2013 after winning three MAAC Championships with the Red Foxes. Danella scored over 1000 points in her career and was the MAAC Sixth Player of the Year as a senior. Before Marist, Danella played two years for UMass and was an Atlantic 10 All-Rookie Selection and Second Team All-Conference Player.
The Manalapan, N.J. native starred at Red Bank Catholic High School, graduating as the school's all-time leading scorer and rebounder with 1,773 points and 1,156 rebounds. A three-time All-State First Team selection, she was a two-time Shore Conference Player of the Year and the 2007 Asbury Park Press Player of the Year.