Site Search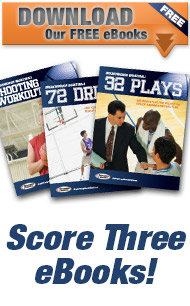 Free Newsletter
Get our free monthly newsletter with new drills, plays, scoring tips & coaching strategies... Signup for our newsletter
Q & A Forum
Experienced coaches are ready to answer your basketball questions! Visit our forum


Subscribe for FREE and Get 3 eBooks…
Just for subscribing to our free newsletter you'll get these 3 eBooks for free…
72 Basketball Drills & Coaching Tips – 136 page eBook.
21 Basketball Tips & Tricks for Players – 20 page eBook.
32 Winning Basketball Plays – 96 page eBook.
Plus you'll get ALL updates to this website delivered to your inbox for free. Over 100,000 other coaches, players, & parents have already subscribed.
We will never send you spam or share your email address, guaranteed!
Close
Coaching Basketball - Player Motivation & Mentality
Here are some articles on player motivation & mentality...
How to Motivate Players
The Ultimate Guide to Motivating Players
Establishing Discipline and Getting More From Your Players
Four Great Ways To Keep Your Team's Attention
10 Tips to Keep Players Focused, Motivated, and Playing Hard
Offseason Motivation & Developing Passion For Youth Basketball Players
How To Motivate & Encourage Players
Mental Aspects of Basketball - Improving Mentality
Watch What You Teach
Breaking Shooting Slumps
Visualization: How You Can Improve Without Touching a Basketball!
Understanding the Law of Attraction and How It can Improve Your Game & Your Life
How To Get Tiger's Mental Toughness
Building Team Mental Toughness - Are You Doing This?
The Original Lebron James' Scoring Mentality & The Act of Immediacy
The Importance of Emotional Balance and How To Keep It
Do You Think Too Much When You Play?
The Original Lebron James' Scoring Mentality & The Act of Immediacy
Clap for Mistakes