Site Search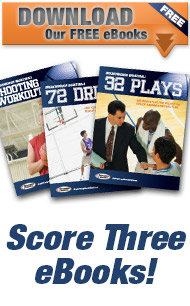 Q & A Forum
Experienced coaches are ready to answer your basketball questions! Visit our forum
BreakthroughBasketball.com Privacy Policy
Our Commitment To Privacy:
Your privacy is important to us. We want you to feel comfortable using our website and know that we keep your information secure. We do NOT share your information with outside parties except to the extent necessary to complete your order with well known credit card processing companies.
To better protect your privacy we provide this notice explaining our online information practices and the choices you can make about the way your information is collected and used. To make this notice easy to find, we make it available on our homepage and on every other page of this website.
The Personal Information We Collect:
This notice applies to all information collected or submitted on the BreakthroughBasketball.com website. On some pages, you can order informational products, make requests or comments, and register to receive newsletters and other materials. The types of personal information collected at these pages may include:
- Your Name
- Your Address
- Your Email Address
- Your Telephone Number
- Your Credit Card or Debit Card Information
Other Information We Collect:
You can visit our website without telling us who you are or revealing any personal information about yourself. We track the Internet address of the domains from which people visit us and analyze this data for trends and statistics, but the individual user remains anonymous.
We automatically log personal data via our website when you send us an electronic message, as well as log information automatically with each individual visit to our website. We save a logfile to a secure folder for internal reporting purposes. We do so for the following purposes:
- Logfile Analysis
- Click Stream Analysis
- Technical Administration of the Website
- Research and Development
- Customer Administration
- Marketing
Cookies:
When you visit our website, we may place an informational text file about you called a "cookie", in the browser files of your computer's hard drive. Generally websites use the information to improve your experience in their site. For example, a cookie allows the ability to personalize information, or to help with online sales, or simply for the purposes of tracking popular pages on a site or demographics.
Cookies also provide programmers with a quick and convenient means of keeping website content fresh and relevant to the user's interests. This information can be valuable to targeting content or advertising to you. The cookie itself does not contain personal information, although it will enable us to relate your use of this site to information that you have specifically and knowingly provided. A cookie can't read data off your hard disk or read cookie files created by other sites. We also use cookies to track user traffic patterns.
You can refuse cookies by turning them off in your browser. If you've set your browser to warn you before accepting cookies, you will receive the warning message with each cookie. You do not need to have cookies turned on to use the public area of this site, however you'll need cookies enabled to access the password protected "membership area" of this site.
The Way We Use Information:
We use the information you provide about yourself when placing an order only to complete that order. We do not share this information with outside parties except to the extent necessary to complete your order.
We use return email addresses to answer the email we receive. Such addresses are not used for any other purpose and are not shared with outside parties.
We use non-identifying and aggregate information to better design our website and to share with advertisers. For example, we may tell an advertiser that a certain number of individuals visited a certain area on our website, but we would not disclose anything that could be used to identify those individuals.
Finally, we never use or share the personally identifiable information provided to us online in ways unrelated to the ones described above without also providing you an opportunity to opt-out.
Our Commitment To Data Security:
To prevent unauthorized access, maintain data accuracy, and ensure the correct use of information, we have put in place appropriate physical, electronic, and managerial procedures to safeguard and secure the information we collect online.
Our Commitment To Children's Privacy:
Protecting the privacy of the very young is especially important. For that reason, we never collect or maintain information at our website from those we actually know are under 13 years of age, and no part of our website is intended to attract anyone under 13.
How You Can Access Or Correct Your Information:
You can access all your personally identifiable information that we collect online and maintain by using
this form to contact us
. We use this procedure to better safeguard your information. You can correct factual errors in your personally identifiable information by sending us a request that credibly shows error. To protect your privacy and security, we will also take reasonable steps to verify your identity before granting access or making corrections.
Changes to Privacy Statement:
If we decide to change our privacy statement, we will post those changes here so that you will always know what information we gather, how we might use that information, and to whom we will disclose it.
How to Contact Us:
If at any time, you have questions or concerns about the BreakthroughBasketball.com's privacy statement, please feel free to contact us by visiting this
page
.
Effective June 20, 2007