Troy Slavin Camps
Who is Troy Slavin?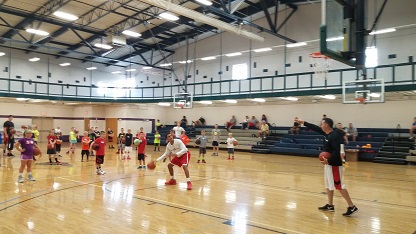 Troy Slavin graduated from Northeast High School where he was selected First Team All CNC League and All Tournament Team at the Riverton Invitational while averaging 19 points a game, with a CNC season high game of 35 pts. An athletic six foot guard known for his leaping ability, Troy once shattered a backboard and led the CNC in dunks his senior year.
Troy accepted a basketball scholarship to Fort Scott Community College but injuries soon ended his college career. He went on to graduate with a Bachelors degree in Radio and TV Production from Kent State University, and began a career in professional broadcasting for some of the nation's premiere radio stations. At 35, he was nominated for radio's highest honor, the Marconi Award, as the nation's best Large Market Personality. At 37, he was awarded the Butterfly Award, the highest honor given by the Children's Cancer Research Fund, for his work in raising over six million dollars to find a cure.
During his radio career Troy stayed connected to basketball and kids, coaching at St. John the Baptist in Minnesota and playing in exhibition games against the University of Kentucky and Deion Sanders' Dallas Cowboy All Stars. His career took him inside Minnesota Timberwolves practice with Kevin McHale and Sam Mitchell, and on the court to learn a few tricks from the legendary Harlem Globetrotters.
His expertise teaching shooting helped his son, Nic Slavin become the Sunflower Player of the Year in Kansas and First Team All State, In a record breaking Senior Year, Nic recorded 4 of the top 5 scoring games in school history and ended his career with the highest career and season averages in Olathe South history. His 44 points broke a 20 year old record held by fellow Breakthrough Coach and Wyoming Alum, Brett McFall.
| | | | | |
| --- | --- | --- | --- | --- |
| Date | Location | Type | Age Level | Player Limit |
| April - May | Lee's Summit, MO | Shooting & Offensive Skills 6-week | 5th - 7th | 40 Players |
| April - May | Lee's Summit, MO | Shooting & Offensive Skills 6-week | 8th - 12th | 40 Players |
| June 14-16 | McPherson, KS | Essential Skills | 3rd - 8th | 40 Players |
| July 8-10 | Centerville, SD | Essential Skills | 3rd - 8th | 60 Players |
| July 12-14 | Vermillion, SD | Ball Handling and Scoring Skills | 3rd - 8th | 60 Players |
| July 25-27 | Cape Girardeau, MO | Ball Handling and Scoring Skills | 3rd - 8th | 70 Players |
| August 2-4 | Kansas City, KS | Attack & Counter | 7th - 12th | 40 Players |
| August 9-11 | Cedar Falls, IA | Essential Skills | 3rd - 8th | 50 Players |
| September - October | Olathe, KS | Scoring & Offensive Skills 6-Weeks | 6th - 8th | 30 Players |
| September - October | Olathe, KS | Scoring & Offensive Skills 6-Weeks | 9th - 12th | 25 Players |
| April - May | Lee's Summit, MO | Shooting & Offensive Skills 6-week | 5th - 7th | 40 Players |
| April - May | Lee's Summit, MO | Shooting & Offensive Skills 6-week | 8th - 12th | 40 Players |
| June 6-8 | Windsor, CO | Essential Skills | 3rd - 8th | 60 Players |
| June 27-29 | Kansas City, KS | Essential Skills | 3rd - 8th | 60 Players |