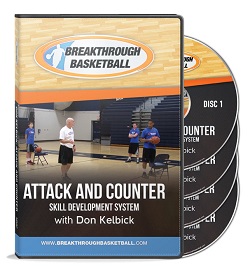 See All Reviews
Write a Review
The Attack & Counter Skill Development System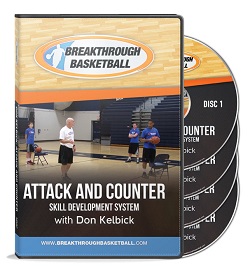 $145.00
In Stock
60 Day Money-Back Guarantee
4 DVDs (440 minutes) and 76 Page eBook

You will be emailed access instructions and passwords upon order confirmation.
The Attack & Counter Skill Development System - DVDs & eBook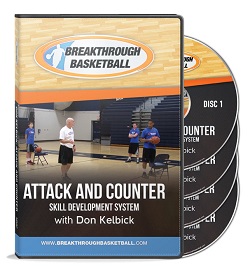 The Attack and Counter System is a unique skill development program designed by NBA skills coach Don Kelbick.
It's a unique and comprehensive system that simplifies the game for players at all levels and all positions. As the name implies, it's based on an "attack" and then "counter" philosophy.
It will improve your shooting, ballhandling, footwork, perimeter moves, post moves, finishing, aggressiveness, quickness, confidence, mentality, and your all-around game!
It's incredibly simple when compared to other skill development programs. Yet it works with NBA and pro players at the highest level...
Albert Einstein once said, "If you can't explain it simply, you don't understand it well enough."
Don Kelbick understands basketball and player development so well, that he has dramatically simplified the moves, the mentality, and the way you practice your skills.
It's both a unique and genius approach to teaching basketball and developing players.
It has worked with thousands of players ranging from the youth level all the way to the NBA.
This program can be used by players, team coaches, and trainers.
What You'll Get in the DVD 4-Pack and eBook
Chapter 1: Introduction (6 minutes)
Don Kelbick gives you an overview of the system and what to expect. You learn...
How and why the Attack & Counter system was developed.
How the system speeds up development because there are fewer things for players to learn.
How it simplifies the game for players.
The definition of being a good player and why the great players simplify the game.
How to make drills game-like when you don't have someone to pass you the ball.
How to practice more efficiently.
Chapter 2: Introduction to Footwork and Mentality (61 minutes)
This is the foundation of the player development and where you start.
You learn the basis of the "attacking" technique, footwork, and mentality. Then you learn how to immediately "counter" without thought or hesitation. And you learn a simplified method to learn footwork for ALL positions (post, forward, perimeter, and guard positions).
Players start practicing near the basket (in the post) to get more repetitions and build more confidence. But what you learn in the post area also applies to point guards, perimeter players, and high post play. By building on previously learned concepts, this simplifies the learning process and speeds up player development.
You will also learn...
How to get more efficient with your feet
How to get quicker on your first step
How to dramatically simplify your thought process and virtually eliminate "indecision" on the court
How to develop a more aggressive (attack) mentality
How to improve confidence
How to develop impeccable footwork
How the pros simplify their attack and decision process
How the pros utilize their footwork to beat defenders
How to attack the defense and dictate (control) the situation... regardless of how the defense plays you
Once you complete this chapter, you will know all the footwork. All of the following chapters build on this foundation and show you how to apply the exact same footwork and mentality in other situations.
This dramatically speeds up the learning and development process for players.
Chapter 3: Length & Angles (19 minutes)
Once you have learned the footwork, you can start learning how to develop more length and take better angles.
Developing speed and quickness is about all about beating your defender with your first step, separating with the ball, and working in straight lines.
The shortest distance between two points is a straight line -- so if you learn to work in "straight lines", instead of rounded cuts and movements, you get faster.
Don Kelbick takes players through several unique drills to help players develop more length and take better angles to the basket. The unique "length and angle drills" also improve the mentality and confidence for players.
Chapter 4: Ballhandling & Warm Up (40 minutes)
Now that you understand the foundational aspects of footwork, mentality, length, and angles.... you can learn how to apply the same concepts to your ballhandling and 1on1 dribbling moves.
In this chapter you will learn....
How to attack defenders off the dribble
How to develop a quicker and more efficient first step
The one and only thing you need to do to beat your defender off the dribble
How to utilize your footwork and then separate from your defender to create your shot
How to improve your all around ballhandling skills
How to multi-task to save time and accelerate your development (work on multiple skills at the same time)
How your warm up should double as a skill development session (your improvement begins the moment you step on to the court)
Sample warm ups to raise your core temperature and improve skills at the same time
Dozens of ballhandling drills and variations you can do on your own or with a team
Chapter 5: Shooting (33 minutes)
As with almost everything he does, Don Kelbick has a unique outlook when it comes to shooting. It's simple.
The simple philosophy helps players improve confidence and their mentality when it comes to shooting.
Coach Kelbick goes through a series of shooting drills and covers the key aspects to becoming a great shooter.
You will learn...
The biggest mistake 95% of the players make when they practice shooting on their own
How to make your shooting workouts more game-like
How to practice your shooting more efficiently (get more done in less time)
How to improve your confidence
How to develop better rhythm
The 3 keys to great shooting
How arc affects your percentage
Why shooting starts with your feet
How to develop better and more consistent footwork
The mental aspects of shooting
Why most shots are missed because your feet and your mind -- and how you can easily fix those problems
How to shoot the same way every time
How the "law of inertia" affects your shooting percentage
2 foundational shooting drills with dozens of progressions and variations for each drill
Chapter 6: Post Play (53 minutes)
This chapter goes into detail on the specifics of post play -- building on the foundational footwork and mentality taught in chapter 2.
Some of what you'll learn includes:
7 drills for post players and numerous progressions/variations for each drill
Your 4 rules for getting open in the post
How to get open in the low post and the high post
How to get open when your defender plays low, high, or in front
How to use your footwork to seal and get the ball in the post
How to dictate and control the defense
How to develop an aggressive attack mentality
The mental aspects of post play
How to score in the post
How to apply your footwork in the high post and the short corner
Chapter 7: Perimeter Play & Triple Threat (41 minutes)
Now you move to the perimeter and learn how to apply the Attack & Counter Concepts on the perimeter.
Again, the perimeter moves are based on the same footwork and mental aspects learned in chapter 2. By building on previously learned knowledge and teaching each position in a similar way, players learn and develop their skills faster.
In this chapter you will learn...
4 drills and several progressions for improving your perimeter play and footwork
How to beat your defender from triple threat position
How to get more efficient with your footwork on the perimeter
How to develop a more efficient and quicker first step
How to separate after your initial move to get more easy scoring opportunities
Using your footwork to create space when a defender crowds you
How to use your footwork to create space for your shot
How to simplify and improve your triple threat attack which will lead to more points for you and your team
How to dictate and control the defense
How to develop a more aggressive mentality on the perimeter
The mental aspects of perimeter play
How to see the entire floor and become a bigger threat on offense
How to protect the ball
How to develop a more explosive first step
Chapter 8: Shooting & Getting Open (39 minutes)
No matter how good of a shooter you are, you must be able to get open to shoot the ball.
In this chapter you learn how to use footwork and change of speed to get open -- and to move without the ball. A few of the things covered in this chapter include....
How to simulate "game shots" when you practice
How to control the defender as you cut
How to get the ball when and where you want it on the court
How to get open by using your footwork and the V-cut
How to get open by using your footwork and the V-cut to the corner
How to get open by using your footwork and the L-cut
How to get open by using your footwork and cutting to the middle
How changing speeds is a key to getting open
How to combine getting open with your shooting practice
4 game-like shooting drills and several variations for each drill
Chapter 9: Screening (56 minutes)
In this chapter you learn how to get open with screens. And how the same footwork learned in chapter 2 applies to using screens.
Players will learn the proper way to set and use screens of almost all types.
Coaches will learn how to teach players to set screens, use screens, and how to counter the defense.
Coach Kelbick covers:
Ball screens, down screens, flare screens, zipper screens, zipper flare, zipper ball screen, new york screens, and corner pin.
How to use each type of screen properly and the fundamental aspects of each screen
How to utilize the footwork (learned in chapter 2) with each type of screen
How to simplify the use and reading of screens by teaching a "base attack move"
How to read and counter the defense for each type of screen
How to use your footwork to create space when coming off a screen
How to attack when you catch the ball off a screen (apply perimeter concepts from chapter 7)
How to create combo drills so you practice using screens, getting open, pieces of your offense, screening, perimeter moves, shooting, and ballhandling (this is a very efficient way to practice and multi-task)
8 combo drills (with numerous variations) for screening, shooting, perimeter moves, and ballhandling
Chapter 10: Fast Break Drills (24 minutes)
In this chapter you learn about fast break fundamentals, drills, and how to shoot off the fast break.
This chapter also covers:
How to practice fast break shooting more efficiently and get more reps (instead of taking the time to run the length of the court)
Fundamental aspects of running the fast break
Fundamental aspects of shooting off the fast break
6 fast break shooting drills with progressions for each drill
Chapter 11: Ball Handling & Shooting Drills (27 minutes)
This chapter gives you 15 more ballhandling and shooting drills that you can incorporate into your workouts, team practices, camps, or training sessions.
Many of the drills are multi-purpose drills that incorporate ballhandling, offense, conditioning, and shooting.
Chapter 12: Post Play Drills (30 minutes)
This chapter gives you 10 more post play drills that you can incorporate into your workouts, team practices, camps, or training sessions.
The drills emphasize mentality, conditioning, footwork, aggressiveness, and scoring in the post.
You also see a sample workout of Don working with two post players.
Chapter 13: Thoughts for Coaches & Players (15 minutes)
This is an important chapter where Don Kelbick answers several questions you might have after watching the videos.
He clarifies some of the Attack Counter Concepts, how you should incorporate the drills into your practices, how to teach shot selection, the importance of acting immediately on the court, when to incorporate the system, how to get the most from the system, and more.
This is a must watch chapter that ties it all together and answers common questions.
Chapter 14: Closing Thoughts (4 minutes)
Coach Kelbick gives you some closing thoughts and gives advice on the next steps you should take as a player, coach, or trainer.
Total Running Time Approx 440 Minutes
76 Page Supplemental eBook
For your convenience, we have documented some of the key concepts, foundational footwork, sample workouts, and 50 drills from the Attack & Counter DVDs.
The PDF eBook is 76 pages.
Over 50 Drills and Dozens of Variations
The eBook and DVDs include over 50 skill building drills and dozens of variations of those drills.
Most of the drills are multi-purpose drills that incorporate footwork, ballhandling, finishing, shooting, and a variety of skills. You'll find numerous drills for every type of skill and position...
Ballhandling
Finishing
Shooting
Post moves
Footwork
Perimeter moves
Getting open
Screening
Offense
Fast break
Competitive
Conditioning
Quickness
In the DVD you'll learn how to use the drills individually (one player), with two players, three players, four players, and with a large group.
So they are very flexible based on the number of players you have.
Coaches and players can use the drills in the off-season, pre-season, during the season, or in team practices.
Benefits of the Attack & Counter System
Here are some of the benefits and unique aspects of the Attack & Counter System...
Flexible for Coaches
The system allows coaches to work with just one player -- or a very large group of 30 or more players. It allows coaches to work with players of varying ages, genders, positions, and skill levels all AT THE SAME TIME.
Post players, perimeter players, and point guards can all work together. An 11 year old can literally workout with an NBA player at the same basket -- and both players get an incredible workout. The unique drills allow for this flexibility.
Flexible for Players
A player can take this system and workout by themselves, with a similar ability partner, or with a friend who does not play basketball.
Most other drills and programs require partners or good passers to help you workout. The Attack & Counter System does not.
The system is very flexible regardless of your situation. You just need a ball, a flat surface, and a hoop (indoor or outdoor).
Works for All Positions
The footwork, mentality, and skill work is the same regardless of the position. This is one of the most unique and genius aspects of the program...
This means that if you change positions, from point guard to post player... you have the footwork and skills you need to quickly adapt to your new position.
Coach Kelbick teaches the same footwork and moves to both perimeter players and post players. This allows everyone to work on the same skills and allows players to excel no matter what position they play. Today's post player might be tomorrow's point guard and today's point guard might be tomorrow's post player. You never know.
So one of the best things about this program is the flexibility, the simplicity, and the rapid development players can experience.
Simple
The system was developed by studying pro players. Coach Kelbick found that the greatest players (big and small) simplified their approach.
Coach Kelbick took this concept and incorporated it into his skill development program.
He will make your post moves simpler and more effective. He'll make your perimeter moves simpler and more effective. He'll make your triple threat moves simpler and more effective. He'll make your 1on1 dribble moves simpler and more effective.
Since there is less to learn, players are able to perfect their moves and speed up their development.
Simplified for Coaches
Don Kelbick has also simplified the approach for coaches. This allows coaches to conduct more efficient practices and speed up the development of their players.
Instead of teaching post players and guards different moves... every player learns the same moves. The moves are just as effective (in most cases more so) and it makes your job as a teacher MUCH easier.
Builds on previously learned knowledge
The program is based on applying previously learned knowledge and skills. This simplicity dramatically speeds up the learning and development of players.
All players start with footwork and mentality. Once they learn this foundation, they see how to apply this same footwork and mentality to a variety of situations and positions on the court.
Players learn faster and adapt to new situations faster by building on previously learned knowledge. It's a progressive system that builds confidence.
Improves mentality, footwork, and all around skill
Most programs neglect the aspects of footwork and mentality... which are arguably the two most important aspects to becoming a great player.
The Attack and Counter Systems thoroughly covers almost all aspects of skill development -- with an emphasis on footwork and mentality -- because Coach Kelbick believes those two things will help players more than anything else.
Makes players better
Bottom line is the system makes players better.
Players will improve their footwork, mentality, shooting, finishing, ballhandling, scoring, and all around skill.
Proven
Don Kelbick has been teaching this system for over 10 years. Hundreds of other coaches (including the owners of Breakthrough Basketball... Jeff Haefner and Joe Haefner) have used this system with great success.
Thousands of players have been trained on this system and experience incredible results. It's a proven system that works.
Based on the pros
Most of the system was inspired by studying professional players. Quite often players think pro players must have a complex set of moves and thought process.
That is not the case. In fact, it's the opposite. More complex does NOT mean better.
The pros simplify their approach. The Attack & Counter System applies this concept to develop better players.
Testimonials From the Pros
"I have worked with Don Kelbick since I entered the NBA. His unique and innovative approach to basketball skills training has had a significant impact on my career."

- Raja Bell, Retired NBA Shooting Guard
"Don Kelbick's training is creative and very effective. As a basketball skills trainer, he is one of the best."

- Irving Roland, Player Development Assistant Coach, Phoenix Suns & Houston Rockets
More Professionals Don Kelbick Trained
A few other pros that have been trained by Don Kelbick include:
Joe Johnson
Bruce Bowen
Tim Hardaway
Omri Casspi
Raja Bell
Rasual Butler
Carlos Arroyo
Guillermo Diaz
Stefanie Yderstrom
Rob Hite
Anthony King
JJ Barea
About Coach Don Kelbick
Some of Don Kelbick's credentials include:
Has provided individual training for more than 14 different NBA players, 50 European and professional players, and hundreds of college basketball players.


Over 35 years of basketball coaching experience at the high school, Division I college, and professional levels.


Served 14 years as a head coach and 10 years as Division I assistant including stops at Hofstra University, Marist College, Keene State College, and Florida International University.


Developed dozens of basketball DVDs and books.


In addition to coaching, has scouted for NBA teams, including the Knicks and the Hawks, and served as general manager in the USBL.


Traveled to over 20 different countries training players and teaching basketball.


Conducted over 1000 basketball clinics and camps training players of all age levels.
Don Kelbick is a long time contributor to Breakthrough Basketball developing dozens of articles, products, and providing ongoing consultation for the site. He also runs the Attack and Counter Skill Development Camps which are offered nationwide.
Don currently lives in Miami Florida training players and running the Drillz N Skillz Basketball Academy.
Who Should Consider Using the Attack & Counter System?
The Attack and Counter System is appropriate for...
Coaches working with teams from the youth level to college


Skill development trainers


Players that are mature enough and interested in learning how to improve their skills (middle school to college level).


Parents of players
The Attack & Counter System is designed for players all the way from the youth level to college and the pros.
Youth players simply stay closer to the basket and utilize the basic aspects of the footwork and ballhandling. Advanced players will incorporate the more challenging footwork and ballhandling.
One of the best things about the system is that it applies to all positions. You might be a guard right now. But in 5 years you might be in the post area. Since the system simplifies the game for players... you can use the same footwork and moves you learned in the post.
The system is designed for point guards, perimeter players, shooting guards, forwards, and centers. It caters to all positions.
It also applies to both boys and girls. Thousands of men, women, boys and girls have used the Attack & Counter System at all age levels.
Sample Video Clips
Instant Access
In addition to receiving the 4 DVDs, you get immediate access to the eBook and streaming video.
After completing your order, you'll get access to a password protected area where you can watch all the videos via online streaming. You can also download the eBook.
The streaming videos requires high speed internet and can be viewed on any computer or tablet connected to the internet.
Online streaming video is also included with the DVD purchase (accessed in the password protected members area).
60 Day Money Back Guarantee
Just like any reputable bookstore or retail business, we have a 100% money back guarantee too.
If for any reason, your purchase is not what you expected, just send us a message and we'll give you a full refund. No questions asked.
"Claim Your Copy Now"
If you'd like to order by telephone, call us at 1-866-846-7892 (toll free).
If you have any questions, don't hesitate to contact us.
Customer Reviews
Most Helpful First
Newest First
---

Brian Sass from Wheeling , IL says:


12/26/2014

at 1:08:08 PM


The Attack and Counter Skill Development System Review
Don Kelbick is one of the greatest teachers of footwork fundamentals in the game of basketball today.

It starts with philosophy. Don gives coaches a new tool for taking the indecision out of basketball and creating a more attacking, more decisive basketball player. Don tears down the old convention of pass-dribble-shoot as the triple threat to create a new triple threat: shot, shot, shot. From this foundation, Don moves into teaching the skills necessary for creating a well rounded basketball player, possessing the ability to score and mastery of the footwork to take them there.

His secret is simplicity. In this DVD series, Don does not flood you with a neverending series of offensive moves from all positions on the court. Coach Kelbick's belief that the same same things happen on the basketball court all the time, streamlines and forms the underpinning of his teaching philosophy.

Coach Kelbick gives you three pivots to form the foundation of his Attack and Counter System. He then gives three counter pivots. These pivots are all you need to teach and all your players will need to become well-rounded threats on the basketball court.

The drill framework that is provided for teaching the footwork is simple, effective, and maximizes player repetitions to increase skill development. The drill work is done using chairs as "passers", and with rebounders working just as hard as shooters to get the ball back to starting point in order to maximize player repetitions.

This is not a "system specific" skill set. The drills that are taught and skills that are learned can be utilized regardless of whether you run a free-form motion, continuity, set plays, or are a 7-seconds-or-less coach. Whatever system you choose to run, the skills taught here can be utilized to tremendous effect.

I have coached middle school basketball for 11 years. During that time, I have always been looking for a concise, simple method to teach and drill players on footwork and shot philosophy. What Coach Kelbick teaches is by far the easiest to teach, the most effective once implemented, and has resulted in players better able to attack a defender, then counter and react to their adjustments. Don's system removes a large part of the thinking from the time a player catches the ball and breaks the decision-making process down to its most basic elements.

In the time I have used this system, I have seen a marked increase in player productivity, and fundamental soundness. I have been able to teach footwork more effectively using the drills in this series. Using Coach Kelbicks philosophy, I have been able to explain the game in simple terms, taken the thinking, the paralysis-by-analysis, out of my players games.

I would highly recommend any coach adding this to their library. From middle school through to high school, Don's system provides the excellent philosophical and fundamental foundations for success.

This review is helpful
5 people found this review helpful.
---

Joe from Chicago, IL says:


9/29/2014

at 3:11:18 AM


This comprehensive DVD and ebook set contains a wealth of information for any level of basketball. Coach Kelbick advocates an attacking mindset, and lays out a well thought-out strategy and methodology to support it. The emphasis on footwork in the post, as well as on the perimeter, is excellent, and something I hadn't seen before. The drills are superb, develop multiple skills, and allow for many repetitions. Although I will be using the information to help make youth players better, I would highly recommend this set to coaches at any level, and for players at any position.

This review is helpful
3 people found this review helpful.
---

Not A Happy Camper says:


4/21/2015

at 5:36:32 PM


I wish I would have known that the "Attack and Counter" app was coming out before I spent $119 on the DVDs.

I would much rather have the app than the DVDs.

Very disappointing... SMH... Unbelievable...

This review is helpful
3 people found this review helpful.
---

A Happy Camper says:


4/22/2015

at 5:01:59 PM


After posting my initial review, "Not A Happy Camper", pertaining to the A&C DVDs vs the A&C App, I have been in contact with the team from Breakthrough Basketball. The team informed me that they will work with me pertaining to this situation.

Their team's response was quick, and they were very professional in addressing my concerns.

Once again, thanks for the quick response and help.


This review is helpful
3 people found this review helpful.
---

Coach K - not Duke :) from Fort Collins, CO says:


10/31/2014

at 4:25:35 PM


I don't buy many DVD's. This one is outstanding. Don Kelbick is a master teacher/coach that simplifies things greatly. Footwork is so key to the game. breaking offensive moves to 3 moves and 3 counter moves - whether you are a post or guard, dribbling or not -- simplistic. I'm integrating these footwork concepts into my daily practice. It is very well organized, DVD and PDF. A great buy!!

This review is helpful
2 people found this review helpful.
---

AB from West Bridgewater, MA says:


10/13/2014

at 4:35:29 PM


I had the extreme priviledge to attend an Attack and Counter Skills Clinic with Coach Kelbick and my daughter in August of 2013. I took pages of notes and did my best to summarize the key points and teachings. Although, I did a pretty good job, the DVD set and the ebook are a tremendous resource for any coach or player looking to improve their skills and their game. Don and the materials are extremely clear and direct in their approach and lay out a simple formula for skill impovement and player development. The attack and counter actions are very simple and easy to execute. They can be done by players of all ages and abilities. Great players will invest the required time and effort to get in the required "reps" to not only be able to execute the moves but be able to execute them in a strong, fast, powerful and decisive manner. I look forward to using these tools to continue to improve as a coach and to help my players develop the required skills they need as they transition from middle to high school and hopefully beyond.

This review is helpful
1 person found this review helpful.
---

Steve from Altoona, PA says:


10/18/2014

at 5:03:25 PM


The four DVDs are six hours of excellent content with a lot of supporting drills. My problem is that there is so much content that is becomes a big blob of trying to remember what is what.

I would have rather had the option of purchasing the DVDs separately along the lines of:
* Foot work for post players
* Drills for post players
* Post player foot work for perimeter players
* Drills for perimeter players

My preference is to be able to sit and watch a complete video in under an hour and try and incorporate small parts of what I think works into a practice.

This review is helpful
1 person found this review helpful.
---

Tom Ratterman from Bellevue, KY says:


12/10/2014

at 12:32:09 AM


I attended Coach Kelbick's Attack and Counter camp with my son and daughter this past summer. I found the camp to be extremely beneficial. So much so, I purchased the dvd's so I could incorporate the drills into the practice and training time I spend with the kids I coach.

This review is helpful
1 person found this review helpful.
---

Wes Brooks from Corinth, TX says:


3/16/2015

at 11:32:06 PM


This is by far one of the best skill development DVDs on the market. Regardless if you are high school college or Pro and you are looking for a system and method of developing player look no further the Kelbick's Attack & Counter. This will be standard of player development dvd's for years to come.

This review is helpful
1 person found this review helpful.
---

Devon from Briarwood, NY says:


4/10/2015

at 9:38:14 AM


This dvd can be instrumental to any coach on any level. Don does a great job explaining the drills and stressing the need for players to get a lot of repetitions in. There are so many trainers out there, teaching players various moves that they will hardly ever use. Don teaches footwork that every position on the floor can benefit from. Pound for pound the best player development video out there.

This review is helpful
1 person found this review helpful.
---

Tim from Edmond, OK says:


5/20/2016

at 6:16:59 PM


Jeff, Joe and Don,

I apologize in advance for the lengthy feedback.

But I need to give you some background. I have a daughter in 7th grade. She's always been tall for her age and was always told not be aggressive with the smaller kids even if the kids were years older. We have no boys and her only sibling is an older sister who doesn't play sports. She never has had an environment of competition or aggressive play. When it came to basketball, she's been very timid.

She's played a couple years with an intermediate level club team and last season she tried out for a serious club team and was selected to their elite level team. The coach knew it would take a season or two to get acclimated to the speed and physical play. I and the coaches thought she made great strides with her overall play but the weakest part of her game was her aggressiveness on both ends of the court.

After her first year of school ball was good and now starting her second season of elite club ball, I was curious how I could help get her more aggressive. I know confidence was a key factor but I wasn't sure how to help. I stumbled across one of Don's video's on a web search and it caught my attention. His simple footwork and triple threat philosophy mirrored mine in my playing days but I always deferred to the coaches.

I bought Don's Attack and Counter System in hopes to help my daughter. We sat down and watched the entire set together and would pause it when she had questions. Then I took her out to the driveway and showed how the drills should go, even when by herself - with spinning it to herself.

During that last 4 weeks she has gone to the fitness center gym with her mom 2 - 3 days a week after school. I gave her a 90 minute limit and she reports back on how many shots she took going through several drills.

Last weekend was her first elite tourney and I and the coaches noticed huge difference in her game. Oddly enough it was as much on the defensive end. An example: she plays multiple positions (3, 4, 5) coming off the bench. Our starting center got in early foul trouble. My daughter came in to play the 5. Playing against a taller, heavier, and more aggressive, skilled player, my daughter posted her up, went to her favorite move turn around jump hook and even though she didn't make it, it's the fact that she didn't hesitate, didn't wait for the guard to dig it and the taller player couldn't block it. Then playing the #3 outside, she caught the pass and immediately was in triple threat (shot) and drained the 3....even though doesn't practice shooting 3's.
On the defensive side, my daughter ended up blocking the taller center's shot because she "said she was slow to react and I knew what the girl was going to do."

Needless to say, I'm extremely excited that she has made progress on her own and I haven't had the chance to really work with her yet. I will report back later in the summer if that's okay.

Thank you so much!

This review is helpful
1 person found this review helpful.
---

Coach O says:


2/20/2017

at 1:00:18 PM


I love the mindset. We all want players who attack. I also love his quote about perfection. Striving for perfection can be a wonderful thing but expecting to be perfect and getting upset when you are not is very destructive. That advice is good for coaches as well.

This review is helpful
1 person found this review helpful.
---

Mohamed from GenŤve, None says:


10/13/2014

at 3:36:40 PM


The best dvd that i have never seen. Really easy to understand and for the kids i think this is the best method. Great coach and great job.

This review is helpful
---

SoCal hooper says:


10/27/2014

at 8:50:07 PM


Very detailed instructions, the drills included are very helpful, you will improve offensively with these DVDs.
Great value for the money.

This review is helpful
---

Trevor from Sydney from Como, NSW says:


11/4/2014

at 4:28:41 AM


Have only reviewed couple of the dvd's and have already been implementing the footwork and shooting concepts in my workouts.
Don does an excellent job explaining the drills so that coaches can easily pass onto their players.
Looking forward to the remaining dvd's.

This review is helpful
---

MIchael from Pakenham, Vic says:


11/4/2014

at 10:53:58 PM


Detailed yet simple. Excellent product.

This review is helpful
---

JACK SINGER from LONDON, None says:


11/5/2014

at 7:41:58 AM


This is excellent material for all coaches.

Don Kelbick uses concepts to approach offence and defence. It's a coherent approach that builds up on a step-by-step basis.

He also questions traditionally-held beliefs, which makes us consider them in a new light.

This review is helpful
---

Ryan Eidle, Panther Valley Basketball, Carbon County, PA says:


11/9/2014

at 9:01:13 PM


Fantastic!! As you move thru the drills the kids start to realize how this works and get very interested!

This review is helpful
---

Coach Hall - Johnson U from Knoxville, TN says:


1/9/2015

at 6:08:19 PM


Jeff, Joe, and Don,

I appreciate your work and constant giving toward the coaching community. I really enjoyed the attack and counter DVD's. I love studying the game, and I think perhaps over taught my players. I used to study players and find great moves to teach during training, but I, like Don found that teaching moves made them slow. With the A&C players do less thinking and more attacking. We have built up to attack, counter, and double counter but it is so much simpler.

I don't teach it 100% like Don as they react for their counters after they attack based on what they feel. Don is a great teacher, and I as a coach greatly appreciate him sharing his knowledge. Breakthrough does another great job with this production. Blessings..

This review is helpful
---

caterina from THESSSALONIKI, None says:


1/26/2015

at 6:23:09 AM


Very nice job fron the coach Don. It is easy to understand and the drills are very simple. I used the fast break drills and the kids love it!

This review is helpful
---

John from Woodbridge, VA says:


2/24/2015

at 10:39:57 AM


Great video series! Has really helped me out with training my son (8 year old AAU B-ball player). Don provides great fundamental teachings on how to attack the basket and counter with effective secondary moves.

This review is helpful
---

mike says:


4/8/2015

at 8:13:42 AM


Lots of good 1 on 0 footwork drills. However the game revolves around reading defenders and this package lacks drills with any defence. I was very disappointed.

This review is helpful
---

Steron in Dallas,Tx from waxahachie, TX says:


4/24/2015

at 7:15:28 AM


This DVD package has really helped me show my son how to be efficient on the court. We had the privilege to go to one of his camps. All I have to say is that Coach Don is Beast...

This review is helpful
---

Johnny from Aurora, CO says:


7/6/2015

at 2:23:40 PM


Attack and Counter training DVD is a must own! Parents, coaches, and players of all ages will learn from this DVD! Attack and Counter is by far the best instructional DVD on the market. If you're a center, forward or guard you will learn great footwork, attacking the basket, how to control your defender and much much more.

This review is helpful
---

Brian R from Wooster, OH says:


8/25/2015

at 7:16:12 AM


Very insightful and easy to apply concepts. Would have liked a step-by-step on how to implement

This review is helpful
---

Pat from Harrisburg, OR says:


8/28/2015

at 7:30:58 AM


I took my daughter to an Attack and Counter camp this summer. She was able to immediately apply some of these skills in her game. The missing component, however, was in remembering the volume of skills taught and being able to relearn and reinforce those skills. The DVD set does exactly that for us. This is and excellent product and I recommend budding and experienced coaches and players purchase the set.

This review is helpful
---

David from Strathdale, Vic says:


10/8/2015

at 10:20:26 PM


This DVD package is absolutely fabulous. Thank you so much. I am pleased to provide a recommendation to this package.

It is easy to watch. Very easy to understand.

So far, I have only watched the first disk - Parts 1-4. (5 times) to absorb it, and have immediately implemented it into my training. The response from my team was fantastic. There is excitement at training. Behavior and effort has improved 100%.

Thank you

This review is helpful
---

Pablo from Bayamon, None says:


10/12/2015

at 11:17:46 PM


Excellent Product for beginners

This review is helpful
---

mike says:


2/23/2016

at 10:34:32 AM


excellent work used a few of the drills and saw immediate results

This review is helpful
---

Jeff from Piermont , NH says:


4/3/2016

at 7:52:42 AM


Great drills for all levels

This review is helpful
---

Mike from Coon Rapids, MN says:


4/19/2016

at 1:07:05 PM


Best skill development DVDs I own, hands down. We spend so much time putting our guys reaction mode....this program helps me breakthrough and apply an attack philosophy to individual development as well now.

This review is helpful
---

Bob Wallace from Wentzville, MO says:


5/10/2016

at 12:32:43 AM


Great drills for all levels even use several drills for my skills training and camps.

This review is helpful
---

Sammy Porras from Carlsbad, NM says:


6/20/2016

at 4:56:43 PM


Fantastic DVD! I also share the opinion that you can only go as far as your feet take you in the game of basketball, and the Attack & Counter system simplifies footwork which in turn make you a better player.

This review is helpful
---

Brad Robinson from Birmingham , AL says:


7/10/2016

at 2:22:00 PM


The DVDs arrived quickly. DVD 1 was loose and scratches on the back. I let customer service know and they rectified the situation quickly by shipping out a whole new set. Also attended the camp which was packed full of drills and good individual feedback. Would highly recommend to anyone wanting to improve their game.

This review is helpful
---

Jon Sanders from Mt. Vernon, IN says:


9/27/2016

at 11:41:50 PM


I give this product my highest rating. I have been lucky enough to work Coach Don at one of his Attach and Counter camps. I coach High School Girls basketball and I have coached at all levels from 3rd grade up to Varsity Boys and Girls. I have a daughter that went to his camp and benefited from the drills. I have always been a big believer in teaching good footwork and the Attach and Counter system is set up for all coaches to be able to implement in their programs. I will probably work another one of his camps if he comes to my area again. I am currently working with our Jr. High Program to implement the drills. .

This review is helpful
---

Thomas Fentie from Cranbrook, BC says:


9/29/2016

at 11:34:43 PM


I have only been a coach for 3 seasons, 2 of which I was head coach and this season I will be stepping back to assist a more experienced coach, but I love what I am seeing and the philosophy behind the attack and counter system. I think it is great that coach Don uses the kiss method, it helps coaches like me with little coaching or basketball knowledge teach. I am really excited to start implementing this system into our daily practices. Thanks Coach.

This review is helpful
---

Ed Atlas from Camp Springs, MD says:


10/1/2016

at 4:27:24 AM


Attack and Counter is a fundamental must have for coaches and players. Footwork is the key to better play. Coach Don Kelbick does a great job of explaining the how and why to use each move in the system.

This review is helpful
---

Shaka from Shiprock, NM says:


11/23/2016

at 3:07:14 PM


Video was excellent.

This review is helpful
---

Sean Rainey from Powder Springs, GA says:


1/13/2017

at 1:04:29 PM


Must have for any coach. Very informative and fundamentally sound advice. Have seen improvement in my kids already.

This review is helpful
---

Todd from New york, NY says:


4/8/2017

at 4:38:36 PM


It's very hard to write this review so early after the purchase. It's so much video I haven't even watched it all but I've definitely watched the first video several times as it seems to be the core of the program. Can't help wondering if it needs to be as long as it is. As with most systems I've explored, I'm left with more questions than answers: How does it all come together? What is my specific approach for youth or middle-school players? How likely is it that these pivots will be incorporated into a real game, and what are the drills that ensure this? How does this approach jive with all the games-based stuff out there that pushes RANDOM as opposed to BLOCK practices? Are these reps variable enough for these high-school kids who can already do the pivots? Is repetition, as Don claims, really the answer?

I'm not into his heavy use of chairs as ball receptacles and prefer to have kids receive a pass but that's an easy adaptation (someone convince me otherwise!).

That said, there's tons I like. I believe Don when he says it's footwork, ball handling and shooting that you can effect at the younger level and I appreciate that he creates a clear foundation with the three pivots and counters, and I already feel more secure in knowing what I'm teaching and where it's going in terms of footwork. I LOVE the stuff he does from the perimeter where he gets kids to push the ball out, economize their dribble and get to the hoop using only a dribble or two. It's the efficiency of motion that is at the heart of this system and I feel that's something I can really hang my hat on. Furthermore, for all my love of teaching decision-making and spacing on offense, I appreciate the way Don simplifies decision-making, taking "the decision" off the plate in many situations, instilling assertiveness and attack sensibility instead. Love his adapted triple-threat: Shoot, Shoot, Shoot!

I'm devoting significant time to this system with younger kids right now (in the off-season I teach a lot of afterschool programs to 3rd-6th graders) and will be curious where this goes. At the very least, this is a great simplification of footwork and gives a coach a nice framework for thinking about it.

This review is helpful
---

Tom from Rochester, MN says:


4/9/2017

at 1:19:02 AM


I think his approach and philosophy seem solid. My guess is that a lot of this material will be difficult to incorporate in working with my 5th grade team, especially since we only have a couple hours a week to practice. These look like great drills for kids a little older or more advanced.

This review is helpful
---

Franck from Alfortville, None says:


4/24/2017

at 3:29:50 PM


Lot of good things on this dvd!
But I wonder if jump stop is the best way to catch the ball on the perimeter... I mean there is a chapter about this point and especially for the players on perimeter and they caught the ball with their back facing the basket.
I believe STRIDE STOP is more useful!

With this one, you raise your quikness and your balance with eyes fixed on the rim.

I guess some players may be confused with their footwork with this drill.
So, if Don or someone else could get the answer for me, it would be great!

** Response from Breakthrough **

Thank you for the comments. We'll respond to you via email to clarify which section you're referring to and get your questions answered. Thanks again.

This review is helpful
---

Jacob from Gothenburg, None says:


5/18/2017

at 8:37:38 AM


Wow, just wow! This is exactly what I have been looking for as a coach of young girls (under 11). Already, the most basic concepts of this material has helped my players tremendously in their development. All players are more confident on the court, and the techniques taught in these videos has helped a lot with this. Instead of thinking before making decisions, all of the players have started reacting more instinctively.
Thanks for this great resource – I would definitely recommend it to any other coach!

This review is helpful
---

Mr. E. says:


9/23/2017

at 7:45:39 PM


This is a very good product thus far from what I have watched. I ordered the Fast Break video and e-book by Don Kleibeck as well. I have the video in my video library but does it not come with a dvd?

This review is helpful
---

Brian says:


4/10/2018

at 11:31:12 AM


Great content. Easy to follow with excellent dialogue. Looking forward to putting into practice.

This review is helpful
---

Jared Pane from Osterville, MA says:


4/16/2018

at 7:06:48 AM


Unbelievable how simple the game is made in this video. I just started an AAU program and took over as president of my local youth travel basketball league. I'm also the girls varsity coach at my local high school. This is going to help me so much when instructing kids and more importantly the coaches in my programs so they can teach the kids. This is going to make building a unified program so much easier. It's not going to be easy but easier at least. Thank you

This review is helpful
---

Samer from Springfield Gardens, NY says:


4/18/2018

at 5:50:38 PM


This system seems to be very effective, I've only been using it for 2 weeks and already see improvement in my young players, please advise if you have a system to teach defense like you we teach the offfense , I was able to understand that we can build our offensive system while improving my players during the workouts , I'm just checking if there is something in parallel with this system to counter the offense and play defense , since the basic workout depend a lot on the correct footwork, I'm sure also defense does , do you have a system for the defense. Thank you nino

This review is helpful
---

Kirk says:


5/25/2018

at 12:36:39 PM


Great material! I've always had many of the beliefs presented by Coach Kelbick but, his system has simplified it and given me many drills & games to incorporate with my team. Already this Spring since using many of the drills of the 'Attack & Counter System' with some of my players, I'm seeing improvements. More importantly, the kids feel the improvements and are gaining more confidence! Thanks for a terrific coaching resource!

This review is helpful
---

MICHAEL MEEHAN from NORTHAMPTON, MA says:


7/23/2018

at 11:40:55 AM


THESE DVDS ARE FAR AND AWAY THE BEST FOOTWORK EXPLANATIONS AND DRILLS ON THE MARKET TODAY. IN ADDITION TO FOOTWORK, COACH KELBICK INCLUDES A LOT OF COMMON SENSE IN THESE DVDS. HIS SHOT, SHOT, SHOT STRATEGY IS WORTH A GREAT DEAL OF CONSIDERATION. HIS SECTIONS ON POST, PERIMETER AND SCREENING EXPLANATIONS AND DRILLS ARE SUPERB. HIS SECTION ON FAST BREAK DRILLS IS A LUCKY STRIKE EXTRA FOR COACHES AND PLAYERS.. IMPORTANT MATERIAL THAT YOU MISSED IN THE FIRST VIEWING IS READILY AVAILABLE IN SUBSEQUENT RERUNS OF THE DVDS. THESE DVDS ARE WORTH THEIR PRICE MANY TIMES OVER TO ANY BASKETBALL COACH AND THROUGH ALL PLAYER AGE LEVELS..

This review is helpful
---

Sue Pertile from Ironwood, MI says:


10/31/2018

at 11:59:14 AM


This was great!!! I can't wait to try it on my team! Footwork is what you need and in these DVDs is takes you through each step so you can advance as needed! It has ball handling, conditioning, passing, shooting and all you'll need to progress your team! It is well worth the money! When I watched it, I felt excited about my upcoming season, and also to get the lower levels started on this! I'll have to send another review after my season!

This review is helpful
---

Jonnie Snow from Virginia Beach, VA says:


11/3/2018

at 11:13:51 PM


Great info. He opened up with footwork...a basic that my son, a great player, has never been taught. The first hour of this training has already helped my son son become even more dynamic. I can't wait to learn more. I'm taking it slow so he can make everything second nature before learning more. I recommend this to all fathers who want to appear as if he knows what he is talking about to a son who thought he knew it all. Thank you.

This review is helpful
---

Coach Tim Maceyko from Cardington, OH says:


4/14/2019

at 8:31:59 AM


I was looking for something centered on improving footwork specifically and this exceeded my expectations. A lot of good ideas and drills on how to improve attacking aggressively and doing it more efficiently. I've coached a long time so not a rookie, but still learned a lot! Highly recommend.

This review is helpful
---