About Coach Nate Sanderson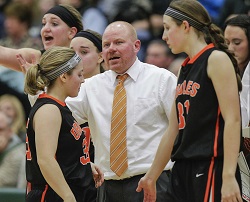 At Breakthrough Basketball, Nate works to develop educational materials for coaches. He manages our DVD production process, and is a frequent contributor to Breakthrough Basketball's newsletter. Sanderson's area of expertise is in developing program culture and teaching leadership development for players and coaches.
Nate is currently the varsity girls basketball coach at Linn Mar High School in Marion, Iowa. Nate became the head coach in 2017.
Prior to that, Sanderson coached in Springville, Iowa. During his tenure at Springville, he coached multiple All-State players, and in 2015, he led the 11th-ranked Orioles on a cinderella run to the 1A state championship game. In 2016 & 2017, Sanderson helped Springville win back-to-back state championships.
Sanderson has received numerous regional and statewide coaching awards. His program has been recognized by Character Counts of Iowa for their commitment to community service and character development. In five years at Springville, his basketball program has raised over $20,000 for various local and international charities.
Nate is also the all-time winningest coach at Louisa-Muscatine High School (L-M) where he taught and coached prior to moving to Springville. When he began at L-M the girls program was mired in a 33-game losing streak. Over the next seven years he transformed the program setting the school record for victories in three consecutive seasons. He also led L-M to their deepest post-season run in school history. He left L-M as the school's winningest girls basketball coach in the 5-on-5 era.
Nate graduated from the University of Northern Iowa with a degree in Social Studies Education. He was a high school social studies teacher before joining the Breakthrough Basketball team. Nate has a masters degree from Gonzaga University in Organizational Leadership. His research emphasis was on the application of servant leadership to sports - a philosophy that forms the foundation of his approach to coaching. He has been married over 10 years and has the cutest daughter in the entire world. With the help of his basketball team, he built a wiffle ball field in his yard where they host tournaments for charity.
If you'd like to send Nate an email, click here.