O.D. Anosike Camps
Who is O.D. Anosike?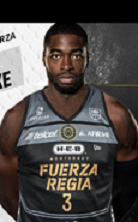 OD Anosike is a current professional basketball player with several years of playing experience in Europe, Mexico & South Korea. He's competed against some of the best talent in the world in countries like Italy, France, Greece and Spain, along with competing for the Boston Celtics and Denver Nuggets in the NBA Summer League.

A graduate of Siena College '13, Anosike enjoyed a decorated collegiate career, leading the NCAA in rebounding for his junior and senior seasons. He concluded his career with over 1000 points and 1000 rebounds and second all-time in school history in rebounds.

Anosike hopes to pursue a coaching career at the conclusion of his playing career. He has been involved with several camps and AAU programs in the northeast region and enjoys sharing his international basketball experiences with the youth.