Site Search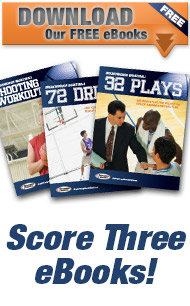 Free Newsletter
Get our free monthly newsletter with new drills, plays, scoring tips & coaching strategies... Signup for our newsletter
Q & A Forum
Experienced coaches are ready to answer your basketball questions! Visit our forum


Subscribe for FREE and Get 3 eBooks…
Just for subscribing to our free newsletter you'll get these 3 eBooks for free…
72 Basketball Drills & Coaching Tips – 136 page eBook.
21 Basketball Tips & Tricks for Players – 20 page eBook.
32 Winning Basketball Plays – 96 page eBook.
Plus you'll get ALL updates to this website delivered to your inbox for free. Over 100,000 other coaches, players, & parents have already subscribed.
We will never send you spam or share your email address, guaranteed!
Close
About Coach Joe Haefner
Joe Haefner is a co-founder of Breakthrough Basketball.
Joe has head coach and assistant coach experience at every level from 3rd grade to High School Varsity. He is currently the varsity assistant at Blue Valley Northwest in Overland Park, KS.
Joe started playing basketball when he was 5 years old and he played all the way through high school where he was an All-Conference player as a junior and senior at Anamosa High School. Joe also played in the Big Bend / Big East All Star Game and won the 3-point shooting contest.
Not only did he learn a ton about basketball by playing with dozens of different coaches for over 12 years, but he also knows first hand what works and what doesn't work with young players. (He should, because he lived it.) He knows what will burn players out and how to deal with this tricky and dangerous trend of aggressively starting kids on basketball at such a young age.
Joe is also very passionate about athletic development and spends a few hours every week reading and watching DVDs. He also became certified as "Level 1 Youth Fitness Specialist" by the IYCA (International Youth Conditioning Association).
If you'd like to send Joe an email, click
here
.
Google+