Romeo Lagmay Camps
Who is Romeo Lagmay?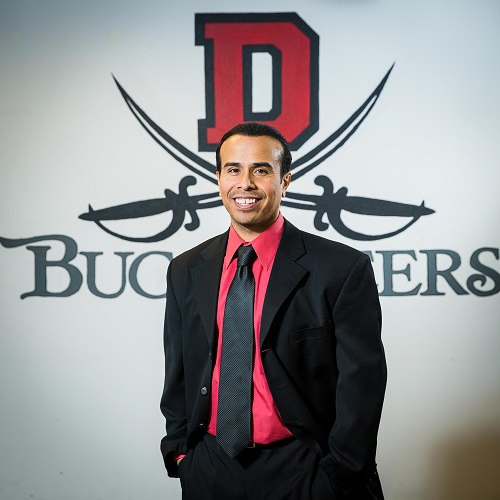 Romeo Lagmay, Jr. came to Dawson Community College with a successful career in various divisions. His experience spans over 25 years of coaching middle school, high school, college and professional basketball. Coach Lagmay (Lug-My) prides himself building his foundation of fundamentals from middle school in 1996 to winning a college national championship in 2010.

Prior to becoming the Head Coach at Dawson CC, Lagmay was coaching at various divisions, as well as professionally. Coach Lagmay is the last winningest coach at Salem University (NCAA D2) in West Virginia since 2001. In his first year in 2006, he had one of the best turnaround records in the country. During his 6 years in Alabama, Coach Lagmay had Talladega College (NAIA) ranked top 10 nationally in his last season in 2014 knocking off two NCAA D1 schools in the same season. He also led them to a USCAA National Championship in 2010. At the NJCAA level, Coach Lagmay has turned Dawson into a regional powerhouse with 5 winning seasons leading the Buccaneers into conference runner-up champions, 3 conference semifinals and 2 quarterfinals appearances. He has 200 college career wins as of December 2018. Since his arrival in Glendive, Coach Lagmay has produced 3 Top 40 Junior College All-Stars, 1 Conference and Region MVP, 6 NJCAA All-Region, 3 All-Americans, 6 First Team All-Conference, and 5 Second Team All-Conference players. Academically, Coach Lagmay has developed 32 Presidents Honors List, 51 Academic All-Conference players along with 28 NJCAA Academic All-Americans. In the last six seasons, Dawson Community College has been recognized nationally with one of the highest team gpas, ranking as high as #2 and #3. The teamís highest GPA of a 3.54 is the highest honor and best in school history.

In 2006, Coach Lagmay was introduced as the head menís basketball coach and general manager of the West Virginia Wild of the International Basketball League (IBL). He also coached in the National Basketball Association (NBA) Summer Professional League from 2004-2008 as both an assistant and head coach in the free agent division. As an assistant coach, Lagmay was in charge of player and bench control. As a head coach, he was responsible for practice sessions and team and player development. He also participated as one of the lead instructors in tryout sessions, conducting different stations of skill development and team play. In 2008, Coach Lagmay won the free agent summer division league championship.