Site Search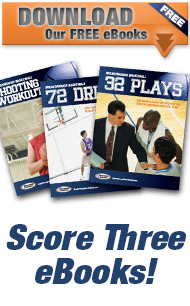 Q & A Forum
Experienced coaches are ready to answer your basketball questions! Visit our forum
About Us
To put it simply,
Breakthrough Basketball
provides you with helpful tips and information so you can become a better basketball coach or player...
On this site, you'll find information about virtually all aspects of basketball, but the emphasis is about the
fundamentals
,
positive impact coaching
, and "doing the right thing"!
You're bound to find new and extremely valuable information because we have a very experienced group of coaches behind the scenes, ranging all the way from youth coaches to the NBA!!
We're very passionate about basketball and coaching. We firmly believe that coaches have very important responsibilities and amazing opportunities to have a
positive impact
on their player's lives.
Too many coaches get caught up in winning and lose sight of the important things. Don't get us wrong, we're very competitive. But we never let winning take precedence over the important things.
We're here to help you improve your basketball IQ and remind you of what's important.
Our objective is to provide extremely helpful free information and advice for basketball coaches and players via email, newsletters, e-books, audio, video, and downloadable information.
For those interested, we provide a select few extremely high quality products and services including
instructional DVDs
,
eBooks
,
basketball camps
and
apps
.
Meet the people behind the scenes at Breakthrough Basketball, LLC...
Here are some of the writers, contributors, and people behind the scenes at Breakthrough Basketball:
Jeff Haefner, Co-Founder

Jeff Haefner is a co-founder of Breakthrough Basketball, skill development
trainer
, and basketball coach in the Cedar Rapids Iowa area. He is a basketball junkie who loves the game of basketball -- whether he is playing, coaching, watching, or writing about it.
Jeff has been very fortunate to coach basketball and train players at a number of different levels over the past 14 years. On a daily basis, he gets the opportunity to collaborate with, and learn from some of the best NBA, college, high school and youth coaches all across the country. He has viewed and studied thousands of articles, books, DVDs, and resources about basketball and player development.
Jeff has written and developed hundreds of articles, books, videos, and instructional resources about coaching basketball. Over 100,0000 coaches around the world subscribe to and read the
Breakthrough Basketball Newsletter
that Jeff and his brother Joe publish.
But what Jeff enjoys the most is teaching young players the fundamentals of basketball, how to gain confidence, and how to be successful in life. That is his passion! To him, practice is more fun than the games because that's where he gets the opportunity to teach and have a positive impact on young player's lives.
Jeff graduated from the University of Northern Iowa with his Coaching Certificate and a Degree in Computer Science. Jeff grew up in Iowa and currently lives there today with his wife and two kids. In his spare time Jeff enjoys boating, water skiing, traveling to sunny places, working out, and playing with his kids as much he can!
If you'd like to send Jeff an email, click
here
.
Joe Haefner, Co-Founder

Joe is the other co-founder of Breakthrough Basketball.
Joe has head coach and assistant coach experience at every level from 3rd grade to High School Varsity. He is currently the varsity assistant at Blue Valley Northwest in Overland Park, KS.
Joe started playing basketball when he was 5 years old and he played all the way through high school where he was an All-Conference player as a junior and senior at Anamosa High School. Joe also played in the Big Bend / Big East All Star Game and won the 3-point shooting contest.
Not only did he learn a ton about basketball by playing with dozens of different coaches for over 12 years, but he also knows first hand what works and what doesn't work with young players. (He should, because he lived it.) He knows what will burn players out and how to deal with this tricky and dangerous trend of aggressively starting kids on basketball at such a young age.
Joe is also very passionate about athletic development and spends a few hours every week reading and watching DVDs. He also became certified as "Level 1 Youth Fitness Specialist" by the IYCA (International Youth Conditioning Association).
If you'd like to send Joe an email, click
here
.
Don Kelbick - Contributing Editor and Consultant

Don Kelbick has had 27 years of coaching experience, 25 at the college level including 14 years as a head coach and 10 years as a Division I assistant including stops at Hofstra University, Marist College, Keene State College, and Florida International University. In 2 years as a high school coach, his teams produced 6 Division I players and was ranked #1 in Florida 28 out of a possible 34 weeks. In addition to coaching he has scouted for NBA teams and served as a general manager in the USBL.
Don currently focuses on individual player development and has worked with a variety of great players including Raja Bell, Carlos Arroyo, Rasual Butler, and many other college and NBA players.
If you'd like to chat with Don or learn more about his player development programs, you can
email him
or go to:
www.donkelbickbasketball.com
If you are interested in some of the products Don has available, view the
Don Kelbick Products
page.
Ken Sartini - aka Coach Sar - Retired Coach, Website Contributor, & Forum Moderator
Ken received his BA and MA from Northeastern Illinois University and over 60 hours past that from the University of Illinois and Saint Xavier University.
Ken has 41 years of coaching experience, 13 working with 6th - 8th grade boys and 28 years as a high school coach, 17 years as the Head Boys Basketball coach at Maine East High School in Chicago.
Ken is spending his time in retirement giving back to the game he loves by mentoring many coaches and helping players. Ken loves to travel and is a Sports and Muscle Car enthusiast.
If you'd like to send Ken an email, click
here
.
Paul Giacomelli - Contributing Editor

Paul Giacomelli grew up in a family somewhat crazy about basketball. His dad was a small-school all-state point guard in Oregon, and he got Paul started playing basketball at the age of five in a developmental program orchestrated by a group of dads in a small town in Northern California. The emphasis was on skill development and good sportsmanship.
From that excellent foundation, Paul continued to participate as a point guard in competitive basketball through grade school and high school, receiving expert training from his various coaches and from those he met during several summers at the Squaw Valley Basketball Camps affiliated with the then San Francisco Warriors basketball organization.
Later in life, Paul became a teacher and coached high school basketball for eight years, four years as a boys' junior varsity coach and four years as a boys' varsity coach. He was able to attend several impressive coaching clinics during that period and heard presentations from many of the premier college coaches in the game. After that, he continued coaching for another eight years as an eighth-grade coach for boys' and girls' teams.
In addition to these involvements, Paul has coached in Y-Ball programs and in AAU programs.
Currently taking a break from coaching, Paul continues to enjoy playing, watching, and writing about basketball. He is particularly interested in the opportunities basketball presents to develop high levels of teamwork.
If you'd like to send Paul an email, click
here
.