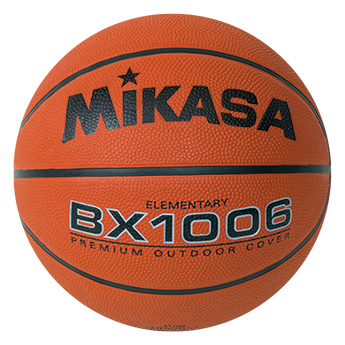 See All Reviews
Write a Review
Mikasa BX1006 Basketball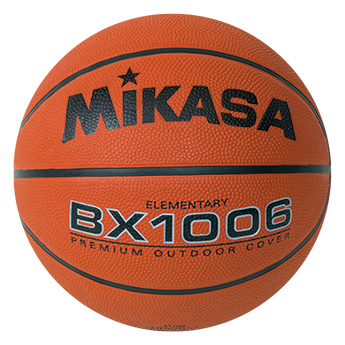 $12.99
In Stock
60 Day Money-Back Guarantee
Size 4 - 25.5"
Weighs 14 ounces
Premium outdoor/indoor rubber cover
Wide channel
1-Year Warranty
Perfect size for players between the ages of 5 and 8 years old.
* Team discount. Order 5 or more and get 15% discount.
Product Review and Description by Coach Jeff Haefner
The Mikasa BX1006 is 25.5 inches and weighs approximately 14 ounces. It's the perfect size for 6-8 year old girls and 5-7 year old boys.
The BX1006 is lighter than the commonly used size 5 youth and size 6 women's basketballs. This lighter ball allows young players to utilize proper shooting technique. With the heavier basketballs, young players compensate by "slinging" the ball to the basket. As a result they learn poor shooting technique and develop bad habits when using the heavier basketballs.
The lighter 25.5 inch basketball allows young players to use proper shooting technique and develop good habits.
This is the exact ball we use with our youth basketball teams. And the ball I used for my own son and daughter when they play in 1st to 3rd grade basketball.

I have tried other small basketballs, however we were not satisfied with the quality. The other brands developed lumps causing the ball to have an unpredictable bounce and several of them had trouble holding air for more than a few days.
The Mikasa ball is not perfect (it's only $12.99) but I have found it to be an excellent ball for the price and I have yet to find something better. This is the ball I recommend to all girls between the ages of 6 and 8 years old -- and boys between the ages of 5 and 7 years old.
Customer Reviews
Most Helpful First
Newest First
---

Tiffinay Batey from Conroy, IA says:


11/26/2017

at 9:25:59 AM


I bought this ball as a Christmas girft for my 7 year old son. He wanted a ball his size that looked like a "real basketball". I didn't realize that it would come flat, but makes sense. Overall,I'm completely satisfied and can't wait for Christmas morning!

This review is helpful
---

joe martin says:


6/30/2018

at 8:40:31 AM


I bought this ball for my 7 yr.old grandson who is just getting interested in hoops.Having played all my life I realize the importance of learning BASIC skills and the ball is an important component.The right size ball and basket height as he progresses is very important.This is a well made ball and the right weight and circumference for him.It will allow him to learn to shoot correctly and feel the ball better than having to PUSH his shots in a jerking fashion and hopefully build his confidence with every made shot.A great first ball for him.Prompt delivery and good price from breakthrough

This review is helpful
---

Jona says:


7/9/2018

at 10:32:34 AM


good,quality ball.Bought the size 4,22.5"ball for my 7 yr.old grandson.He loves it,and the size is appropriate for him to learn to dribble and shoot correctly.As he grows so will ball size.

This review is helpful
---

Colin from Vestavia, AL says:


12/3/2018

at 9:18:42 PM


My son really enjoys this ball.

This review is helpful
---