Basketball Size Chart - Recommended Sizes for Kids & Adults
If you spend a little time watching youth games, practices, or pick up games in this country, you'll see that most young players use the wrong size basketball.
And using the wrong size often leads to bad shooting habits (incorrect technique).
This is partly because most websites (and basketball manufacturers) give recommendations that are frankly out of whack.
Below you'll find recommendations from the experts here at Breakthrough Basketball.
| | | | | |
| --- | --- | --- | --- | --- |
| Size | Circumference | Weight | Rim Height | Recommended For |
| Size 7 | 29.5" | 22 oz | 10' | Men and boys ages 15 and up. This is official size for high school, college, and the pros. |
| Size 6 | 28.5" | 20 oz | 10' | Boys ages 12-14. Girls and women ages 12 and up. This is the official size for women's high school, college, and pro basketball. |
| Size 5 | 27.5" | 17 oz | 9' | Boys and girls ages 9-11 years old. This is the standard youth basketball you find in most stores. |
| Size 4 | 25.5" | 14 oz | 8' | Boys and girls ages 5-8 years old. |
| Size 3 | 22" | 10 oz | 6-7' | Boys and girls ages 4-8 years old. Also known as "mini" basketball. |
| Size 1 | 16" | 8 oz | 2-5' | Boys and girls ages 2-4 year olds. Also known as "micro-mini" basketball. |
| Nerf Toy | 9-20" | 1-5 oz | 2-5' | Great for toddlers 0-4 years old. And fun for young hearted adults too! |
Notice the difference in the weight for each size?
It might not seem like a lot but it makes a huge difference when shooting the basketball.
A men's size 7 ball is more than twice the weight of the size 3 mini!
This extra weight makes it impossible for young kids to shoot with proper technique.
Young kids compensate by dropping their shoulder, twisting, and slinging it up to the basket. And in some cases players flick the ball with both hands.
These bad habits tend to stick with players into their adult years, and they're much harder to break that you'd think!
So take the time to pick the correct size and weight basketball for your child.
Want to get more playing time and become the standout player on your team? Download our FREE Driveway Skill Workout for an expertly designed regimen that will have you scoring from anywhere on the court.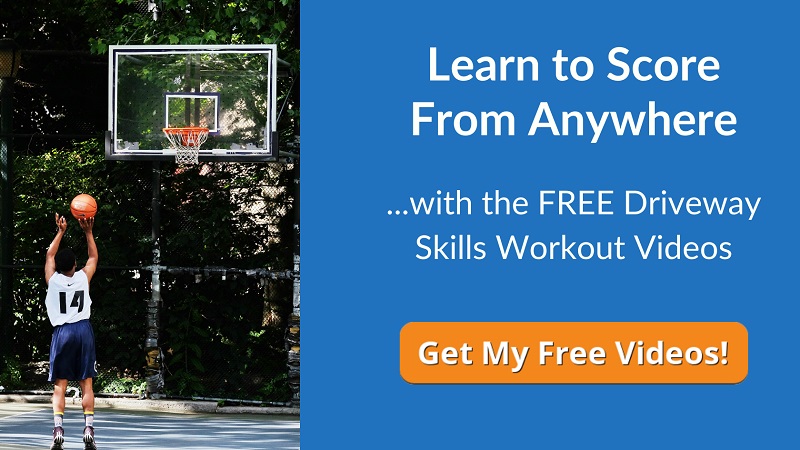 To your basketball success!
Jeff and Joe Haefner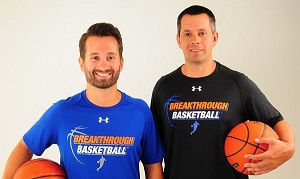 Related Pages and Helpful Resources
Why Standard Youth Basketballs Are Too Heavy and Result in Bad Shooting Habits
Youth Basketball Shooting: 3 Things Youth Coaches & Players Need to Adjust
Leave your comments, suggestions, and questions below...

Comments
Most Likes First
Oldest First
Newest First
---
Elon Musk says:
4/22/2022 at 1:46:50 PM


Basketball is the worst sport its only for black people.

Like
---
Elon Musk says:
4/22/2022 at 1:45:50 PM


Wanna fly to mars? gimmie ur card and we (you) can fly.

Like
---
Lol says:
11/15/2021 at 7:39:35 PM


Yeah ikr

Like
1 reply
---
Lol says:
11/15/2021 at 7:40:51 PM


Stop saying lol

Lol

Like
1 reply
---
Lol says:
11/15/2021 at 7:42:41 PM


Far away?

Like
---
---
---
Bob Caperna says:
1/30/2020 at 11:26:01 AM


Looking for a custom imprinted basketball for a league serving kids and adults with Special Needs. Obviously we are on a budget so price is also a concern. Willing to go as small as size 1 if needed.

Like
---
Terry says:
11/4/2019 at 6:04:42 PM


Thank you for creating this site. My grandson loves playing basketball, and he's playing this year. I've not played in over 45 years, and I've forgotten more than I can say (and sports always evolve) so I can use all the advice I can get to help my grandson.

Like
---
Jeff Chen says:
4/30/2018 at 3:01:02 PM


I am a dad of a 4th grade boy who really loves basketball. I have really enjoyed your website and have gotten lots of useful information from it. I couldn't agree with you more about your recommendation about right ball size for kids. My question is: my son shoots great in the backyard with a great form with a 27.5 ball at a 9 foot rim. Then he plays at the school yard (using a 28.5 ball and 10 ft. rim) and can't shoot more than a 9-footer. So he gets frustrated and then ends up changing his shooting form. Then I have to try to change his form back to the correct form. It has already happened 3-4 times over the last 12 months. How do I deal with this situation? I don't want him to use the wrong form so he can shoot farther but when CYO or Travel season comes around, he will be using a 28.5 ball on a 10-foot rim. Thank you for any feedback.

Like
1 reply
---
Jeff Haefner says:
4/30/2018 at 8:20:08 PM


This is a battle most coaches and parents deal with. I don't have a good answer. My son did the same thing... he wanted to play with his friends. Until the rules change for the leagues and tournaments... it's just something you deal with. I'm always telling my son not to shoot 3s. He was convinced he could shoot them with proper technique. I filmed him shoot 3s and played back in slow motion using Coaches Eye app. Then he saw how jacked up his form was!! Until then he didn't believe me. Just keep encouraging him to stay close, use good form, and be patient.

Like
---
---
Palle says:
12/25/2017 at 11:16:26 AM


I am a dad here in Denmark (Scandinavia) and we have great traditions of e.g. soccer but none when it comes to basketball.
So it is great to have some "original American" instructions, tips and training programs.

My teenage son just started in a local basketball club and think it will be really helpful for him to follow your training programs.

Thanks a lot !

Like
---
Coach Vic says:
10/30/2017 at 5:39:59 PM


I am going to start a league in 2018 that is parallel to CYO. Those that don't make their CYO teams in various schools will have a place to play and learn.
For 3rd & 4th grade boys and girls it will be a non competitive league with refs but no score kept, no playoffs, no all star games. Just learning how to play with an age appropriate ball.
For 5th & 6th grade boys and girls I'm thinking about doing the same rules.
For 7th & 8th grade boys and girls it will be competitive with refs, playoffs, scores kept, all star games, wins/losses and a 28.5 ounce ball used.

Like
---
un says:
3/15/2017 at 9:42:51 AM


What are the units for the circumference

Like
1 reply
---
JMill says:
11/7/2018 at 10:27:26 AM


Inches

Like
---
---
Mar says:
6/1/2016 at 12:24:31 PM


Others sizes of basketball is not available in the market or basketball shop like size 4 and 5.

Like
---
Show More
Kristapis porziningus says:
11/22/2015 at 12:59:03 PM


I use a 30.5"

Like
---
Julia says:
8/13/2015 at 9:25:20 AM


Thank you for research it help me for my work


Like
---
Dan says:
12/9/2014 at 10:07:31 AM


I help administer a league of players, boys and girls, in grades 1-6. I would love for all of our teams/schools to consider going to a youth ball in grades 1-2 junior ball in 3-4 28.5 in 5-6. Would that make sense? And, is it possible to find the youth ball (size 4) in a composite or leather material? (indoor game condition).

Like
1 reply
---
Jeff Haefner says:
12/9/2014 at 11:11:04 AM


Dan - I think what you propose is definitely a step in the right direction. I'd still like to see 5th graders using the 27.5, especially girls. But you might get push back because people are not used to that. Almost everyone uses 28.5 or bigger in 5th grade. So it might take a little "selling".

I have not been able to find a size 4 composite or leather ball. However the Mikasa rubber ball does not seem like rubber. It looks and feels more like composite material and I personally would not hesitate to use that as a game ball. I don't think anyone would even think it is made of rubber. I know some leagues use that same ball. Here's the link to the size 4 Mikasa I'm talking about.
http://www.breakthroughbasketball.com/store/shopexd.asp?id=96

The balls we get are a little darker than what you see in the picture. I'm assuming that's an older picture that Mikasa sent us.

Like
---
---
Dave says:
12/2/2014 at 9:13:40 AM


In Western PA 28.5" (size 6) balls are common for boys 9-11 (4th grade). 5th grade and above is standard 29.5" ball...


Like
1 reply
---
jeff says:
12/2/2014 at 9:46:02 AM


Yea that's too bad. We see the same thing around here in Iowa with tournaments and club teams. I think that's a big reason that by the time I get kids (in high school) so many of them have shooting technique that is really messed up. And 95% or more of the kids can't (or won't) break their bad shooting habits. 4th graders just are not strong enough to shoot a 28.5" ball with proper technique. They drop their shoulder, twist their body, etc. And they learn bad habits that stick with them through high school.

Like
---
---
Jeff Crews says:
11/30/2014 at 8:37:35 AM


How about ages and goal heights? How about 3 on 3 instead of 5 on 5 at younger ages also?

Like
1 person liked this.
1 reply
---
Mark Yeager says:
11/21/2014 at 7:44:01 PM


I bet Larry bird didnt shoot with those little balls when he was a kid. Did they even have them balls back in the day? Doubt it.All the best shooters are old school players. Very doubtful they used that chart

Like
2 replies
---
Travis says:
11/25/2014 at 9:15:15 AM


Larry legend was not the same size/strength as the average kid. Not a relevant comment when we are talking about developing skills for the majority of players. This chart is great for development of technically sound shooting form. Kids will compensate for the additional weight of the wrong size ball which creates bad shooting habits, period. I've seen it as a coach from K through 6A varsity.

Like
2 people liked this.
---
Jack says:
11/27/2014 at 7:59:36 AM


I'd also point out that back in the day when Bird played, kids didn't play us much. Now you have kids playing as young as 5 year olds and some 8 year olds are playing 50 games a year. There are so many more games and clubs now than ever before. I didn't even play basketball until middle school and I'm quite a bit younger than Bird. Things were much different when I was a kid and basketball was more of an older players sport back then. We live in a different world today and making adjustments makes sense. I think this chart is great.

Maybe the best shooters are old school players because they didn't start playing basketball until they were older and thus used an age appropriate ball? I also think a big part of it has to do with the media and a different emphasis on basketball. Now you see dunks and behind the back passes on Sports Center. Years ago shooting was emphasized. Today athleticism and fancy 1on1 moves are emphasized.

Like
1 person liked this.
1 reply
---
Lotus says:
8/23/2016 at 8:36:26 AM


I also believe that older players never had a three point line. This really influences today's kids to shoot way beyond their range thus developing poor shooting mechanics.

Like
---
---
---
DC says:
11/21/2014 at 7:14:26 PM


My 8-year old daughter was just told to bring a 28.5" ball to her 1st Upward practice. I couldn't believe it. My 8th grade team (14 year olds) use 28.5. Wish they would reference your chart.

Like
1 reply
---
Gordon DeSilva says:
2/17/2017 at 2:48:28 PM


Upward uses the exact same chart, I've been an Upward Director for 10 yrs, with any league, individuals may not be as informed as they should be... also we provide the balls to practice with so should never bring your ball to league (or it may be lost/stolen)

Like
---
---
Guinness Rider says:
11/21/2014 at 1:02:12 PM


Great! Finally a reference chart for this. Thank you.

Same problem here as Darrel, everyone wants to use the big balls, on the big nets, thinking somehow this will get them dunking in no time...at 9 years old...

Parents don''t take into account the natural progression and strength building children go through enough. Be patient.

Like
---
Darrel says:
11/21/2014 at 10:33:00 AM


I am glad that someone finally thought about this. I battle with parents all the time. Their children want to use "Official" size basketballs. I insist that they use appropriate sized balls, so that they can avoid developing bad habits when coping with balls that are too big and too heavy. I have even had younger children shoot with volleyballs.

Like
2 people liked this.
---