2x State Champion Shows You...
How To Run Championship Practices!!
Maximize Your Practices' Efficiency and Effectiveness... With Guidance on Structuring Practice... 21 Proven Team Practice Drills... And So Much More!!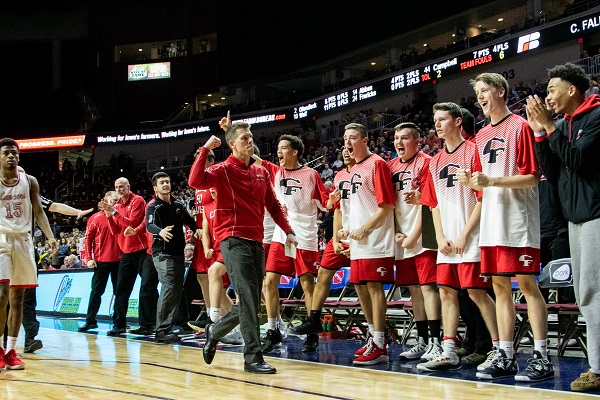 It's an undeniable fact that...
Championship Teams are built on Championship Practices!
So if you want to elevate your practices to that level and...
Use proven drills that actually prepare your players for real-game situations.
Be as efficient and effective as possible with the little practice time you have.
Maintain high levels of intensity and motivation through the long winter season.
Find targeted drills that instill the core concepts and habits of your specific system...
Then Coach Ryan Schultz's How to Run Championship Practices will help you achieve all of these and more.
With it you'll be able to...
Add 21 championship-caliber team drills to your arsenal... so you can simulate real-game situations and instill system-specific habits into your players.
Efficiently organize and structure your practices... so that every minute with your players is utilized effectively.
Draw from a wide assortment of competitive drills... so you can keep things fresh by giving different looks throughout the season without sacrificing effectiveness.
Have total command and respect of your team... by modeling and learning from a coach that knows how to use body language, tone, and coaching cues... all while demanding a high level of effort and discipline.
Sequence practices in accordance with the "whole-part-whole" philosophy... to maximize skill retention and improvement in a short amount of time.
Coach Schultz's How to Run Championship Practices is a truly unique product for coaches that...
Pulls Back the Curtain On One of the Best High School Programs In The Nation!
In a relatively young career...
Coach Schultz has already reached legendary status by delivering the first state championship to Cedar Falls High School in over 100 years...
But if that wasn't enough... he followed it up with a second state championship... and a total of 6 state appearances in just 7 years!
And as he'll tell you himself...
Championships Are Forged During Practice!
In fact...
Coach Schultz's practices are so effective and so efficient...
That the longest tenured D-1 football coach in the entire country, Kirk Ferentz, said this in a press conference about attending Coach Schultz's practice on a recruiting trip...
"It was one of the best practices I have ever attended in any sport. Like it was really impressive. The whole group was just really wired in... Just the team chemistry, and the way they operated efficiently. It was just a really impressive practice."
-Kirk Ferentz, Iowa Head Coach
Coming from a legendary coach who has recruited players from virtually every sport... and has likely observed literally 1000's of practices...
That unsolicited compliment is truly high praise!!
And with How to Run Championship Practices... you'll see why Coach Schultz's practices left such an impression on Coach Ferentz!
Including Philosophy tips like...
Practice techniques to keep players motivated through the season
The 2 most important factors for structuring practice
How the right drills will make every practices meaningful
The 6 planks to his Core Coaching Philosophy
When to introduce concepts that are mentally demanding and technical
Advice on roles for assistant coaches
And the importance of explaining the "why" behind drills to your players...
As well as...
Over 4 hours of practice footage and informative presentations
2 full-length mid-season practices from the 2022 season
"Points of emphasis" videos before every single drill
Helpful "pop-up" notes to emphasize important teaching moments...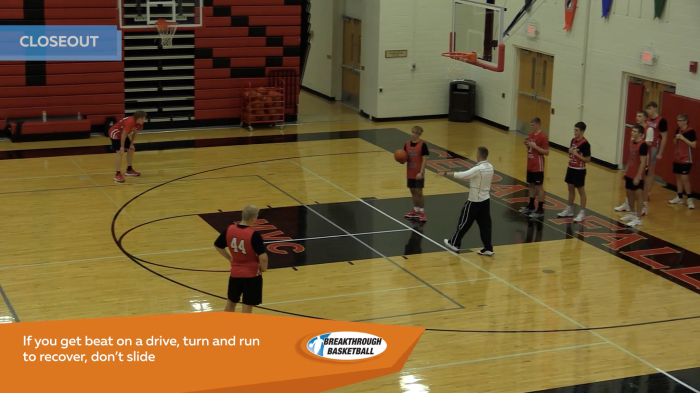 You'll also get...
Additional "Breakdown" videos after every single practice drill...
So you understand what Coach Schultz liked about his players' performance... as well as what he thought needed to be improved...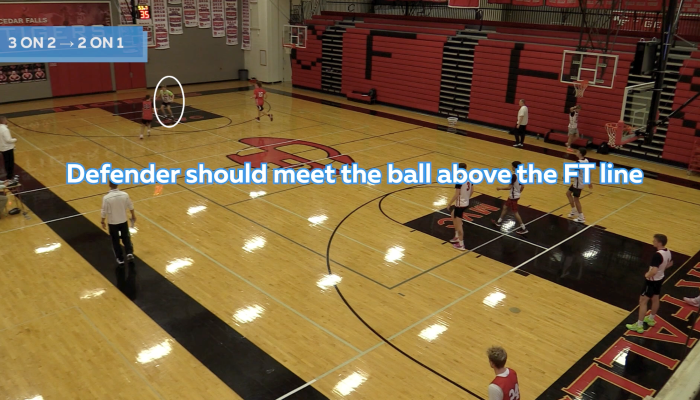 And just to be clear...
You'll be learning from...
Genuine Behind-the-Scenes
Breakdowns of Real Practices...
Warts and all!
What that means is...
Not only will you gain subtle insights like...
Which types of player mistakes will trigger mid-practice sprints
Which mistakes you can intentionally let slide
How combining different drills can keep things fresh for players
And how assistant coaches can best be utilized
But you'll also understand the logic behind Coach Schultz's critiques of his own players... because oftentimes, the biggest gains come from mistakes in practice...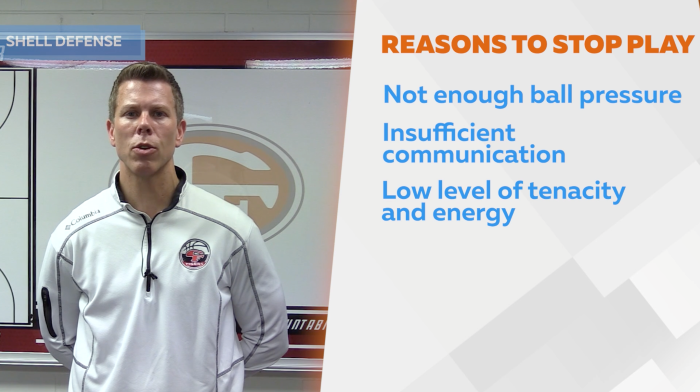 And when it comes to team drills...
In total, you're getting...
21 Championship Calibur
Team Drills
(In truth, it's far more than 21 when you include the
regressions, progressions, and variations of each drill)
You're getting a complete breakdown of drills like...
Charge to Scramble... so players learn how to "iron out the next threat" so they can defend through disadvantaged situations (this drill is covered at 40:50 of Video 3).
Continuous Ball Screen... so players get comfortable with several different ways to defend the increasingly common ball screen offense (41:45 of Video 2).
Competitive 3 on 2, 2 on 1... so you can recreate a more game-like setting for your advantage fast break situations (12:25 of Video 2).
Butler... which, when done in conjunction with the Shell Drill, will get your players in the habit of playing without hesitation on defense (33:30 of Video 2).
Live Closeout... for deterring straight line drives (Coach Schultz runs this drill almost daily because straight line drives are one of the most potent offensive threats).
Team Pressure Passing... so your players can remain poised when facing a high pressure defense (1:21:20 of Video 3).
As well as...
Perfect Possession... so your defense can trigger more shot clock violations through teaching radical accountability on defense (48:45 of Video 2)
One More Team Shooting Drill... to really ingrain the "one-more pass" concept into your players so they can instinctively find the open shooter (2:35 of Video 3)
Cutthroat... to hammer home the core concepts of your offensive and defensive schemes so your players establish the most important habits for your unique style of play (1:38:30 of Video 2)
Advantage Break... so players learn how to play fast, push the ball ahead, and keep the running lanes wide (10:30 of Video 3)
Post / Guards... a drill that separates post and guard players so you and your assistants can maximize player development... and even how to properly rotate players who play both positions. (1:00:00 of Video 2)
Spartan Rebounding... a drill Michigan State used to become one of the best rebounding teams in the nation (22:20 of Video 3)
And many more!
So...
If you want to...
Truly Learn How to Run
A Championship Practice...
Get Instant Access to How To Run A Championship Practice for just $49!
Don't Decide Now
(60-Day Unconditional Money-Back Guarantee)
Ryan Schultz's How To Run A Championship Practice is backed by our 60-day unconditional money back guarantee.
So take the next 60 days to go through all the videos and try them out with your team.
If you don't feel this product benefits your team, just email us for a full refund.
No questions asked. No hassle. No worries.
Get Instant Access to How To Run A Championship Practice for just $49!
Customer Reviews
Average Rating
5
Based on 7 reviews
Review This Product
Rate and review this product to let others know about your experience.
WRITE A REVIEW

This is one of the 2 or3 best coaching videos I have ever seen and I have been coaching for 35 yrs. There are so many things to garner: organization, pace, relationships with kids, use of staff..etc. I would pay good money to watch more of Ryans practices especially perhaps a video outlining all the great drills and competitive situations he puts his kids. Easy to see why he has had such success.
This review is helpful

(
0 people
found this review helpful)

Good drills!
This review is helpful

(
0 people
found this review helpful)

Fantastic video! I expect to incorporate nearly every drill covered in this video at some point during the season.
This review is helpful

(
0 people
found this review helpful)

I thought the product was designed for younger coaches who need someone to follow who has an organized system which has proven t o be successful. For people who need more direction this is a great product and those who are less experienced should grab this product and study how it is put together. For myself however there were too many drills that are outdated if you ascribe to the Chris Oliver, Basketball Immersion philosophy. Too much rote repetition with too little decision making for me. I hate to say these things because for young coaches who need to follow a well organized system this would be ideal. It just doesn't fit my needs at this time after almost 50 plus years of coaching. I do appreciate the opportunity to return it for a full refund. I have accumulated many videos from Break Through Basketball over the years and I think they are the best in the business in producing quality products and Coach Schultz's is no exception.
This review is helpful

(
0 people
found this review helpful)

I like the players understanding of the system the coach is running. Also, how discipline and how organized his practices are conducted. In the advantage break drill, it wasn't clear to me where the two added players are lined up to create the disadvantage.

I will definitely use some of these drills this season. I've been coaching over 20 years and the drills give me a better understanding of how to incorporate them into my system.
This review is helpful

(
0 people
found this review helpful)

I like the drills, it helps create competition amongst the players.
This review is helpful

(
0 people
found this review helpful)

I like the authenticity of practice.I thought the product was great. I would like to see the first couple days of practice and what pre-game practices look like.

Coach Schultz does a great job!
This review is helpful

(
0 people
found this review helpful)