This Unusual Offensive Approach Boasts A Mind-Boggling 70% Effective Field Goal Percentage In Transition Situations...

And Now One Of The Best High School Coaches In The Country Is Ready To Reveal His Secrets So You Can Have Success With It Too!

Dear Coach,
If you want to win at the modern game of basketball, then you've got to do 3 things that most coaches aren't willing to do...
Stop depending on generational talent to walk through the door.
Stop relying on traditional half-court offenses that are comfortable and controlled.
Get comfortable with playing at an uncomfortable pace.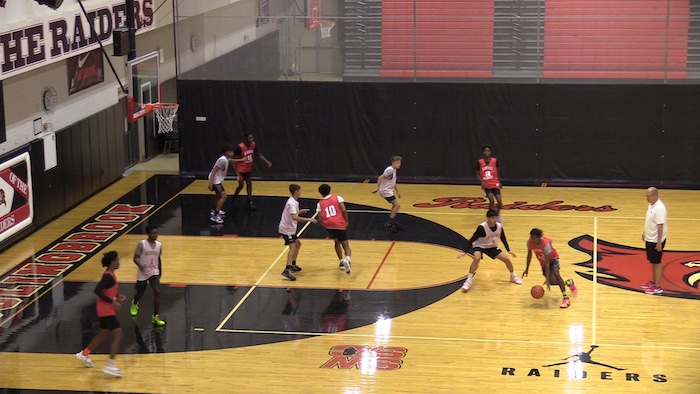 Here's why it's important to do each of these things right now.
In regards to generational talent...
Obviously, nobody knows when the next crop of top-tier talent is going to arrive... if ever! Getting those types of players is out of your control.
So you have to use systems that help your team "outkick their coverage", "play ball out of their league"... overachieve year in and year out!
When it comes to half-court offenses...
Almost every team you face runs a traditional half-court offense... whether it's continuity, motion, or called set plays. As a result of facing these offenses week in and week out, most of your opponents' defenses are accustomed to playing against them.
This makes it easier to get back and get set, so they can defend them... making it harder for your players to score easy buckets.
That's why you need to get comfortable with playing at a pace that your team is used to but opponents aren't used to...
Practicing this particular way is uncomfortable at first. But things don't stay that way for very long.
Most coaches try to slow down the game and wait for players to develop their skill sets before they speed things up during competition.
If you're one of those coaches, guess what...
You're never going to get around to speeding things up!
Your players will end the season playing at the same pace they began. And this never-ending cycle repeats itself from one season to the next.
And your offense is probably on par with the talent level of your team... you don't exceed expectations.
However, if you want to win more games in spite of the talent you have, then you'll want to keep reading because...
There's Only One Way To Stop
The Self-Defeating Process Of Talent-Dependent Winning
Now, I want to give the right impression... This isn't a miracle worker.
If your team has the talent level of a 3-win team, you're not going to win a state championship with this...
However, you might double your win total! You might go from finishing at the bottom of the conference to the top half.
And if you have a talented team, this can propel you to competing for state championships... like it has for me!
And that's what we're trying to do here... we're trying to have our results exceed our talent level.
This all starts by running a positionless team and instructing players to practice at an extremely uncomfortable pace.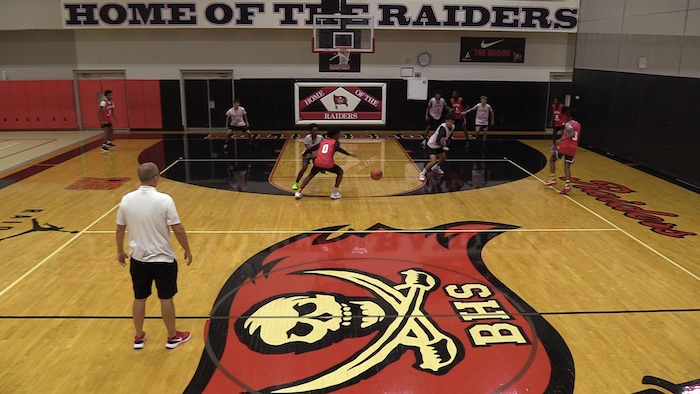 I believe it's important to practice this way because a player's mindset is more important than their skill set.
Once this style of practice is done correctly, magical things start to happen.
Because they've spent so much time practicing at a frantic pace, things slow down on game day.
We'll get to all of the details on this system in just a moment.
First, allow me to introduce myself...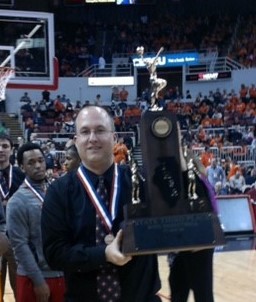 Hi, I'm Rob Brost.
The Head Boys Basketball Coach for more than 14 years at Bolingbrook High School, just west of Chicago, Illinois.
And if you don't mind, I humbly ask for your permission to share some of my accomplishments ...
The winningest coach in Bolingbrook history (287-97 = .747 winning percentage)
Won at least 22 games in each of the last 6 seasons
Named Coach of the Year by the Illinois Basketball Coaches Association in 2015, 2017, 2018, and 2019
Ranked among the Top 20 teams in the nation
Advanced to the IHSA Final Four three times (best finishes in school history)
Coached 21 Division I players, 44 full scholarship players, and 2 NBA Players - most notably Boston Celtics guard Brodric Thomas.
Before coming to Bolingbrook, I also gained notoriety in these roles:
5 seasons as Head Coach at McHenry County College - set 7 School records
8 years as a Court Coach for USA Basketball Training Camps
From 2001 to 2007, I was the manager of basketball operations with the Chicago Bulls Training Academy. The role put me in charge of all youth programs for the Bulls organization.
I'm also the author of the "Man Left Defense" system. The defense that is the perfect complement to this particular offense.
Besides these credentials, here's what some very well-known coaches have said about me ...
Larry Brown, Assistant Coach at Memphis (former NBA & Kansas Head Coach) - the first coach to win both a NCAA Division I men's national championship and a NBA title:
Rob Brost is one of the top coaches in the country at any level. Having observed his practices and recruited his players, it's easy to see why Bolingbrook High School has been so successful under his direction. Rob cares for his players, is a great teacher of the game, his players play extremely hard for him and they play the right way.
Frank Martin, NCAA Head Coach South Carolina:
Being involved in basketball for the past 37 years has allowed me to meet a lot of people. Rob Brost is as good a teacher and coach of the game as I have come across. His patience in teaching, along with his attention to detail in coaching, allows his players to continue to get better. Anyone that listens to Coach Brost will learn how to become a better player or coach.
Now here's what I know about winning when you don't have a team that's stacked with generational talent.
You've got to...
Get Comfortable Playing Offense
At An Uncomfortable Pace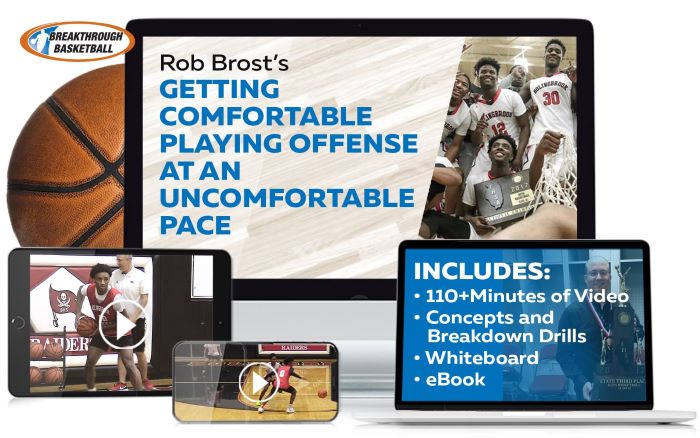 Here's what's included in this training:
Chapter 1: Introduction
There's something counterintuitive about running this offensive system ... Coach Brost breaks it down for you
Chapter 2: Introduction To Uncomfortable Pace
Discover why mindset is more important than skill set when it comes to running a potent offense
Concerned about your team having less talent than opponents? You'll find out why running this type of offense makes even more sense.
Discover the 6 reasons why you should play at an uncomfortable pace (don't miss this if the thought of a 70% field goal percentage gets you excited!)
Chapter 3: Uncomfortable Pace Whiteboard
The 4 key factors that matter most for this offensive system
Discover the pecking order for the 4 most coveted shots (and the percentage each should be taken at)
Revealed! What a typical shot chart looks like at the end if a game
Chapter 4: Key Concepts Of Getting Comfortable At An Uncomfortable Pace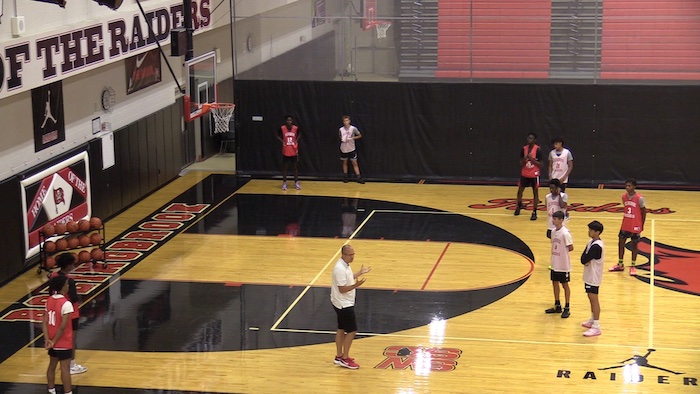 The 5 mini races players must win to earn a starting position on your team (charted through the first 5 games of the season)
Won at least 22 games in each of the last 6 seasons
What you need to keep tally of early in the season (hint: it's not outcomes)
This key concept helps players exploit dead ball situations and keep defenders on their heels
Discover where to position players so this vital scoring area always stays defender-free
The sneaky HUPPY concept that's often used by Villanova and is the most important concept of this effective offense (even 2nd and 3rd graders can grasp it)
The 2 playing speeds that are appropriate for full-court and half-court gameplay (hint: Luka Doncic uses this concept effectively in the NBA)
Discover 2 tactics that give your players "little advantages" to exploit
Transition Rules
Discover the best way to inbound the basketball after opponents make baskets to keep the game pace frantic
Why you want your team to be in transition 80% of the time
The ONE thing your team must do any time the competitors make a basket (hint: it leads to 4 easy buckets!)
Chapter 5 - 17: Important Drills & Concepts to Develop An Uncomfortable Pace
Open Highway - Learn how to keep the middle of the floor wide open, so you can get more scoring opportunities in the lane. And discover the 2 options ball handlers have as they approach half court and why you rarely need a rim runner in this system
Race The Ball - see how you can capitalize on both live ball and dead ball situations
HUPPPY - Helps players score more effectively in the lane while avoiding charges and find open shooters
Ball Ahead - Discover where players should aim to place the ball when passing it ahead
3 Family Fly Drill - Forces players to develop the habit of pushing the ball up court quickly to blitz the defense
Race Car - This is one of the fastest-paced offensive drills ever... Designed to force quick decisions at a breakneck pace
Chapter 18: 3 Hard-to-Guard Actions After Transition
What should you do if nothing opens up after transition?" Well, you'll have 3 different actions for your players to choose from (these are hard-to-guard actions using pin downs, high ball screens, dribble handoffs, and back screens)
The compounding double actions make it impossible for the defense to cheat and these actions much harder to stop
What happens if your initial actions fail? You'll discover simple but proven variables for these scenarios too!
And more!
Get Instant Lifetime Access to this Program for just $49
Here's Our "Completely Comfortable"
60-Day Money Back Guarantee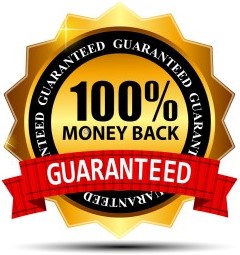 We absolutely guarantee that you're going to enjoy causing chaos for opponents with this offensive approach. That's why we're willing to let you try it risk-free for 60 days.
In other words, if you dig into this concept and decide that it isn't right for you in that time frame you'll get a complete refund.
Got Questions?
I Have Answers!
Q1: Is This Style Of Play Appropriate For Teams With Less Talent Or Athleticism?
Yes, it's extremely appropriate.
In fact, if your team is low on athletic talent I recommend playing the game at an even faster pace on game day.
And here's why
A less talented team isn't going to match up as well with the more talented team, during half-court possessions.
Your advantage comes from getting out in transition to get high percentage shots. And that's what this style of play enables your players to do really well.
It helps your players score before the more talented team gets set on defense.
Yes, it also gives the more talented team more chances to score. But those players will be at a huge disadvantage when it comes to this frantic pace of basketball, because they won't be able to get into their natural rhythm.
In fact, it's not uncommon for them to start missing the simplest shots and making silly mental errors. Simply because they're not accustomed to competing at a super fast pace for an entire game.
Q2: Why Should I Tell My Team To Play At This Pace?
Simple! This style of offense creates more possessions for your team.
And while it's true that it creates more possessions for your opponents too, here's the difference...
While competitors quickly get tired, your team will be more prepared to operate at this frantic pace for the entire game.
Plus, this playing style makes game preparation a nightmare for opponents.
Plus, our analytics at Bolingbrook high school show that our effective field goal percentage is over 70% when we're in transition. And that's the number one metric we're aiming for on game day.
Q3: How Do You Handle Slower Tempo During The Playoffs?
Play faster!
Obviously, you won't play as fast as you would during a regular season game. But if you can eke out two or three transition baskets per quarter, it's really debilitating to the other team. Plus, you have to remember that they're not used to playing at this pace either.
I think this has been a big reason that I've been able to make multiple deep post-season runs... in arguably the most talented area for high school basketball in the country and the world.
Q4: Do Time And Score Ever Come Into Play?
Time and score are certainly a big part of any basketball game. We play time and score a little differently as the game progresses towards the end.
We like to have the last shot of every quarter because that guarantees three more possessions than our opponent.
We do just want to be in transition most of the time. However, if we are only up by three points with a minute to go, we will play a little more deliberately. We might run a set that gets us a wide open layup. We might run spread and take layups only.
It also depends on the flow of the game and how I feel about my team. Our focus is turning that three point lead into a five point lead. With a minute to go, I would much rather be up five points than three points.
You have to trust the players and their decision making. You also have to trust in what you taught them. Time and score mainly plays a huge factor in the final minutes of a game.
We don't have a set game plan for the final minutes of a game. It depends on the feel and flow of the game. I rely on the experience I have and the confidence I have in our team.
It is up to the coaches to put their players in the best positions to win.
Q5: How Do You Play Against Teams Using Zone Defense?
Whether the opposing team plays man or zone, our transition offense remains the same. We are pushing the pace and playing FAST!
If a team sends 5-back and sits in a zone, we are still going to try to get out in transition with all of our concepts being the same. It does not matter if the defense is in man or zone.
There are many teams in our conference and area that play that defense. We want to keep the Highway Open, Pitch the Ball Ahead, Cross the Street, and use Rabbit Speed instead of Cheetah Speed. All of those things are important.
We will use plays specific for zone defenses. And you should use some of your favorite zone actions to put your team in the best situation to carve up the zone.
Q6: Can I Do This With Any Offense?
Absolutely!
I think the best transition offenses are ones you can use with any 1/2 court offense.
Who doesn't want to take advantage of playing at an advantage?
You are crazy if you don't do it because you can get easy baskets and your field goal percentage tends to be so high in these situations. That's because you can steal an easy basket here or there. In addition to that, you are wearing teams down.
If you want to run a certain offense or run a certain amount of plays, you can still do that running in transition. It really fits into any type of offense you would like to run.
Q7: How Do You Handle The Press?
Some teams try to press us just to slow us down. Our ultimate goal is to beat any press before it gets set up. A lot of times we get that done because we work so hard on playing fast.
That plays into who takes it out of bounds. We don't have a set player who always inbounds the ball. The person closest to the ball takes it out of bounds which makes us faster. We just get the ball out and go.
A lot of teams try to slow us down with the press. Some teams have tried to use a 2-2-1 zone press against us. We will try to push the ball up the sideline as fast as possible.
A lot of press breakers focus on getting the ball to the middle. We love to get it up the side. We can place a player in the middle to take people away. When we get the ball up the sideline, we attack at 45 degree angles. You see that a lot with the Milwaukee Bucks.
We can get out to the sideline, pass to the middle, but then get it right back to the sideline. We prefer random baseketball. A lot of coaches don't want to be in transition offense because they have to give up some control. Pushing the ball out quickly and getting the ball up the sideline has been very successful for us.
Get Instant Lifetime Access to this Program for just $49
Customer Reviews
Average Rating
5
Based on 16 reviews
Review This Product
Rate and review this product to let others know about your experience.
WRITE A REVIEW

GREAT AND SIMPLE CONCEPTS THAT WERE PRESENTED IN A WELL ORGANIZED MANNER.
This review is helpful

(
0 people
found this review helpful)

I really like how he broke down his philosophy. The drill race car was my favorite drill.
This review is helpful

(
0 people
found this review helpful)

This is the first review I have ever written for any basketball coaching video. I've been coaching high school basketball for 10+ years and purchased hundreds of dollars of coaching videos. This is, without a doubt, the best video I have purchased. Well organized. It's a simple system. Clear and concise coaching. Most of the drills are drills I have seen before, but it's what Coach Brost emphasizes during the drills that really reinforces his philosophy and system. Coach Brost is a fantastic teacher. Well done!
This review is helpful

(
0 people
found this review helpful)

Well organized. Pride in presentation.
This review is helpful

(
0 people
found this review helpful)

I implemented this system this year with my grades 6-8 middle school team. The content in this video is spot on and the drills really help kids play at a faster pace. The tone needs to be set in practice daily. Highly recommend if you want your team to play in transition the majority of the time.
This review is helpful

(
0 people
found this review helpful)

Fast paced, informative, Coach Rob moves through the presentation like a pro!
This review is helpful

(
0 people
found this review helpful)

How well organised and thought out the video is. I agree with his premises about the soundness of running more with less talent. When the shot clock comes to IL the faster style will be even better. The simplicity of the style has to appeal to many but teaching becomes even more important. I liked almost all of the drills he used and that he explained the purpose of each. But each coach could obviously substitute his choice of drills.
This review is helpful

(
0 people
found this review helpful)

The on court demo with high school players that demonstrated how the system should look.
This review is helpful

(
0 people
found this review helpful)

A must have. Very thorough & Love Everything on it.
This review is helpful

(
0 people
found this review helpful)

Drills
This review is helpful

(
0 people
found this review helpful)

The ability to watch video AND have a PDF version of everything talked about is really great
This review is helpful

(
0 people
found this review helpful)

like all the break down drills used.
This review is helpful

(
0 people
found this review helpful)

simple explanations and everything makes sense. love it
This review is helpful

(
0 people
found this review helpful)

Simple and affective, I implemented a small part of it into my daughter's all girls team and the boys had trouble keeping up with the speed of transition.
This review is helpful

(
0 people
found this review helpful)

This is a terrific video, especially if you're looking to implement and teach transition offense. I learned a bunch of cool stuff.
This review is helpful

(
0 people
found this review helpful)

Over the course of my 20+ years of coaching, I have spent $100's on videos, ebooks, clinics, etc. This if BY FAR the best $40 I've spent. If you are looking to change the way your team plays, look no further. Heck, even if you don't implement anything you see, you'll be a better coach just for watching this.
This review is helpful

(
1 person
found this review helpful)