New and improved with age specific workouts for players from 12- to 25-years-old...
Use These Division I Training Secrets to Transform Your Speed,
Strength and Vertical Jump Before Next Season Tips Off
…Even if you're already working with a trainer or don't feel like a "natural" athlete
(WARNING: Do NOT do another vertical jump or speed exercise until you read this letter.)
Dear Hooper,
Have you ever wondered how the best Division I players become such dominant athletes?
Many are naturally gifted of course, but that only tells part of the story…
Because there's a little-known training method that most "regular" players never hear about…
One you can use in the next 12 weeks to develop the speed, strength and jumping ability to:
Out-jump opponents with a head-turning improvement on your vertical leap
Blow past your defender using an explosive first-step
Finish through contact over and above taller defenders
Sky for rebounds in traffic
Become THE lock down defender on your team
Not only does this method create dominant athletes who overwhelm slower, weaker opponents…
It molds injury-resistant players who stay healthy and perform at peak levels all season long.
But before we dig into all the details…
Let me introduce myself…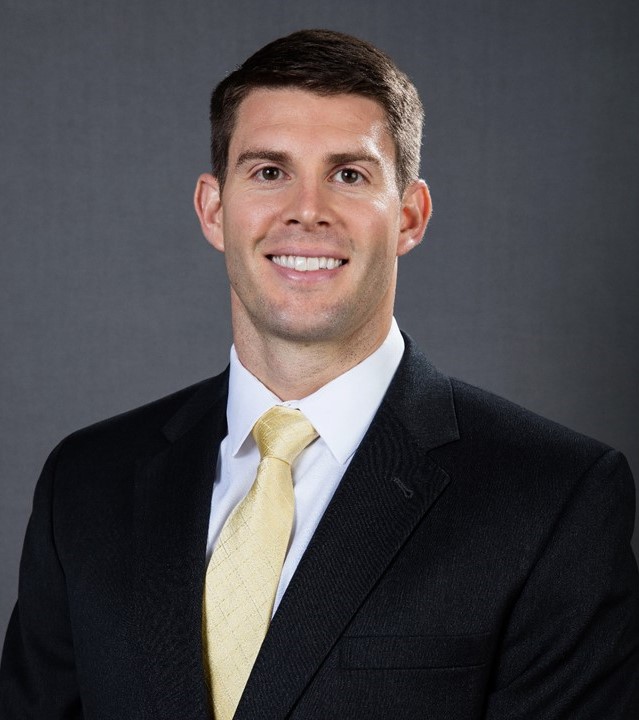 My name is Cody Roberts, and I'm a Certified Strength and Conditioning Coach at the University of Iowa.
In addition to spending 4 years as an athlete at University of Kansas…
I've been training blue chip Division I athletes for the last 10 years, including the basketball players at KU and Bradley University…
Helping them reach new levels of speed, strength and athleticism.
Because the competition at this level is so intense, even these elite players struggle at times with getting:
Outmuscled by stronger players from lack of strength
Beat by smaller, quicker players due to slow foot speed
Shots blocked or altered because of a weak vertical jump
What Division I Programs Know…
These top-tier athletes need a complete offseason program that can quickly transform their athleticism.
Not just vertical leap and sprint times, but mobility, coordination, agility and strength…
The whole package.
These are the hidden pieces of athleticism that help the greatest players make the game look easy:
Weaving past defenders
Floating through the air
Breaking ankles
Making catches on the run
Twisting, turning and finishing shots
There's so much more to the equation than a huge vertical or monster squat numbers.
Yes they're important, but unless you pair that raw power with agility, coordination and core strength…
You're never going to see incredible results on the court.
The Danger of "Jump" Programs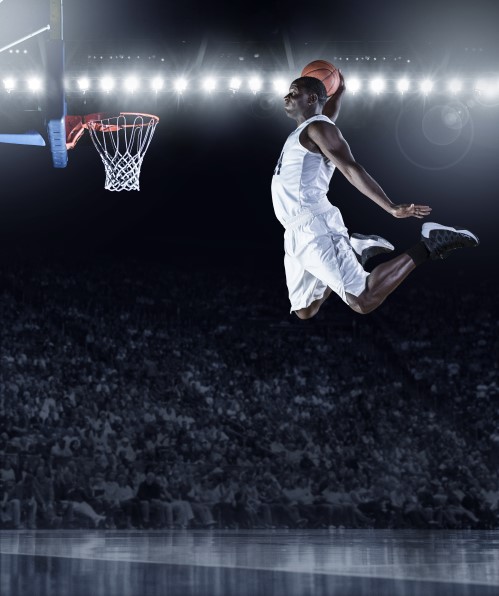 Now you may have seen these "Jump" programs that promise to double your vertical in 6 weeks…
Along with a bunch of other crazy claims.
But there's a reason you don't see big-time programs or players using these training methods.
Even if they increase vertical leap…
They ignore key movement skills you need to actually dominate on the court…
And they often leave players open to injury by overtraining certain areas…
And create muscle imbalances that can lead to hip, back, ankle and knee issues.
I've trained dozens of athletes who come to me after doing "Jump" programs over the summer.
More often than not, we need to spend the rest of the offseason undoing the damage those trainings caused.
Don't make their same mistake!
Do This Instead…
(Pyramid of Development)
There's little-known approach blue-chip programs are using to develop better athletes…
With the strength, agility and explosiveness to dominate their opponents.
It's called the Pyramid of Development.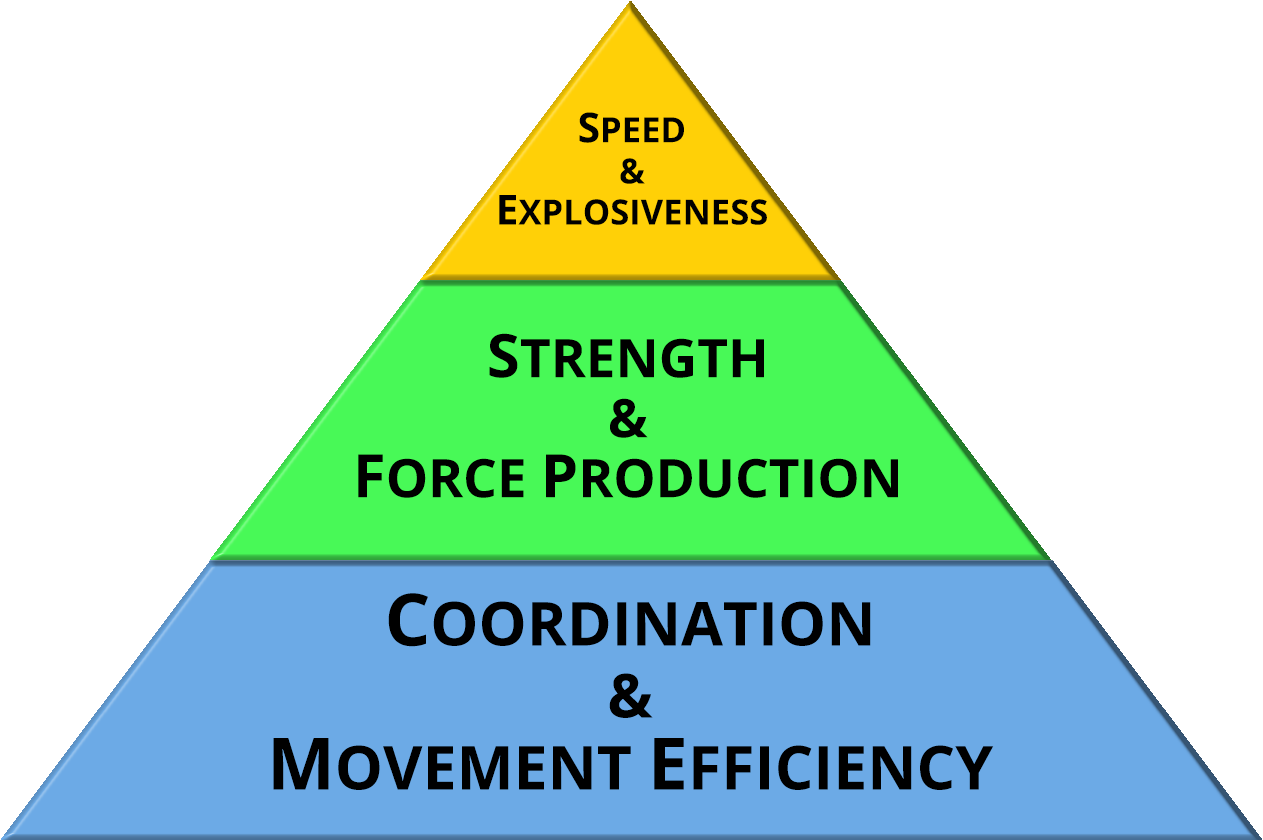 Here's how it works…
Level 1: Coordination and Movement Efficiency
Mobility, Posture, Balance, Stability
These all help you maximize the strength and explosiveness you're going to develop
Any deficiencies here will limit the effectiveness of all other training
Level 2: Strength and Force Production
Acceleration, Deceleration, Change of Direction and Agility
These are the movements you're actually doing on the court
Speed and strength only help you if you can translate them to basketball plays, like stopping on a dime or quickly changing direction
Level 3: Speed and Explosiveness
Vertical Leap, Sprint Speed
Trainings focused heavily on plyometrics
Most players mistakenly start here…and it limits their results and puts them at risk for injury
If you work on Speed and Explosiveness before mastering Coordination and Movement Efficiency, you'll never be as fast or explosive!
What About Your Coach or Trainer-Led Programs?
I don't personally know your coach or trainer…
Or whether they truly understand the physiology of developing athletes in your age range.
But I can tell you that having worked with 400+ D-I athletes…
Only a very small percentage have been training properly before reaching our program.
Not only has this led to injury and muscle imbalance…
It's also held back their performance every step of the way.
For many players, that can be the difference between:
Starting varsity vs. being stuck on JV
Playing time vs. sitting on the bench
Controlling the game vs. feeling outmatched
That's Not a Risk You Should Have To Take
While I'm extremely proud of the players I've helped so far, I'm not satisfied keeping all this information to myself.
You shouldn't have to wait until you're a Division I college athlete before you learn the RIGHT WAY to train..
So I've put together a 12-week workout program that teaches you:
The secrets to transforming your speed, strength and vertical leap
How to build your "injury-resistant" athleticism
Methods to ensure your newfound athleticism translates to REAL RESULTS on the court
These are the best workouts, all broken down into step-by-step trainings you can follow along with to transform your athleticism before next season tips off…
Introducing…
Cody Roberts Athletic Development Program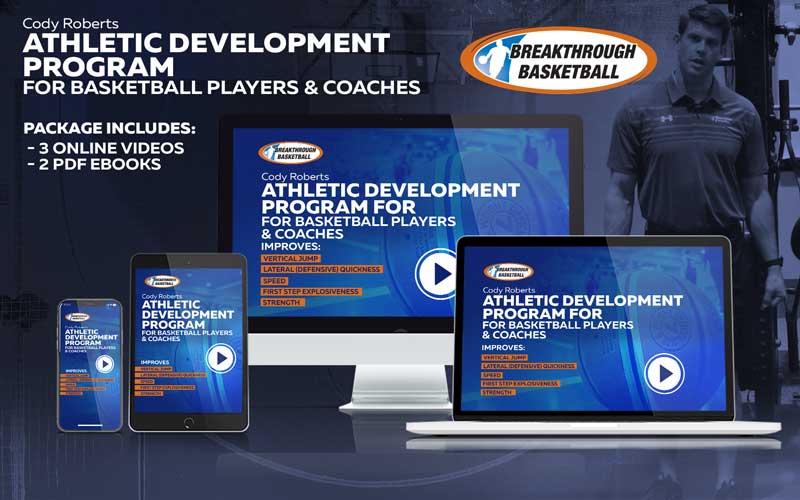 This 12-week program transforms your strength, speed and vertical jump while reducing injury risk...
All by applying the powerful science of the Pyramid of Development.
This program is specifically designed for players YOUR AGE…
To maximize your athleticism this season AND prepare your body to perform at the highest levels for years to come.
You will jump higher, run faster and impact the game at a greater level…
So you can physically dominate your competition…
And make this the most successful season you've ever had.
Cody Roberts' Athletic Development Program includes:
Over 5 Hours of Video Training
350+ Dynamic Exercises Across the Pyramid of Development
Athletic Development E-book
Step-By-Step Walkthroughs of Each Exercise
Easy-to-Follow Workout Plans
Workout "Progressions" to increase the challenge level as you go
This program that will take your game to an entirely new level.
Here's What's Included:
Chapter 1: Introduction
High-level overview of the science behind training for 12- to 25-year-old athletes
Chapter 2: Pre-Test and Post-Test
Get baseline performance numbers you can use as motivation to improve
Chapter 3: Coordination & Movement Efficiency
Establish current hip mobility, core stability, hip and ankle strength, foot and ankle rotation, and more
Identify core deficiencies you need to address/ account for in your training
Chapter 4: Strength and Force Production
Learn the 3 phases of producing great force through increased load and resistance
Chapter 5: Bracing (Core Strength)
Crucial component that allows you to run faster, jump higher, and be stronger than your opponent
Chapter 6: Locomotion
Acceleration, deceleration, change of direction and agility
Improve your efficiency on fundamental basketball moves
Chapter 7: Force Production (Power)
The foundation of explosiveness that determines your speed and jumping ability
Chapter 8: Explosiveness (Plyometrics)
Plyometric exercises designed to maximize your speed and explosiveness
Chapter 9: Injury Prevention
Learn the components of proper recovery
Includes on-court and off-court success habits
Chapter 10: Lifestyle of an Athlete
Pre-workout and Post-workout routines that set your body up for success
Chapter 11: The Workouts
Learn the workout structure and exercise progressions
Fast start plans you can start following immediately
Offseason and in-season workout variations
Chapter 12: Athletic Development Exercises
Detailed walkthroughs of exercises
Includes all levels of the Pyramid of Development
Watch Cody coach players through each drill
Chapter 13: Cool Down Exercises
Transition out of your workout with proper cool-down exercises
Chapter 14: Common Mistakes To Avoid
Do's and Dont's to prevent injury and maximize gains
Chapter 15: FAQs (and Answers)
Get answers to the most pressing Athletic Development questions
Chapter 16: Closing Remarks
Jumpstarting your training program and bringing everything together
Here's One Player's Athletic Development Story

Mike Skeandore from Keshena, WI says:
12/15/2019 at 1:16:10 PM
We ordered this program 12 weeks before the beginning of basketball season. My daughter faithfully worked out 3 days a week for the entirety of the program. We started to notice physical changes in her body at about the 6 week mark and from then on she has been completely self motivated. On the court she has improved her shooting and ball handling and is more confident. Where I have really noticed her strength is in her post defense. She is not the tallest player but she always steps up and guards the opponent's best post player. She is able to more than hold her own now. She actually can put bigger players on skates and work them off the block.
She put in the work - only a few hours a week. And now her game's taken to a new level.
Yes, she's faster and stronger...
But with that comes supreme confidence and assertiveness because she knows she can hold her own against high-level competition.
Special Program Pricing
I believe this program is so crucial for every young basketball player….
And I want to make it an "open layup" easy choice for you to participate by pricing it lower than any alternative.
If you were to get a personal trainer…
The low-end cost for a one-hour training session would be $80/ hr.
If you did that 2x per week for 12 weeks, that would be $1920…with no guarantee of results.
And no guarantee that your trainer truly understands the Pyramid of Development and can keep you injury-free while still peaking your athleticism.
Or you could buy one of the countless "Jump" programs out there for $50 to $100.
But what's that really costing you when you factor in potential healthcare costs to manage injury…
Not to mention the emotional cost of games and training time lost due to injury…
And potential LOSS of athleticism due to muscle imbalance.
To recap everything you're getting:
Over 5 Hours of Video Training
350+ Dynamic Exercises Across the Pyramid of Development
Athletic Development E-book
Step-By-Step Walkthroughs of Each Exercise
Easy-to-Follow 12-Week Workout Plans
Workout "Progressions" to increase the challenge level as you go
It's taken me 10 years of studying and working with elite D-I athletes to perfect these drills…
When you think about how dramatically this can change your future as a player, and the steep costs of the alternatives, $200 seems like a very fair price.
But again, I don't want cost to stop anyone from joining…
Get Instant Lifetime Access to the Athletic Development Program for just $145.
JOIN NOW
Click the "Join Now" button to get immediate access to the complete Athletic Development Program
BONUS #1:
12-Week "Enhanced" Workout Regimen
($200 Value)
In this optional 12-Week Bonus Workout Regimen' we'll use heavier loads and more dynamic workouts to launch you into new territories of speed, strength and athleticism.
This unique regimen builds on Weeks 1 to 12 with new exercises and added layers of difficulty...
So you'll be pushed in exciting new ways that will keep you engaged through the finish line.
Among the aspects we'll continue to develop:
Basketball-specific fitness and conditioning
Vertical jump, speed and explosiveness transformation
On-court agility and mobility
Dynamic strength development
Proper movement mechanics
Deep core strength
Foot and ankle durability
In keeping with the Pyramid of Development, this "Add-On" workout still uses progressions to transform your athleticism safely and sustainable.
And of course, all drills emphasize technique and include detailed cues to ensure your form is optimized for safety AND development.
BONUS #2:
12-Week "Training to Win" Workout
For College Athletes
($200 Value)
This is our most advanced workout program, designed for fully developed athletes needing to prepare for the physical college or professional game.
You'll develop new levels of strength and power to pair with lightning quick jumping, sprint and change of direction speeds.
We'll use advanced plyometrics and jump training exercises to transform you into an injury-resistant athlete who can stay healthy and durable for the entire season.
This program is organized in a sequential and progressive model, as follows:
Weeks 1 to 4: Strength


Weeks 5 to 8: Power


Weeks 9 to 12: Speed / Explosiveness
We'll also continue to improve your mobility, flexibility and movement mechanics throughout these 12 weeks to get you feeling and moving better than ever before.
BONUS #3:
9-Week At-Home Vertical Jump and Strength Workout (No Equipment)
No gym? No problem.
This 9-week program uses the Pyramid of Development principles to transform your strength, speed and vertical jump without needing a single piece of equipment.
Train in your basement, living room or back yard - just bring the effort and you will see results.
How Much Time Do You Need?
Look, I know you're busy.
That's one reason I designed the 12-week Athletic Development program for ultimate intensity and efficiency.
I want you to hammer out these workouts FAST so you can build your athleticism…
And still have plenty of time for other activities.
You'll only need 3 hours per week to complete the program.
A small price to pay to transform yourself into a physical force on the court.
Do This BEFORE Starting the Workouts
After you sign up, you'll get an email with your login info and full access to all workouts.
But before you start the "Pre-Test" workouts in Chapter 2…
I want you to take 10 minutes and envision:
The main areas where you want to improve athletically
How your improved athleticism will transfer to game play (get specific!)
When and where you'll do your workout regimen (be consistent…same time, same place every week)
Focusing your mind in this way will help you harness your full potential as you go through the workouts.
Once you have this as a baseline, you're ready to start attacking the training.
Try It First (No-Risk)
60-Day Unconditional Money-Back Guarantee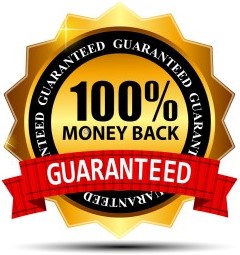 Cody Roberts' Athletic Development Program is backed by our 60-Day Unconditional Money-Back Guarantee.
That means you can spend the next two months training with these exercises…
Building strength, increasing your vertical and developing speed and agility…
And if for ANY reason, you aren't satisfied, just email me for a full refund.
No questions asked. No making you feel bad.
You can even keep the program as our way of saying "thank you" for trying it out.
Of course, we'd only make this "Try It First" offer if we were certain this program will take your athleticism to new heights.
So I'm confident if you go through this program, you'll see your biggest gains ever as an athlete.
Click the "Join Now" button to get immediate access to Cody Roberts' Athletic Development Program.
Once you click the "Join Now" button, you'll be taken to the "My Cart" page to review your order.
From there, simply click "Proceed to Checkout" and you'll be taken to our Secure Payment page.
Just enter your contact and billing information to complete your purchase, and we'll email you all access instructions within a few minutes so you can dig into the trainings!
You control how this next season goes…
Becoming the physical force opponents can't handle
Earning more minutes, more touches and more opportunities to stand out
Becoming your team's "Cheat Code" for shutting down the opponent's best player
Developing the complete package of athleticism that will drive your success on the court
Are You Up For the Challenge?
When you join me in Cody Roberts' Athletic Development Program today, you're getting:
Over 5 Hours of Video Training
Athletic Development E-book
350+ Dynamic Exercises Across the Pyramid of Development
Step-By-Step Walkthroughs of Each Exercise
Easy-to-Follow Workout Plans
Workout "Progressions" to increase challenge
Remember, these workouts are designed FOR YOU based on the Pyramid of Development…
To transform your athleticism this season AND set the foundation for playing at higher levels as you get older.
What will your season look like if you put the work in over the next 12 weeks?
Step up to the challenge to become the standout athlete that dominates every time you set foot on the court.
Take the first step by clicking the "Join Now" button below to reserve your copy of Cody Roberts' Athletic Development Program.
And make this season your best one yet!
All the best,
Coach Roberts
P.S. These workouts only take 3 hours max per week to complete. Thatís all you need to become the "complete package" athlete in the next 12 weeks.
Say yes to more speed, greater strength and a higher vertical jump, and watch how it transforms your game.
Customer Reviews
Most Helpful First
Newest First
---

Dylan from Hillsboro, OR says:


8/18/2019

at 1:03:48 PM


The Cody Roberts athletic development program is exactly what I've been looking for to help my son as he gets ready to start high school basketball. The exercises and general training principles are clearly laid out and demonstrated in the videos.

Overall a great program, and Jeff and Cody have been very responsive and helpful answering questions when I've had them.

This review is helpful
---

Richard from Poland from KOMORNIKI, None says:


8/21/2019

at 2:22:21 PM



This is the program that I have been waiting for a long time to compare my athletic training solutions with the trainer's proposal from the USA / I live in Poland / I am very happy because we work similarly, but the Cody Roberts program offers many new, interesting solutions for conducting classes and very good systematics of exercises covering a wide range of activities in the field of general physical preparation including protection against injuries. Thank you for the opportunity to compare and very good program.

This review is helpful
---

Mike Skeandore from Keshena, WI says:


12/15/2019

at 1:16:10 PM


We ordered this program 12 weeks before the beginning of basketball season. My daughter faithfully worked out 3 days a week for the entirety of the program. We started to notice physical changes in her body at about the 6 week mark and from then on she has been completely self motivated. On the court she has improved her shooting and ball handling and is more confident. Where I have really noticed her strength is in her post defense. She is not the tallest player but she always steps up and guards the opponent's best post player. She is able to more than hold her own now. She actually can put bigger players on skates and work them off the block.

She is currently doing a modified version of the workout two nights a week.

This review is helpful
---

Bruce Brown from Hillman, MI says:


8/10/2020

at 9:01:40 AM


Can't honestly review product. Purchased for grandkids, but had questions first before I wanted to purchase. Someone was suppose to call me back but did not. Time ran out so I purchased.

This review is helpful
---

Asaph from Hertzeliya, None says:


2/17/2021

at 3:55:58 AM


The Program is fantastic andv ery professional!
On the technical side, personally i think the pdf's of the program could be arranged a little better. I would add the names of the different sections of each workout so the athlete knows what he is doing and which exercise belongs to every category.
Also, there are some errors in the exercise list

This review is helpful
---

Maihiro says:


3/12/2021

at 1:29:52 PM


Very comprehensive training program, in that regard I would give it 4-5 stars. It is however, for me and our program, just too overwhelming. What we need is a scaled down program that's easier to implement. Did not feel we could implement this program in full and doing so in a piecemeal fashion would potentially do more harm than good. If your program has the time and facilities than this definitely is worth checking out.

This review is helpful
---