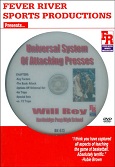 See All Reviews
Write a Review
Universal System of Attacking Press - Will Rey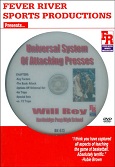 $29.95
Only 4 left in stock
60 Day Money-Back Guarantee
Universal System of Attacking Press - By Will Rey (DVD - 71 Minutes)

Customer Reviews
Average Rating
4
Based on 3 reviews
Review This Product
Rate and review this product to let others know about your experience.
WRITE A REVIEW

Good material. I really like the flexibility of being able to break man or zone. Not sure how easy this will be to teach 3-4 graders as compared to a 1-4 alignment.
This review is helpful

(
0 people
found this review helpful)

Good DVD on breaking the press and halfcourt trap for High School and Middle School coaches in need of this kind of detailed information.
This review is helpful

(
0 people
found this review helpful)

Seems like a good set up for a casual paced press break but wonder how it would translate to the 'quick in bounds' approach. No info given on that.
I found it a bit confusing on the third inbound option to the #1 point guard (right lane near baseline) because the #2 is shown moving to centre court (to clear right lane??). It would seem more logical and consistent with other elements for #2 to move up right wing and give the #1 an over the top pass option and have the #3 move to the centre (giving the 'universal set' of 3 near pass options and 1 long pass option).
Also, I'll need to try it before suggesting it for youth coaches because it may be too complicated, especially rotating from 'trapping' to 'no trapping' positions.
This review is helpful

(
0 people
found this review helpful)