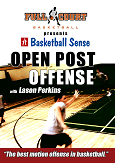 See All Reviews
Write a Review
The Open Post Motion Offense - with Lason Perkins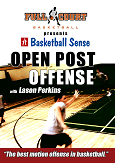 $29.95
Only 1 left in stock
60 Day Money-Back Guarantee
(DVD - 70 Minutes)

The Open Post Motion Offense - with Lason Perkins
Dear Basketball Coach,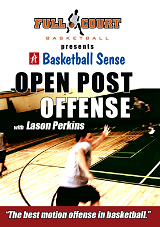 If you run any type of motion offense -- or if you're looking for a new offense, secondary offense, or delay of game offense, then you need to seriously consider the Open Post Motion Offense DVD by Lason Perkins. We highly recommend this DVD to coaches at any level.
Just a few reasons you would want to use this offense include:
It gives you great spacing.
You can use it with any talent level.
It's good for youth and all ages.
There is constant movement.
It's EASY to teach.
You can score lots of points with it.
It can be used as a primary, secondary, or delay of game offense.
Who is Lason Perkins?
Lason Perkins is recognized globally as one of basketball's brightest coaching minds. Having coached at every level of basketball from elementary school to the professional ranks, Coach Perkins is renowned for his creative schemes and grasp of Xs and Os, which have in constant contact with coaches from around the world looking to utilize his insight and teachings. Coach Perkins resides in Cary, North Carolina.
What some of the best coaches in the world have to say about Coach Perkins

"Any time I see that Lason Perkins has come out with something regarding basketball offense, I want to get a good look at it. He is a true student of the game and has a gift for teaching offense and keeping it simple for coaches and players."

- Don Meyer
All-time leader in coaching wins in NCCA men's basketball history. Retired in 2010 at Northern State University.


"When it comes to basketball on the offensive end of the court, Lason Perkins has great ideas and concepts. His DVDs should be part of your coaching library.

- Fran Fraschilla
Former men's basketball college coach and current ESPN broadcast analyst.


"Lason Perkins has been sharing excellent basketball ideas for years. If you are a teacher of basketball, you have to get your hands on his books and DVDs. You will not be disappointed."

- Kevin Eastmen
Current assistant coach for the 2008 NBA Champion Boston Celtics.


What is the Open Post Motion Offense?
The Open Post Offense is a "type" of motion offense that Lason Perkins has developed and had great success with over the years.
Coach Perkins developed specific motion offense "rules" that make this offense unique and make it very flexible for coaches at any level.
As implied by the title, the offense utilizes an open post (spread) alignment. This makes the offense easy to teach and also makes it very flexible. You can use this offense whether if you have all guards or you have several good post players.
The offense is based on spreading out the defense and lots of movement.
What's in the DVD?
Chapter 1 - Introduction
History - how the open post offense came about
Why use the OPEN POST offense?
"A Little Extra"
Chapter 2 - Basic Elements
You start by learning the main rules and concepts of the offense. Coach Perkins's philosophy is that Movement + Passing = Points.
He goes over the simple motion offense rules that give you organized movement, good passing, and lots of points.
Fundamental rules
On-court explanation with Coach Perkins
Chapter 3 - Points of Emphasis
Coach Perkins explains 7 important concepts that you need to emphasize so you can maximize scoring opportunities and make this offense effective.
Catch and face the basket
Be ready on the weak side
Reasons to use the dribble
Ball reversal
Verbal and visual communication
Shorten the passing lane
Defensive transition
Chapter 4 - Cutting Series
Now you get into the main components and options of the offense. You get on court demonstrations and whiteboard diagrams so you can learn exactly how the offense works.
Basic cutting action
Fill cut
Back cut
Wing to corner
Corner to wing
Chapter 5 - Screening Series
Coach Perkins demonstrates the "screening series" using the whiteboard and on-court demonstrations.
Basic action
Hitting the curl cutter
Hitting the screen stepping back
Wing to corner pass
Wing to top pass
Chapter 6 - Entries
In this chapter, Coach Perkins goes over several entries to initiate the offense. The entries are optional and ideas for you to consider.
Box entry
1-4 entry
2-3 entry
Flares entry
Stacks entry
Chapter 7 - Super Scoring Options
Coach Perkins explains the reasoning behind the upcoming set play options and why you want to get the ball in the hands of your best scorers.
Chapter 8 - Baseline Options (Plays)
In this chapter, Coach Perkins demonstrates several set plays that utilize action on the baseline and then transition right into the Open Post Offense. The plays include:
Circle baseline option
Cavs baseline option
Spartans baseline option
X baseline option
Chapter 9 - Post Options (Plays)
In this section you get 5 plays you can run through the post. All the plays easily transition back into the Open Post Offense.
Sonic post option
Drop post option
Bang post option
Hawk post option
Lob post option
Chapter 10 - Pick & Roll Options (Plays)
Corner pick & roll
Elbow pick & roll
Double high pick & roll
Sixer pick & roll
Step out pick & roll
Side pick & roll
Chapter 11 - Special Adjustments
In this chapter you learn how to handle various situations you'll face when using this offense and how to make adjustments based on the defense.
Special adjustments for aggressive defenses.
Special adjustments for saggy defenses.
How to handle defensive switches.
How to exploit a defender who stays near the basket.
How to utilize dribble handoffs.
Chapter 12 - Fast Break Entry
Coach Perkins shows you how he uses his fast break to transition into the Open Post Offense.
Chapter 13 - Practice Drills
Coach Perkins shows you a few important drills to help build and improve the Open Post Offense.
Pass & cut drill
2 ball shooting drill
Dribble back drill
The DVD is 70 minutes long.
Why Should You Consider this Offense?
This is an excellent DVD that we think almost all coaches will enjoy and benefit from. Here are a few reasons that we think you should consider the Open Post Offense DVD...
Easy to teach, Easy to Learn. This offense is so easy to learn that even if you don't want to have it as your primary offense, you can still use it as a 2nd option.


Since it's easy to teach (yet very effective), you have lots of time to work on other things (like fundamentals skills and games situations).


Good for small or big teams. If you have a group of quick guards or some big post players, you can make adjustments to make this offense work for you.


Great for a delay game. You could employ this offense simply for delay game purposes.


Spacing - "Offense is spacing. Spacing is offense." With this offense, it creates plenty of space for your players to maneuver.


You get lots of movement that is very difficult to guard.


Emphasizes basic offensive concepts that every team should know. Even if it's not going to be your primary offense, it is a great building block to teach your players how to play the game.
Even if you don't use this specific offense, we think you'll get lots of great ideas and rules that you might want to implement in your own motion offense.
Lastly, we know this offense works. We have personally used a simpler variation of this offense and even though it was very simple, if you showed a little patience, it worked extremely well. The Open Post Offense adds a few variations that will make it even more effective. We really like the options and rules that Coach Perkins added. We think this is an excellent yet simple offense that any team can run.
What Age Group Is This For?
This offense works for any age level -- it's great for youth & high school teams. This would be a motion offense that I would recommend for youth teams or high school teams.



Watch This Sample Video Snippet from the DVD
How Much Does it Cost?
The price for the 70 minute DVD is $29.95.



60 Day Money Back Guarantee
Just like any reputable bookstore or retail business, we have a 100% money back guarantee too.

If for any reason, your purchase is not what you expected, just send us a message and we'll give you a full refund. No questions asked.




"Claim Your Copy Now"



If you'd like to order by telephone, call us at 1-866-846-7892 (toll free).


If you have any questions, don't hesitate to contact us.

Sincerely,


Jeff Haefner
Joe Haefner
Breakthrough Basketball, LLC.

Customer Reviews
Most Helpful First
Newest First
---

Coach Harmon from san jose, CA says:


9/1/2010

at 3:00:58 AM


I just ordered the dvd to see if i can add a jewel to the upcoming season. Excited to learning something new!

Any suggestions on a great man to man help n recover Defense video?

I need to add some Defense to the library.

This review is helpful
---

Coach Henderson from Apperley Bridge, Yorkshire says:


9/6/2010

at 3:29:58 PM


This is a great resource and has excellent ideas about getting the players open, and making the shots. Hopefully it will help my relatively short but quick team score more points. Thanks heaps for the great website! Keep it up!

This review is helpful
---

Dale says:


9/15/2010

at 11:51:24 AM


Another very good product. It is very helpful to see the cuts and screens on the DVD and helps the other motion offence products you offer to really make it easier to implement. Thanks again for offering such great resources.

This review is helpful
---

Scott Alexander from Santa Rosa, CA says:


9/20/2010

at 12:18:20 PM


The open post offense is an excellent tool to teach your young players how to move on offense. It seems like a great way to teach the foundation of motion offense that eventually segues into either a high post or a high-low offensive set as taught by John Wooden. Excellent video.

This review is helpful
---

Scott Smith from York, ME says:


9/20/2010

at 3:58:31 PM


Great offensive scheme for youth basketball coaches and one of the best videos (simple, well organized and easy to execute) that I have come across. Even if you don't promote the open post there is guaranteed at least one set or series that will help improve your team.

This review is helpful
---

Mark Gustin from Harlan, IN says:


9/22/2010

at 8:20:48 AM


I found the DVD to be very well organized and easy to understand. I plan to use this as our base man-to-man offense this year instead of using set plays as I have in the past. I've always stayed away from rules offenses simply because my players really aren't able to understand them. I have a wide mix of abilities and talent on the team I coach for a small parochial school. They're great kids, but basketball is a second sport for many of my players. I have a mix of Hockey, Soccer, and Football players, that play basketball for fun. Only a handful of them have plans to play basketball at the high school level. I think this open post offense will be easy enough for my 7th and 8th graders to learn, and yet complex enough with the different entries that it won't be easy for the defense to stop consistently. The problem with most rules based offenses is that many of my average middle school players are not savvy enough to run them due to the complexity. They are usually so focused on going from spot to spot that they fail to really look at the defense, read it, understand it, and react to it quickly. I believe that open post solves this for us, because it doesn't require the player to make too many decisions, based on what their defender does on a screen, cut, etc..it's easy to teach the backdoor cut on overplay, and we already do this, but to expect the players I have, to read a defenders reaction to a screen…over, thru, under….is asking too much for us at this point. In this version of open post, they can just do the same thing using the simple rules, and there is always someone coming back to the ball as an option.
I really like all of the different entry plays included in the DVD, that allow you to run a set play and continue right into the open post offense.

This review is helpful
---

Jack OConnor from Waterloo, NY says:


10/11/2010

at 9:47:01 AM


after watching the video, I''''ve decided that a good portion of my offense will be the open post.a great video. Very informative and easy to follow.

This review is helpful
---

Terry Michael from Wichita, KS says:


10/11/2010

at 11:22:46 AM


The Open Post DVD is exactly what we need for this year's high school girls team. We are short and quick and our point guard really has decent post up skills so we look for her on the low block when she makes her basket cuts. The cutting series has been working well especially against overplaying defenses.
The problem is, whenever we start getting good results from our mtm offense, we usually see a zone.

This review is helpful
---

Boge from RICHWOODS, MO says:


10/11/2010

at 11:55:52 AM


Very good presentation of the set-up and rules. I would have enjoyed seeing a shadow defense running to show reads and movement of baseline men. Overall very good

This review is helpful
---

Coach Mac Phoenix, AZ from Litchfield Park, AZ says:


10/11/2010

at 12:06:10 PM


I have run what I called Spread Offense which is the same as this Open Post Offense. I always struggled when I played against team that played a Sagging Man to Man. The Screen series really helped me to develop a great offense to run against this defense. The additional practice drills will be very helpful as well. I highly recommend this offense for all youth teams to understand how to have movement on offense.

This review is helpful
---

Coach Bolden, From Maryville, TN from Maryville, TN says:


10/11/2010

at 12:48:38 PM


I am using the open post for my boys team, however I really don't see much difference in it from the read and react office that I run with the girls team. They both work on the same prinicple of pass cut and move. Despite that I have found that the open post is more suited to the boys style of offense than the girls. Nevertheless I think that it was well worth the money that I paid for it I just wish that I had seen it before spending over $200.00 for the read and react package

This review is helpful
---

Coach Verbeck Chewelah, Wa. from Chewelah, WA says:


10/11/2010

at 10:03:28 PM


I had ordered Coach Huggins DVD on the Cut and Fill offense and was trying the offense but felt there was something missing. This DVD really cleans it up and I am really looking forward to using this offense this year. The DVD instruction is presented very well and I would recomend it to anyone except a league opponent. hahaha

This review is helpful
---

ZekeO from PMB, None says:


10/12/2010

at 5:20:10 AM


Very Good DVD, Mr Perkins could speak a bit slower as he does talk rather fast.

Very, very similar to 1or2 layers of R&R. My Grade 9's are running the R&R version of the pass-cut-fill system. The adjustment of the wing players cutting to the free throw line is a nice version. In fact, I think its a better option IMO.

The amount of ideas for plays that he gives away free of charge is also a nice touch. For lower age groups this is a perfect way to teach motion.

This review is helpful
---

Brady from Poteau, OK says:


10/12/2010

at 7:17:37 AM


I am very excited about adding this offense to our team this year, very informative and easy to follow.

This review is helpful
---

Johnny Griffith from Exeter, NH says:


10/13/2010

at 9:11:51 AM


Love this dvd. Super helpful in the areas Coach Perkins covers. He does a great job of explaining the cutting and screening series, and I like all the extra entries and options he includes. Terrific!

The only thing on which I wish he had done more (maybe he covered this in the webinar?) is the element of rebounding. I'm going to have to spend some time on my own figuring out just how to emphasize crashing the boards when you have all your players but one spread out on the perimeter. If a quick player cuts hard to the basket and gets to the hoop and everyone else is rotating to fill spots, there's not going to be much of a presence inside. If anyone has thoughts on that, I'd love to hear them.

Otherwise, this product is terrific. Well worth the money.

This review is helpful
---

Coach Peter from Belgium from Grimbergen, None says:


10/13/2010

at 2:11:02 PM


I had great hope about this DVD, and is worth every dollar (Euro). They way everything is explaned and shown in practice are really great. The cutting series offered me a total new view of getting mutch more motion in our play. My players love the new entries because they comes as a suprise for our opponents !

This review is helpful
---

M Cade says:


10/27/2010

at 3:38:51 PM


Great info... a refresher on this tried and true formula as well as some new ideas. Will try to incorporate into my offense with the Girls JV Team. Wish there was a Playbook outline to help with the education of the team.

This review is helpful
---

Ross Hardy from Iowa, LA says:


4/7/2012

at 7:14:03 PM


I loved the DVD and I also liked that Mr. Perkins is from Louisiana like me. It is very simple to understand. It looks like an easy offense to teach to players. I can not wait to run this offense once I start coaching high school basketball in a few years. I can run this with my youth league.

This review is helpful
---

Pat Brousseau from Los Alamos, NM says:


3/9/2015

at 10:42:36 AM


Excellent resource. Very well done and goes into detail about the different ways this offense can be run. I give this product 5 out of 5!

This review is helpful
---