The Breakthrough Basketball Newsletter for Coaches -- Issue #22: May 12, 2009
FEATURED Product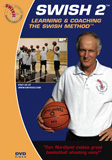 Tom Nordland's Swish 2 Shooting DVD
- Check out this highly
recommended shooting DVD.
Breakthrough Basketball's Review
NEW Coaching Articles
Want to Win More Basketball Games? You Need Be Great At 3 Things!!
- Don't miss this article, it's a good one!
How To Prepare Offseason Coaching Meetings
Creating Team Unity With Coach K
NEW Youth & Junior High Articles
8 Secrets To Success & How They Relate To Youth Coaching / Parenting
Should You Teach Youth Players To Shoot A Basketball With Both Hands Equally?
Great Comment From Jay
"...Also remember, kids need to have fun! If they are having fun they will want to be there, if they are not you may lose some and you could have a diamond in the rough."
NEW Drills, Plays, & Offense Tips
2 Ball Pass / 2 Man Shot
- Challenging player development drill.
Ball Screen - Splitting The Hedge - Drill & Video With Manu Ginobli
Handling Ball Screens Like Steve Nash
Basketball Play - Houston Rockets Box Set - Big Man
Subscriber Comments That You Might Find Helpful
Helpful Advice On Youth Coaches Communicating With High School Coaches To Produce Better Players
Great Tip For Teaching Rebounding To Youth & Middle School Players