Swish 2 DVD Review
To give you an objective review of the DVD, here are the strengths and weaknesses of the product:
Strengths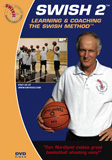 Simplify. Simplify. Simplify. One thing I've became highly convinced of in coaching is that we, coaches, need to keep things simple for the players. Otherwise, there is too much to digest and we end up hurting them more than helping them. Tom Nordland does a fantastic job of simplifying the shooting motion. Many of the shooters in the video have slightly different form (which is fine), but I can tell you one consistency with all of the players that Tom Nordland works with, they make a high-percentage of their shots.


Shows all skill levels and ages. Tom doesn't just show 2 or 3 of his best shooters like most videos. He shows some 40+ (maybe more) players that he works with of all skill levels and ages. Shooters on the video range from 5 to 40 years old. This convinced me that his method works with EVERYONE. You could even tell that some of the players were not very coordinated, but they could sure shoot the ball.


Teaches "Pure" Shooting stroke. Every player in the video has the soft, high arch that ends with a swish. To put it simply, Tom teaches a beautiful shot.


Controlling the Distance of the Shot. Most shooting coaches will give you vague comments like "use your legs more" or "shoot softer." Tom Nordland goes into great detail on how to control the distance of the shot.


Video is great for PLAYERS & COACHES. Along with showing the appropriate fundamentals to shoot the ball, the video teaches how to COACH shooting. A lot of videos forget to provide the little tips to teach the skill, but forget to tell you how to teach it. This video excels in showing you the little tips that help a great deal.


Teaches a shooting motion that allows you to shoot the ball quickly. If anyone saw how quickly Stephen Curry of Davidson shoots the ball, this video teaches the same type of shot motion which I think is the best type of shot motion. Very few players are going to be 6'7 with 45 inch verticals to jump over everybody and shoot over the opponents. The common player needs a smooth, quick shot.


Take you through Step-by-Step on how to develop the "Swish" shot.


Has a BONUS section about coaching. This is after the video covers the shot. This alone outweighs the price of the video. The tips and coaching philosophy which applies to everything in basketball or any sport are outstanding.


The video explains the mental aspects of shooting and how to improve.


Provides a shooting manual. One of my few complaints is that I will miss some of the key points, because they are only mentioned verbally. However, he provides a manual that you can quickly reference if you do not have time to watch the video. I can't tell you the amount of times I've wanted to reference a DVD, but I didn't have time to spend 15 minutes or more to find the spot in the DVD. He provides a manual that allows to quickly reference and review a concept.


Teaches all types of shots and gives CRUCIAL advice on how to make each type of shot. The video also covers runners, bank shots, fade-aways, free throws, and 3-point shots.


Gives some great ideas on how to organize group practices.
Weaknesses:
If you are not awake and alert, the soothing voice in the video can lull you to sleep. However, it does put you in calm, relaxed state which is nice.


Video is 2 hrs. I honestly don't think you can shoot a great video on shooting fundamentals in a shorter time period, but you do need to watch 2 or 3 times to let everything sink in. You should probably do this with all videos.


The video graphics aren't the best, but the quality of the content is still great.
Overall, the video does an excellent job of presenting sound principles without being too rigid. It also provides clear directions for developing the desired shooting motion.
We highly recommend
Tom Nordland's Swish 2 Shooting Video
.
More Information on Swish 2
ORDER Swish 2