Basketball Play - Houston Rockets Box Set - Big Man
I got this play from
Kevin Eastman's blog
. It is a set the Houston Rockets use that has multiple options and could end up with the big man open near the hoop.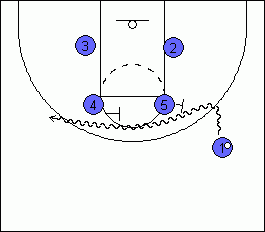 The play begins in a box set with the post players on the top.


4 & 5 set staggered ball screens for 1.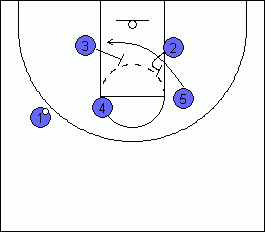 2 & 3 set position themselves to set staggered back screens for 5.


1 looks to pass the ball to 5.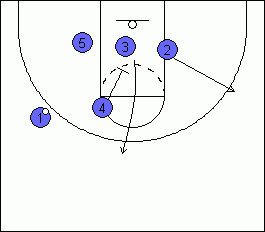 If 5 is not open underneath the basket, 4 sets a screen in the middle of the lane for 3. 3 cuts to the top of the key.


2 cuts to the wing.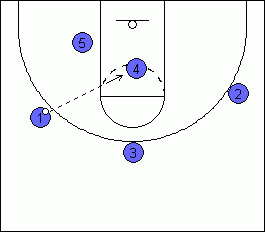 After the ball screen 4 has a few different options:
Option 1 - 4 opens up to the middle after the screen set for 3.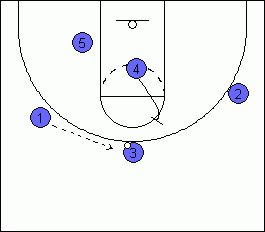 Option 2 - Afer the pass from 1 to 3, 4 sets a high ball screen.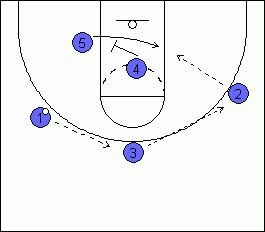 Option 3 - On the ball reversal, 4 sets a screen for 5.
Related Products & Articles
How to Develop a High Scoring Motion Offense
Set Play: Rolling
16 Tips for Running Effective Basketball Plays
What do you think? Let us know by leaving your comments, suggestions, and questions...
Comments
Most Likes First
Oldest First
Newest First
---
Kris says:
1/29/2011 at 11:36:44 PM


Won a game last night with this play. Thx!

Like
---
Jackson says:
1/25/2011 at 2:46:24 PM


this play looks really cool

Like
---
brian says:
4/18/2010 at 7:59:24 PM


way to keep the big man going and screenning to free up the 2 and 3 position for the open jumper

Like
---
olivia shafer says:
10/18/2009 at 12:16:36 AM


this is a great play i am only on a basketball team, not even the season yet,i cant wait to show my coach!!!

Like
---
Roscoe says:
5/12/2009 at 10:31:13 AM


Great play. Keeps the big man engaged and moving constatnly. If you are bleesed with a big that is your number 1 option; this play gives him 2 or 3 plays on getting the ball.

Like
---
kitsi avila says:
5/12/2009 at 7:30:14 AM


great play... i am wondering will this work against zone defense?

Like
1 reply
---
Trey says:
4/1/2017 at 1:20:06 AM


More than likely not. You could add some different variations to make it work. When the 4 sets the down screen (screen the screener action) for 2 the other zone defender at the top will cover 2 as he comes to the top of the key.

In the second step you could make it work against a 2-3 zone. 2 could screen the middle man on the zone. Put 3 in the ball side corner and put 4 on the weak side corner or wing. You virtually have one guy trying to guard two guys. 1 makes the read. 5 is on the block. The middle defender is being screened so what you have is the ball side defender down low having to decide to stay in for the pass to 5 or cheat outside to take away the corner three from 3.

Like
---
---