15 Basketball Warm Up Drills to Boost Your Teamís Performance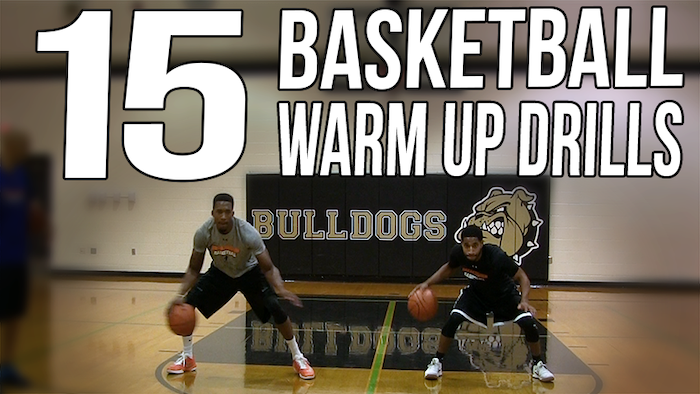 Warm-up drills prepare players' bodies for the harshness of practice. The focus is to loosen up the whole body gradually and raise the heart rate with the goal of injury prevention. Once the muscles, joints, and tendons relax, players can deliver high-intensity performance on offense and defense.
Dynamic Warm Up Before Practice
We recommend a dynamic warm up before the official start time of practice. If needed, you could warm up in the hallway while waiting for your gym time. So, when your practice starts, you can focus on basketball and make the best use of your time.
The goal of a dynamic warm up is to raise the bodyís core temp, prepare for rigors of practice, lower the risk of injuries, increase strength, and improve athleticism.
Dynamic warm ups are recommended for both youth and advanced players. For youth, this is when you develop the critical aspects of balance, coordination, and body control. Very important for young kids!
Combo Drills to Warm Up at the Beginning of Practice
Another way to warm up is with low or medium impact basketball drills -- where players have a ball in their hands. So you're multi-tasking and using practice time efficiently!
You can warm up and work on the following at the same time:
Dribbling
Passing
Parts of your offense
Lay ups
Footwork
Below are 15 warm-up drills for basketball coaches to use during practice for all ages.
All of the drills below will get the heart rate up, warm up the body, activate nervous system, and incorporate some type of basketball development.
4. Multi-Purpose Ball Handling, Passing, Cutting, and Finishing
6. Two Spots Jogging and Shooting
7. Separation Dribble - Down and Backs
8. Cat & Mouse Drill For Ball Handling & Defense
9. 3 Cone - Groove Finishing Drill
10. 5/5/5 Shooting
12. 2 Up 2 Back Dribbling and Finishing
13. Pass Tag
14. Zig Zag Dribble With Light Pressure
Cooldowns and Static Stretching After Practice
After practice we recommend a few minutes of static stretching. Basketball players tend to get tight hip and calf muscles. Light stretching is a good idea to maintain mobility and lower their risk for injuries.
You should stretch hamstrings, quads, hips, glutes, and calves.
FREE eBook: 72 Winning Basketball Drills
If you'd like MORE basketball drills, check out our FREE 152 page ebook with 72 great basketball drills that are neatly organized and ready for you to print out in PDF format.