Ballhandling Drill: Two Up, Two Back
Drill Purpose (All Ages)
This drill will improve dribbling and ballhandling skills. It can be done alone or with multiple players in practice.
Instructions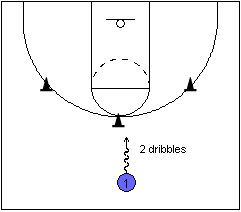 Set a chair or cone about 21 feet from the basket.


Take 2 hard dribbles at the chair.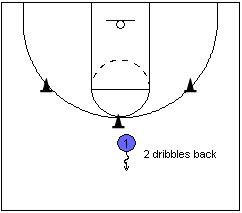 When reaching the chair, take 2 backup dribbles.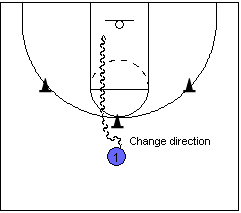 Use a change of direction dribble (cross over, inside out, etc).


Push ahead into 1 dribble lay-up or pull-up jumpshot.


Development Tips for Guards
The 2 up dribbles should be hard, attacking dribbles. The player should understand that anytime he can get the defense going backwards he has a big advantage.
Be sure the backup dribbles are protected dribbles. Do not expose the ball to the defense.
The push dribble should be an explosion in a straight line to the basket. Whatever the outcome of the move, it should be accomplished in 1 dribble.
Points of Emphasis
Keep your head up.
Stay low and keep your knees bent when making your change of direction move. (This improves quickness because standing upright will only slow you down when you're ready to explode past the defender.)
Use your finger pads when dribbling (not your palms).
Work on lengthening the dribble. Work to get your opportunities with 1 dribble. You don't beat defenses with your dribble. You beat people with your feet; you SEPARATE from your defense with the dribble.
Practice outside your comfort zone. Experiment; go faster than you are used to, use your imagination. When working on new skills, don't be concerned with losing the ball. Just pick it up and do it again.
Recommended Training Resources and Material:
Attack and Counter Skill Development System
SKLZ Court Vision - Dribble Goggles
Do you have any questions or suggestions for this drill? Let us know by leaving your comments...
Comments
Most Likes First
Oldest First
Newest First
---
Rashad Carrizales says:
9/27/2022 at 12:20:39 PM


This is probably one of the best drills for all players. My younger ones tend to just rush towards the trap and my high school kids, uses this as a reminder of what to do.

This helps reduces turnovers and creates space as well.

Like
1 reply
---
Barb says:
9/27/2022 at 2:09:33 PM


Glad to hear, thank you for the feedback.

Like
---
---
Festus says:
1/13/2021 at 9:16:24 AM


Great tips! bring in more!

Like
---
gabriel-uv says:
9/13/2012 at 10:07:05 PM


HELLO EVERYONE! IN MY EXPERIENCE ITS MOREOFTEN A ENCOUNTERED DOUBLE TEAM SO I GET FUMBLE OR WORST I LOST THE BALL,SO I PRACTICE HARD TO STEPBACK OR WHAT YOU CALL BACK UP DRIBBLE (I TAKE IT HABIT), MY POSITION IS PG I'M SO GLAD WHEN I READ THIS ARTICLE ITS HELPS ME A LOT TO DEVELOP MY SKILLS AND TRICK.....

TYVM & GOD BLESS!

CP3-PHILS

Like
---
sumeya says:
8/8/2012 at 8:02:24 PM


thanx sooo much

Like
---
Lavonn says:
1/16/2012 at 4:25:20 PM


I loved the drill, it's definitely an effective drill. I was just working on a drill focusing on ball handling and when I read this drill it just worked perfectly into what I was currently doing. Thanx , keep up the good work.

Like
---
Harris/GREEK BBALL COACH says:
1/12/2012 at 2:05:40 PM


It was really an excellent Drill for my Young Players.
THANKS A LOT

Like
---
Jeff Haefner says:
1/12/2012 at 11:48:51 AM


This of course always depends on the specific kids you are working with and their experience level (you wouldn't make a big deal if this is the first time they picked up a ball). But I have third graders that have no problem with one dribble lay ups from the distance shown (three point arc). They key is to push your dribble out ahead of you and go get it. That's what you do when you have an opening to the basket. Extend the dribble in front. If you dribble right next to your leg it will take 15 dribbles and longer to get there. You only need one. I have seen a 4-10 eight grade girl do drop step a few feet from half court and get all the way to the basket in one dribble. She was pretty athletic but the high school boys get pretty motivated when they find out an 4-10 8th grade girl can get there in one dribble when they are not.

Like
---
Tom says:
1/12/2012 at 11:29:24 AM


On the "1-dribble layup" part of this drill, should I expect 6th graders to be able to do this, or will they need to be bigger/older before they can do it in one dribble?

Like
---
ruwan says:
8/5/2010 at 1:15:46 AM


Amazing! Thanks

Like
---
coach clevenger says:
3/15/2010 at 5:43:38 PM


I had a group of girls this last season who knew little to nuthing about basketball. This drill really helped and I ended up having awesome ball handlers.

Like
---
Show More
Terry says:
12/1/2009 at 8:09:03 PM


My kids can finally get the ball over half court.
I need more though

Like
---
gg says:
4/20/2009 at 12:39:23 PM


hey its me again but can you add more info about dribbling because i didnt understand some of it and because of you guys i got an a on my project.YAY ME!

Like
---
gg says:
4/20/2009 at 12:34:59 PM


yo this information is great keep adding more info and pics though

Like
---
F Thompson says:
12/3/2008 at 7:09:49 PM


I am a parent of a 13 year old basketball player. The coach wants me to run the clock..I tried to get out of it but he is consist on me running the clock..Tell me how to run the clock...Thanks

Like
---
Joe Haefner says:
10/6/2008 at 7:28:55 AM


Hi Piik,

It is neither. Two dribbles means that the person dribbles the ball twice with one hand. For this drill, the player is running forward while dribbling the basketball.

Like
---
PIIK says:
10/5/2008 at 12:43:25 PM


im really quite sure of what you mean by 2 dribbles. is it dribbling using both hands with 1 ball or is it dribble 2 balls with both hands ?

Like
---
austin says:
10/3/2008 at 10:28:38 AM


thank you alot this advice will help me with my essay so i will use this for more baskette ball stuff thanks again

Like
---
Joe Haefner (Co-Founder of Breakthrough Basketball) says:
4/15/2008 at 9:06:54 PM


Hi Launita,

You find more on these fundamentals at this link: http://www.breakthroughbasketball.com/fundamentals/basketballfundamentals.html

We will continuously add new information.




Like
---
Launita says:
4/15/2008 at 7:13:45 PM


Please send me more tips for guard developement drills. Focusing on footwork and ball handling.

Thanks

Like
---
stephen says:
1/22/2008 at 3:33:28 AM


that was really amazing send me more of this so that i woul inprove in my ball handling.thanks man i like it.


Like
---
kelly says:
1/20/2008 at 10:47:22 AM


hey, carter. great basketball drills. i can really use them tyvm!!!~~~

Like
---
nwabunwanne stephen says:
11/12/2007 at 6:50:23 AM


thanks a lo; please more of this stuff in my box

Like
---
hoang nam says:
10/24/2007 at 8:10:26 PM


thank alot

Like
---
pat white says:
10/14/2007 at 2:14:23 PM


hey thanks alot for this stuff. im gonna start a high school program here in new zealand and with info like this our program will prosper.

Like
---
AL says:
10/13/2007 at 6:20:44 PM


THANKS THIS DRILL HELPED MY BIDDIE PLAYERS WITH THEIR BALL HANDLING SKILLS

Like
---
sam says:
10/5/2007 at 3:51:01 AM


thanks. please keep sending. i'm learning. we're profiting.

Like
---
Coach Marty Edwards says:
10/4/2007 at 3:25:16 PM


Excellent information. Thank you for another great drill !

Like
---
carter says:
9/17/2007 at 1:05:55 AM


the basketball drilll are amazing pls try sending more basketball tips to my email thanks.

Like
---