By Don Kelbick
MACCABI USA PAN AMERICAN GAMES
Coaching jobs are hard to come by, at any level, anywhere. I feel so fortunate and honored to be selected to the staff of the Maccabi USA Open Pan American team, along with Stu Wittner, former Head Coach at Pace University and Steve Rosner, who made his name as the agent for some of the biggest names in sports. We will be competing in the Maccabi Pan American Games in Sao Paulo, Brazil from Dec. 24 to Jan 2. This is my second experience coaching internationally having coached the Miami Tropics in the first FIBA Americas League in 2006-2007.
This experience will be drastically different, though. This is a national team. We will be representing the United States.
---
For those that are not familiar, the Maccabi is a charitable organization and has a presence world wide. They sponsor sport competitions very similar to the Olympics. Every 4 years (the next one is in 2013) they sponsor the world wide Maccabiah Games in Israel. In the years in between, there are regional competitions, leading up to those games. This year we are competing in the Pan American Games, which includes North, South and Central America. Already completed is the Pan European Games. There are similar competitions on the other continents as qualifying for the world wide games. There are several levels ranging from kids to over 35. My efforts are with the Open team, which has no age limits and is the centerpiece of the games.
This is a unique challenge. Because of the dates of the Games, late December – early January, we are not able to use professional players since most of them are playing in their seasons. Even those pros who are between jobs are not candidates because of the possibility that they could sign contracts with pro teams between now and the competition and won't be available to us. The challenge is to find players that are good enough to compete for the Gold, yet will be available for the Games.
The challenge in not just to find the players, but to mold them into a cohesive unit, offensively and defensively, and be competitive enough to challenge for a Gold Medal. We will have 3 mini-camps and a 4 day training camp before we leave for Brazil.
July Mini-Camp

This is our first mini-camp. We have brought in 25 players with the object of picking 12 for the team and probably 3 alternates. Most of these players have been out of school for a couple of years. Some passed up the prospect of professional play to start their careers. Some have gone on to professional or graduate school.
It is quite an array of players, ranging from Div. I players from schools like Cal, Nevada, Syracuse and Binghamton to players from the Div III NCAA Champion Washington University. Just as impressive is the success that they are attaining off the court at such young ages. There are business consultants, law school students, marketing directors and even a post player that works for the U. S. Department of Justice.
The camp consists of opportunities for us to get to know one another, some skill development, and quite a bit of scrimmaging to evaluate the players. They are 2 long days. On Saturday, we are in the gym at 8:30 AM. We work until 12:30 and then a break for lunch. We have drilled and played, got up a lot of shots and seen a little competition. Back on the court at 2, the afternoon is reserved mostly for play. We go multiple 10 minute scrimmages. At the end, we start to impart some offensive philosophy under the guise of 3-man shooting drills. We are out of the gym at 6.
Starting at 9 AM, Sunday is more of the same, except we warm up with different 3-man shooting drills. We are trying to get a feel for what players are comfortable with. Then, we run a few 20 minute scrimmages using the movements we installed during the shooting drills. We break for lunch at noon. At 1:30 we are back on the floor for a full 40 minute game. We finish at about 4 pm, tired but also satisfied.
The thing that struck me the most was how appreciative the players were for this opportunity to compete at a high level again. Most of these guys were prepared to move on in their lives and did not anticipate that an opportunity like this would come along. It is a refreshing change from the pampered, demanding and entitled players I usually work with.
Over the next couple of weeks, the staff will talk to try to determine the most likely players for the team and to prepare for the next mini-camp in September.
Once the team is chosen, I think the playing system will be the personification of simplicity. I am a very simple coach anyway. I believe in teaching concepts and allowing the players to figure it out.
I rode with a workout with one of the coaches of one of the younger teams. He was telling me all the things that he was prepared to install, zone offenses, man offenses, man defenses, zone defenses, pressures, etc. I asked him how long he had to practice with his kids. He told me probably a week to 10 days. I can't believe he expects to do all that in a short period of time. I know I can't, but we will see how it works.
September Mini-Camp
These were 2 grueling days. It is hard to believe it has been 2 months since we saw them in the last mini-camp.
We had cut down the team from the previous 25 down to 15, of which 14 were present. One player has signed a professional contract with the provision he be granted leave to participate in the Games. We had 2 new players to look at. One was a member of 2 national championship teams who could not make it to the first camp, due to his responsibilities in the White House (yes, THAT White House). The other just finished his college career and was unavailable in the first camp due to his recovery from knee surgery.
If the first camp was for evaluation and getting to know one another, than this camp was for real basketball issues. We had to provide a framework for offense and defense that was simple enough to implement in a weekend and be able to be retained, but have to be effective enough to allow us to challenge for the Gold Medal in Brazil.
Because of my coaching style, I did not believe that was a tough task. My coaching is conceptual and I allow the players to interpret the game for themselves and because I am working with 2 of the most generous people I have ever been involved with, they indulged me. In coaching discussions with the other coaches, we agreed that trying to implement a system that revolved around a series of cuts with precise timing was not going to be an option. First, I think that is always going to be too complex. In our situation of extremely limited practice time and long periods where we won't practice would make that not only too difficult to play with, but would be counter-productive.
To that end, offensively we are really simple (is there any other way?). We have 2 basic frameworks, pass and screen away and a UCLA entry. We have 3 basic rules: create space, recognize your teammates' strengths and weaknesses, share the ball. That is all we do.
Defensively, we similarly put in a few simple rules: everybody ball side, shrink the court by not allowing ball reversal, if the ball goes in the lane do what is necessary to get it out. We have 3 defenses: straight man-to-man, switch like players, switch everything. There are some things inside of that such as how we play screens, etc. but those are things we can even adjust in a game.
These were long days. We practiced from 9 to noon and then again from 1:00 to 4:00. In practice, we did a little breakdown, but it was mostly whole work. We didn't have time for much of anything else. That suited me just fine. I started out my career as a big-time breakdown coach but I now find that working 4-on-4 and 5-on-5 to be much more effective. The morning was reserved for our plan. A lot of 5-on-5 and what I term "time and score" scrimmages. In the afternoon we played an 8 period game against a local player agency team of aspiring pro players.
The scrimmage was played in multiple 12 minute periods. Offensively, I though we played surprisingly well. The players followed the 3 simple rules and looked like they had played together for years. However, because in reality they had not nor had they had competitive play for a while, shots did not fall. In addition, we had not addressed defense, and it showed. As the periods went on, shots started to fall and we actually played pretty well, considering the competition and the situation.
Sunday morning, we addressed the defense. Simple rules, no layups; shrink the court; get the ball out of the post. Not real difficult or confusing. We also tried to address some offensive deficiencies from the day before. I am not sure that was wise.
In the afternoon, we took on the Beltway Bombers. They are a team in the Premier Basketball League (PBL), a minor league located primarily in the northeastern U. S. In addition, they are trying to position themselves to where, if the NBA decides to expand the NBADL, they would be considered as a franchise. While they didn't bring everyone on their roster, they still had very good, athletic professional players.
Again, we played multiple 12 minute periods. In the first period they really blitzed us. Again we played no defense and the smoothness of the offense from the day before was missing. I suspect that we were over coaching on offense. At the end of the first period, we reminded both our staff and players that we would leave them alone on offense, but the difference in every game would be on defense. And what a difference. We stopped worrying about right and wrong on offense, followed the 3 simple rules on defense. Confidence rose and every period was a war. They won a few periods, we won a few. At the end of the day, we had a glimpse of how good we can be.
In the end, I am more convinced than ever that the simpler the better. It is better to under-coach than over-coach. If you have players and create a team atmosphere, they will figure it out.
I cannot believe what these players have accomplished in such a short period of time. I can't believe it is going to be 2 months before we see them again. Our next mini-camp is Nov. 11. Then a month before we have a training camp and then go to Brazil.
It should be interesting.
November Mini-Camp
This was our last mini-camp before the Pan-American Games in Brazil.


We were lucky that Nov. 11 was a holiday and we were able to get most of the players in on Friday in enough time to practice. My trip was certainly eventful. I was at the airport at 7:30 am, to go from Miami to Atlanta and then to New Jersey. Once in Atlanta, we had a delay of 2 hours for a maintenance issue. They put us on the plane, closed the door, and then let us know we were going to sit there for an indeterminate period of time. It was an inconvenience but I was happy to have made the trip, no matter what the issues.
This is a really unique situation and I can't believe it had been 2 months since we've been in a practice. We used Friday night to review and to add some zone offense structure. The players have done a great job of retaining what we have previously worked on and staying in shape. The simplicity of the system we are running and the unselfishness of the players made it easy to recapture what we had left behind and move ahead.
We made a decision to play games the rest of the weekend. We needed to find out the competitive nature of the players and how they react in actual competition. On Saturday, we played at Columbia University and took on their developmental team. The team is made up of varsity players that are not seeing much game time and underclassmen that they can project as a contributor in a Div. I game at some time in the future. On the whole, they were pretty good players. We started the game down 16-3. It was not unexpected. They are playing at home, practicing every day and had opened up their season the previous week. We have guys who flew in from all over the country, spend their lives going to law schools, financial firms and marketing companies. After refocusing, guys really started to play. We let the players put emphasis on offense, as coaches, we focused on defense. Once we started to play defense, the game came back to us. We went in the locker room down 4.
The second half was a knock down drag out affair. Mostly, the teams were 4-6 points apart. At one point, Columbia went up 13 but a quick spurt got it back down to 4. In a nutshell, the game was decided this way: score was 68-67 in favor of Columbia; Columbia ball; shot clock at 3; and a 3-point shot from the top that banked off the backboard and went in. After all the basketball plays we were able to overcome, we were not able to overcome a shot that has a limited chance to win a game of H-O-R-S-E. What can you do? We wanted a test to see how our guys would do. We got tested and they did pretty well.
After the game, we evaluated our performance and most of the discussion centered around getting off to a better start. In the tournament, if you start the first game down 16-3, the whole tournament could be over. We felt that the bad start was situational. Travel, lack of practice time, uncertainty all figured in to a lack of assertiveness on the court. The feeling was, because we played on Saturday, we should play better on Sunday.
On Sunday morning we played a team from the Atlantic Basketball League. It is a semi-pro team made up of players hoping to get noticed and go on to a pro basketball career. They weren't especially big but they were very talented and very athletic. Any questions we had leaving Saturday's game, were answered early on Sunday. We made shots, defended the basket and the ball, made game adjustments quickly. We played 5 periods, won 4 of them and lost the 5th by 1 point.
All in all, it was another productive weekend. We all felt we left in a pretty good place. I continue to admire the commitment, professionalism and character of the people in this program. So far it has been one of the most rewarding experiences of my coaching life.
The next time we see each other will be a couple of days before we leave for Brazil. Then we have nothing else to do except represent the good old US of A.
December Mini-Camp

After 3 mini-camps in 5 months, training camp in finally here.  It is a short camp with 3 workouts, mostly to review and fine tune what we had previously done. We knew when we started, we would have limited time before we left. That fact was a major contributor in our decision to keep everything that we do simple and emphasize defense. In doing that, we felt that there would be a greater carry over from our other mini-camps into the tournament.
We met on Thursday night and used the opportunity to remind everyone why we were there. It really wasn't necessary as the group we have is very focused and goal oriented. They were all anxious to get on the court and get going. In addition, we had 2 players get hurt at our previous mini-camp and we needed to test the state of their recovery.
Friday morning was spent sharpening what we had. Any scrimmaging that we did was done as a time and score scrimmage. We felt, more than plays or anything else, managing the game is more of a determinant in deciding games than any other factor. A "Time and Score" scrimmage helps teach game management.
Friday afternoon's session was devoted to defensive adjustments and more "Time and Score" scrimmages. We left at the end of the day feeling pretty good about the things that we needed for the tournament. The players stayed in good condition, they retained all the things we had worked on and we felt we were in pretty good shape.
On Saturday morning, we had a walk-through practice. Dry runs, at high intensity, of everything that we had. And a mountain of shots. We didn't want to leave the gym without feeling that we had taken enough shots.
After the workout, we left for the airport for our 10 hour trip to Sao Paulo Brazil.
The Maccabi Games
First of all don't let anyone tell you that sitting on an airplane for 10 hours is not uncomfortable. On Saturday, we loaded the airplane in New York at about 7:30 PM EST. We arrived at our hotel  at about 11:30 AM, Sao Paulo time, which is 3 hours ahead of EST (8:30 AM EST).
We checked into our rooms, tried to grab a bite to eat before we had to go to organizational meeting and get a tour of the facilities.
We were smart enough to bring balls, because when we got to the basketball venue, there was no one there. So we stepped out on the court and had an hour shooting practice. After the workout, we boarded the bus to go back to the hotel for some much needed rest.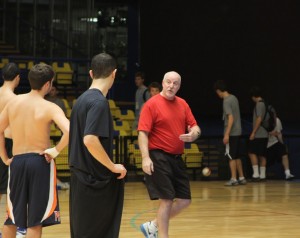 On this day, we had practice at 9:30 AM in New Jersey, took a 10 hour flight to Brazil, attended meeting and practiced before we finally hit were able to get some rest at 10:30 PM. That is a pretty full day — or two. Our first game was Monday at 10:30 AM.
Team USA vs Canada
Our first contest was against Canada. Canada was a tough, physical team. We were just as concerned about our guys being awake, no less in a mind to play. As expected, we came out really slow and sluggish. We missed our first 7 shots while Canada ran up and down the floor and burst quickly to a 9 point lead.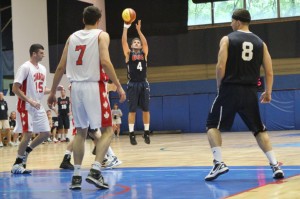 We made several subs early in the 1st half. We wanted as many players to feel the court early in the game as we could. We thought that each time a player touched the floor and came out of the game, the better mentally he would be when he returned into the game.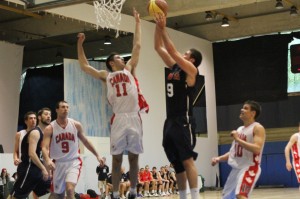 Our feeling was correct. Once we got guys back into the game, their play improved by the minute. We came back to tie at the half.
We took control of the game at the start of the second half. We started to make shots and get the ball inside. More importantly, we turned it up on defense.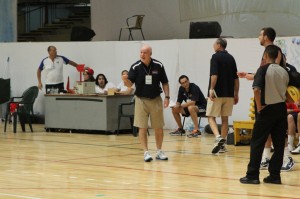 We went up 10 and maintained the lead for most of the 2nd half. We had a short period when based on poor offensive decision making on our part that allowed the Canadians back in the game. But once we took a deep breath, we took control again and played well down the stretch.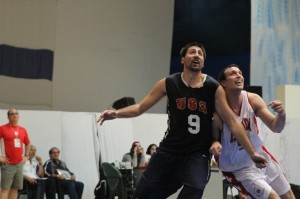 Final score: TEAM USA 72, CANADA 62.
Tomorrow, we have Israel at 5 PM
Team USA vs Israel
We took control of the Israeli game right from the outset. We were bigger and stronger which allowed us to get into a transition game. Once in the transition game, our superior depth takes a major toll on the Israelis.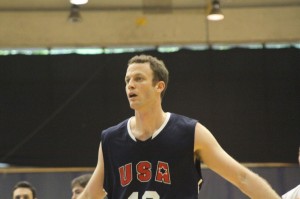 There were a couple of things that we felt we needed to improve on from our previous performance. We felt that it was a necessity to improve defending ball screens. We felt that we allowed ball handlers to access the screen too easily which not only allowed the ball handler too much freedom, but also allowed the screener to roll too easily to the basket. The second thing we had to defend better was penetration. A big part of international play is to penetrate the ball, wait for the defense to converge and then kick it out to a shooter. We had to do a better job of not allowing the ball to get into really dangerous places. Against Israel, we did both.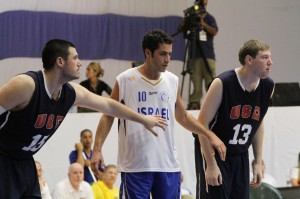 We got great performance from everyone. Our two leading scorers came off the bench. Two out of the three top rebounders came off the bench. This was a great team performance. We will need more if we hope to win the Gold Medal.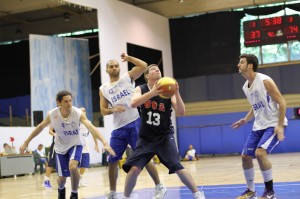 Final score: TEAM USA 82, ISRAEL 44
Next game is against the host team, Brazil.
Team USA vs Brazil
Two words can be used in describing our contest against Brazil: GREAT GAME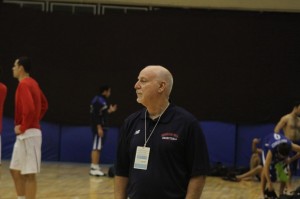 The Brazilians are big, strong and very well coached with two great shooters running the team. They have good depth and their players are well-skilled. The game started a little unevenly as both teams were missing shots, but the character of the game was revealed. It was going to be a very physical, guard controlled game. We had trouble early with the physical nature of the game as it forced us to miss a number of easy shots and layups due to contact or the expectation of contact. It was extremely frustrating as Brazil ran out to an 8 point lead. It would have been easy for us to fold our tents.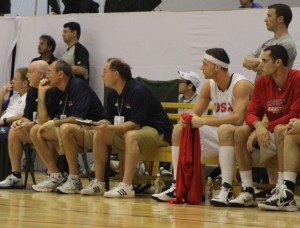 But, we didn't. Our answer came on the defensive end. Our good defense provided us with a spark that gave us easy baskets. We turned a 24 – 16 deficit into a 31-27 lead at the half.
We came out well in the second half. We spurted to an 8 point lead. Then their physical play started to take its toll. Our shots started to fall short, we could not get any inside points and started to turn the ball over. Next thing we knew we were down 6 and heading into the 4th quarter. Once again, defense was the answer. Forcing turnovers and getting break out layups, we came back to go up 2. They answered by making 3s from long range. We were down 2 with 2:20 to go when we hit a 3 to take the lead by 1. They answer with a 3 to go up 2 with under a minute to go.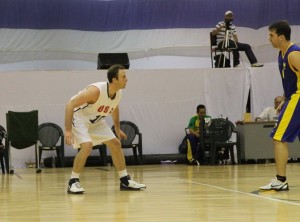 As the clock ran down, we get fouled on penetration, two shots. Calmly making the 2 foul shots, we dug in on defense. Forcing a turnover, we bring the ball up the court and in a scramble after a shot, the ball goes out of bounds under the basket.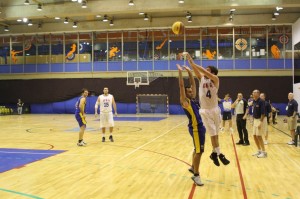 1.6 seconds to go. Our ball, under the basket. Score tied, 69-69. Click here to see what happened.
Next game vs. Mexico
TEAM USA vs MEXICO
There really is not much to report here. We played an undermanned team from Mexico, whose 2 best players were hurt and, through a scheduling quirk, was playing their 2nd game of the day.
We were superior in all aspects of the game and had much more size and strength than the Mexicans and we played like it. In the first 5 minutes of the game, we jumped to a 22 point lead and coasted. We got excellent performances out of everyone as the lead swelled to 35 points where it remained for most of the game.
We now get a couple of days off before moving on as the top seed in the medal round.

Team USA vs Israel
Semi-Final
The semi-final game vs Israel was a tough, tense fast paced, physical game. We had beaten them in round-robin play pretty badly. But, they were coming off a 27 hour trip to Brazil and were very fatigued. We expected and got a very different game this time.

The Israelis came out shooting. From long range. Penetrate and kick, which is typically European, is a big part of their game. We were pretty well prepared for it, however they kept moving further and further back for their shots and they fell like rain drops. They took a 6 point lead in the first quarter, but we hung in there. We stiffened on defense which produced some easy breakout points and we went to the quarter with a 1 point lead. However, as an omen of things to come, we had given up almost as many points in the first quarter as we had in the first game.
The game became a game of runs. In the second quarter, we ran out to a 9 point lead, they would run back and knock it back to 1. We would extend back to 8, then commit some foolish turnovers and they would come back to tie. We made a couple of baskets at the end of the half, including a full court pass for a layup to take a 6 point lead at the half.
Again at the start of the 3rd quarter, we extended the lead and again they came back to within 1. Their shooting was phenomenal. We did not take good care of the ball. As a combination of the two, we just couldn't take them out.
As we went into the 4th quarter, nothing would change. We would extend, they would come back. We never let them take the lead but we were never able to take them out, either. With the game at 3 points and about 3 minutes left in the game, we made a critical change. We decided to keep the ball away from their point guard. We waited until then so they would not be able to an adjustment. Their scoring stopped. We made a couple of baskets and 4 foul shots coming down the stretch and finally came away with a 10 point win.
Final Score Team USA 96, Israel 86
The big game is tomorrow when we take on Canada for the Gold Medal.
Team USA vs Canada
Gold Medal Game
To win the Gold Medal we were going to have to go through Canada. The Canadians are a team that rose from the dead. We played them in a tough, physical game in the opener of the tournament where they had the lead for much of the game before we extended to a win in the 4th quarter. They lost their next game to Israel. Then, they blew through the rest of their schedule, including beating Brazil, who we thought was the best team in the tournament, twice. They won a tough fought game against Brazil in the semi-finals.
We prepared to play a physical game against a team that was well coach and executed their offense flawlessly. During this entire process, we felt that it was going to be defense that was going to make the difference in the tournament and we knew we were going to need it now.
The game started with a little give and take. We hit a two, they hit a three, we made some foul shots, they made a couple of shots. With the score 9-6, our way, we hit a three and then the defense dug in. We had 8 straight possessions where we either forced a turnover or a miss that we converted to points on the other end. We strung 4 straight shot together, made foul shots, dominated the offensive glass. The next time I looked at the score we were up 19. The lead blew up to 25 and we went into halftime up 19.
In coaching, there is an axiom that games are won and lost in 15 minutes, the last 5 minutes of the first half, the first 5 minutes of the second half and the last 5 minutes of the game. We controlled the last 5 of the first half. We wanted to make the last 5 minutes irrelevant. So, we were focused on the first 5 minutes of the second half to decide the game.
Canada made the first shot and then we went on our best run of the tournament. Forcing turnovers that ignited our running game, we took greater control of the game and saw the lead explode to a high of 33 points. Everyone in uniform contributed to building the lead.
The rest of the game was academic. The Canadians continued to play hard and the final score of 87-70 was not indicative of how much we really controlled the game.
In the end, Team USA had the Gold Medal hanging around our necks. There is no way that I can describe that can relay the feel of pride that we had, standing on the podium with U-S-A on our chest and listening to the National Anthem with Gold Medals hanging around our necks. It has been an experience like no other.
For more information on Don Kelbick, visit www.DonKelbickBasketball.com