Recommended Basketball Shooting Aids, Resources, and DVD Reviews
Below you will find our list of recommended shooting aids, DVDs, and devices.
Hand Marked Shooting Ball

Baden makes a basketball with the hand positions marked on the basketball. This helps when teaching young players where to place their hand on the basketball.
The ball comes in two sizes. You can choose the 27.5" or the 28.5" shooting basketball.
If you need help choosing the right size, check out our basketball size chart.
Shooting Strap

If you have problems with your guide hand moving or you thumb the ball with your non-shooting hand, I highly recommend the J-Strap.
The most common shooting problem we see is the guide hand moving and young players thumbing the ball. Those can be very difficult habits to break!
We have found the J-Strap makes it much easier to break those shooting habits because it keeps your guide hand still. We highly recommend the J-Strap for players that have trouble with their guide hand moving.
Shooting Glove

Some people swear by shooting gloves. Personally I do not use one when I train players. Maybe with time I'll come around and that will change.
However, if you feel like a shooting glove will help you, I recommend the J-Glove.
If I were to use a glove when training players, this is what I would use. Itís a well-designed product and you can get a complimentary DVD to go along with it. The DVD provides demonstrations of the J-Glove and explains how to use it. I highly recommend buying the DVD and the J-Glove as a package.
Oversized Basketball

To help refine your shot, you can practice with an over-sized basketball. The larger basketball requires extra precision when shooting. Players find shooting with a regulation-size ball much easier after practicing with an over-sized ball.
NOTE: ONLY experienced players with great fundamentals should use oversized and heavy balls. Younger players still learning form should NOT use these devices. They, in fact, should use smaller basketballs.



Shooting Camps
Shooting camps can serve as a great opportunity for you to get some one on one time with shooting experts and coaches.
We offer a variety of basketball shooting camps to consider. View our camp schedule here.
Basketball Rebounding and Retrieval Systems
We HIGHLY recommend that you consider a basketball retrieval system because one of the most important keys to becoming a great shooter is to get LOTS OF REPETITIONS.
When you shoot around, how much time do you spend chasing the ball?
You spend at least 75% of your time chasing the ball and maybe 25% of your time shooting.
You can literally shoot twice as many shots with a good retrieval system.
These devices range from about $120 for simple ones with a netting component, to $4,500 for systems that have netting and a device that passes to shooters.
Here are the devices that we recommend:
Option 1 (Entry Level)- Rapid Fire Rebounder

This is the most affordable option that we recommend to players for use at home. There are less expensive options available, but when we tested the less expensive options, the results were marginal.
The
Rapid Fire Rebounder
does a great job for the money. It's a simple device you can pick up for around $120. We highly recommend the Rapid Fire Rebounder for players that want something at home.
Note: This device works on rectangle metal frame backboards up to 60 inches. It does NOT work on plastic frame backboards.
Option 2 (Mid Range) - IC3 Basketball Rebounder
The IC3 Rebounder the next step up... more durable, better control of ball return, and works on all types of backboards. The frame is made of steel so it's more durable than the plastic devices.
At $349 the price is a little more expensive than entry level model above. But you get better all around quality. For players at home this is our #1 recommendation if you can afford it. The "adjustable return" on the
IC3 rebounder
allows you to choose the direction of the ball return. This saves you time and gives you a lot of flexibility in regards to drills with one player, two players, or more. This device can also be used indoors. It's a great product that we highly recommend.
Option 3 (High End) - The Gun and Dr. Dish

The Gun and Dr. Dish are more advanced and more expensive basketball rebounding devices ($1000 and up) that coaches should consider for their school or club program.
We recommend that coaches consider these devices because they work wonders and can help you get in tons of shots. If your budget allows, the
Gun
and
Dr. Dish
will provide your players with a tool that allows them to get in a great shooting workout in far less time than they could any other way.
Basketball Shooting DVD Reviews
We highly recommend that all serious basketball players and coaches utilize shooting DVDs. You just can't replace the value of a great video that shows you the exact mechanics and step-by-step details of a great shot.
Here are a few videos that we recommend:

We really like One Motion Shooting because...
Itís very simple to teach and learn -- one motion is less complex than the traditional way players learn to shoot.


Itís very quick and efficient.


Itís effective and can be used by any player (whether youíre an elite athlete or you struggle to touch the net).


It's based on the premise that your shot should be "one fluid motion" from beginning to end. No hitches, pauses, or wasted movements.
One motion synchronizes body movements and energy flow. We suggest you consider and learn about the One Motion Shooting Technique.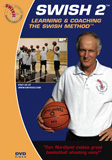 The
Swish shooting videos
of Coach Tom Nordland provide comprehensive and strategically sequenced instruction for developing a shooting motion that is accurate, consistent, and repeatable.
The Swish Shooting DVD gives you an excellent explanation of proper shooting technique and demonstrates common mistakes that many shooters make. This is one of our favorite DVDs when it comes to shooting technique and fundamentals.
Summary
Those are the shooting products that we recommend. If you have questions or comments about any of these products,
let us know
.
Comments
Most Likes First
Oldest First
Newest First
---
Cael says:
11/29/2018 at 2:02:52 PM


I keep shooting the ball correctly but I just can't buy a bucket, I need tips to put the ball in the hoop often.

Like
---