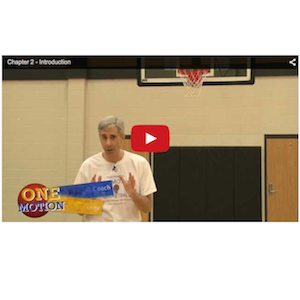 See All Reviews
Write a Review
Rick Penny's One Motion Shooting Video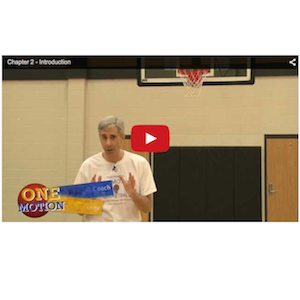 $39.00
In Stock
60 Day Money-Back Guarantee
Online Streaming Video (45 minutes) and 21 page eBook

You will be emailed access instructions and passwords upon order confirmation.
What is One Motion Shooting?
"One Motion" is a shooting technique developed and taught by Coach Rick Penny.
Several coaches at Breakthrough Basketball now use One Motion when teaching technique to young players. We like this technique because it's simple, easier to teach, and very effective.
It's based on the premise that your shot should be "one fluid motion" from beginning to end. No hitches, pauses, or wasted movements.
One motion synchronizes body movements and energy flow.
This technique is based upon a simple concept: shooters that utilize the path of least resistance along the shot line get better results. Proper execution allows the player to experience:
a quicker release
consistent form
greater accuracy
optimum results ...
Players like Stephen Curry, Steve Nash, and Diana Turasi all have quick and compact shooting motions. Allowing them to shoot very quickly and accurately without jumping as high as they can.
One Motion Shooting allows you to develop a VERY quick release.
One Motion gives all players the best possible chance to make their shot. Why? The ball does not deviate from its path or speed along the shot line. Momentum flows freely throughout the process, giving shooters better "touch" or "feel." At the release point, the ball is on an arc path between 42 and 48 degrees. This has been proven to yield the most baskets.
What Separates "One Motion" from Other Techniques?
Two factors separate One Motion from other techniques: 1.) Less effort is required
when shooting and 2.) It produces a quicker / smoother release. The entire shooting
process is non-stop which allows energy (power) to easily flow up the shot line.
This is vital in achieving an effective shooting motion.
Easy to Learn and Teach
Easy to learn ...
Two simple steps, easily learned in a short period of time. Both work in harmony to
produce a smooth and effortless shooting motion.
Step 1: SET
Step 2: GO
How the One Motion Shooting Video Will Help You
This 45-minute presentation reveals the secrets of how to develop a quicker and smoother release. The videos will help you...
Learn proper shooting technique
Develop a much QUICKER release
Improve shooting accuracy and percentage
Improve footwork
Learn proper grip, foot alignment, timing, set position, and release mechanics
Learn a simple way to improve your shooting technique
About Rick Penny
Rick is known as one of the purest shooters, with the quickest release, to ever play the game. His shooting technique is timeless; it worked when he was younger (see Playing Days below) and it works today.
988 of 1,000 free throws -- age 56
490 free throws in a row -- age 50
97 of 100 3pt. shots (top of circle) 56 in a row -- age 50
1774 of 2000 3pt. shots (top of circle) -- age 50
77 of 100 NBA 3pt. shots -- age 50
Rick knows shooting! He has a unique ability to work with players of all ages (boys or girls) no matter their skill level. Coach Penny retired from coaching in 2000 and is now pursuing his passion...teaching shooting!
In his playing days, Rick attended Richardson High School (1968 to 1971) and McMurry University - (1971 to 1975). In college he was an NAIA All-American, leading scorer in school history with 2,296 points, led the nation for guards as a senior with 60.9 field goal percentage, and was invited to try out for the San Antonio Spurs.
As a coach, he was an assistant for 3 years and head coach for 20 years.
Today Coach Penny is a dedicated shooting coach and trainer. Coach Penny and his wife Jane live in Brady, Texas.
What You'll Get in the 45 Video Presentation
Students learn how to develop a quicker & smoother release in this 45 minute presentation. Watch chapter by chapter as you learn to build a One Motion shot.
Chapter 1 - About Rick Penny
Chapter 2 - Introduction
Chapter 3 - One Motion Shooting Technique
Chapter 4 - Step 1: SET
Chapter 5 - Step 2: GO
Chapter 6 - Combining SET & GO
Chapter 7 - Quick Hop
Chapter 8 - Stepping Into The Shot
Chapter 9 - Shooting From A Pass
Chapter 10 - Shooting Off The Dribble
Chapter 11 - Jump Stops
Chapter 12 - Free Throws
Chapter 13 - Three Pointers
Chapter 14 - S-Curve
Chapter 15 - Warming-Up
Chapter 16 - Summary
Chapter 17 - Terminology
Coach Penny follows his clinic format in presenting the One Motion Technique.
For boys & girls wanting to become better shooters, this is a must see! Students
are amazed at how effortless their shot feels.
21 Page Supplemental eBook
In addition to the video, you'll receive a 21 page eBook that includes a shooting checklist and pictures detailing the shooting technique.
Customer Reviews
Average Rating
3.8
Based on 5 reviews
Review This Product
Rate and review this product to let others know about your experience.
WRITE A REVIEW

Simple and easy to follow instructions. Sample execution from several students helped clarify the nuances of different body types. My son improved his shooting percentages from the field and the free throw line in his first day of learning the one motion. He spent more time putting the ball through the net instead of chasing them. The warm up workout was a helpful starting point but I wish he gave a sample workout that maximized the one motion shot. Highly recommended!

This review is helpful

(
0 people
found this review helpful)

Don't have the video yet. Has taken long time to get here. Expected it earlier
This review is helpful

(
1 person
found this review helpful)

Very well explained and clear. I think Rick is perfect for a Demo Video as he takes the time with Detail .
I've worked through it with my 2 sons whom I also Coach and it's working well. It also helps to engage the kids when they know it's a similar technique to Steph Curry !
This review is helpful

(
0 people
found this review helpful)

The video was very well organized and easy to follow. The techniques were reviewed and great detail. I look forward to working with my players to implement them.
This review is helpful

(
0 people
found this review helpful)

Excellent presentation. Have used video in shooting workouts with favorable response from players aged 11 to 17.

They now better understand rhythm shooting as we video their workouts and run Rick's video alongside for self analysis.

Thank you
This review is helpful

(
0 people
found this review helpful)