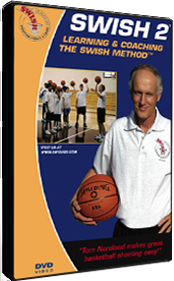 Swish 2 - Shooting DVD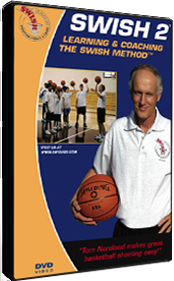 $19.99
In Stock
60 Day Money-Back Guarantee
Learn proper shooting technique
Learn how to develop a smooth release
Improve shooting mechanics
The Swish 2 Shooting DVD covers all aspects of shooting technique....
Stance
Set position
Follow through
Grip
Guide hand
Distance control
Swish 2, a two-hour video creation, describes in great detail the steps to both learning and coaching this simple, extraordinary approach to shooting. It will answer just about any question you have. You'll see examples throughout the video of Tom's students demonstrating the steps to great shooting while knocking down their shots with ease.
If you want to learn about proper shooting technique and fundamentals, we highly recommend the Swish 2 DVD.
TABLE OF CONTENTS FOR SWISH 2 DVD
I. OPENING, WELCOME, INTRODUCTION
II. WHAT MAKES FOR GREAT SHOOTING
III. WHAT THE SWISH METHOD OFFERS
IV. LEARNING AND COACHING THE SWISH METHOD
A. How do you shoot now?
B. The Keys of the Swish Method
C. Steps to learning and coaching the Method
1. Learning the Basics
a. Shooting from the UpForce
b. Developing a Consistent Release
2. Application
a. Practicing away from a basket
b. Putting it together at a basket
c. Free Throws – Jump shots w/o the Jump
3. Expanding Skills
a. Adding movement, shots off dribble, etc.
b. Catch-and-Shoot shooting
c. 3-pt shots
d. Close-in Jumpers
e. Fade-Aways
f. Runners and Floaters
g. A Note about Bank Shots
V. WRAP UP
VI. APPENDIX
A. Conversation for Learning and Coaching
B. How do you shoot now?
C. Ideas for organizing group practices
D. How to sustain the learning – Key Understandings
E. Creative shooting exercises
Approx. Run Time 2 Hours