Site Search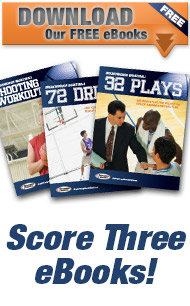 Free Newsletter
Get our free monthly newsletter with new drills, plays, scoring tips & coaching strategies... Signup for our newsletter
Q & A Forum
Experienced coaches are ready to answer your basketball questions! Visit our forum


Subscribe for FREE and Get 3 eBooks…
Just for subscribing to our free newsletter you'll get these 3 eBooks for free…
72 Basketball Drills & Coaching Tips – 136 page eBook.
21 Basketball Tips & Tricks for Players – 20 page eBook.
32 Winning Basketball Plays – 96 page eBook.
Plus you'll get ALL updates to this website delivered to your inbox for free. Over 100,000 other coaches, players, & parents have already subscribed.
We will never send you spam or share your email address, guaranteed!
Close
Donate to the Breakthrough Basketball Camp Scholarship Program
Breakthrough Basketball offers scholarships awards to deserving boys and girls that want to attend basketball camps. The scholarships are given to children of low income families in need of financial assistance.
We think that all kids should have an opportunity to attend basketball camps whether their families can afford it or not. So we're raising money and accepting donations to go 100% towards basketball camp scholarships that will be given to deserving kids.
Help Kids Build Confidence and Enhance their Lives
Today's most successful athletes, musicians, artists, scientists, doctors and other professionals begin exploring participative activities at a very early age. Their involvement is supported by their family's financial support. Without a strong financial and emotional support system, many children's talents and gifts go undeveloped and un-noticed.
We believe that positive programs, like our basketball development camps, will enhance children's lives and help them to become healthy, motivated, productive members of our society who understand and appreciate the value of hard work and integrity.
Our goal is to raise enough money so that no deserving child will be turned away from camp due to an inability to pay the camp tuition. Help us reach that goal by donating to the camp scholarship program...
Donate Online
If you donate $100 or more, you will receive a profile of the camper(s) you are sponsoring.