Store
Most Orders Ship in 24 Hours
Limited Lifetime Warranty
How to Choose an In-Ground Basketball Hoop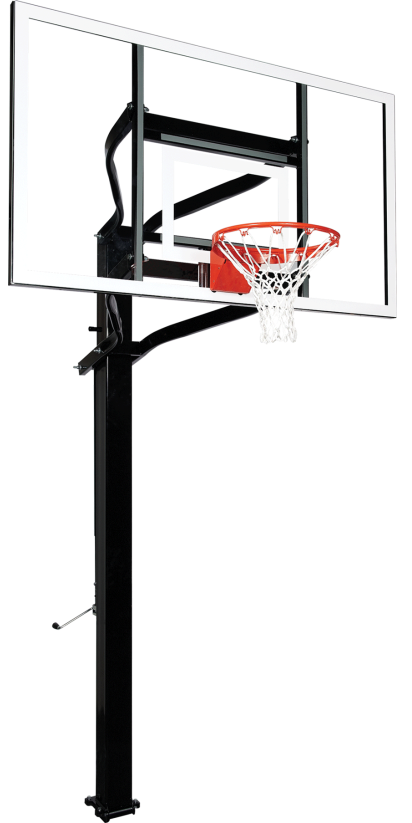 So you've decided on an In-Ground system! Great choice.
There are 4 basic factors to consider when narrowing your search on what will work best for you.
Those primary factors are:
1. Size / Shape
2. Stability
3. Rim / Backboard options
4. Price.
We will discuss all of these in greater detail below.
1. Size/Shape
Backboard Size
Sizes range from 44" up to 72" regulation size used at the professional level and in most indoor gyms.
The smaller-sized backboards, between 44" and 54", save on space and are typically used in a smaller playing area. The most popular 60" backboard saves space but still offers enough room for bank shots.
The 72" is a must for anyone training for competitive play or if you want the best of the best!
Pole Size
In this case, bigger is usually better. Many poles come equipped with 4", 5", or 6" square poles. The larger the backboard, normally the larger the pole size required for maximum strength and stability.
Backboard Shape
Backboards generally come in two shapes.
Rectangle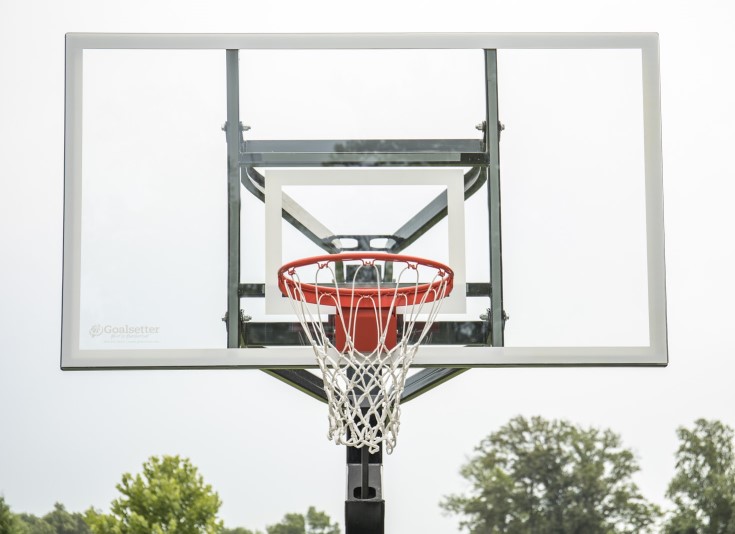 The more common rectangular backboard offers extra space for rebounding and bank shots.
Fan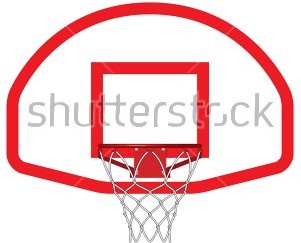 The fan-shaped backboard takes up less space but are not frequently found in many indoor or outdoor competitive courts.
2. Stability
There are many factors that attribute to hoop stability.
Anchor
Stability starts with the anchor system. There are two types of anchors that are used in the majority of residential in-ground hoops: the hinge and the threaded j-bolt. They ARE NOT created equal!
The hinge has a more solid foundation because the system puts more steel underground to support the pole. The hinge has a 42" anchor depth, whereas the j-bolt is only 18" deep. More support underground helps to minimize hoop vibration.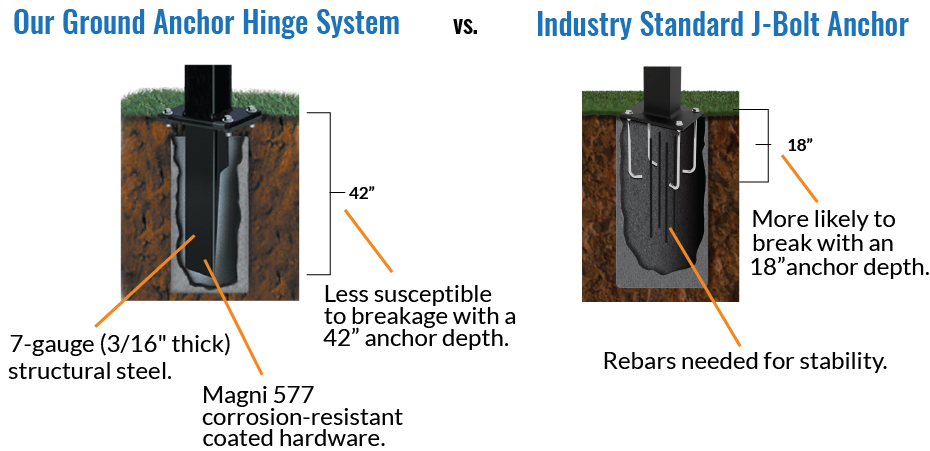 If moving is in your future and you want to take your pole and hoop with you, the hinge system anchor makes relocating hassle free. Easily remove the fully-assembled pole from the anchor and take it with you when you move. All you'll have to do is install a new anchor at your next home.
Pole
The next factor that significantly affects stability is your hoops pole. Since the pole supports the backboard, you'll want a heavy-duty pole that minimizes vibration and shake. A wobble-free backboard ensures that your shots and the ball's rotation won't be knocked off course from marginal equipment.
Research these features when selecting your pole:
Thick steel poles are the sturdiest. Don't settle for poles that are less than 7-gauge thick (3/16"). It's 1-1/2 times thicker than 11-gauge typically found in poles. A higher-gauge rating is LESS thick steel, so in this case, lower numbers are better.
Get a one-piece pole. A one-piece pole is sturdier and less susceptible to corrosion and rust. Paint scrapes off when you put together the sections of a multi-piece pole, leaving the joints vulnerable to rust. Over time, extra joints weaken making the pole shake and vibrate.
Square poles are stronger than round ones. The square corners provide more rigidity.
A corrosion-resistant coating will make your hoop last longer. The coating protects your pole from the weather.
We offer two types of sturdy, durable poles:
Support Arms
The support arms also affect the stability of your basketball hoop.
Both the quality and design of the support arms will affect the performance, stability, and responsiveness of your hoop.
Wider support attachments allow for less backboard shake and more realistic ball bounce when shooting layups and bank shots.
3. Rim / Backboard options
Rim
The standard size rim on a basketball hoop is 18" in diameter. There are 2 basic types of rims - adjustable and static. An adjustable rim is best for a diverse player lineup. If your lineup includes kids and adults, you'll want to change the rim height to accommodate players of different sizes and skill levels.
The range of height makes basketball an enjoyable workout for every member of your family. Lower the hoop so kids can learn how to dunk, shoot and hang on the rim if so desired. Raise it back up so adults can perfect their shooting and dunking as well.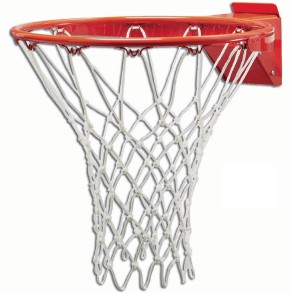 Some hoops require a pole to adjust the rim height. While other hoops have an easy-to-use crank. If children are in your lineup, make sure they'll be able to reach the crank to make adjustments as needed.
Static, or fixed height rims are much less desirable and most hoops today are equipped with a breakaway, spring-loaded rim. A necessary feature if you want to add the thrill of hanging and dunking like Michael Jordan to your game.
When pressure gets exerted onto a breakaway rim, the spring alleviates tension by letting the rim slide downwards. After the player releases the rim, it springs back into the horizontal position.
Be aware that some lower-priced hoops leave the spring exposed. Most higher-priced options enclose the spring to protect it from the weather or potential finger pinching.
Backboard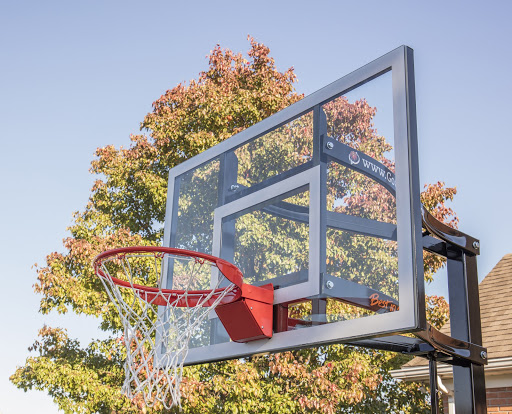 The backboard controls the performance of your hoop because it influences how your ball bounces, rebounds and spins off the backboard.
Low-quality backboards will have dead spots causing your ball to drop flat instead of rebounding with spring.
An unstable backboard will add vibration. That shakiness makes it harder to sink shots and predict how your ball will react when the ball makes contact with the board.
Backboards are made with either tempered glass or acrylic:
Tempered Glass is the material used at the professional level, balls will have the same bounce, spin and performance you'll find in high school, college and NBA courts. It's the recommended material for people who want to improve their skills or play competitively.
Acrylic is a cheaper glass-look-alike. These backboards will not give you the high-caliber ball performance found in the gym. They tend to be lightweight, so they don't need as much support.
4. Price
As with most everything, you get what you pay for. Basketball hoops are no exception. This is a pretty straightforward decision. Larger backboards are more expensive. Larger, thicker diameter steel poles are more expensive than smaller, thinner. Again, pretty straight forward.
In the end, the decision on the criteria that are most important to you will ultimately dictate the cost to procure.
Now that you know the primary criteria to decide upon regarding In-Ground systems and have a game plan, check out our basketball hoop line up. We offer a wide variety of hoops to meet or exceed all your expectations.