Store
Most Orders Ship in 24 Hours
Limited Lifetime Warranty
Sturdiest Adjustable In-Ground Basketball Hoop Your Entire Family Will Have Fun Shooting and Dunking On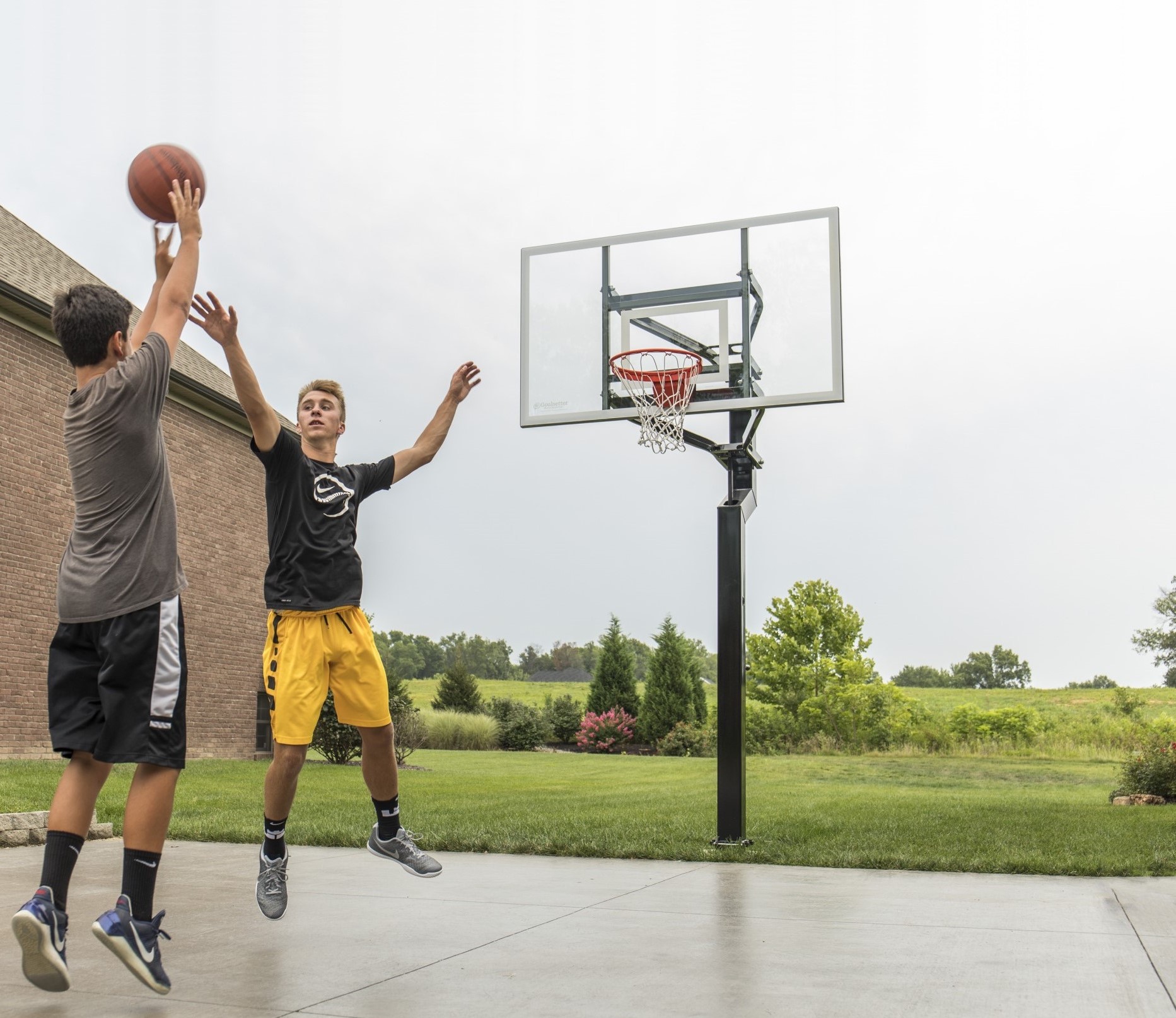 Sturdiest Adjustable In-Ground
Basketball Hoop Your Entire Family
Will Have Fun Shooting and
Dunking On
Whether you're 5 or 50, you can work out like the pros, without leaving your home.
Adjustable rim height lets the whole family have a blast exercising and shooting baskets in a sleek-looking straight-pole hoop.
Built to outlast your kids.
High-performing ball response.
100% made in the USA.
Loaded with extra safeguards from our offset pole.
Easiest residential in-ground hoop to install.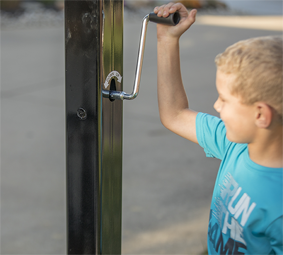 Adjustable Rim Lets You Dunk Like Michael Jordan Even if You're Short
A simple-to-use crank lets even a 5-year-old lower the hoop without assistance.
The offset pole lets you adjust the hoop from 6' - 10'.
This range of height makes basketball an enjoyable workout for every member of your family.
Versatile Enough for Children to Dunk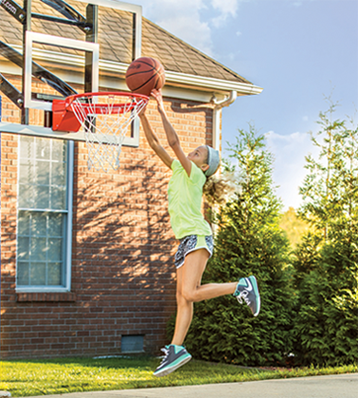 Strong Enough For Adults to Hang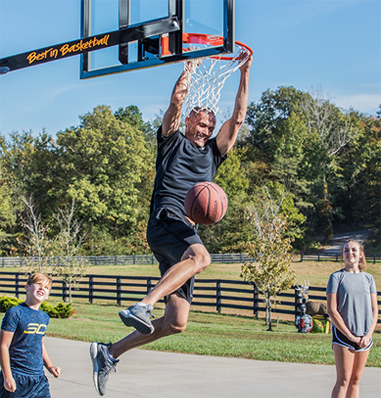 Durable In-Ground Basketball Hoop with Offset Pole Built to Last a Lifetime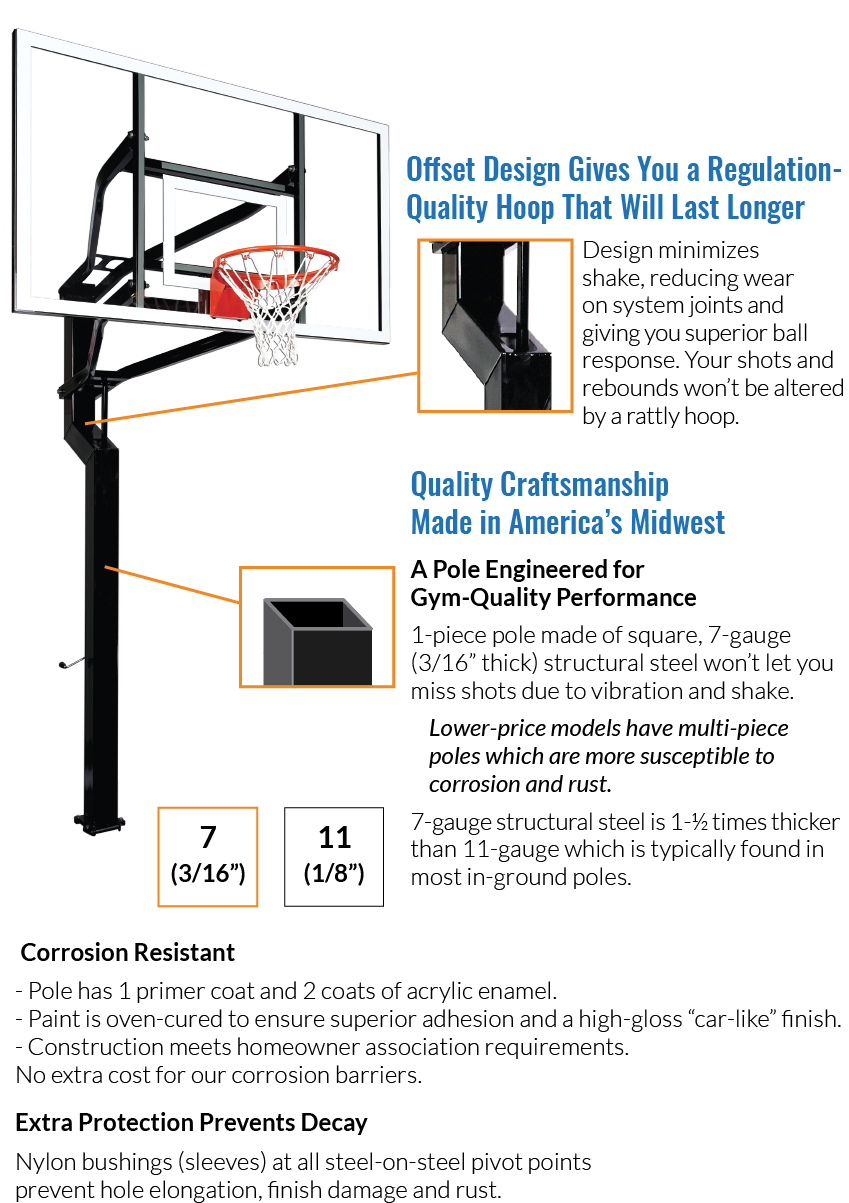 Offset Pole Makes Rim Adjustment Safer and Quicker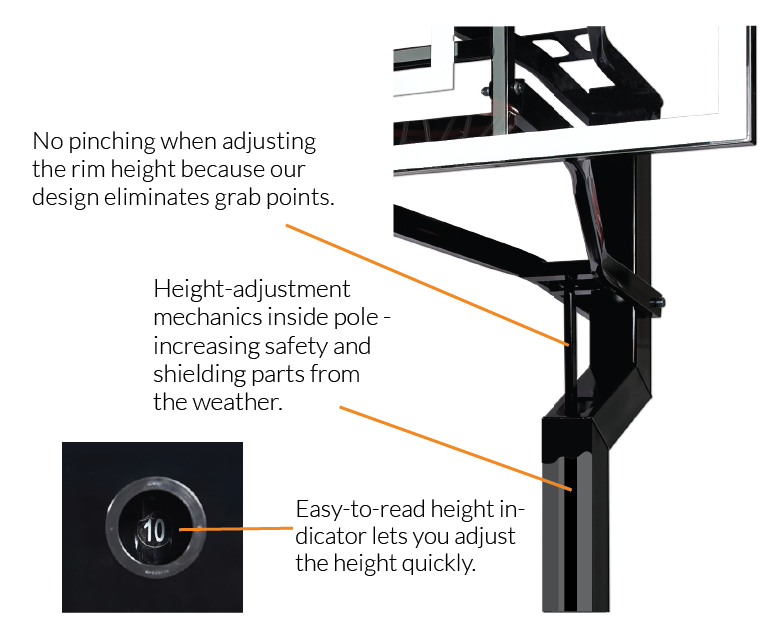 Enjoy Gym Quality Basketball Outdoors
Every component of our hoop is designed to ensure your shots, rebounds, bounces, banks and bricks all behave the same way as with high school, college and NBA baskets.
Your shooting skills will smoothly transfer to an indoor court. So you and your children will improve and reach your potential faster.
Help you children reach their goals by letting them play on a hoop that'll give them a bigger payoff for their practice time.
A Slick Looking Rock-Solid Backboard Gives You NBA-Ball Performance
Our backboard is solidly engineered. It can withstand the entire neighborhood slamming and rebounding on the goal without damage.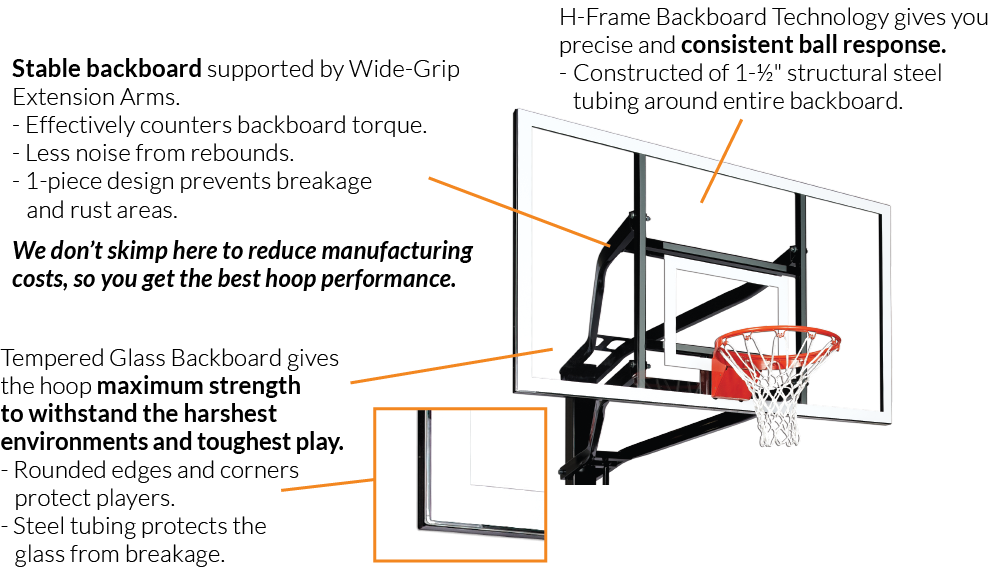 If you have a school, church, park or apartment complex that needs an acrylic backboard, contact us.
Anchor System Gives You Confidence to Play Hard
Our anchor has more steel underground than the J-bolt typically found anchoring other in-ground hoops. Giving you a rock-solid hoop with more stability so you can fearlessly dunk and hang.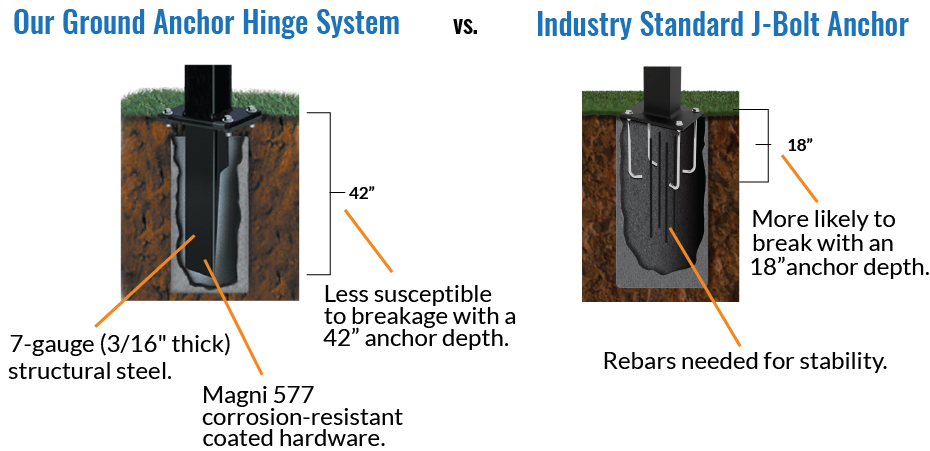 Fast Installation That Won't Require an Army To Set Up Your Basketball Hoop
No ladders needed with our Ground Anchor Hinge System. By assembling the backboard and pole on the ground, you're kept out of harm's way. 2 - 3 average size people lift the fully assembled pole onto the anchor.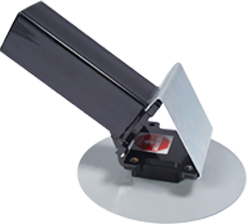 With our system, you'll have fewer pieces and parts to put together. You'll spend less time assembling the hoop and more time exercising in your home court.
You'll get easy-to-follow installation instructions
Don't want to install the hoop yourself?
In 2 visits our recommended professional installers can save you the work of putting up your hoop. The first day they'll dig the hole, pour the concrete and install the anchor. On the follow-up visit they'll assemble your pole.
One Less Huge Headache When You Move
Relocation is hassle-free with our anchor. When you move, just take the fully-assembled pole with you and buy a new anchor.
By giving your family a lifetime of court time, this hoop gives you a better return on your investment than difficult-to-move portable hoops.
A Rim Shaq Can Hang From Without Breaking!
Spring engineering protects you and the neighborhood from injury by putting a shock absorber into the rim.
When pressure gets exerted onto our Heavy Duty Breakaway Rim, the spring alleviates tension by letting the rim slide downwards. After the player releases the rim, it springs back to horizontal position.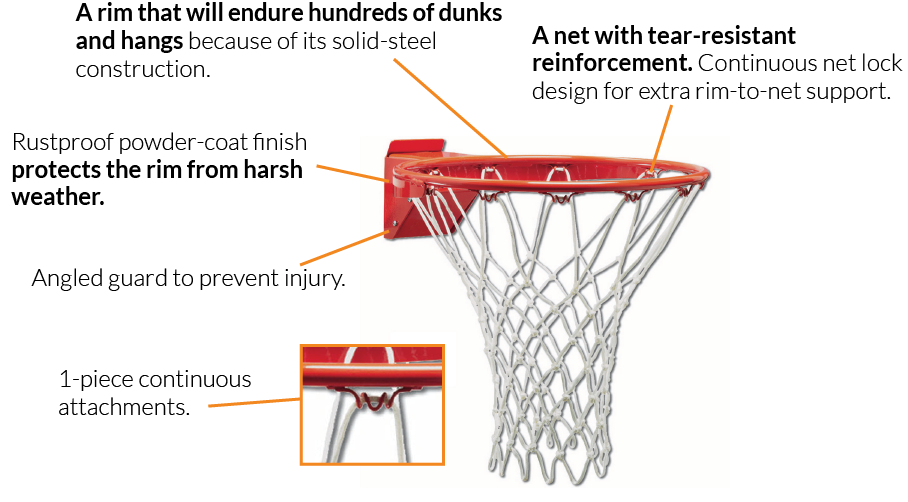 No dead balls come off this rim. Your rebounds will be consistent and match the performance found on a regulation court.
Adjustable In-Ground Basketball Hoops with Offset Pole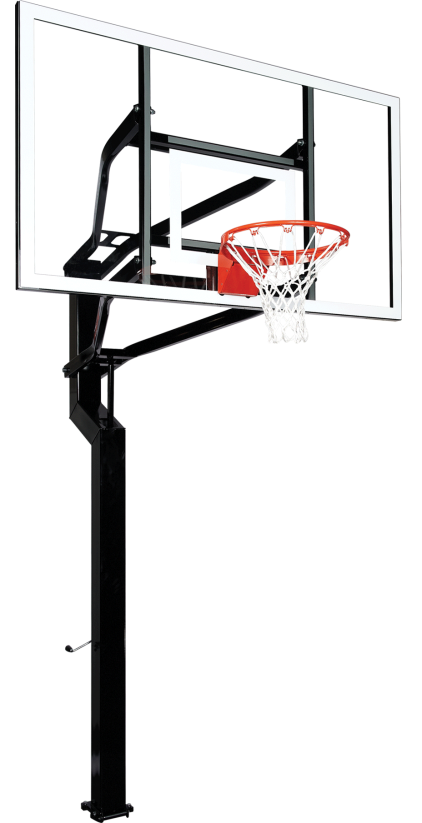 Adjustable 72" Offset Pole
Typically used in a larger space, such as a 3-car driveway or custom outdoor court.
72" x 42" Regulation Backboard and Hoop
provides the high-performing ball response and rebounding needed for competitive basketball play.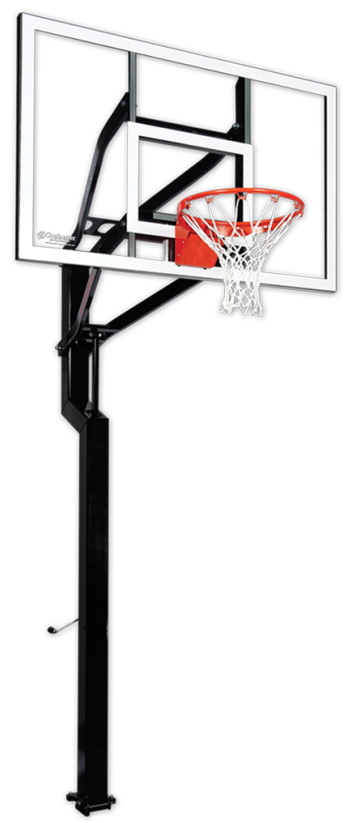 Adjustable 60" Offset Pole
Typically used in a medium size space, such as a 2 or 3-car driveway.
60" x 38" Backboard
provides high-performing ball response and rebounding on a mid-size, competition-grade system.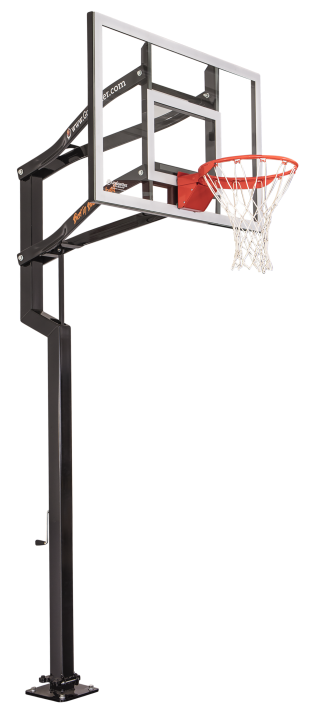 Adjustable 54" Offset Pole
Typically used in a smaller space, like a 1-car driveway.
54" x 36" Backboard
provides high-performing ball response and rebounding on a smaller system.
Contact our experts if you have questions or need help choosing the right hoop.
Phone: (866) 846-7892
or Send a Message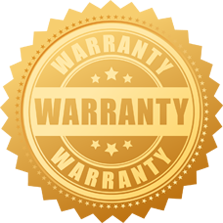 We promise you'll get a sturdy, durable system that'll endure all the dunking, hanging and basketballs your family tosses at our hoop.
If we fail at our promise, we'll replace your system quickly and painlessly.
Limited* Lifetime Warranty on all components of our in-ground basketball hoops.
2-Year Limited* Warranty on the Heavy Duty Breakaway Rim.
* You're covered as long as your system is installed properly and gets normal, intended use.
You Only Get Top-Of-The-Line Products From
Breakthrough Basketball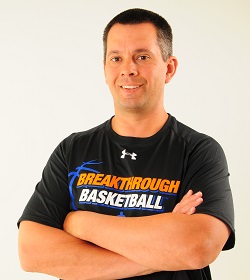 Co-founder and coach
Jeff Haefner.
We're basketball fanatics who've coached players and teams for more than 20 years. Including NBA draft picks and top college players at Duke and Michigan State.
We've been shooting baskets since we were old enough to hold a ball. We passed on our passion for basketball to our kids.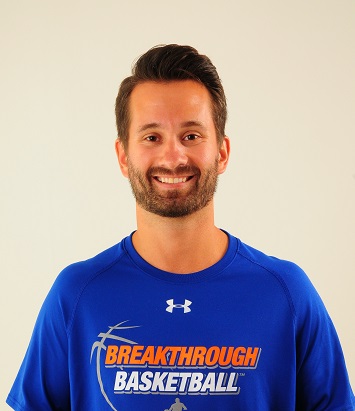 Co-founder and coach
Joe Haefner.
Our understanding of the needs of both recreational players and pros drove us to offer the best quality basketball hoops.
Our families and neighbors play with us on our own in-ground hoop. That's why we can honestly say this is the best hoop on the market.