Site Search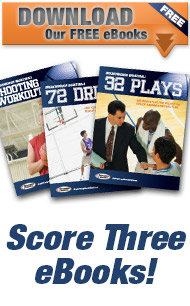 Free Newsletter
Get our free monthly newsletter with new drills, plays, scoring tips & coaching strategies... Signup for our newsletter
Q & A Forum
Experienced coaches are ready to answer your basketball questions! Visit our forum


Subscribe for FREE and Get 3 eBooks…
Just for subscribing to our free newsletter you'll get these 3 eBooks for free…
72 Basketball Drills & Coaching Tips – 136 page eBook.
21 Basketball Tips & Tricks for Players – 20 page eBook.
32 Winning Basketball Plays – 96 page eBook.
Plus you'll get ALL updates to this website delivered to your inbox for free. Over 100,000 other coaches, players, & parents have already subscribed.
We will never send you spam or share your email address, guaranteed!
Close
Basketball Zone Offense - Strategies, Plays, and Tips to Beat a Zone
Here are some resources to help you beat and score against a zone defense...
3 Simple Strategies to Attack a Zone Defense
Using the Flex Offense Versus a Zone Defense
Yo Yo - Zone Offense
Zone Offense Tips
2-1-2 Zone Offense - Use This Against Any Zone Defense
Attacking the 1-3-1 Zone Defense - Sean Miller
Zone Basketball Plays
Attacking Match Up Defenses
Zone Out of Bounds (Inbounds) Plays
Recommended Products:
Beating the Zone - 75 Set Plays to Score Against Zone Defense
In this eBook, you will find 75 zone plays that you can use against any zone defense. It includes 2-3 zone plays, 3-2 zone plays, 1-3-1 zone plays, baseline out of bounds plays, and multi-purpose zone plays. You will also learn how to exploit the weaknesses of zone defenses, learn new ideas for running zone plays, and much more ... (more info)