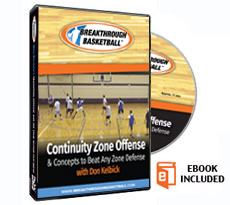 See All Reviews
Write a Review
Continuity Zone Offense & Concepts to Beat Any Zone Defense with Don Kelbick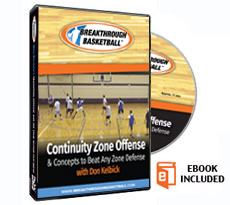 $39.00
In Stock
60 Day Money-Back Guarantee
71 minute DVD and 36 page eBook
You will be emailed access instructions and passwords upon order confirmation.
Continuity Zone Offense & Concepts To Beat Any Zone Defense with Don Kelbick
-- Video & eBook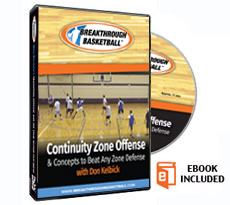 Don Kelbick's concepts to beat any zone defense is a comprehensive guide to arm you with concepts that are effective to beat all types of zone defenses.
By using the principles Don Kelbick highlights in the video and eBook, you will have a great understanding of what it takes to have an effective zone offense, and you can apply these principles to enhance your team's zone offense immediately!
Don Kelbick has been coaching basketball for over 35 years, and through the progression of his career, he's learned and perfected the elements it takes to successfully attack a zone. He has found this continuity zone offense simplifies the game, which makes it easy to teach it quickly and effectively.
As you'll see in the video, Don Kelbick takes a group of high school players that do not know him and have never run this offense before and gets them to run it effectively in the short time span that he had making this video. That should give you the confidence that your team can run this in no time!
This video and eBook is for any coach that wants their team to be able to adequately beat a zone defense.
What You'll Get in this Video and eBook
Introduction
Coach Kelbick gives you an introduction to his continuity zone and explains:
What all successful zone offenses have in common
The importance skill development plays in your zone offense
Putting players in a position to be successful
Chapter 1 - Elements of Zone Offense
In chapter 1, Coach Kelbick explains how over the course of his coaching career, he's seen what works and does not work with zone attacks. He explains the four elements that all successful zone offenses have, and why they are a threat to the defense.
Chapter 2 - Zone Continuity
In the video, Coach Kelbick uses one particular pattern that he uses to attack all zone defenses. Since it is a continuity offense, that means that the offense will repeat the same pattern of cuts every time the ball changes sides of the floor. In this chapter, he highlights:
The initial offensive alignment
Different ways the offense can be initiated
The cuts players make when the ball goes to certain spots on the floor
The positions players should be in to put the defense at a disadvantage
Chapter 3 - Attacking the 2-3 Zone
In chapter 3, Coach Kelbick highlights the fact that in order for your offense to be successful, your players must understand how the zone defense works and what the defense is trying to accomplish. He notes that what works against a 2-3 zone, may not work against a 1-2-2 unless your players make the appropriate adjustments.
When attacking a 2-3 zone, Coach Kelbick notes that your team's initial alignment should put players where the defenders in the zone must make coverage decisions. In this chapter, he emphasizes where your players should go when the ball goes to certain spots on the floor to weaken the 2-3 zone.
Chapter 4 - Attacking the 1-2-2 Zone
Just like attacking the 2-3 zone, your players must understand how a 1-2-2 defense works so that they can identify areas of indecision for the defense. In this chapter, Coach Kelbick shows how to expose a 1-2-2 defense and where the ball needs to go to emphasize the defense's weaknesses.
Chapter 5 - Attacking the 1-3-1 Zone
In this chapter, Coach Kelbick first shows how a 1-3-1 rotates and the initial alignment your offense should start with when going against the defense. He then highlights where the ball should and should not go against this defense and how to attack its weaknesses.
Chapter 6 - Adjustments Against Trapping Zones
In chapter 6, Coach Kelbick highlights the simple adjustments that your offense can make when a half-court zone defense occasionally traps the ball. In this chapter, he talks about:
Maintaining the important elements of a zone offense
The weakest part of any trapping zone
Maintaining discipline against the trap
The different types of trapping zones you may see
Closing Thoughts
As the video winds down, Coach Kelbick gives you his closing thoughts on his continuity zone offense. He notes that since this is not his team, you're able to see the players go through the actual learning process, which should put your mind at ease that these concepts can be simple to teach to your team.
36 Page Supplemental eBook
For your convenience, we have documented some of the key concepts, implementation steps, and common questions from the Don Kelbick's Zone Offense Video.
The PDF eBook is 36 pages.
Concepts & Principles That Can Be Applied to
Any Offense
In the video, you'll be presented with dozens of zone offense concepts and principles. These are universal principles that apply to all types of zone offenses... including motion, continuity, and called play.
The purpose of this video is to arm you with concepts that are effective to beat all types of zones. This presentation will include one of Don's favorite continuity patterns, but the value in what you see is not necessarily found only in that pattern. We hope that after watching this video, and reading through the information, you will gain knowledge that will benefit you whatever zone attack you choose to run.
Entries to Distort the Zone
One of the best ways to attack a zone is to "distort" it immediately. This gets the defense "chasing"" and in recovery mode during the entire possession.
Coach Kelbick shows you entries that will immediately distort a zone. He walks through each situation and shows exactly how to distort each type of zone defense.
Benefits of Coach Kelbick's Zone Offense
1) Works against ALL types of zone defenses
The continuity presented is simple, yet very effective. It works against ALL types of zone defenses. In the video, you learn exactly how to attack and score against:
2-3 zone defense
1-2-2 zone defense
1-2-2 drop zone defense
1-3-1 zone defense
2) Simple Concepts to Teach
Installing any type of new offense can be worrisome for coaches because you aren't sure how your players will adapt. Coach Kelbick puts your mind at ease with this system, as all of the players used in this video had never played with each other or for Coach Kelbick before. However, by the end of the video, you're able to see the players efficiently and effectively beating zone defenses with Coach Kelbick's continuity zone offense. This should put your mind at ease that the offense is simple to install.
3) Flexible - Works for Different Types of Personnel
Whether you have a team full of quick guards, or a team full of bigs, Coach Kelbick's zone continuity offense will work for any type of personnel that you have on the floor. As long as you have five guys that understand the principles of the offense, you will leave defenses scrambling to cover you.
4) It Makes Defenses Work Hard
Often times, teams will play a zone defense because their kids are lazy and they're able to stand around more in a zone. That is not the case against this zone offense, as Coach Kelbick's offense attacks the weak areas of the zone defense, so the defenses have to work harder to cover you.
5) It Wins Games
The bottom line is that this continuity offense will win you games. Coach Kelbick has coached at all levels for 30 years - and this continuity offense against zones has been proven to work for him time and time again.
About Coach Don Kelbick
Some of Don Kelbick's credentials include: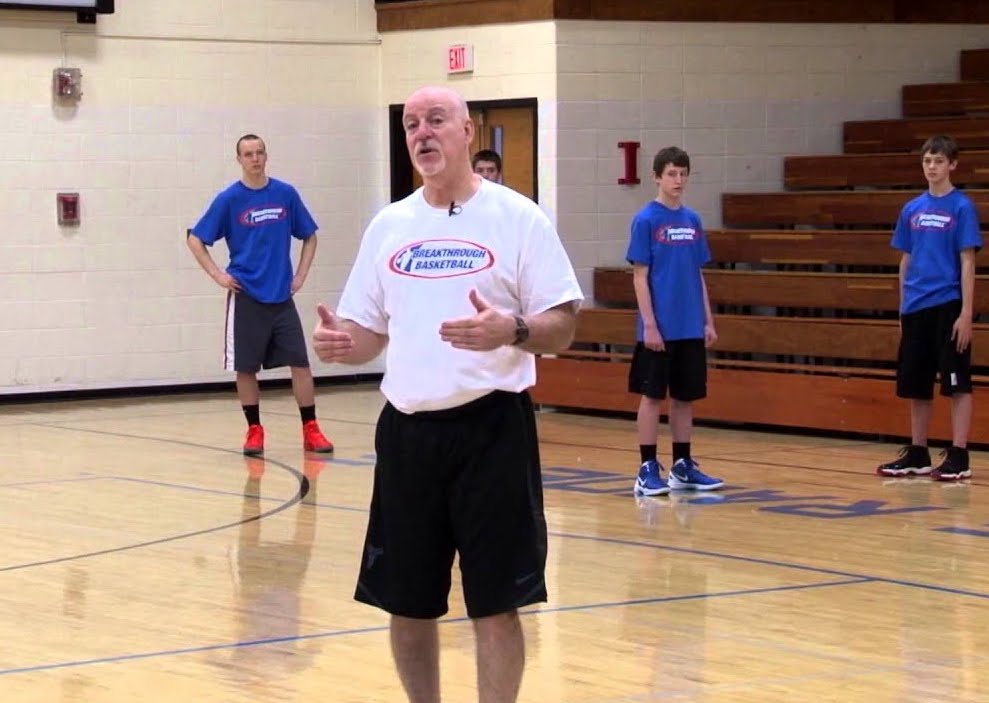 Over 35 years of basketball coaching experience at the high school, Division I college, and professional levels.
Served 14 years as a head coach and 10 years as Division I assistant including stops at Hofstra University, Marist College, Keene State College, and Florida International University.
Has provided individual training for more than 14 different NBA players, 50 European and professional players, and hundreds of college basketball players.
In addition to coaching, has scouted for NBA teams, including the Knicks and the Hawks, and served as general manager in the USBL.
Traveled to over 20 different countries training players and teaching basketball.
Who Should Consider this Video & eBook Set?
This product is appropriate for all coaches at all levels. We highly recommend this product for any coach that wants to improve their zone offense.
Sample Video Clip
Instant Access
In addition to receiving the video, you get immediate access to the eBook and streaming video.
After completing your order, you'll get access to a password protected area where you can watch the videos and download the eBook. The streaming videos requires high speed internet and can be viewed on any computer or tablet connected to the internet.
60 Day Money Back Guarantee
If for any reason, your purchase is not what you expected, just send us a message and we'll give you a full refund. No questions asked.
"Claim Your Copy Now"
If you'd like to order by telephone, call us at 1-866-846-7892 (toll free).
If you have any questions, don't hesitate to contact us.
Customer Reviews
Most Helpful First
Newest First
---

Larry says:


9/27/2016

at 8:21:49 PM


Don does an awesome job with this dvd presenting how to develop a zone attack.

This review is helpful
---

Edwin Atlas from Camp Springs, MD says:


9/28/2016

at 7:52:54 PM


Excellent job. I plan to implement this system this fall and will give feedback.

This review is helpful
---

Thomas from Hermitage, TN says:


9/28/2016

at 11:35:50 PM


Don practices what he preaches, KIS (keep it simple). Great explanations of fundamental zone attacks.

This review is helpful
---

Joe from Porter, TX says:


11/25/2016

at 11:18:15 PM


This offensive system is excellent. We implemented it on our JV team and, during a scrimmage against our varsity, we able to score at will. And that was the day after we learned it. The varsity no runs it as their zone offense as well. Our JV is 7-2 so far this season and every team we've played that comes out in a zone quickly switches to man-to -man.

This review is helpful
---

Leonard from Cary, NC says:


12/30/2016

at 6:05:38 AM


I love this man's stuff. Can't wait to implement this with my team. Blew my mind with how simple and adaptable he made it.

This review is helpful
---

Pat Abraham says:


8/29/2017

at 12:02:24 AM


I always enjoy Don's work and once again this was a good video. Great principles that can be applied to coaching youth basketball. Thanks!

This review is helpful
---

Dave from Orlando, FL says:


9/5/2017

at 1:46:06 PM


Don never disappoints. His concepts are simple and straightforward and he sticks to the philosophy of teaching kids how to become basketball players and not just run plays.

I picked up several tips from this video and I think my zone offense arsenal will be better off thanks to what I was able to learn from the video and accompanying eBook.

This review is helpful
---

Petko from Burgas, None says:


2/9/2018

at 4:29:16 PM


Well explained, concise and effective. Simply great!

This review is helpful
---

Brian says:


2/16/2018

at 9:52:23 AM


This past season was my first as Head Varsity Boys Coach, and I was looking for an offense to run that would cause my guys to think and react...instead of being robots on the court. I implemented this offense and we picked apart almost every zone offense we faced. Towards the end of the season it got to the point that every time we ran this, we scored by either a wide open three or a back door play of some sort. We finished 16-4 on the season and won our first conference championship in seven years. Thank you Coach Don, looking forward to getting a hold of the other products here at Breakthrough!

This review is helpful
---

Coach Jackson from Jeffersonville, IN says:


8/19/2018

at 5:00:55 PM


Very easy to follow and seems easy to implement! I am very excited to use this during the upcoming season...having met and worked with Don Kelbick I know it will work like a charm. I have learned so much from him and I love how we share the same philosophy, that it's best to keep things simple!

This review is helpful
---

Anthony Lamont Dougherty from Glen Ellyn, IL says:


8/27/2018

at 9:02:44 AM


I love the video, Don explanation on keeping a zone constantly moving which keeps it off balance and the shot coming from opposite the ball was good. The distortion of the zone is definitely what you look to do. Great video.

This review is helpful
---

Mike M says:


8/16/2019

at 10:04:43 PM


This was just what I was looking for. It's well taught and easy to understand. It's a well planned attack for just about any conventional zone defense.
We'll incorporate many of the concepts learned in this presentation.

This review is helpful
---

Coach Perez says:


2/3/2020

at 11:53:31 PM


FANTASTIC!!! This is an exceptional video that has immediately boosted my teams confidence versus any zone defense. I watched the video first in its entirety then rewatched to stop and take notes. I own one other Kelbick video and this viewing method has helped me understand his coaching philosophy easier. He is a great teacher who speaks clear and with confidence. I highly recommend this video to any coach who is learning how to attack zone defenses as well as learn how others may attack their own zone defense (if used) as well.

"Simple game....simple answers." - Kelbick

This review is helpful
---

John Bernhardt from Margaretville, NY says:


5/31/2020

at 12:29:33 AM


The video is well structured, clear and concise. Don Keltic walks viewers through a step-by-step progression that first teaches his continuity zone offense and then demonstrates how the offense can be flexed to attack different zone defenses. The offense is easy to learn and is built around basic and easy to understand principles. The players who demonstrate the offense are learning the offense for the first time validating how quickly players can learn the offensive concepts.

This review is helpful
---

Doug Bennett from Clive, AB says:


5/31/2020

at 12:44:07 PM


I always enjoy Coach Kelbick's videos because he presents concepts about basketball rather than a do this, don't do that style of teaching. I picked up some useful ideas on zone offense.

This review is helpful
---

Mike A. says:


7/23/2020

at 10:11:19 AM


Enjoyed the video, easy to understand and well done. Coach Kebick shows a simple zone concept that you can take and run with.

This review is helpful
---