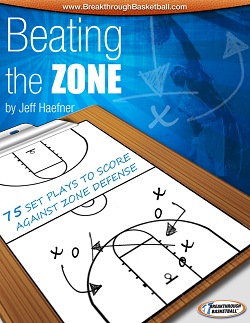 See All Reviews
Write a Review
Beating the Zone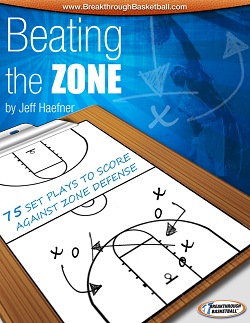 $29.00
In Stock
60 Day Money-Back Guarantee
75 Set Plays To Score Against Zone Defense (Digital Download - eBook)
You will be emailed access instructions and passwords upon order confirmation.
"Beating the Zone - 75 Set Plays to Score Against Zone Defense"
Dear Basketball Coach,
We're excited to announce our eBook that gives you a variety of ways to attack and beat any zone defense.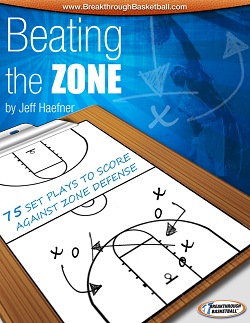 The eBook is logically organized and packed with a variety of plays -- so that no matter what type of team you have, it will give you new and better ways to beat the zone...
If you have shooters, you'll get plays for shooters. If you have good ball-handlers, you'll get plays to attack with your ball-handlers. If you have post players, you'll get plays to exploit the post.
You will even learn how to adjust the plays to fit YOUR specific needs and your personnel. This eBook is very unique in the organization and thoroughness in which we present you the plays.
We believe this will be a valuable tool you can reference and use for MANY years to come.
What You Get
The eBook provides you with...
2-3 zone plays


1-2-2 zone plays


1-3-1 zone plays


Baseline Out of Bounds Zone Plays (BLOBs)


And multi-purpose zone plays
Many of the plays in the eBook work against man-to-man defense or any type of zone. This type of play is priceless because if you run it after a time-out or at the end of the game, it still works, even if your opponent decides to switch defenses. How often do you see coaches switching defenses after time-outs to throw off the play you just drew up?
Whether you use motion or patterned offense, these plays can flow right into your offense. You get a variety of sets and entries. No matter what offense you use, these set plays will help you score more points against zone.
You can use these plays...
after time outs
at the beginning of games (right after the tip off)
at end of games
when you really need a basket
when your offense is stagnant
after your secondary break
when you want a specific player to take a shot
How to Exploit the Weakness of Zone Defenses and Disrupt Zone Responsibilities
By the time you finish reading this eBook, you will look forward to playing against zone defense and actually like playing against them -- because you will learn how to exploit the weaknesses of zone defense and how to disrupt zone defender responsibilities.
One of the best things about playing against zone defense is that you know ahead of time where the defenders will be and which area they are responsible for. So now with the help of this eBook, you can exploit those responsibilities, and easily score against zone defenses. You can even use the plays to put your best offensive players against their worst defensive players (because you know exactly where those defenders will be and what area they are responsible for).
New Ideas for Running Zone Plays
With over 75 plays and countless variations, the eBook will give you dozens of new ideas for running plays. The plays are organized and written in a fashion to open your eyes to a variety of effective options so you can even design your own plays to fit your personnel, offense, and situation.
By having all these plays neatly organized in one place, it will make it easy for you to choose the play best suited for your personnel and possibly give you ideas to design your own play based on your team. As you read the eBook you'll see that the plays we have are very effective, but by showing you a few variations you'll immediately see how you can make small adjustments to make them even more effective with your specific personnel and player strengths.
Table of Contents
Here's what you'll find in the 96 page eBook:
Part 1 - Using Set Plays to Attack a Zone
Part 2 - How to Choose the Right Plays for Your Team
Part 3 - 16 Tips For Running Effective Set Plays
Part 4 - The Key to Using Set Plays Against a Zone
Part 5 - Changing Formations to Fit Your Offense
Part 6 - Using "Variations" To Save Time
Double Series Against Zone
Double vs 2-3 Zone
Double vs 1-2-2 Zone
Double vs 1-3-1 Defense
Double High Flash - Disguise Option 1
Double Fake Ball Screen - Disguise Option 2
Double for Point - Disguise Option 3
Double Stack - Disguise Option 4
Double Opposite - Disguise Option 5
Double to Short Corner - Variation Play 1
Double Lob - Variation Play 2
Double Pin Down - Variation Play 3
Ball Screen Plays Against Zone
Ball Screen vs 2-3 Zone
Ball Screen vs 1-2-2 Zone
Ball Screen vs 1-3-1 Zone
Ball Screen Circle - Variation 1
Ball Screen from High Post - Variation 2
Ball Screen Shallow - Variation 3
Ball Screen Chop - Variation 4
Ball Screen Dive - Variation 5
Ball Screen Continuity - Variation 6
Ball Screen One Four - Variation 7
Ball Screen Out - Variation 8
Lob Plays Against Zone
Backside Lob
Backside Lob from Wing
Backside Lob from Skip
Backside Lob Variations
UNC Lob 1
UNC Lob 2
Seal and Lob 1
Seal and Lob 2
Double Stack Lob
Fake Shot Lob
Lob to Post
Strong Side Lob
Continuity Lob
1-3-1 Lob
1-3-1 Lob 2
Using the Lob Plays
Three Point Zone Plays
Wing Step In
Point Step In
Corner Step In
Screens for Three
Loop for Three
Flare for Three
Baseline Reverse
Corner Three
Double Baseline Three
Stack for Three
Using the Three Point Plays
10 Quick Hitter Zone Plays
Quick Hitter for Jump Shot 1
Quick Hitter for Jump Shot 2
Quick Hitter for Jump Shot 3
Quick Hitter in the Middle 1
Quick Hitter in the Middle 2
Quick Hitter in the Middle 3
Quick Hitter in the Post 1
Quick Hitter in the Post 2
Quick Hitter in the Post 3
Quick Hitter in the Post 4
More Quick Hitters
10 More Zone Plays
Top and Corner Entry
Flare Reversal
High Post Screen
Outside Pin
Triple Threat
Lay Up Reversal
1-3-1 Quick Hitter
Double Stack Continuity
1-3-1 Slide
Triple Screen
10 Baseline Out of Bounds Plays vs Zone
UOB for Three
Stack for Lob
Stack for Lob 2 (Variation)
Box Screen
Box Corners
Box Bait
Stack 1
Stack 2
Line 1
Line 2
60 Day Money Back Guarantee
Just like any reputable bookstore or retail business, we have a 100% money back guarantee too.
If for any reason, your purchase is not what you expected, just
send us a message
and we'll give you a full refund. No questions asked.
"Claim Your Copy Now"
If you'd like to order by telephone, call us at 1-866-846-7892 (toll free).
If you have any questions, don't hesitate to
contact us
.
Customer Reviews
Most Helpful First
Newest First
---

Art Washburn from Glen Allen, VA says:


2/16/2012

at 9:31:51 AM


I coach two boys' teams, 4th & 8th grade. These are NOT AAU teams. This book offered numerous approaches against different zone sets. I'm still digesting all the details but its been very helpful as i can select appropriate plays for a variety of skill levels. it's packed with content. Not being a "real" coach, i can use a play or two to supplement all the drill work on fundamentals we do at each practice.
thanks guys!

This review is helpful
2 people found this review helpful.
---

David S. from Liège, None says:


7/17/2014

at 2:45:39 AM


Nice e book, with plays against different type of defense and different entries. Useful resource for coaches who wants to have plays that can work against different zone system.
There is not really 75 different plays but rather 75 combinations. Good work !

This review is helpful
1 person found this review helpful.
---

Robert Lopez from Farmington, NM says:


2/16/2012

at 11:33:55 AM


I ordered the ebook because we have been struggling a bit against some zones. I immediately implemented some of the plays and it really helped us in the very next game against a team that only plays zone. In our first contest against them we only beat them by 6 but in our next game after adding a couple of sets we beat the same team by 30.

This review is helpful
---

BG from Mill Bay , BC says:


2/16/2012

at 12:08:36 PM


Some decent sets but repetitive in their looks. I liked some of them but the "75 set plays" is a bit misleading.

This review is helpful
---

Ben Feige from Occidental, CA says:


2/17/2012

at 5:28:04 PM


Great listing of plays available as well as general notes on set plays are and when they're most likely used in a game as well as some good rules (listed as tips) to use when running a set plays. A few more plays/variations to plays starting in a 1-4 or box offences would be great.

This review is helpful
---

coach G says:


5/4/2013

at 10:16:30 AM


Thanks for the help on helping me see the weak spots of zone defenses and reinforcing some of the things I already know. I also love seeing some double screen plays and there slit modifications with the different zones.

This review is helpful
---

Wade Klick from Maple Grove, MN says:


3/3/2014

at 3:28:27 PM


I thought it would be a system to implement instead of just plays. I would have liked it to lay out what type of zone offense would work best with slower/faster players or taller/shorter players.

This review is helpful
---

Jeremy from Walker, MN says:


1/27/2016

at 2:03:43 PM


Love this product. Helped my junior high boy's a lot!!!

This review is helpful
---

Coach Steven from Etobicoke, ON says:


1/29/2016

at 11:35:19 PM


Some good tools to add on, great ebook if your looking for zone ideas.

This review is helpful
---

Coach T. Huntley Il from crystal lake il, IL says:


3/6/2017

at 11:06:35 PM


This is great for newer coaches, my only drawback was to many of the plays were just longer versions of the original. With added options...95 percent of teams soph. On down wil never get that far before they get lost.or break down..I would like more variation..Have yet to see the "V" offense against 1-3-1..If taught right it is a powerful offense.

This review is helpful
---

Coach R says:


2/12/2018

at 1:35:13 AM


Loved the Beat the Zone ebook, has a lot of great sets verses different zone defenses and situations as well as SLOB's and BLOB's. As always well detailed and diagrammed!

This review is helpful
---

Steve Neville from BONDURANT, IA says:


8/8/2018

at 8:39:15 AM


Have not received my book yet. Hopefully, I receive the book sometime soon.

** Reply from Breakthrough **

The eBook is delivered instantly via email. Our customer service department has reached out to make sure you receive the ebook and you get everything you need. For future reference, if you order a digital product and you don't receive it in a few minutes, please contact us and we'll get you the product asap. Thank you!

This review is helpful
---