The Breakthrough Basketball Newsletter for Players -- Issue #22: May 12, 2009
FEATURED Product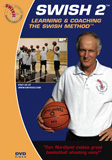 Tom Nordland's Swish 2 Shooting DVD
- Check out this highly
recommended shooting DVD.
Breakthrough Basketball's Review
NEW Drills & Tips
Creating Team Unity With Coach K
- Use this tip to help make your team better.
Should You Teach Youth Players To Shoot A Basketball With Both Hands Equally?
2 Ball Pass / 2 Man Shot
- Challenging player development drill.
Ball Screen - Splitting The Hedge - Drill & Video With Manu Ginobli
Handling Ball Screens Like Steve Nash