Site Search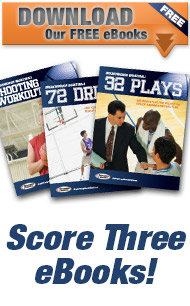 Q & A Forum
Experienced coaches are ready to answer your basketball questions! Visit our forum
Breakthrough Basketball Camps in California
| | | | | |
| --- | --- | --- | --- | --- |
| Date | Location | Age Level | Type | Player Limit |
| March 23-25 | Los Angeles, CA | 7th - 12th | Ballhandling, Sho | 60 Players |
| April 20-22 | Costa Mesa, CA | 5th - 12th | Shooting Ballhand | 50 Players |
| June 19-21 | Sacramento, CA | 7th - 12th | Attack & Counter | 60 Players |
| June 29 - July 1 | Los Angeles, CA | 5th - 12th | Shooting Ballhand | 60 Players |
| June 29-July 1 | Walnut Creek, CA | 5th - 12th | Shooting Camp | 60 Players |
| July 13-15 | Sacramento, CA | 5th - 12th | Shooting Ballhand | 60 Players |
| July 21-22 | Costa Mesa, CA | 4th - 9th | Essential Skills | 40 Players |
| August 3-5 | Oakland, CA | 4th - 9th | Elite Youth Scori | 60 Players |
| August 7-9 | San Diego, CA | 5th - 12th | Shooting Ballhand | 60 Players |
Get Notified About New Basketball Camps in California
To get notified about new camps, clinics, and training opportunities in your area, enter your name and email address below:
More Camps in Other Regions
Host a Camp in Your Region
We're looking to add a few more camps across the country. If you would like your area to be considered, you need to be able to secure a gym with 10 or more baskets (high schools or colleges with multiple courts/gyms can work). Please
fill out this form
if you would like us to consider your region.
Here's What Players & Parents Say About the Camps