"Sneaky" - Simple End of Game Play
Against Man and Zone Defense
Here is a very simple, yet effective end of game play that can be used to score 2 points against zone or man to man defenses.
I also love this play because it helps me reminisce about the good ole days during our sophomore basketball season when our towering 5'9 center by the name of Nick Lafler AKA "Sneaky" converted this play to win a game against Vinton-Shellsburg as time expired. In case you were wondering, Nick was tagged with the name Sneaky from an early age because he used to wait for the ball handler to turn his back to him and he would SNEAK behind them and steal the ball.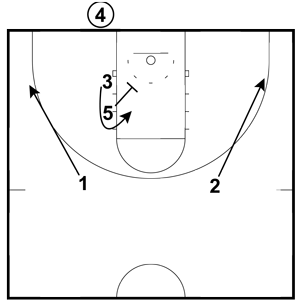 3 should be your best athlete to jump and get the ball.

1 and 2 cut to the corner aggressively calling for the ball. 5 screens the person that should guard 3. If it is a 2-3 zone, he screens the center. If it's man, he screens 3's man.

4 throws a lob pass. 3 jumps to receive the alley oop pass and shoots while in mid air.
Related Pages and Helpful Resources
Dynamic Zone Offense Plays Against Any Zone Defense
Zone Out of Bounds (Inbounds) Plays
Basketball Plays and The Art of Running Set Plays and Scoring More Points
2 Simple Baseline Out Of Bounds Plays Against All Zone Defenses
Recommended Products:
Beating the Zone - 75 Set Plays to Score Against Zone Defense
In this eBook, you will find 75 zone plays that you can use against any zone defense. It includes 2-3 zone plays, 3-2 zone plays, 1-3-1 zone plays, baseline out of bounds plays, and multi-purpose zone plays. You will also learn how to exploit the weaknesses of zone defenses, learn new ideas for running zone plays, and much more ... (more info)

What do you think? Let us know by leaving your comments, suggestions, and questions...
Comments
Most Likes First
Oldest First
Newest First
---
Michael says:
10/26/2015 at 3:19:29 AM


The is no backboard issue. The inbounder is not behind the backboard.

Like
---
James Sappington says:
5/15/2014 at 3:18:58 PM


I'm stuck on the backboard thing as well. I think I would start 5 on the opposite side of the key and let 3 screen for 5 about 2-3 feet from the hoop. 5 would need to make a V-Cut at the point of the screen toward 4. 4 must inbound the ball at the point of the screen for this to work.

Like
---
Anthony says:
10/4/2012 at 12:58:05 PM


I love this forum you guys are great lots of help, Thank you.

Like
---
Lavonn says:
1/16/2012 at 5:07:48 PM


I love it, makes sense to me. Even if it''s man to man, actually I think it''ll more effective on a man to man defense in my opinion.

Like
---
Justin says:
12/31/2011 at 1:12:23 PM


The referee should never have your players inbounding the ball from inside the lane every out of bounds play should be made from outside of the lane. The backboard won't be an issue.

Like
1 person liked this.
---
steve says:
12/22/2011 at 12:51:49 AM


Better against a zone than man to man, but question how you throw much of a lob from behind the backboard?

Like
---
Sallie says:
12/19/2011 at 12:50:35 PM


We do this drill I have the two screen low to 4 and 1 shoots to corner 5 comes top to play safety.

Like
---
Pieter Greeve says:
12/19/2011 at 10:19:44 AM


We do a similar exercise. When the pass from 4 to 3 fails, 5 should roll off immediately after his screen. Big chance he can get the ball and score!

Like
---
Tom says:
12/19/2011 at 9:35:46 AM


Nobody is back as a safety, but I guess if it's an end of game play, there's not much risk? If not end of game, then would instruct weak-side guard to v-cut and sprint back to top of key.

Also, for younger teams without the hops, would have 5 and 3 reverse roles.

BTW, love the site and the tips.


Like
---
Jeff says:
12/19/2011 at 7:46:25 AM


Got it fixed. Thanks for pointing out the error.

Like
---
Show More
Tim says:
12/19/2011 at 7:43:03 AM


I think you mean 5 screens 3's guy. Looking at your diagram, a screen from 2 makes no sense.

Like
---