Overload 2 - Against Zone Defenses
Summary
This is a variation to the
last overload play
. It will get you many open opportunities underneath the hoop, if ran correctly.
Personnel
Players 4 & 5 should be your strongest post players. Players 1, 2, & 3 should have the capability to dribble drive and shoot the outside shot.
Instructions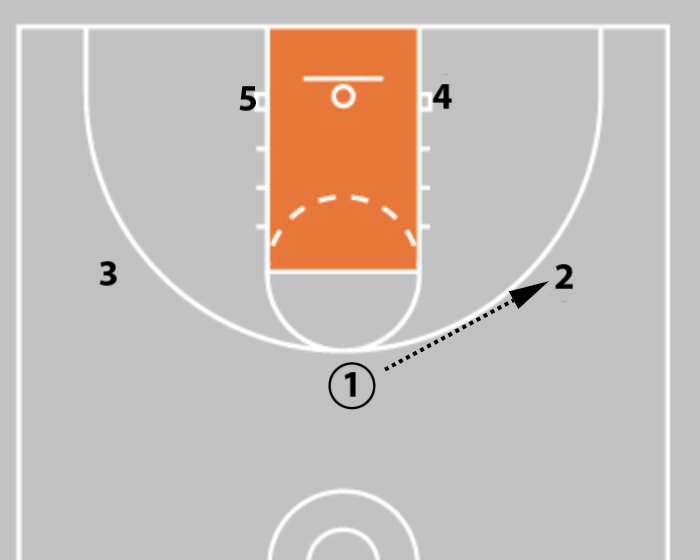 Player 1 passes to either Player 2 or Player 3 on the wing.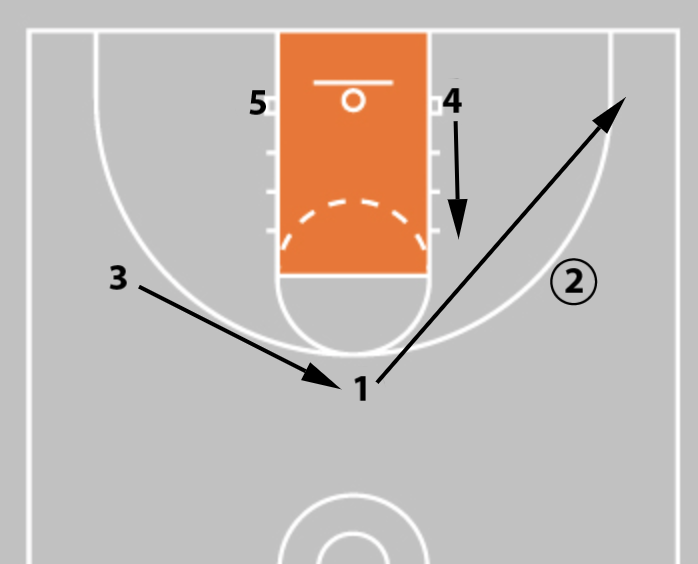 After Player 1 passes the ball to Player 2: Player 1 cuts to the corner.
Player 3 goes to the top of the key.
Player 4 flashes from the block to the high post.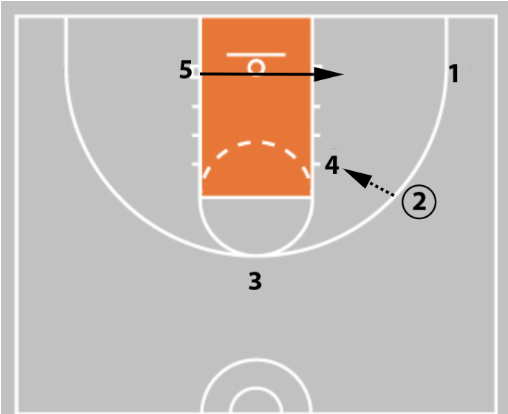 Player 2 passes the ball to Player 4 in the high post.
As soon as Player 4 receives the ball, Player 5 cuts underneath the hoop.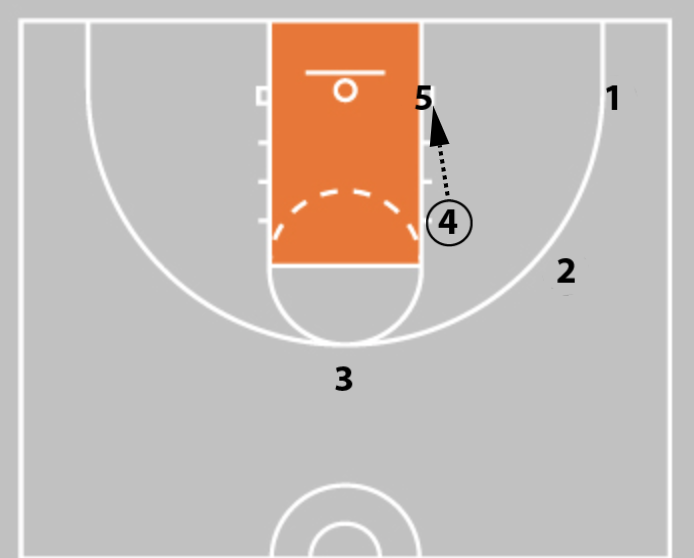 If the defense comes to Player 4, Player 5 is often wide open underneath the hoop for the lay up.
If the defense does not come up to Player 4, (s)he can attack the basket with the dribble drive or shoot an open jump shot.
Related Pages and Helpful Resources
Beating the Zone - 75 Set Plays to Score Against Zone Defense
Dynamic Zone Offense Plays Against Any Zone Defense
Zone Out of Bounds (Inbounds) Plays
Basketball Plays and The Art of Running Set Plays and Scoring More Points
Comments
Most Likes First
Oldest First
Newest First
---
Gambo says:
1/5/2015 at 2:24:10 PM


careful trying this in youth, the entry pass to #4 is right where the defender is sitting at the elbow, the defender will be extended in high school but not middle school.

Like
---
DeAndra says:
9/15/2010 at 7:49:12 PM


THANK YOU! I was soooo confused! I just made the girls basketball team at my school. I've always liked basketball but I've never been on a team. I get the "Overload" play now! THANKS!

Like
---
adrian ortega says:
4/24/2010 at 8:35:09 PM


I used this play today and it worked great.. thanks

Like
---
brian says:
3/16/2009 at 1:54:24 PM


plays are great just finished 15-2 season, thanks for your help

Like
---
Joe (Co-Founder of Breakthrough Basketball) says:
12/6/2007 at 3:42:54 PM


Anthony,

Yes, it can work if they extend the zone. If they are denying the wings, skip passing ito the wing and have player 4 come up right away and make an entry pass to him.

Like
---
anthony says:
12/6/2007 at 1:04:50 PM


If their zone extends to halfcourt, is this play as efficient if your offense is extended?

Like
---
Joe Haefner says:
5/12/2007 at 9:46:26 AM


If you're having trouble getting the ball into the high post, you may want to bring the guy from the opposite low post over sooner. The wing players could make the entry pass into the low post, instead of the high post player.

Like
---
Joe Haefner says:
5/12/2007 at 9:38:39 AM


In response to Coral,

I use this play mostly against 2-3 zones, but it should also work against an odd man front (1-3-1, 3-2, 1-2-2) as well.

Like
---
Nolita says:
5/10/2007 at 2:01:01 PM


Can you tell me if the zone front matters? Is it a one front or two front zone? Thanks, all of your drills have proven to be absolutely effective and helpful to my girls.

Like
---
edmond Springer says:
5/9/2007 at 3:33:06 PM


a very nice post play for your 4 and 5 players.I will put it in to play....

Like
---
Show More
christine says:
5/5/2007 at 6:48:52 AM


Hi thank you for the news leters. Can you please sent offence moves for a man on man defence. The age group that i coach are only allowed to play man on man. thanks

Like
---
Ali Naseer says:
5/5/2007 at 4:53:30 AM


I see lot of options when executed.


Like
---
claude says:
5/3/2007 at 2:18:22 AM


nice play

Like
---
carolyn kandilas says:
5/1/2007 at 8:12:36 PM


Thanks for this great play. I am now working on my coaching book for the fall with my girls.
I would appreciate more.

Like
---
Phil Carter says:
5/1/2007 at 2:11:59 PM


thanks for the news letter. the drills are great. keep up the good work!!!

Like
---
rick biggs says:
5/1/2007 at 9:30:48 AM


do you have any speed drills

Like
---
Bryan Greenwalt says:
5/1/2007 at 8:41:12 AM


Thank you so much for this news letter. I am a parent coach , who is new to coaching. We have such a talented group of girls and these drills,and plays have really helped me with them. Please send more Offense plays for against Man to Man. And any suggestions for a developing a summer program. Thanks.

Like
---
Coral Johnson says:
5/1/2007 at 7:45:02 AM


This is a good play is it for a even or odd front zone?

Like
---
Linda Harris says:
5/1/2007 at 7:26:26 AM


Thank you for the the new plays and information. Lindsey was excited to get the information and pass it on to the coaches and team. They have been working on some of the plays.

Like
---
Rod says:
5/1/2007 at 6:58:04 AM


Mr. Haefner, I just wanted to thank you for your drills, so far they have proved helpful to the young boys we are working with. Please keep it up.

Thank you,
Rod

Like
---
Wim Cluytens says:
5/1/2007 at 4:27:57 AM


I used a similar zone offense ...and it worked

Thanks for the ideas

Like
---