Your Complete Guide to Basketball Hoops & Goals
Types of Outdoor Hoops to Consider
There are 3 basic hoop designs to choose from: In-Ground, Wall-Mount and Portable.
1) In-Ground Hoop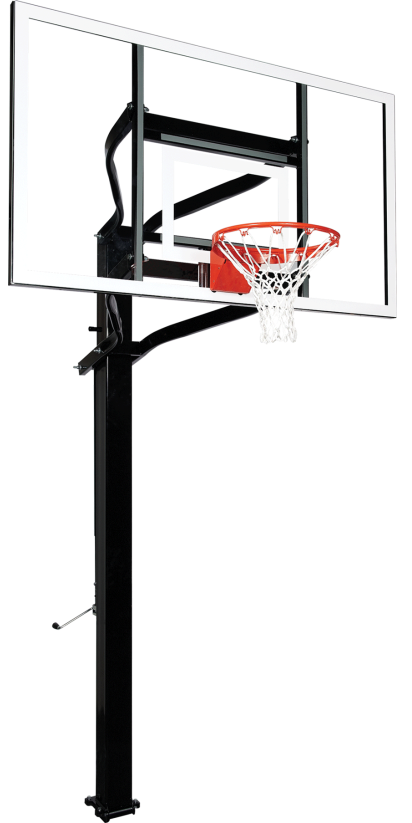 Nothing beats the stability, durability, and collegiate look of an in-ground basketball hoop. By far, a quality in-ground system best resembles what you might use in most newer gymnasiums today and the upper end hoops may make you the envy of most of the neighbors!
With all in-ground systems, assembly includes digging a hole for an anchor and filling it with concrete. You will also need adequate space alongside your driveway depending on how much overhang the hoop you purchase requires. As always, call BEFORE you dig!
If you elect to purchase an in-ground hoop, detailed instructions on how to install the anchor and assemble your hoop will be provided. Or, if you prefer, we can refer a professional to take care of all this for you.
With most things, you get what you pay for. This holds especially true with in-ground hoops. There are many different options to choose from but we can walk you through those options if in-ground is for you.
Complete Guide to Inground Basketball Hoops
Should You Choose a 1-Piece or 2-Piece Pole System?
Importance of Steel Thickness: How Much Do You Need?
How To Install Your Own Inground Basketball Hoop
7 Things People Forget When Choosing an Outdoor Basketball Hoop
2) Wall-Mount Hoop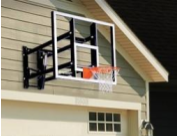 Another residential option may be a wall-mount hoop.
Wall-mount hoops also offer superior stability once connected properly to your structure. Wall mount systems normally get mounted onto a garage OR exterior wall of your home and are ideal for a play area with limited room.
Although wall mount units are cheaper in price, one of the primary disadvantages is the area behind the backboard and the compromise of the structural integrity of your home.
With wall-mount units, players or missed passes/shots have a tendency to hit the garage or home. This can be painful to both the person and the pocket book to replace a section of garage door or siding if damaged! Please keep this in mind if you believe a wall-mount system is the right choice for you.
If you elect to purchase a wall-mount hoop, detailed instructions on the structural requirements to install the backboard and assembly instructions for your hoop will be provided. Or, if you prefer, we can refer a professional to take care of all this for you.
How to Choose a Wall Mount Hoop
7 Things People Forget When Choosing a Wall Mount Hoop
Mounting a Basketball Hoop On Your Garage
3) Portable Hoop
As you probably guess, the best thing about a portable hoop is that you can move it around. They are also inexpensive and easy to install.
But, if you have ever used a residential portable hoop... you already know they just do not work nearly as well as an in-ground or wall-mount hoop! There is just no comparison.
Some of the drawbacks of a residential portable hoop include:
Stability
The backboard is flimsy and gives when you shoot off the backboard. You can't really practice layups or bank shots because it bounces completely different than when you use a real indoor or outdoor hoop.
The rim shakes when you shoot because there just is not enough support.
Safety
Portable hoops can blow over in high winds and have the potential to break when hitting the ground. You need to be diligent about lowering the hoop during storms and/or making sure you have LOTS of weight holding the base down.
You can't dunk or hang on the rim without destroying it or risk of tearing it down.
In some cases a portable hoop may be your only option -- but due to the lower quality and drawbacks above, Breakthrough Basketball DOES NOT offer portable hoops. If this is something you desire, your best best is to go to a local sporting goods store and see what options they may have available.