F-A-S-T
Drill Purpose:
This is a drill out of our 60 Fun Youth Drills Ebook. This fun drill is great for developing player skills such as speed dribbling and catching. You also develop some dodging skills.
Instructions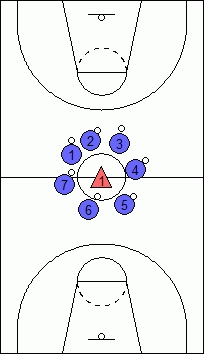 Each person is given a basketball and is in a small circle in the middle of the court. The coach is to stand in the middle.


With a soft skin ball in your hands, call the name of a player and throw the ball into the air. The player will then leave their basketball and runs to get the soft skin ball.


Every other player then dribbles as fast as they can away from the person in the middle. When the player catches the ball and yells "stop", everyone must stop immediately and set their balls down beside them.


The player in the middle with the "soft" ball may take three steps toward the nearest student and attempt to throw the ball at them. If the target is hit with the ball, that person must give their basketball to the player that got them out and go to the center of the court. If the person throwing the ball misses or the ball is caught by the target, the original person stays in the middle. Everyone then returns to the middle and the ball is thrown in the air and a new name is called.
Teaching Tips
Remind players that they must push the ball out in front of their bodies to speed dribble effectively.
Variations:
The number of steps taken to get close to the target may be changed depending on the size of the gym.


The circle in the middle can be close to the person throwing the ball or it can be moved away form the middle, depending on the gym size.
**For more fun drills, you can check out our
60 Fun Drills Ebook
.
If you prefer video, you can also check out
Jim Huber's The Youth Coaching System.
They have plenty of youth drills as well.

What do you think? Let us know by leaving your comments, suggestions, and questions...
Comments
Most Likes First
Oldest First
Newest First
---
Joh'Vonnie says:
10/20/2018 at 4:00:44 AM





Like
---
Caitlin Arden says:
11/23/2016 at 4:38:21 PM


Can i have drills for grades 5-6?


Like
1 reply
---
Jeff says:
11/28/2016 at 10:34:32 AM


With kids that young mostly play fun games where they dribble and pass the ball. Dribble tag, dribble races, and keep away passing are all great drills.

Like
---
---
Caitlin Arden says:
11/23/2016 at 4:36:22 PM


I like what you guys do!


Like
1 reply
---
Caitlin Arden says:
11/23/2016 at 4:39:16 PM


Thanks!

Like
---
---
Richard says:
1/3/2015 at 9:19:01 PM


i am a first year coach working with first year basketball players aged 10. All the kids are athletes just not basketball players, we do very well in games until the teams we face use a 1-3-1 half court zone press. How do I beat it? We are lucky to have practice once a week for an hour. Need something simple.

Like
1 reply
---
Jeff says:
1/4/2015 at 10:21:34 AM


Richard - With only 1 hour a week, it's probably not worth spending time working on anything specific against 1-3-1. Too many other important things to work on. If you have time, you can put in a simple press break that can allow you to beat the traps and also serve as your offense (the 2-1-2 press break alignment puts players in gaps of the zone).
https://www.breakthroughbasketball.com/offense/press-breaker.html

Like
---
---
daniel says:
11/8/2014 at 9:34:45 AM


Yes I have been chosen to coach an all girls ages 7 to 9..I have never coached basketball....but do have 7 years coaching experience in youth football...I need help...this is mostly first year players...thanks

Like
---
Patrick Lee Hill jr says:
12/11/2013 at 11:10:50 AM


I think this is a great way to improve my game and other players ability to win. By Patrick Lee Hill jr

Like
---
Ali says:
1/29/2013 at 8:52:47 AM


I like this drill. When I taught P.E. @ the middle school level we played this game, but not for basketball. This will be great for my 2nd and 3rd grade girls team! Thanks for all of your suggestions!

Like
---
Farruh says:
6/29/2012 at 10:09:24 AM


trying to catch each other by dribbling the ball is also helpful, the only thing you''''ve to do is to appoint a certain area, half court for example, the more players the better it is...

Like
---
Jeff Haefner says:
11/9/2011 at 8:31:03 AM


Yes, start with the basics. When I coach high school, we start with stance, shuffle, footwork, all kinds of basics. They always forget stuff over the summer and get sloppy.

Also, do not teach young kids plays and be careful about giving specific positions. Run a motion offense. With plays you'll spend hours teaching them to memorize the pattern and they will still screw it up. Not to mention you could spend that time teaching skills, which will help them in the future and is better for their development. Plays do nothing for their long term development.
http://www.breakthroughbasketball.com/blog/index.php/should-youth-coaches-avoid-plays-and-patterned-offenses/

For positions, without going in to a long rant, let's just say you don't want to pigeon-hole young kids into a position (post, point, etc). You never know where they will end up when they get older and who will grow. So young kids should learn all skills and all positions. That is better for their long term development.


Like
---
Marilyn says:
11/8/2011 at 3:48:30 PM


I have a group of nine 10 year old boys that I am coaching this year. 6 of them have never played basketball before; 3 of them have played together for the past three years. Should I start our first practice reviewing the basics with the whole team. Can I teach positions and plays at a second practice?

Like
---
Show More
waleed says:
8/30/2011 at 6:16:08 AM


please how to read the match ..i mean where i focus my vision and what my opporority to read another team especially when my losing the match . please help me from where i will start . thanks again

Like
---
Joe Haefner says:
1/30/2011 at 9:57:45 AM


Dan, take a look at this page:
http://www.breakthroughbasketball.com/coaching/teach-youth.html

It should be helpful.

Like
---
Dan says:
1/22/2011 at 11:29:15 PM


Hi, I'm looking to try and get an idea of how much skill or knowledge of the game of basketball 11-13 years old should have, barring they've played basketball before. I am coaching a team this year and I've never coached kids this age. Any ideas?

Like
---
Joe Haefner says:
12/2/2010 at 10:14:14 AM


Hi Dawn,

I would front the post players and have weakside help. There isn't a magic defensive drill or play that will make your girls grow 8 inches.

Like
---
Dawn Weaver says:
11/30/2010 at 11:23:39 AM


I am a Detroit Parent Basketball Coach. My team is now Number 1 in the West. I need a good drill to use against Tall Girls. I am 5' 2, All of my girls are shorter than me. i have the shortest team in the League. They are fast, great Defense and passing. Its just Defending tall girls. We play the tall team that we loss against next week. What drill or play can i use against them.

Like
---
Joe Haefner says:
11/2/2010 at 10:59:21 AM


Dertch,

Check out this page: http://www.breakthroughbasketball.com/coaching/youthbasketball.html


Like
---
Dertch says:
10/28/2010 at 11:20:17 AM


I''ve started coaching a group of middle schoolers and they are not fundamentally sound at all. Can you send me some basic drills to work on with them please


Like
---
Dertch says:
10/28/2010 at 11:16:15 AM


I've started coaching a group of middle schoolers and they are not fundamentally sound at all. Can you send me some basic drills to work on with them please


Like
---
peter marino says:
1/30/2010 at 11:42:14 PM


send me the plan practice for 52 weeks
age 6,7,8,9,10,11,12,13,14,years old.

tahnk you.

Like
---
John says:
12/8/2009 at 9:20:09 AM


Great

Like
---
Reneboy G. Sala says:
11/30/2009 at 9:34:21 PM


I am former amateur basketball player, presently, I coaching Elementary & High School Teams. I like your fun drills sent to me for free, Can you send me another fun drills for Offense & Defense?
Thanks.

Like
---
Jeff Haefner says:
5/24/2009 at 9:24:09 AM


Julian,

It will be tough with only one ball but can be done. I would do lots of footwork drills without the ball (front pivot, inside pivot, drop step, step through, and sweep). Then take those pivots and use them in the context of the game -- moving without the ball, blocking out, defensive slides, post defense, etc.

I would do lots of "moving without the ball" drills. Have them cut off chairs, use screens, etc to get open. The movement will keep them from getting bored. Take parts of an offense and turn them into drills for moving without the ball. Try to incorporate fun games too.

Just so you know, the fun drills ebook does not require shipping fees because it's delivered through email as an e-book.

Good luck.

Like
---
coach julian says:
5/23/2009 at 5:41:06 AM


thanks a lot for these drills
am planning a one day basketball camp on the 13th June 2009 for 10-14years and 15-18years old but i only have one basketball to use and am expecting 50 participants.what are the drills that can make the day very memorable,educative and capture the attention of all the participants and not leaving anyone unattended to.
am a volunteer coach and currently am not in a position to afford your 60 fun drills e book from Kenya because the shipment expenses are way above my income is there away we try to make fit my budget because i really desire to have it and use these drill to my boys and keep them away from child labour [very rampant] in our community and give the very exciting basketball drills through this book.
thanks

Like
---
Andy VanBebber says:
1/15/2009 at 6:08:27 AM


What are some drills that I can work on to improve my junior highs 2-3 deefense

Like
---
Tim Sturtevant says:
12/13/2008 at 9:42:26 AM


I really appreciate the depth of BreakthroughBasketball's library of material and your insight into what makes players tick (ie. balancing fun, technique development, work and game strategy etc.). I'm enthused by your healthy approach to sports and impressed with your in-exhaustible knowledge of B-Ball at all levels. I have a suggestion that may make your broad knowledge more accessible to beginning coaches like myself.

I'm a dedicated masters swimmer who gets my daily work outs from a website called SwimPlan.com. The site generates (5) different work-outs per day that draw from their library of the (4) strokes (Butterfly, Back, Breast & Free) with different time intervals, distances, drills and warm ups and cool downs. It's all geared to the age and fitness level that the participant inputs. There's something appealing and challenging to having works out handed to you rather than having to digest all the material and design it yourself.

I know how lazy this is going to sound but I'm going to say it anyway: The "Sample Youth Practice Schedule" is a great template to start with. If you could design and make available a program that would fill in a daily practice schedule by drawing randomly from your extensive library it would save us coaches from having to read through and evaluate the merits of each drill/situation set-up and fashion a well-rounded practice schedule. It also would encourage us to try some of your less orthodox fun drills (ie. F-A-S-T, Musical Slide etc.). I think this suggestion might give you an up-spike in coach performance.

You've done a mountain of wonderful work and are moving daily/team exercise in a new and accessible direction. Many thanks for your breakthough innovative spirit... Tim




Like
---
Zigo Tesfai says:
10/27/2008 at 11:57:11 AM


I have mix players middle school students and high school students, and I need help how to coach them, our first practise will be this Sunday, and I don''t have any idea where to start, and some of them they never played basketball, so I really need help how to start teach them easy way, if you can send me step by step what to do as soon as possible I will appreciate you. Thanks

Like
---
Jeff Haefner says:
9/9/2008 at 7:49:46 AM


Kenneth,

Not sure if you saw this but for 1 on 1 drills, you might want to try this:
http://www.breakthroughbasketball.com/drills/CompetitiveOneonOne.html

Also, if I could only choose two skills to teach my own son about basketball, I would teach:

1. Everything about proper shooting fundamentals and technique.

2. Footwork.

To get started, check out this article with pictures showing proper shooting technique:
http://www.breakthroughbasketball.com/fundamentals/shooting-technique.html

We also devoted a chapter for youth players in our Basketball Shooting Guide here:
http://www.breakthroughbasketball.com/pr/btshooting.html

Since your son is just 10, you''ll definitely want to teach him in different ways than a high school kid.

If you have any more questions, let us know. This is an important time. Don''t push and let him have fun!


Like
---
Joe Haefner says:
9/8/2008 at 12:27:29 PM


Hi Kenneth,

You can find drills for players to use on their own or with a partner at our player's drills section: http://www.breakthroughbasketball.com/drills/basketball-drills-players.html

You can also learn more about teaching the fundamentals which is very critical at this age by visiting this page: http://www.breakthroughbasketball.com/fundamentals/basketballfundamentals.html



Like
---
Kenneth Brooks says:
9/8/2008 at 12:18:16 PM


My son is 10 years old. What are some good drills he and I can do 1 on 1? I grew up playing Foodball and Baseball and don't have the skill set to help him. He likes Basketball.

Like
---
PETER MARINO says:
9/3/2008 at 9:03:03 AM


SEND ME BASKETBALL PRACTICE LECTURES
FOR 6- TO 15 YEARS OLD

Like
---