Site Search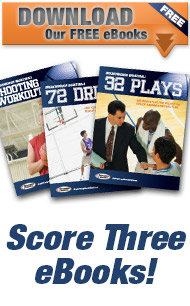 Q & A Forum
Experienced coaches are ready to answer your basketball questions! Visit our forum
Basketball Press Offense: How to Break Any Type of Press and Avoid Turnovers -- Press Breaker Drills, Offense, and Strategy
- By Jeff Haefner
In this report and supplemental video you will learn...
How to attack any type of zone press (including the 1-2-1-1, 2-2-1, half court press, and more)
How to reduce turnovers and take better care of the ball
Drills to improve press breaking skills
Press break drills to improve ballhandling under pressure
Press break plays
Tips for youth and advanced coaches
So you'll find a little something for everyone - all the way from beginner youth coaches to seasoned veterans.
Part 1 - PDF Download
Start with this
PDF eBook
(right click and select Save As to download)
Once you download the eBook you can print it out or view it on screen.
Part 2 - Supplemental Video
Once we get through the PDF ebook, watch this supplemental video:
Download the movie file
(You may need to right-click the link and select "Save Target As")
Video Contents:
Introduction

6 Keys to Beating the Press - 01:30

How to Get the Ball Inbounds - 05:40

Breaking a 1-2-1-1 Full Court Press - 07:50

Breaking a Half Court 1-2-2 Press - 12:33

Additional Tips - 16:30

Final Thoughts - 23:10

Part 3 - Additional Press Break Resources
If you'd like to learn more about breaking pressure and see on-court demonstrations, we have a few DVDs that we recommend.
We found these resources by surveying our own subscriber list and asking them what press break DVDs they thought were the best. We then ordered the DVDs and reviewed them to make sure they were good.
Now in all honesty we have not viewed every press breaker resource available. I'm sure there are other good ones out there. But these are a few that were recommended to us by our subscribers and also get our seal of approval...
Universal System of Attacking Press - By Will Rey - I like this DVD because it gives you a really simple and effective press breaker that works against any press. You'll pick up lots of good advice and I think this is an all around good DVD.
Mike Krzyzewski: Duke Basketball - Breaking the Press - This DVD gives you some additional tips, several good drills, and reinforces important press break concepts. It's also a good all around DVD.
Note for Youth Teams
If you're getting pressed in a youth league, my suggestion is to find a different league. Presses and traps are VERY counterproductive for youth players and slow their skill development. Presses, traps, and zone defenses should be against the rules in youth basketball. If you don't believe me, just listen to pro coach Stan Van Gundy (who also coached his kids' youth team):
http://www.youtube.com/watch?v=KZ9jTOAMTtk
You can also listen to former NBA player and youth basketball expert, Bob Bigelow:
http://www.youtube.com/watch?v=uy6LTXtz-60
Recommended Training Material:
SKLZ Court Vision - Dribble Goggles

SKLZ Court Vision dribble goggles will help you develop better ball control and improved awareness of the whole court. They force players to handle the ball with their head up to survey the court...(more info)
Give Us Your Feedback
We really hope this report helps you successfully beat pressure and avoid turnovers.
PLEASE
leave us your feedback below. Let us know if you like this report and video. Let us know if you have any questions or suggestions.
Comments
Most Likes First
Oldest First
Newest First
---
Dan B says:
8/9/2010 at 11:17:37 PM


This is exactly what I needed. Thanks!

Like
1 person liked this.
---
tim springer says:
8/10/2010 at 2:39:56 AM


great job!

Like
---
derrick hogg says:
8/10/2010 at 4:04:09 AM


very helpful and informative. i'm a young coach so i really appreciate this post.

Like
---
PATRICK says:
8/10/2010 at 4:19:32 AM


I LOVE ALL THE TIPS YOU GIVE, I HAVE WORKED WITH A FEW OF THEM AND THEY ARE WORKING OUT, THE PLAYERS ARE BECOMING BETTER IN THE FIELD OF PLAY, THANKS A LOT.

Like
---
JW says:
8/10/2010 at 6:47:28 AM


Great job and much appreciated.

Like
---
oren horesh says:
8/10/2010 at 6:49:04 AM


hi',
i love the mails you send.
they are easy to understand & easy to work with.
what do i have to do or what do i need to become a highschool basketball coach in the usa?

Like
---
Luc P (Belgium) says:
8/10/2010 at 8:07:48 AM


Good simple effective pressbeaker.
I loved the association with the fastbreak.
If the youngsters are well trained they can just read the defense out of the usual inbounce and react accordingly, with only few adjustments.

Like
---
George says:
8/10/2010 at 8:40:45 AM


This is a great web site chalk full of great stuff. Thanks for the press break eBook and video.

Like
---
Rich says:
8/10/2010 at 9:23:38 AM


Good video. Lots of useful stuff.

Like
---
Ed T says:
8/10/2010 at 12:31:40 PM


Very good break down of spacing and ball reversal. I am curious about the danger zones. You only show 6 spots that trap you with 2 imaginary defenders being the sideline or half court line. Why do you not mention the other 2 being on the other side of the half court line. You can get trapped in those corners before and after you cross the half court line. Am I missing something ?
Thanks ,
Ed T.

Like
---
Darwin Vanloo says:
8/10/2010 at 1:44:04 PM


For year as a coach i have strugle to find ans effective press breaker , this one is excelent, I going to introduce this one to my female basketbal team.Thank Jeff.

Like
---
Jeff Haefner says:
8/10/2010 at 2:29:52 PM


Ed,

If I'm understanding your question (it's a little hard to communicate in text), it's because before you pass the half court line you can easily pass backwards out of the trap or do a back dribble out of a trap. With out press breaker you'll notice we always have a player positioned behind the ball for the easy pitch back and reversal. However, if the ball is just past the half court line, you can't pitch back (or you'll get called for the over and back violation).

In reality, a press can trap you anywhere on the court. But the worst places to get trapped are those red danger zones I drew on the board.

Let me know if that answers your question.

Like
---
Jude L says:
8/10/2010 at 2:54:51 PM


Hey Jeff- thank you, thank you, THANK YOU for sharing this information and making it available to coaches of all levels. I agree that pressing in youth basketball is counterproductive to their development. The league I coach in allows teams to implement the press in the second half of the season, so having this resource is VERY valuable in being able to coach ways to break the press.

Keep up the good work on your site. I wouldn't have made it through my first season of coaching without your eBooks, tips and insight.

Like
---
Ed T says:
8/10/2010 at 3:18:44 PM


Jeff, thanks for the reply to my question concerning danger zones.
I agree with you if you have kept your dribble. I coach youth level and they usually pick up their dribble when trapped either behind or just over the half court line so I teach them to avoid both.
thanks, great insights!
Ed

Like
---
Jay says:
8/11/2010 at 8:11:08 AM


Awesome tips.. Thanks guys!

Like
---
Steve says:
8/11/2010 at 10:11:27 PM


Great video and ebook! You make an excellent point about catch and face, too many players get the ball and immediately start dribbling, many times right into a trap!

Like
---
Kenny says:
8/12/2010 at 1:27:54 PM


Great video selections and I love the ebook as well. Thanks again guys. With the season right around the corner, these tips are greatly needed.

Like
---
ralph gauthier says:
8/12/2010 at 4:48:33 PM


loved the 6 KEYS. WILL START IN NOVEMBER AT 2 SCHOOLS in toronto,ontario, both boys/girls elementary, grades 6 to 8. always used zone, but your notes will make me teach them to RUN/PRESS/LEARN!! thanks a bunch.

Like
---
Danny says:
8/12/2010 at 8:46:44 PM


Hi Jeff,

Thank you very much for the informations got from. It helps me a lot in teaching my players how break the press. Good Job.

Like
---
Wim says:
8/13/2010 at 3:58:08 AM


Thank you, Jeff,

Once more you gave excellent stuff. I will pass it to my youth coaches and players.

Like
---
Jeff Haefner says:
8/13/2010 at 7:16:05 AM


You're welcome! I'm really glad to hear this is helping some coaches out.

Like
---
Dale says:
8/13/2010 at 12:31:49 PM


As always, very good info. I have purchased some of your products in the past which has helped to improve our team last year. We are always looking forward to the next newsletter and products that come from you guys. Thank you for putting out a quality product!

Like
---
Jeff says:
8/28/2010 at 11:16:34 AM


Thanks...exactly what i needed to help create a winning team.

Like
---
Tony says:
9/24/2010 at 2:40:36 PM


This is an awesome video.....alot of information put forth in a simple to understand way!

Like
---
coach jaybob says:
11/29/2010 at 3:50:22 PM


great video just what i needed for our press break the kids really get it

Like
---
coach aziz QAROUACH says:
1/26/2011 at 9:00:30 AM


great.thank y a lot,with learning space is totaley another story with the press

Like
---
Eileen says:
7/4/2011 at 12:33:42 AM


Hey thanks,

Exactly what I was looking for particularly after we got caught in our last game. Am looking forward to putting in action.

Like
---
arnul says:
8/6/2011 at 6:28:40 AM


This is what my team need to do on our next team opponent. Thanks.

Like
---
Randy Hinkel says:
1/4/2012 at 3:34:36 PM


Very good information.
Please add me to your email.

Thanks Randy

Like
---
steven says:
2/3/2012 at 2:43:22 AM


i love your stuff, awwesome , i coach juniors , and i would like some good set plays 2 shut out a good low post fwd, side of basket!!

Like
---
braden says:
2/9/2012 at 5:22:46 PM


i am a 12 year old and my coach says that i needed to watch it and i see y now it helped alot thank you very much

Like
---
braden says:
2/9/2012 at 5:25:52 PM


if you can reply back that wuld be great i have a questions

Like
---
Ken says:
2/9/2012 at 5:53:11 PM


Braden -

If you have any questions, ask away. We will try and help you.

Like
---
Steve says:
3/5/2012 at 4:38:38 PM


On the press-break where the 4 is in the middle near half court, which player is the inbounder - the 3 or the 4? I can''t determine by the text or the video.

Like
---
John says:
9/9/2012 at 8:29:11 AM


Thank you Jeff, I am a senior in high school and I am trying to become either an AAU Coach or a local rec league coach. Your PDF and video was very informative on how to break a press, and I hope to be using more of your material in the future, this time as a coach.

Like
---
Bart says:
1/6/2013 at 1:49:30 PM


Thanks for the video and e-book. I'm coaching a youth team that is struggling with the press/trap. I hope these things will help me to teach them how to break it and open up some quick scoring opportunities. Thanks again!

Like
---
Coach A says:
1/10/2013 at 3:07:04 PM


Thanks for the video coach. Very informative. Pretty much confirms many of the things we already do at Resurrection Catholic SS in Kitchener, Ontario, Canada.

I understand the mechanics you are showing once you get the ball inbounds but I am wondering if there is anything special you do when a team plays a 1-2-1-1 full court zone press against you and they...

1. place the man at the top of their zone right on the inbounder
2. have the next two players in the zone deny the 1 and 2 man the ball and face guard them when they cut back to space.

Thanks!

Like
---
Jen says:
1/10/2013 at 3:16:08 PM


Thanks so much for all this helpful info. I am a first time coach and it''s for a adult ladies team!! I am also a player, so it can be tough doing both. But I come here daily to check out the new tips and advice and am very grateful for this site!

Like
---
Ken says:
1/10/2013 at 3:44:01 PM


I would drive those two defenders towards the baseline... you can pass over them.........

You can also flash a post player to an open spot as they force the defenders to the baseline.

Like
---
Craig says:
1/28/2013 at 10:21:56 PM


When you say "youth basketball" in regard to not playing against press defenses, what ages are you talking about?

Like
---
Ken says:
1/29/2013 at 11:43:20 AM


I for one believe that pressing should not be allowed until they are in 7th or 8th grade. Most kids below this age group don't have the skills or strength to break a press. JMO

Like
---
Gary says:
2/21/2013 at 3:46:13 PM


Only AAU D-1 & D-2 (13 & up) should be allowed to press. I'm busy trying develop my players into ball handlers. Half court pressure is fine it gives them a sense of soundness, awareness and developes their reactionery skills.

Like
---
Kramer Johnson says:
4/28/2013 at 10:39:07 PM


I need help with my basketball skills this summer and would like to be able to make my ninth grade high school team next year

Like
---
Ken Sartini says:
4/29/2013 at 4:55:33 PM


Kramer -

Take a look at this --

http://www.breakthroughbasketball.com/fundamentals/basketballfundamentals.html

There is a lot of information on that page which should help you with your fundamentals.

Like
---
Coach Ox says:
8/17/2013 at 4:29:29 PM


Pressing in youth leagues does have some advantages. It teaches kids to play under pressure, to keep their heads up, play fast, be aggressive, and move their feet on defense. I coach kids in leagues that play with press an leagues that play without press. My experience has been kids that play with the press develop faster and are the better teams when they play in tournaments that have the press AND in tournaments that do not have the press. I think it depends on how competitive you want your child to be down the road. It only takes a few sessions to teach children (3rd grade) how to handle the press and it sharpens their skills of ball handling, passing, and court vision. It can be ugly at first though...

Like
---
mike says:
12/17/2013 at 1:33:39 PM


Thanks for showing this. Ive been fighting my youth league for allowing trapping for our 10 and under league. At least I have some ammo now to hopefully get this practice stopped! The good teams are pressing the average teams until they get up by 20 or 30...even then they are still trapping.

Like
---
Ken Sartini says:
12/17/2013 at 3:20:48 PM


Mike -

In one word.... its SAD !! I see NO advantages in pressing at this level , other than winning. Its not supposed to be about winning at this age,,,, its about teaching fundamentals and having FUN.

Like
---
CharR Moon says:
1/12/2014 at 1:25:36 PM


This video is excellent and breaks the rules of press breaking down in laymen's terms for players & coaches. I actually sent the video to my team for them to review and hear to support the information I've provided them in the past. Thanks so much!

FUNDAMENTALS of the Game RULES!!!

Like
---
CD says:
4/3/2014 at 12:43:04 AM


On the inbound pass you mention teaching players to use their body to seal off the defender. Do you have drill, teaching guide, video or something that shows that in detail? If I could see it I could teach it. Maybe even a youtube video, anything?
Thanks

Like
---
Coach C says:
10/21/2014 at 1:31:00 PM


Nice job with the presentation. I also teach press breaks using the same information and techniques. I believe youdoa better job on the whiteboard! Thanks for getting the information out.

Like
---
Aiesha says:
12/14/2014 at 11:53:21 AM


Awesome! thank you

Like
---
Colin says:
1/17/2015 at 11:09:22 PM


Thanks for this video. I really needed something like this to help me improve. This will hopefully make me better. Thank you!!

Like
---
Bill Darroca says:
1/19/2015 at 12:08:09 PM


Coach,
I am coaching a 6th grade youth rec league for boys. We are having problems breaking a three high half court press. I was thinking of flanking the man taking the ball up on either side. Before crossing mid court, the two men on either side of the ball handler would cross and set screens on the men opposite of them, allowing the ball handler a lane to drive or dish. Do you have any other suggestions? The boys bringing the ball up struggle to make a strong baseball pass down under to the 4 and 5.

Like
1 reply
---
Joe Haefner says:
1/19/2015 at 6:35:45 PM


Bill, I normally run 2-1-2 press break.

Use tons of ball fakes.

Reverse the ball once or twice in the backcourt, then attack. I have found this to be the most helpful.

Otherwise, just practice practice practice passing and trapping drills to get the players more accustomed to passing out of traps.

http://www.breakthroughbasketball.com/drills/3-on-3-trap-drill.html

https://www.breakthroughbasketball.com/drills/zone-press-overload-drill.html

Unfortunately, you can do everything right but due to the flaws of the youth basketball system. You still may not execute due to inexperience, lack of coordination and strength, and lack of skills at that age level. That's why presses work.

It's like getting a lead off 1st base and stealing bases in 3rd grade baseball.




Like
---
---
coach503 says:
4/2/2015 at 8:33:14 AM


what is your review on the "Universal System of Attacking Presses"? I've seen it mentioned a couple times in the PDF. Just wondering if it would be good to install for my 9U team. We are joining a summer league that allows pressing and I have some really quick guards who are good ball handlers.

Like
1 reply
---
Jeff Haefner says:
4/3/2015 at 4:17:42 PM


To be honest, it's been so long since I've watched that DVD I forget what's on it. I remember it being good but I don't remember the details.

For a U9 team I'd keep it very simple and implement a simple 2-1-2 against zone (as suggested in the PDF above).

With my 9 year old team, we do not have a press breaker. We just work on spacing and ballhanding all the time. And they just beat the pressure. Personally I would not spend much time a "press breaker offense" and just focus on ballhandling skills and decision making fundamentals and basic spacing concepts.

Like
---
---
Moses says:
7/15/2015 at 8:00:34 AM


Very useful, thanks for your hardwork.

Like
---
enock says:
4/5/2016 at 8:21:19 AM


I rely like how thing is been thought here wow just what i needed for a start

Like
---
enock says:
4/5/2016 at 8:23:17 AM


I rely love the way thing are been thought here,just what i needed for a start

Like
---
Chris says:
10/10/2016 at 10:34:49 PM


Thanks for the helpful video! Do you find, though, that it's hard to get the 3 in place after passing the ball inbounds? It seems like it would take a while for him/her to get there and so the 1 or 2 would have one less option until the 3 was in place.

Like
1 reply
---
Jeff Haefner says:
10/16/2016 at 8:09:51 AM


Chris - I'm not sure which diagram or part of video you're referring to. It looks like I used different numbering systems throughout. I think the concepts are the more important aspects. The specific numbers and positions can be adjusted as long as the fundamental concepts maintain.

I often have the inbounder step in as the ball reversal option because it is closest spot to fill. Sometimes it depends on my personnel, the age of my players, etc.

I used to be very concerned about putting players (ex: inbounder, finisher, etc) in the right places. In recent years I have become less concerned with that and allow players to be in different positions and give them a lot of freedom. Believe it or not, but the last 2 years, I did not ever tell my players who should inbound the ball. I let them decide and figure out it on their own. Everything just worked out.

So I encourage you to make adjustments to adapt to your situation and preferences. Keep spacing, teach concepts, develop great ballhandlers, and things will work out.



Like
---
---
John Lubbe says:
1/9/2017 at 4:51:29 PM


Hi Jeff, what do you do if you are running a 2 up press breaker and the other team doubles your point guard on the inbounds pass. This is 7th grade girls basketball.
Thanks

Like
1 reply
---
Jeff Haefner says:
1/9/2017 at 5:27:45 PM


First, make sure the PG doesn't catch the ball in the corner or too close to the baseline. Then once PG has the ball, the pass to the ball reversal player should always be there (the player that inbounded the ball and steps in as the ball reversal option). Get that pass made and you should have an advantage to advance the ball via dribble or pass to wing or sideline players ahead.

Like
1 reply
---
John Lubbe says:
1/9/2017 at 5:31:45 PM


Thanks, my issue is getting the ball inbounds to the PG against the 2 defenders. I am thinking I may want to take my PG and the 2 defenders out of the play or if you have other ideas??

Like
1 reply
---
Jeff Haefner says:
1/10/2017 at 7:39:17 PM


With my youth teams I started using a 1 up press breaker the last couple years. Fundamental concepts stay the same but you can see the set up here:
http://www.breakthroughbasketball.com/play.asp?id=7798

We work on teaching our PG how to walk the defender down, bounce, then bounce again or banana cut. We practice so they are really good at getting open (most of my youth players are undersized). When facing 2 defenders, it's much harder.

So far it has not been an issue but if a team decides to do this the whole game, I would do one of the following...

A) Bring 2 players "up". Then as soon as we figure out who they double team, that player cuts to wing position at mid-court so we have 1v1 for my PG to get open. I have not actually tried this. It's just a theory.

B) Another option is to run 4 across to get the ball inbounds:
http://www.breakthroughbasketball.com/plays/linepressbreaker.html

I really don't like spending a lot of time on these unique situations. I prefer spending time on fundamentals so I usually just accept that we might lose and a coach tactically beat us but I know I am spending time in practice on the right things (developing this players for the long term). Just a few thoughts to consider.

Like
---
---
---
---
John Lubbe says:
1/16/2017 at 12:00:34 AM


Thanks Jeff. We went with a 3 up on the fly and it worked by taking our girl who was double teamed away from the play as a decoy. We were able to play them much better the second time we played.

Like
---
Sam Ingersoll says:
5/25/2017 at 1:29:33 PM


This is such fantastic information.

Like
---
Ali Calloway says:
9/5/2017 at 4:41:12 AM


I've been coaching girls basketball from the high school level to the youth level. I have had a lot of different people try to explain the best way to break a press. You have explained in a simple way that I'm sure most coaches will understand. Keep up the good work!


Like
---