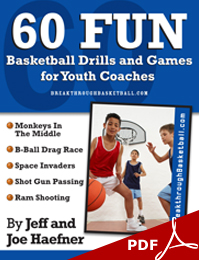 See All Reviews
Write a Review
Fun Youth Drills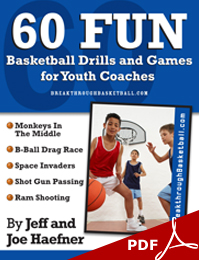 $19.00
In Stock
60 Day Money-Back Guarantee
How to Make Basketball Practice Fun: 60 Fun Youth Drills & Games (Digital Download - eBook)
You will be emailed access instructions and passwords upon order confirmation.
"How to Make Basketball Practice FUN and Enjoyable -- Tips, Tactics, Advice, and 60 Fun Basketball Drills for Youth Coaches"
Dear Basketball Coach,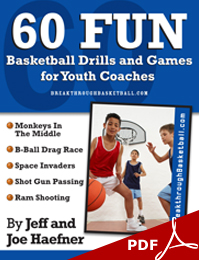 Why would you want "FUN" basketball drills?
You probably know part of the answer but you might not know how FUN practices can
dramatically
affect you and your players for the better...
What are the benefits of making practice and drills fun?
Your players will work and play harder.


Your players will be more enthusiastic.


Your players will learn to enjoy fitness oriented activities and get in better condition.


Your players will give you more respect.


Your player's attitudes will improve.


Your players will learn to love the game of basketball.


Your player's confidence will improve.


Your player's skills will improve.


Your player's focus will improve.


You'll get more done because practice is more efficient.


You will have more fun and enjoy coaching even more.


You'll win more games.


By incorporating the "right" kind of fun drills, you can literally turn around the season 180 degrees for your youth basketball team.
Let's face it...
Young basketball players are there to have FUN!
But unfortunately most basketball skill drills are monotonous and boring. And young players DO NOT want yelled at by drill sergeants to keep them on task!
The frustrating problem is that good youth coaches want the best of BOTH worlds...
You want your players to have fun.
And you want your players to improve their skills and learn the game of basketball.
Easier said than done!
This is a CONSTANT battle that ALL youth coaches face.
So how do you keep things fun yet still develop skills and help your players improve?
We don't have a magic pill for you. The truth is that it's not always easy to be a GREAT coach...
But we have compiled an eBook with TIPS, TACTICS, ADVICE, and 60 FUN DRILLS that will most definitely help you get the best of both worlds.
Here are some of the things you'll learn in our latest eBook:
10 tips to structure practices that are fun and fast paced.


How to GRAB and HOLD your players attention without yelling at them.


How to get your players to really enjoy the game of basketball and remember youth basketball as a very happy experience!


How to teach fundamental skills and keep things fun.


How to keep practice organized and under control.


Tricks to keep your players on their best behavior and under control.


Tips to keep your practice fast paced and efficient.


How to get more done in practice and keep things fast paced (without going crazy).


8 surefire ways to make ordinary drills FUN - don't stop with the drills we have presented for you.


How to help your players to develop skills faster.


How to handle the short attention span of young players and keep their attention.


How to improve your team's confidence.


How to earn your players respect and turn their basketball experience into a positive event.


How to make your players feel successful.


How to motivate your players.


Here are the 60 Fun Youth Basketball Drills and Games that we have Included in the eBook
NOTE: These are NOT ordinary youth basketball drills!
Every drill has a unique twist to make it fun for young players. None of the drills are boring!
Almost ALL the drills in the eBook are multi-facet and incorporate a variety of skills. So it's hard to categorize them. To make things easier, we labeled each drill so you can quickly see which skills they develop. Here are the labels we used:
A=Agility
AP=Aggressive Play
BH=Ball Handling / Dribbling
C=Conditioning
CM=Communication
D=Defense
F=Footwork
O=Offense
P=Passing
R=Rebounding
S=Shooting
TW=Teamwork

We then organized the basketball drills into the following basic sections:
17 fun ballhandling drills

14 fun shooting drills

14 fun passing drills

17 fun offense/defense drills

As always, each drill includes diagrams, step by step instructions, teaching tips, and suggested variations.
Sample of the eBook and Drills
Here's a snippet of the eBook so you can see what the format and drills look like:
If you have questions about what's included, just
let us know
.
How Much Does it Cost?
The price for the eBook is $19.
60 Day Money Back Guarantee
Just like any reputable book store or retail business, we have a 100% money back guarantee too.
If for any reason, your purchase is not what you expected, just
send us a message
and we'll give you a full refund. No questions asked.
"Claim Your Copy Now"
If you'd like to order by telephone, call us at 1-866-846-7892 (toll free).
If you have any questions, don't hesitate to
contact us
.
Customer Reviews
Most Helpful First
Newest First
---

Darron H from Berwick, Victoria says:


9/23/2008

at 4:16:10 AM


I am a coach of girls under 12. I needed some tips on how to make training fun especially at this age when the girls are making the transition from the basics to more technical training. I have found this package truly amazing and it has helped our team gel well together. The main thing I have learnt is make the drills interesting and fun and involving everyone as much as possible. My girls comment nowadays that they enjoy coming to training which is great. And by the way we won our first grand final this weekend. A great effort by the girls and i owe a lot of it to this booklet. The best part is when i have asked for special tips Jeff has always been able to reply to me quickly with assistance and ideas. thanks again.

This review is helpful
3 people found this review helpful.
---

martin says:


9/12/2008

at 4:07:51 PM


Hi, the 60 fun drills is in my opinion one of the most important and difficult works I can find on the basketball drills market. Fun is so important and in fact very serious aspect of practicing basketball. It gives the coach some seconds and minutes,when the concentration of his players on practice comes authomatically with the fun drill, without coaches effort. That gives the coach time to concentrate for next drill and players spend interesting minutes on the floor. And there are not many fun drills available at all. So thanks a lot for this five star ranking material,coach Martin,Prague

This review is helpful
1 person found this review helpful.
---

Dean Glover says:


9/22/2008

at 4:14:38 PM


The 60 fun drills were really useful. There were loads of great drills, but the fact that they were put into categories helped too. I have used many of them to great effect with the 6-12 yr olds that I coach, they love doing the drills. Thanks for putting them together.

Dean Glover
Birmingham,
England

This review is helpful
1 person found this review helpful.
---

Steve Kelly from Lake Forest, CA says:


9/22/2008

at 4:49:18 PM


These drills are great. I can hardly call them drills because they are fun and the players really like them. The neat thing is the players think its fun, but I know they are also learning valuable basketball skills. I have used the fun drills in all my practices. They are clear and easy to implement.

This review is helpful
1 person found this review helpful.
---

coach cheikh from newark, DE says:


9/22/2008

at 6:57:23 PM


Absolutely fabulous and very practical. I am usung it during the summer for a kids basketball camp from 8 to 12. They are having a lot of fun. I forgot about having to spend hours looking for drills. What I am doing is making the drills even more competitve this year to avoid the boredom. Thanks you for your research and keep it up.

This review is helpful
1 person found this review helpful.
---

Dave Werrett from Candle Lake, Saskatchewan says:


9/26/2008

at 8:38:29 AM


Great e-book. Well organized and easy to follow. I like purchasing e-books so that I can print out which pages I want for practice. Buying a shelf book, I have to scan or copy the pages

Dave Werrett
Candle Lake, Sask, Canada

This review is helpful
1 person found this review helpful.
---

Rick from De Soto, KS says:


2/26/2009

at 9:18:18 AM


We did several of the drills in practice this week and the boys had a great time. They really like the competition and were already asking if we are going to do them for the next practice. The "challenge" drill and "war" helped the boys get more aggressive in rebounding and defense in our game this week already.

Thanks.

This review is helpful
1 person found this review helpful.
---

Kim from WI from Milwaukee, WI says:


2/26/2009

at 4:59:07 PM


This was a great addition to my collection.
I was not only finding my players getting tired of the same drills, myself as a coach was also.

This was a fun way to key in on many different skills at once. I was able to pair my players up on skill levels, but also taught my team to work together. Teaching my stronger players to play at the other players level without turning the ball over. My weaker players were able to gain selfesteem and feel more comfortable at game time.
My players were learning and didn't even know it because they were having some much fun laughing.

We were warming up before a game when a coach out of the stands come up and stated we was trying to get his high team to run this same drill and wasn't having any luck. I say just make it fun and laugh alot. That is the key to working with kids.

Thanks for all the great drills. I am looking forward to next season and what you bring out.

This review is helpful
1 person found this review helpful.
---

missi from wayne, PA says:


9/23/2009

at 12:17:55 PM


Excellent book. Easy to read and understand. Kids loved the drills and made practice fun and helped with their development. Can be used with any age group with small modifications. I was happy to finally have found a book that had everything I needed all in one.

This review is helpful
1 person found this review helpful.
---

Damian Hilton from Manhattan, KS says:


11/24/2009

at 9:43:53 AM


I find the 60 Fun Youth drills to have many very beneficial approaches. The makeup of the book allows me to decide what the priorities of practice are, go to that section, & make a decent practice plan. This e-book also helps to take some of my weaknesses as a coach and put a bit of a stop gap in those areas. I appreciate also the constant suggestion to make your own twist on these drills acknowledging these are not perfect for every situation but a fantastic starting point for developing strong well rounded players. This is probably my favorite product in all of them that I've bought.
Joe and Jeff I think this is a great product and feel you should spend some time in the future making it even better. It is great but has even more potential! I would totally pay for an upgrade price. ;)

This review is helpful
1 person found this review helpful.
---

Dave Farrington, NC says:


2/22/2012

at 9:52:51 AM


I purchased this book last summer and I used the drills off and on, mixed them in with different things during practice and thought it was an ok book. However, with our season winding down, having a really bad record, and knowing that we would get killed at the middle school regional and state tournaments. I decided to make the last three weeks of the season as fun as possible and keep the girls interested for next year. I used this book and let the girls play more games that focused on skills, yet are fun such as Dribble Tag, Queen (King) of the Court, Space Invaders, Dribble Relays etc….The girls love the drills and keep asking to do the different drills. Plus I have not gotten the sigh of not this drill again.

In this short time period, we saw a huge jump in the girls dribbling skills. We worked on different things all season, but we did not have the huge skill jump that we experienced over the last three weeks. I cannot help but think that the fun drills/games in this book had something to do with it. I might be old and slow to change, but I know when something works.

My skill sessions for the beginners this summer will have A LOT of drills from this book. The intermediate skill sessions will also use this book.

I highly recommend this book, but it will only work if you use it…

Thanks
Dave


This review is helpful
1 person found this review helpful.
---

Craig Carpenter from Groton, MA says:


1/30/2013

at 12:13:18 PM


I coach my daughter's 3rd grade team and had little idea of what I was doing and basically winged practice which made them just OK.

With this book I can sit down, figure out what I want the girls to work on, and then just look up appropriate drills/games.

Most of the drill/games I have introduced the girls have really enjoyed and had fun with. I think the practices are much more fun now for both the players and coaches.


This review is helpful
1 person found this review helpful.
---

Bruce and Jodi Ogden from Wasburn, ND says:


9/22/2008

at 1:29:38 PM


We really enjoyed the drills. They were easy to teach and the players loved to do them.

Thanks,

Bruce and Jodi Ogden

This review is helpful
---

willie says:


9/22/2008

at 1:34:07 PM


HI, the kids really enjoyed the drills i never seen them have so much fun. Thank You

This review is helpful
---

Bernard Nkejabega from Welkenraedt, Belgium says:


9/22/2008

at 3:25:08 PM


That's an attractiv way to teach FUNdamentals to our young players. Thank you.

This review is helpful
---

Shaun from Wakefield England from Ossett, West Yorkshire says:


9/22/2008

at 3:29:24 PM


I use the fun drills on a rgular basis with my under 12s squad. I think they bring a lot more enjoyment to the sessions, more improtantly, so do the squad.

This review is helpful
---

Melvin Satchell says:


9/22/2008

at 3:57:47 PM


I enjoyed reviewing the fun drill ebook and my team do also because just recently we had summer workouts and no one wanted to go home

This review is helpful
---

Nelson Moreno says:


9/22/2008

at 5:56:44 PM


Es un excelente Ebook, todos los ejercicios son realmente importantes y utiles para la formacion deportiva de los jovenes deportistas. Gracias a Jeff Haefner, Joe Haefner y especialmente a DON Kelbick quien conozco personalmente y me recomendó esta página.

This review is helpful
---

Rodney David Bowden from North Shore City, Auckland, Auckland says:


9/22/2008

at 6:24:11 PM


Hi

Since using the fun drills I have seen a more enthusiastic and motivated attitude among my players during training. We used to play in League 4, which we won at a canter. We then moved up two divisions to League 2 in our school competition.. This is where I saw a change in attitude for the worse. We lost a couple of games. I started to use the fun drills and we ended up as runner-up in the final. I want to thank the authors of the programme. It has been fantastic to use it.

This review is helpful
---

Dante Tangco from Manila, NCR says:


9/22/2008

at 8:03:41 PM


I have been using the drills to the kids and the wonderful thing about it is that it is fun and easy to learn and at the same time giving the fundamentals of basketball to the kids. I do have one question though, stretching exercises weren't discussed, so i was wondering on what would be the best stretching exercises for kids ages 8-14, and 15-18.

Thank you.

This review is helpful
---

Hank from East Hartford, CT says:


9/22/2008

at 8:25:11 PM


I'm a new coach and needed help. This book is great not only are the plays easy to understand but it's also fun for the kids.

This review is helpful
---

Bonitia UP of Michigan from Negaunee, MI says:


9/22/2008

at 10:11:06 PM


I love the way the fun drills are broken up into categories. It makes for a lot of saved time planning practices. I just flip to the section I want to work on for the practice and there it is! My 9 year old girls travel team have loved most of the drills we have used. Thanks and keep up the great work!

This review is helpful
---

Barry Smith from Stockton on Tees, Cleveland says:


9/23/2008

at 3:43:47 AM


Great value this e-book, it's like my youth basketball bible! I also used some of the drills with adults that I coach and they enjoy them too.
B. Smith
Middlesbrough
U.K.

This review is helpful
---

tyrone says:


9/23/2008

at 7:52:48 AM


The fun drills are great as a break up the serious side of training for my under 12 boys. With a little bit of tweaking and added imagination many can can be converted into a competitive contests between groups or individuals which they all enjoy a lot. A fantastic resource to stop wandering minds at training and to develop skills. Thanks for the ideas.

This review is helpful
---

Matt Carter from Royse City, TX says:


9/23/2008

at 7:54:37 AM


I have found this product to be very useful. I coach a 9/10 yrs old boys team, and the drills to the guys are fun, but I can see their skills improving while they are having fun. I will continue to use these drills and tips for as long as I am coaching a team, no matter what age they are.
A great tool at a great price!!

This review is helpful
---

Tony from Vermont from Underhill, VT says:


9/23/2008

at 9:35:55 AM


As a coach of 10-12 yr olds I must have lots of drills on hand prior to the season so my practices will be organized, varied from night to night, properly paced and able to teach the kids in a progressive way. Glad to have 60 to choose from.

As a program coordinator of rec basketball K-6, I also have a tool to help new coaches succeed as volunteers and keep kids coming back year after year. This tool fits it up. My practices were interesting to players, assistants and parents too! And my other volunteers kept calling me to get drills they could use on younger ages. Well done, guys!

This review is helpful
---

Hugo Monsivais, Monterey, Mexico from Monterrey, Nuevo Leon says:


9/23/2008

at 9:46:16 AM


This drills make my daily job with my teams more easy, I can add more variety to the sesions. Been suscribed to this site has been helpful, keep going with the good job!.

This review is helpful
---

Mike from Ohio from Dayton, OH says:


9/23/2008

at 10:14:04 AM


I've coached 5th & 6th grade girls basketball for two years. The first year was ok. Then I recieved "60 Fun Youth Basketball Drills". The girls and myself started having alot more fun at practice and at games. We took second place in our league, after applying these drills.
I greatly enjoy your newsletter, keep them coming. Thank you.

This review is helpful
---

Doris says:


9/23/2008

at 10:28:07 AM


After teaching fundamentals, I use the fun drills, so that kids can improve what they learned and have fun at the same time. They like most of the "drills" and I enjoy the practice
because I have at least 80% presences since I
do the fun-drills. So I shall go on using them a lot. Thanks

This review is helpful
---

Robert from Vesper, WI says:


9/23/2008

at 10:44:32 AM


This program was a MAJOR time saver. It is not just a drill book - but one that creates fundamentally sound players in a fun and engaging way! I highly recommend this!

This review is helpful
---

Neb Drofgum from Machias, ME says:


9/23/2008

at 11:04:36 AM


execellent product. It allows us to have fun while teaching the fundamentals of basketball.

This review is helpful
---

coach nos says:


9/23/2008

at 12:51:37 PM


Well worth it. We used a number of the drills in our youth summer camp, the kids loved it

This review is helpful
---

Coach Goodwin says:


9/23/2008

at 1:33:53 PM


This a great resource for coaches. I have found new ideas to teach the same fundamentals.
It makes practice planning very easy, as assistant coaches can see a visual of the activities before practice.

This review is helpful
---

coach Paolo from PORDENONE, Pordenone says:


9/24/2008

at 5:36:18 AM


I've appreciated your eBook regarding man defense, I don't think the one about fun drills is at that level.
You're doing a good job (good resources at very reasonable prices) but you don't need a 5 star review for whatever you do. There's margin to improve the product.
I recognize it can be very useful for less experienced coaches.

This review is helpful
---

Toby says:


9/24/2008

at 4:27:52 PM


This will greatly help me to teach our kids fundamentals!!!

This review is helpful
---

keith from prospect heights illinois from glenview, IL says:


9/25/2008

at 4:29:21 PM


the tips and drills are extremely valuable, I coach both 8th grade boys and 4th grade girls and they work at both levels....keep em' coming guys great work!

This review is helpful
---

Curt Cicotte from Lake Grove, NY says:


11/13/2008

at 8:38:07 AM


Great help. The kids love the drills and the parents were very impressed how much fun the kids had doing them!

This review is helpful
---

Tina from Mexico, MO says:


11/13/2008

at 8:39:44 AM


Thanks!

I am working with 1st - 2nd grade boys and we are having a blast at practice. They don't even realize that they are learning. The practice time flies by!

One of the co-coaches is going to adapt some of the drills to the freshman team he is working with!

Excellent resource for ALL coaches!


This review is helpful
---

Dan Moynihan says:


11/13/2008

at 8:57:34 AM


Great Drills. My 3rd/4th grade travel girls team has responded well. We are laughing alot and the "really competitive" girls get a thrill out of many of these drills.



This review is helpful
---

Dan B. says:


11/13/2008

at 8:57:34 AM


I'm a professional tennis coach by trade but decided to coach my son's youth basketball team this year. I needed drills that would accomplish two things.. develop their skills and be fun. The 60 drills book was a perfect match. The kids improve each week and are anxious to see what new drills & games we have the next time. This book is a winner and highly recommended!!

This review is helpful
---

Kevin Brennan says:


11/13/2008

at 9:04:30 AM


Excellent. I would recommend this to anyone.

This review is helpful
---

Randy Butler from Columbus, OH says:


11/13/2008

at 9:44:43 AM


What a value! This e-book has saved my season. The drills are well-organized, well conceived, and the notes make it clear what each drill's objective is.
A great tool for any youth coach.

This review is helpful
---

Patrick Storck from Houston, TX says:


11/13/2008

at 12:13:12 PM


These tools allowed me to get up and running drills much more quickly in my youth group, Easy to incorporate and great tips, this was a Godsend for me.

This review is helpful
---

Liesa from houston, AR says:


11/13/2008

at 1:23:22 PM


The players really enjoyed the drills. I am helping coach 3rd grade boys and it is hard to keep them focused but the drills make practice fun and kept things moving so that we could keep their attention longer.

This review is helpful
---

Tanya says:


11/13/2008

at 7:24:31 PM


I am a first time basketball coach. I haven't played basketball in years. I was happy to have found this download on the internet. We used some of the drills the other night at practice. The girls loved them. The drills are fun, age appropriate and great skill builders. This was well worth the money. Thanks for putting it out therel.
Tanya

This review is helpful
---

rick from louisville, KY says:


11/14/2008

at 7:14:18 AM


I had already used some of these drills in my practices and my girls and boys love them. Thanks for puttung out a book with more fun drills. My kids are learning more and putting out more effort because of them. I scrimmage very little but use these drills more to teach basketball to youth boys and girls. Is there any chance you will put out another book with more drills. Rick

This review is helpful
---

Dietra Briscoe from Lebanon, KY says:


11/14/2008

at 8:04:00 AM


This is my first year teaching youth league basketball, and also the first year for most of the girls between ages 8-9yrs old first time playing basketball. The drills have helped me tremendously. They are fun to teach and the girls really enjoy the drills. The also like the fact that I teach them something new each practice using the drills. We have a lot of fun at practice, but the most important fact is that my team is learning and listening and enjoying the game of basketball.
The edrills are fabulous.
Thank you

This review is helpful
---

Carla says:


11/14/2008

at 9:23:38 AM


Great Drills and tips. The kids look forward to them.

This review is helpful
---

Allen Fraser from Blackburn South, Victoria says:


11/16/2008

at 10:44:44 PM


Awesome drills, I use many of them for my under 8's and under 12's and they love them. It makes training alot more interesting and fun for everyone. Thanks again.

This review is helpful
---

Meade, San Anselmo CA says:


11/23/2008

at 9:07:49 AM


Great book! I seat down for 30 minutes once a week and layout the entire schedule by page number and name of drill. The kids love it and I am really seeing improvement in just two weeks.

Thanks,

Meade

This review is helpful
---

Cohlby from Savannah, MO says:


2/26/2009

at 8:39:35 AM


This ebook helped me to organize practice much more efficiently and quickly. It is very well orgainized and put together. I simply determined a few areas on which we needed some more work, went to the table of contents, and that led me straight to the drills. For the first time, I had players asking to run drills. Beats the heck out of 3-man weave, and single line lay-ups any day.

This review is helpful
---

Liz says:


2/26/2009

at 10:30:14 AM


I was really happy with the 60 fun drills book as a first time coach. It really helped me to teach the fundamentals. Now I am looking for follow ups such as an ideal training schedule for 6-8 weeks, good defensive and offensive strategies and how to close a game. Thanks guys your drills were fun and engaging. I appreciate your help.

This review is helpful
---

Josh says:


2/26/2009

at 10:41:57 AM


These drills are great. I use them with my high school team. They're great to sprinkle in practice when our intensity starts to drop. We'll jump into a competitive drill to get the juices flowing again and then go on to have a good practice.

This review is helpful
---

Stewart from Lumberton, TX says:


2/26/2009

at 11:40:37 AM


Just purchased the 60 fun practice drills for my 7-8 year old girls little dribblers team. It was absolutely amazing how it turned our practices around !

This review is helpful
---

JESUS from FPO, AE says:


2/26/2009

at 11:46:08 AM


This drill book is the bomb! My team really enjoys the different drills, and really notice that they employ what they learn at practice, in a game. If you're thinking about buying this book, stop thinking, and buy it! You will not regret this purchase, and your team will thank you for a great season!

This review is helpful
---

Rick from Surrey, BC says:


2/26/2009

at 12:39:41 PM


I love how the book gives a table of contents based on age level. Very useful.

This review is helpful
---

Jean from Belgium from VILLERS-LE-BOUILLET, LIEGE says:


2/27/2009

at 6:55:48 AM


This is my first year teaching basketball. The boys are between 8-10 years old. The drills have helped me tremendously. A great tool for any youth coach. Thanks for all the great drills. Jean

This review is helpful
---

Mary Boyle from Thornton, CO says:


3/1/2009

at 4:03:51 AM


I started out the year with boring drills for my 4th-8th grade girls. When I added the fun drills, they started learning the game. More importantly, they started stealing the ball and getting aggressive. Our defense improved 100%

This review is helpful
---

Coach Casey says:


9/22/2009

at 11:13:52 PM


Great drills! I have not coached in several years so these are great supplemental help. This is our first year to have a school sponsored competitive 6th grade team. The girls are enjoying the fundamental drills and a few drills have even caught the eye of the high school head coach. In addition, I use some of the drills for my elementary PE classes when we cover basketball fundamentals.

This review is helpful
---

Julie from Hamersley Perth, Western Australia says:


9/23/2009

at 12:44:52 AM


The 60 fun drills ebook was a great investment. I used it on my U/12 girls squad, allowing them to take it in turns to choose a drill for the next week. It kept them interested and motivated each week. Most valuable!

This review is helpful
---

Sandra Boone says:


9/23/2009

at 12:46:34 AM


Nice drills for children!!!!
Thanks

This review is helpful
---

Erik Van de Sande says:


9/23/2009

at 3:22:58 AM


Very nice drills for children !!!
They love the games and exercices I've already used from the book

Thanks

Greetings

This review is helpful
---

Steven from Itterbeek, belgium says:


9/23/2009

at 3:31:21 AM


Really good book. Not only does it offer a ton of ready to use, fun and very good drills, it also made me rethink old drills to make them more fun. Really worth it's money!

Steven, Brussels

This review is helpful
---

steve katalinich from minneapolis, MN says:


9/23/2009

at 9:26:29 AM


There is no better single source for b-ball info of all kinds than breakthrough. The 60 drills simply demonstrates that point. Thanks

This review is helpful
---

Sergio Perez from Laredo, TX. from Laredo, TX says:


9/23/2009

at 9:44:53 AM


Hello everybody!

I just wanted to say that this is a really good book. After purchasing it, I used it right away with my 2nd grade basketball team and it really helped me a lot. The team liked it and my assisstants also liked it. We had a lot of fun with this book. It really helped our boys to improve on their skills and drills!
Thank you guys and keep up the good work!

This review is helpful
---

Frank Hall from Smithfield, RI says:


9/23/2009

at 3:07:58 PM


I run a basketball camp the month of July going four weeks for two hours per week. The age levels are boys and girls 6,7 & 8 year olds. I have been doing this for eleven years. The 60 Drills was excellent in teaching the skills that I wanted. We want the kids to learn basketball skills but have fun in that process.The 60 Drills really helped towards that goal.
Frank Hall, Smithfield, RI

This review is helpful
---

Markita Smith-Moreno Valley Ca. Moreno Valley Parks & Community Services from Moreno Valley, CA says:


10/1/2009

at 2:37:55 PM


The 60 drills is a great way to teach fundamentals and still have fun. I used it for my basketball clinic. It brought back memories of when I used to attend clinics in my youth. It really has good drills especially for the younger age group. I modified the drills some for my older groups to keep them more interested. This is truly a great way to keep kids interested and to actually process the proper way to play basketball. You can also modify it to where it fits other sports such soccer and flag Football. I really recommend this ebook especially to those who are beginners in teaching the game.

This review is helpful
---

Curtis Smyers from Battle Creek, MI says:


11/2/2009

at 9:03:40 PM


We used these drills in a six station clinic for 3rd thru 6th graders over a month period and never ran out of drills. You have to tweak them for your own individual situation and goals to make them work for you. They are very adaptable, easy to use. Highly recomend!! Thanks, Joe!!!

This review is helpful
---

Kristie Meyer from Poughkeepsie, NY says:


11/24/2009

at 7:39:15 AM


This book is great. I use something out of it everyday and I coach Varsity Girls. I had a bad (but true) reputation of not being fun and being too hard on them and this book has really helped me improve the morale of my team and improve myself as a coach, while still improving our skills and fundamentals. There is a huge change for the better in our gym this season and I contribute a lot of that to the ideas that I get from this book. I recommend this book very highly to any level of coaching, even college.

This review is helpful
---

Jim Briscoe from Saint Charles, MO says:


11/24/2009

at 8:02:23 AM


The best compilation of drills I have seen.

This review is helpful
---

Scott Hanley from Wakefield, MA says:


11/24/2009

at 8:03:30 AM


Hi Guys,

Great drills to end my practices and keep my girls focused. We have just begun and I have used the tip-the-cone drill and the circle passing drill. They love to end with something fun, and to keep things interesting I often join in. They LOVE to beat the Coach...!!



Scott Hanley
Wakefield (MA)
5th Grade Travel Basketball

This review is helpful
---

Tom Breen from Northville, MI says:


11/24/2009

at 11:28:19 AM


This book has been a great help. I pull at least 1 drill or game out of here for each practice. I coach both an 11 year old team and a 7 year old team and there is plenty here for all youth ages. The drills practice/reinforce good fundamentals (which coaches love) while allowing kids to compete which makes it fun for them and thus entices a 100% effort ....Thanks!

This review is helpful
---

Doug Cox from Matheson, CO says:


11/25/2009

at 1:05:12 PM


Great drills for basketball camps and teaching youth players!

This review is helpful
---

Cheyenne River CHAOS from Eagle Butte, SD says:


11/25/2009

at 7:55:55 PM


I think the 60 ebook fun drills are helpful with my players. They all enjoyed them and were practicing hard. I would recommend to any new coach starting out.

This review is helpful
---

Kevin from Mandeville, LA says:


11/26/2009

at 7:19:27 AM


I coach 7-year olds and keeping their focus during practice is a challenge. I've had the eBook for a month and have used almost half in practice. These drills will help maintain our goal of having fun and teaching fundamentals.

This review is helpful
---

Lonnie Howard from Stafford, TX says:


12/1/2009

at 3:47:25 PM


I've read through the Fun Drills ebook, and I think it's great! Didn't realize before I had to "make practice fun" (just thought kids had fun playing the sport). I especially like the 7 critical elements to making practice fun. And I like that the drills are organized by category with the skills that each drill works on. And it's not too many to choose from. Since I coach 5-8 year olds in a developmental league, I'll have to spend time teaching them the mechanics of each skill before turning them loose in the drills. Some improvements I'd like to see: (1) drills divided by age group; (2) more drills for half court because we don't have full court for practice; (3) drills to development footwork and balance; (4) offense and defense drills separated.

This review is helpful
---

Coach K the other one from Farmingville , NY says:


12/10/2009

at 1:04:26 PM


I am coaching 9 year olds and for the most part they were great drills they just couldn't follow some of them. I really liked the drills and as I coach older levels I think they will be great. It also took the pressure off or having to think up alot of drills myself

This review is helpful
---

Kevin Thomas from Antioch, TN says:


4/15/2010

at 8:17:18 AM


Great book, full of ideas that really work in practice and player development!!

This review is helpful
---

Coach Monteith from North Charleston, SC says:


4/15/2010

at 9:15:47 AM


These drills were invaluable this season. We went from a 0-10 season last year to 7-3 this year! Our players were more engaged at practice and actually didn't want the practice sessions to end. I recommend this product to all of the other coaches I talk with.

This review is helpful
---

Coach Mills from Katy, TX says:


4/15/2010

at 9:26:06 AM


Our team was made up of 5 and 6 year olds who needed to learn basic basketball fundamentals, such as dribbling, shooting, passing, catching, rebounding, and defense. This book of drills provided me with exercises that allowed the players to both learn and have a good time. For example, "snake dribbling" provided each player the opportunity to have their own ball, constantly dribble, be personnally challenged, and was entertaining. During the course of the season, our players showcased excellent skills on the hard wood, had a winning season, and had a lot of fun.

This review is helpful
---

Tim from Oregon, WI says:


4/16/2010

at 1:49:57 PM


Well put together and organized nicely in to drills for different aspects of the game. I found it easy to modify a drill if my kids were not able to follow the original successfully. I would recommend this tool as a good way to ensure foundational skills are being taught, yet the kids are having FUN, because that's what youth basketball is really all about.

This review is helpful
---

John says:


4/27/2010

at 10:52:16 AM


I bought it a bit late in the season, but did incorporate some of the drills that were in the book..

I'm looking forward to youth basketball next season and using more of the drills.


This review is helpful
---

Dave from Morrison, IL says:


12/9/2011

at 3:40:26 PM


A great resource for beginning level coaches to use. Very well organized with each drills purpose, instuctions, and teaching tips explained. I put mine in a binder a pull out my favorites for a given practice.

This review is helpful
---

Tim from BLANDON, PA says:


12/10/2011

at 12:05:09 AM


I found 60 fun drills to be a very useful tool. I've been playing and coaching basketball for 25 years and I still found it very useful and educational. I was already using a lot of the drills but found some that I either forgot about or have never tried. I highly recommend 60 fun drills to coaches of all levels.

This review is helpful
---

Brad from Redmond, WA says:


12/10/2011

at 10:16:25 AM


Like Tim from BLANDON, PA, I've been playing basketball for a long time (30+ years), but unlike Tim, this is my first year as a coach (4th grade boys). I found 60 fun drills to be a lifesaver. It's given me plenty of ideas to keep my practices fun and educational. After four practices, I haven't repeated a drill yet.

This review is helpful
---

Mark Cochrane from Appleton, WI says:


1/11/2013

at 11:48:12 AM


I really enjoyed the product. As a coach I have found it to be very helpful at a reasonable cost. Thanks.

This review is helpful
---

Angela says:


1/11/2013

at 3:54:31 PM


This book is great! My kids beg to do different drills over and over in practice and actually WANT practice to last longer! And all the while they are developing their skills in a fun way! I highly recommend 60 Fun Basketball Drills and Games for Youth Coaches.

This review is helpful
---

Dave from Perry, OH says:


1/12/2013

at 2:08:22 PM


Awesome resource, fair price. Our practices have been much more fun since I started using these drills. Plus, we're seeing skills improve as well!

This review is helpful
---

Matt says:


1/12/2013

at 5:21:38 PM


Great way to keep practices entertaining. The drills are going to improve your players while they have fun doing them.

This review is helpful
---

julie innes says:


1/21/2013

at 10:05:13 PM


This has been so helpful for me to coach my girls. The drills have been so great to keep the girls interested and working on their skills at the same time. The dvd''s have been great for ideas on my game skills i wish i would have found them sooner. Thank you soo much

This review is helpful
---

motherof3 from greenfield, OH says:


2/5/2013

at 1:35:09 PM


these drills are great, I can't wait to begin using them with my daughters and their teams. Thanks:)

This review is helpful
---

Coach Emilio from Northlake, IL says:


12/27/2013

at 7:58:08 PM


This is a must have for beginning coaches. No need reinvent the wheel. Great way for kids to learn fundamentals and have fun at the same time. These drills/games are always a part of our practice. I am a 2nd year coach and I wish I had them for my first team.

This review is helpful
---

Mark Otten says:


2/25/2014

at 2:35:42 AM


This is an excellent product. I am new to coaching and was lucky enough to discover this 3 days before our first practice. I picked out 7 drills and we had a ton of fun while learning! It makes it very easy to select drills based on what you want to focus on. It's my first reference for practices.

This review is helpful
---

caterina from THERMI THESSALONIKI, None says:


9/29/2014

at 6:42:37 AM


very nice guide for all coaches.I picked out a lot of drills and my players enjoy them.nice work.

This review is helpful
---

Jason Goumas from Lexington, KY says:


11/5/2014

at 10:46:44 PM


This is a great set of drills that will enhance players of all levels. Having a sound understanding of human movement and its development will help in the selection of appropriate exercises and drills. I haven't tried them yet, but that will change very soon as I will be coaching 3 Upward teams this season and I am looking forward to seeing the change in my players!

This review is helpful
---

Wee Chew Lam from Miri Sarawak Malaysia, None says:


2/16/2015

at 5:10:26 AM


This book is very useful in coaching my kids of age 11-12. The kids have a lot of fun and at the same time develop their individual skills. This book also makes my coaching easier with so many different fun drills to choose from,

Thank you very much.

This review is helpful
---

cynthia says:


4/19/2015

at 11:10:02 PM


I have not gone through it all, but the drills I have applied have been a real hit. The boys love them and want to do more when times up, so a big thank you!!

This review is helpful
---

Gary Smith from FAIRBANKS , AK says:


1/19/2017

at 4:03:43 PM


After coaching small college basketball for many years getting used to working with 3rd 4th and 5th graders was a challenge. I found this book very helpful in structuring drills that kept the players moving, active and competitive yet still teaching basketball fundamentals.

This review is helpful
---

Chip from Rochester Hills, MI says:


11/11/2018

at 8:45:44 PM


Great resource. I can't believe how many examples there are. Way more than I will ever even need.

This review is helpful
---