Site Search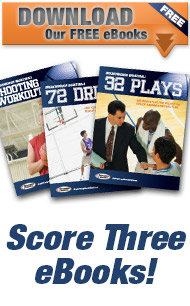 Free Newsletter
Get our free monthly newsletter with new drills, plays, scoring tips & coaching strategies... Signup for our newsletter
Q & A Forum
Experienced coaches are ready to answer your basketball questions! Visit our forum


Subscribe for FREE and Get 3 eBooks…
Just for subscribing to our free newsletter you'll get these 3 eBooks for free…
72 Basketball Drills & Coaching Tips – 136 page eBook.
21 Basketball Tips & Tricks for Players – 20 page eBook.
32 Winning Basketball Plays – 96 page eBook.
Plus you'll get ALL updates to this website delivered to your inbox for free. Over 100,000 other coaches, players, & parents have already subscribed.
We will never send you spam or share your email address, guaranteed!
Close
1-3-1 Zone Defense, Tips, and Drills
The 1-3-1 zone defense is a typically a defense used in the half-court. It can be run as a trapping defense, or packed in to force teams into poor outside shots. Some coaches use the 1-3-1 as a defense to switch things up, while others will use it as their primary defensive scheme.
1-3-1 Zone Articles & Tips
Automatic Trap Out Of 1-3-1 Zone Defense
Automatic Defensive Adjustment to Make in The 1-3-1 Zone Defense
How to Disrupt an Opposing Offense With the 1-3-1 Zone
Do Zone Defenses Better Prepare You For Playoff Basketball?
Steal More Skip Passes With This 1-3-1 Zone Defense Tip
1-3-1 Zone DVD
If you'd like to dig deeper and get more information about developing an effective 1-3-1 zone defense, we highly recommend Will Rey's 31 Defense. It explains the 1-3-1 defense in detail and breaks the defense down step-by-step and movement-by-movement so that your team will be able to run it effectively when they take the court.