Catch Opponents Off-Guard With This Under-the-Radar 1-3-1 Zone...
The perfect coaching "chess move" your opponents won't see coming.
We're excited to announce the launch of "The 31 Defense With Will Rey - The Disruptive 1-3-1 Zone Defense." This is the ultimate resource for 1-3-1 zone defense.
NOTE: The "31 Defense" is Coach Rey's unique 1-3-1 Zone Defense System
Coach Rey used the 31 Defense to hold opponents to an average of 41.2 points per game during his first 12 years at Northridge!
In this DVD set, you'll get...
2 DVDs of comprehensive instruction.
Step by step teaching progression.
A complementary eBook with all the steps, drills, and key teaching points documented for you.
A 6-Day implementation plan.
All of the tools to build a relentless 1-3-1 zone defense and win more games!
This is, without question, among the most in-depth resources available for a 1-3-1 zone defense.
It explains the 1-3-1 defense in detail and breaks the defense down step-by-step and movement-by-movement so that your team will be able to run it effectively when they take the court.
Even coaches that typically play a zone defense will find new ideas and approaches that you can implement with your team.
About Will Rey

Will Rey's coaching credentials include:
Over 40 years of basketball coaching experience at the high school and Division I college levels.
Served 5 years as a head coach at Loyola University Chicago, and 14 years as Division I assistant including stops at the University of Evansville and Wright State University.
12 years at his current position as the head boy's basketball coach at Northridge Prep School in Niles, IL where he has achieved tremendous success.
Member of the Illinois Basketball Coaches Association Hall of Fame.
Lecturer and instructor at the Five-Star Basketball Camp, and a member of the Five-Star Basketball Hall of Fame (2015).
Author of 11 basketball instructional DVDs, and is a frequent speaker at coaching clinics across the country including the highly regarded PGC/Glazier and Medalist Basketball Clinics.
Coach Rey currently lives in suburban Chicago where he also works as the Athletic Director at Northridge Prep. He and his wife, Diane, have three grown children and five grandchildren. Coach Rey can be followed on Twitter @Coach4Character.
Why Zone Defense Works?
8 Benefits to Using the 1-3-1 Zone Defense
Everything You Need To Have An Effective Defense
In these DVDs, Coach Rey gives you all of the secrets to his highly effective 1-3-1 zone defense. You learn all of the defensive progressions, alignments, adjustments, tactics, and concepts to implement the defense with your team.
Unlike most DVDs that just teach you the high level of the defense, we have included everything you need to implement this defense with your team. It's over 2.5 hours of instruction and drills that are neatly organized for you to jump to the sections you need.
High Praise From The Top Levels Of Basketball
"I have known Will Rey for nearly 30 years. Over these many years, I have watched his teams both in practices and games, and have spent countless hours talking the game with him. Will has great insight into putting players in situations where they can not only play well together but where they can also maximize their individual skills. His teams always play unselfishly and with tremendous passion. I enthusiastically recommend his new video on a very unique approach to defense based on the 1-3-1 zone."
- Gar Forman, NBA General Manager
"I have known Coach Rey for the last 24 years and have always considered him an elite teacher of the game of basketball... He has consulted over the years with the top coaches in our game and is well respected in the NBA coaching circles for teaching all phases of the game correctly... I have studied his body of work in coaching basketball which has helped me stay in the league for the last 23 years... I am looking forward to studying Coach Rey's "31 Defense - The Disruptive 1-3-1 Zone Defense" DVD... Anything Coach Rey puts out is always 'top of the line' in coaching basketball the right way."
- Mike Wilhelm, Assistant Coach for the Chicago Bulls
"Having coached at the HS, D1 an NBA levels, I've been blessed to coach with and against some great coaches, but none better than Will Rey. Will Rey possesses incredible insight into the game and articulates the information extremely well. His creativity and thoroughness make his teachings the best on the market--this 1-3-1 defensive instructional video is no exception!"
- Ed Schilling, Assistant Coach at Indiana, Former NBA Assistant Coach
"Coach Will Rey is one of the smartest basketball minds I've ever been around. His teams' attention to detail and level of execution are second to none."
- Marty Simmons, Assistant Men's Basketball Coach at Clemson University
"Will Rey is one of the greatest teachers of the game of basketball whom I've been privileged to be around. He understands how to maximize the potential of his teams and put his players in position to be successful. His 1-3-1 defense, which has been a hallmark of his Northridge Prep teams, serves as an example of his exceptional teaching and coaching abilities. I am a far better coach today because of my time spent around Coach Rey over the years."
- Clay Nunley, Head Men's Basketball Coach at Roanoke College
Introducing…
The 31 Defense With Will Rey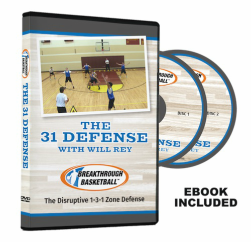 What You Will Get in this DVD and eBook Package:
Chapter 1 - Introduction
Learn about Coach Will Rey and why he is a viable source for the 1-3-1 defense. You will also get a brief overview of what will be covered in the DVDs.
Chapter 2 - Anatomy of the 31 Defense
In this chapter, Coach Rey breaks down the objectives and principles of his 31 defense. He also highlights the requirements and the responsibilities of each player on the floor and gives an in-depth look at the philosophy of his 1-3-1 defense.
Chapter 3 - Base Coverage - PLUG
Coach Rey highlights his basic coverage, PLUG, in this chapter. If coaches don't tell their players otherwise, they are in PLUG coverage. This chapter highlights where each player should be aligned on the floor. It gives an in-depth look at how each piece of the 1-3-1 defense is important, and by putting together all of those pieces, it makes for a strong defense.
Chapter 4 - Alternate Coverage: Butterfly
The 'Butterfly' coverage is highlighted in this chapter. It accommodates for good shooters on the wings against your 1-3-1 defense and highlights how your players will change their alignments to take the shooters away.
Chapter 5 - Pressure Coverage: BLITZ
A third coverage out of Coach Rey's 1-3-1 zone is his BLITZ coverage. The BLITZ coverage is used to trap and force the offense into turnovers. It also highlights how the rest of the defense has to shift to accommodate for the trap.
Chapter 6 - Special Coverages: Automatic and Changing Defenses
In this chapter, Coach Rey goes over some special coverages that he uses from time-to-time. These coverages include when the defense can automatically shift their coverage to butterfly or blitz, and changing to a 2-3 defense in the middle of a possession when the ball goes into a corner.
Chapter 7 - Defending Common Alignments
There are certain alignments that teams will commonly use against a 1-3-1 defense. Coach Rey shows you the proper adjustments against these common alignments and actions. This includes defending the 2-1-2, 2-1-2 offset, 1-4 high, 2-3 low, high ball screen, screening the middle of the zone, screening the backside wing, and screening the tail.
Chapter 8 - Extending the 31 Defense
Coach Rey's basic 1-3-1 defense is a quarter-court defense. However, the defense can be extended to pick up the ball-handlers in the backcourt. This section highlights how you can extend your 1-3-1 defense into 3/4 court, or even full court pressure.
Chapter 9 - Drilling the 31 Defense
There are three-part method drills that Coach Rey likes to incorporate in teaching the 31 Defense. These are drills that he would use early in the season, though he actually doesn't begin to install the 31 Defense until the second week of practice. He uses these drills to help isolate the movement of the various positions on the floor.
Chapter 10 - Frequently Asked Questions
In this section, Coach Rey goes over questions that he has been frequently asked over the many years that he has been coaching this 1-3-1 defense. Questions include how to guard multiple shooters on the floor, where to play smaller/less athletic players, and much more!
How to Implement the 1-3-1 Defense
The really neat thing about this DVD set is that it includes a 6 day plan to implement this defense. Coach Rey discusses his whole-part-whole teaching method, how he incorporates gym and classroom time while teaching, and providing appropriate correction through the learning process of the implementation phase.
Coach Rey gives you a detailed 6-day plan of drills and implementation techniques that will have your team running this defense effectively in no time.
Chapter 11: Closing Thoughts
In Coach Rey's closing thoughts, he highlights his influences in running the 1-3-1 zone and offering advice on watching game film to better understand your team's tendencies and what you need to work on. He closes the DVD out by thanking his past and present players and coaches for effectively implementing this defense.
72 Page Supplemental eBook
For your convenience, we have documented the step-by-step process, key teaching points, and drills from the DVDs. The PDF eBook is 72 pages.
Insight from coaches using Will Rey's 1-3-1 Defense:

Kevin from La grande, OR says:
10/5/2019 at 3:42:29 PM
Outstanding. Worth every penny. Best instructional video I've seen. You may notice it is a bit more expensive than other DVD's out there, so I was a bit hesitant at first. But after watching the DVD's and seeing coaches attention to detail, it became clear that the product is tremendous. Also, the eBook is really helpful as well. I would suggest reading the eBook first before beginning watching the videos just to help you follow along.

Jon from Camden, AR says:
10/15/2018 at 12:56:33 PM
Great product. Best 1-3-1 video I have seen.

Neal Cobleigh from westerly, RI says:
8/24/2018 at 8:39:59 AM
Excellent stuff! Coach Rey's teaching of the 31 Defense is top knotch! The descriptive terms allow teaching simplicity and execution of the defense. The adjustment section by itself would make the DVD worth buying. We have over the years run some great zone defense, the ideas presented here can only make us even better.

Mike from saint francise, WI says:
1/12/2017 at 1:59:48 PM
I have numerous dvds on 1-3-1, but this is the best. Coach Rey is one of the best coaches out there. Not only is he an outstanding coach, but a great man. The dvd provides you with versatility-whether you want to pack it in-focus on covering the three-or trap out of it. He also provides drills, implementation plans, and answer to frequent questions. I have coached zones for 20 plus years, but picked up a lot of nuggets from this. It would be great for coaches at any level. The ebook provided is also an outstanding supplement to refer to and have on hand. An A+ on this dvd.

Coach G from Blue Ridge, GA says:
9/1/2017 at 8:45:30 AM
Great video! Coach Rey does an exceptional job. I have coached for several years, but have never used a 1-3-1 defense. This video teaches it very well.
Would recommend for anyone who wants to institute the 1-3-1 zone.

David from Peachtree City, GA says:
12/25/2016 at 10:10:30 AM
This DVD offers a solid defensive scheme for those who have limited time to teach man to man defense. It can also serve as a nice supplemental defensive attack for those who are man only coaches. Coach Rey is detailed in explaining the base coverages as well as stunts that can be used to keep any offense off balance. Well worth the investment. Will Rey is a wonderful teacher of the game.
Who Should Consider this eBook & DVD Set?
This product is primarily for coaches at the middle school level and beyond. Veteran coaches will get new drills and ideas to implement this defense. They'll also get to see first hand how a successful coach like Will Rey implements his defense step-by-step.
If you are a youth coach working with players between the ages of 6 and 13, we adamantly believe that youth coaches should run man to man defense and youth players should learn fundamental defensive concepts before advancing to zone.
Instant Access
In addition to receiving the DVD, you get immediate access to the eBook and streaming video.
After completing your order, you'll get access to a password protected area where you can watch the videos and download the eBook. The streaming videos require high-speed internet and can be viewed on any computer or tablet connected to the internet.
Get Instant Lifetime Access to Will Rey's 31 Defense for Just $69

Don't Decide Now
60-Day Unconditional Money-Back Guarantee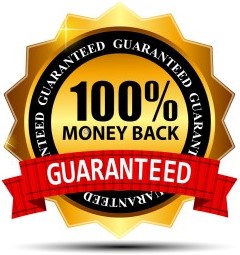 The 31 Defense With Will Rey is backed by our 60-day unconditional money back guarantee.
So take the next 60 days to go through all the videos and try them out with your team.
If you don't feel like this transforms your coaching ability and player development, just email me for a full refund.
No questions asked. No hassle. No worries.
I'm so confident this program will help you make a difference with your kids that I want to take all the risk, so that you can get started with confidence.
Click the "Join Now" button below to get Instant Access to the complete Will Rey 31 Defense program.
Once you click the "Join Now" button, you'll be taken to the "My Cart" page to review your order.
From there, simply click "Proceed to Checkout" and you'll be taken to our Secure Payment page.
Just enter your contact and billing information to complete your purchase, and we'll email you all access instructions within a few minutes so you can dig into the trainings!
Customer Reviews
Most Helpful First
Newest First
---

Coach G from Blue Ridge, GA says:


9/1/2017

at 8:45:30 AM


Great video! Coach Rey does an exceptional job. I have coached for several years, but have never used a 1-3-1 defense. This video teaches it very well.
Would recommend for anyone who wants to institute the 1-3-1 zone.

This review is helpful
1 person found this review helpful.
---

David from Peachtree City, GA says:


12/25/2016

at 10:10:30 AM


This DVD offers a solid defensive scheme for those who have limited time to teach man to man defense. It can also serve as a nice supplemental defensive attack for those who are man only coaches. Coach Rey is detailed in explaining the base coverages as well as stunts that can be used to keep any offense off balance. Well worth the investment. Will Rey is a wonderful teacher of the game.

This review is helpful
---

Leonard from Cary, NC says:


12/30/2016

at 6:03:46 AM


Very well done video. I've been using the 1-3-1 for years and own multiple DVDs on the scheme. Coach Will does a very nice job explaining the system. For a beginning coach, this is a very good video to get and worth it. For experienced coaches, you might pick up a new wrinkle or two. I got it for the drills he uses and they're good drills, but it depends on how long and how in depth your knowledge is on whether you want to make the investment. Solid addition to the video library if you ask me.

This review is helpful
---

Mike from saint francise, WI says:


1/12/2017

at 1:59:48 PM


I have numerous dvds on 1-3-1, but this is the best. Coach Rey is one of the best coaches out there. Not only is he an outstanding coach, but a great man. The dvd provides you with versatility-whether you want to pack it in-focus on covering the three-or trap out of it. He also provides drills, implementation plans, and answer to frequent questions. I have coached zones for 20 plus years, but picked up a lot of nuggets from this. It would be great for coaches at any level. The ebook provided is also an outstanding supplement to refer to and have on hand. An A+ on this dvd.

This review is helpful
---

Dave Tuengel from Chehalis, WA says:


5/12/2017

at 12:34:55 AM


I thought Coach Rey did an excellent job and presentation of the 31 defense.. I loved his attention to detail ....if you want to go to a 1-3-1 defense then this is the DVD set for you

This review is helpful
---

Michael Whiting from Sherman Oaks, CA says:


8/12/2017

at 1:11:54 AM


Great DVD!!!!!!!!!!

This review is helpful
---

Jason Greer from Hernando, MS says:


10/6/2017

at 4:46:15 PM


I think this is a great video for installing the 1-3-1. Great presentation of material. I would have liked a few more breakdown drills, but worth investment.

This review is helpful
---

Jason Lehman from Bruce, WI says:


11/10/2017

at 7:59:20 AM


I had a chance to see Coach Will speak in person at PGC Clinic. He was very good and very thorough. I expected nothing less from his DVD. I really like the DVD and breakdown.

This review is helpful
---

Neal Cobleigh from westerly, RI says:


8/24/2018

at 8:39:59 AM


Excellent stuff! Coach Rey's teaching of the 31 Defense is top knotch! The descriptive terms allow teaching simplicity and execution of the defense. The adjustment section by itself would make the DVD worth buying. We have over the years run some great zone defense, the ideas presented here can only make us even better.

This review is helpful
---

Neal Cobleigh from westerly, RI says:


9/6/2018

at 11:10:35 AM


Excellent stuff. The adjustment package alone is worth it!

This review is helpful
---

Jon from Camden, AR says:


10/15/2018

at 12:56:33 PM


Great product. Best 1-3-1 video I have seen.

This review is helpful
---

Vince Quinn says:


12/4/2018

at 8:46:41 AM


Excellent video. Very thorough and clear. I have studied 1-3-1 for awhile and I it only left me with one unanswered question.I will email the coach. Vince Quinn

This review is helpful
---

Kevin from La grande, OR says:


10/5/2019

at 3:42:29 PM


Outstanding. Worth every penny. Best instructional video I've seen. You may notice it is a bit more expensive than other DVD's out there, so I was a bit hesitant at first. But after watching the DVD's and seeing coaches attention to detail, it became clear that the product is tremendous. Also, the eBook is really helpful as well. I would suggest reading the eBook first before beginning watching the videos just to help you follow along.

This review is helpful
---

Coach J says:


4/2/2020

at 11:43:56 PM


Coach Rey gives you a clear, thorough, detailed way teach to the 1-3-1 defense. The adjustments he teaches are priceless. With his adjustments, teams can play containment, deny shooters, or go all out trapping. I also like the freedom he gives his players to make in game adjustments as they get comfortable with the defense. Plus, he is the only coach I've seen address formations other than your typical 2-1-2 offensive formation. This video will prepare you for what other teams will throw at you. He also gives you a multi-day practice plan for establishing the 31 with your team. This past year, we used the 31 Defense as a change-up to our primary half court defense = m2m defense. The stats backed up that we are a better defensive team when we run the 31. This year the 31 Defense will be our primary half court defense.

This review is helpful
---

Jon says:


9/8/2020

at 4:07:09 PM


If you know very little and want to learn the basics of the 1-3-1 zone defense this is a good program. If you already have a decent idea of the fundamentals of the 1-3-1 zone defense you might not learn a lot of new things.

This review is helpful
---

Coach from Glendale, AZ says:


12/5/2020

at 5:52:59 PM


Love this defense. Been using it almost 5 years on a middle school girls squad and we've playing in 2 championships (won one) and 1 semi-finals game in that span and I think its because this defense was easy to install and also still teaches the basics of defense. They learn to pressure passing lanes and the ball and how to play backside help D as well as getting into passing lanes. Great video, great book, loved it all.

This review is helpful
---