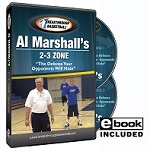 See All Reviews
Write a Review
Al Marshall's 2-3 Zone Defense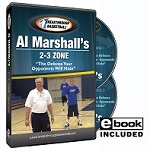 $59.00
In Stock
60 Day Money-Back Guarantee
The Defense Your Opponents Will Hate (2 DVDs, 110 minutes, 23 page eBook)
You will be emailed access instructions and passwords upon order confirmation.
Al Marshall's Aggressive 2-3 Zone Defense
"The Defense Your Opponents Will Hate!"
We're really excited to release this video set because it shares the secrets behind the best zone defense we have ever seen...
We're lucky because we live in Iowa near Al Marshall, who runs the absolute best zone defense we have seen anywhere. In fact, we hated playing against it! And I personally know many other coaches that hate playing against it too.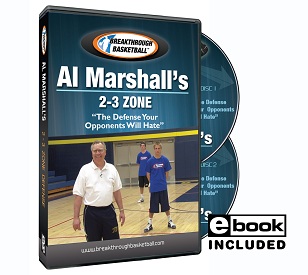 When my brother Joe played high school basketball, he HATED playing against Al Marshall's 2-3 zone because he knew it was going to be a LONG night and his team would struggle to make shots.
As coaches, we all hated playing against it. All the Haefners (Jeff, Dennis, and Joe) and all the coaches we know would say the same thing... "We have to play Cascade, I hate playing those guys. How are we going to get points??!!"
Sure we played against other zones. But nobody played it like him. I mean nobody came even close.
We never understood how Coach Marshall did it until now. Every time you played him, you never had easy shots against that zone. All your players would start rushing shots. And even when they did get open looks, the pressure was on because the shooter knew they might not get another open look for a long time. And as a result, they would usually miss. Even our good shooters just seemed to miss against them.
That's just how it was when you played Cascade.
That is why we called it the, "The Defense Your Opponents Will Hate". Because it's true. They will hate it.


Impressive Track Record
Coach Al Marshall has done pretty impressive things over the years...
Led Iowa 7 years straight in lowest points allowed per game.
738 career wins at the high school level.
Ranked 3rd for all-time wins in the state of Iowa.
45 years of coaching experience.
42 district and conference championships.
We're excited that we finally convinced him to share his secrets with us.


Comprehensive Guide to Shutting Down Any Team
In this video set, Coach Marshall reveals all the secrets to his unique 2-3 zone defense. You learn all the drills, slides, tactics, concepts, adjustments, and everything you need to implement the defense yourself.
Unlike most videos which glaze over the surface, we have included everything you need to implement this defense with your team. It's almost 2 hours long and neatly organized for you to jump to the sections you need.


The Equalizer - Now You Can Compete with and Often Beat Teams that are Better Than You
This zone defense is very unique in the way it forces teams to take hurried jump shots, keeps them off the free throw line, and takes away everything easy.
It's simple and frankly genius in the way he only emphasizes a few simple concepts in both games and practices. You will learn how to do the same thing.
It works with any talent level - good or bad. This video set will teach how to run a zone defense the right way and the adjustments that Al Marshall made to make it extremely successful for him.


Proven to Work
The Al Marshall 2-3 Zone is a proven system that works at the high school level. This is NOT theory. Coach Marshall has led the state of Iowa for the past 6 years in a row for the lowest allowed field goal average. They set a school record by holding their opponents to an average of 31.9 PPG for the season!
When you buy other videos from college coaches and you try to implement their strategies at the high school level, they don't always work. The high school game is different. That is another reason why we are excited to announce this video for high school coaches. It is a proven system to work extremely well at the high school level. You learn exactly what to do.


This is NOT a Lazy Defense
This is not one of those defenses where players just sit back with their hands up. It's an aggressive defense that is played the right way. Players need to work and it's tough!


Attention YOUTH Coaches
If you are a youth coach working with players between the ages of 6 and 13, here's our take on how this applies to you...
We adamantly believe that youth coaches should run man to man defense so their players can develop better foot speed and coordination (not to mention many other reasons). HOWEVER, if you are an experienced youth coach that faces zone defenses, we think Al Marshall's 2-3 Zone video will help you. It will help you by teaching you how to effectively run a good zone defense so you can learn how to play against it. It's impossible to run an effective zone offense without understanding the defense. And as Coach Marshall shows common zone offenses and set plays, you will get ideas on how to improve your zone offense. So even though it's a defensive video, we believe it will help certain coaches improve their zone offense.
Now if you're an inexperienced youth coach, we believe you're better served by holding off on this particular product and instead getting products like Bob Bigelow's Coaching Youth Basketball the RIGHT WAY, Coaching Middle School Basketball the RIGHT WAY, or 60 Fun Youth Basketball Drills.


Who Should Consider This Video Set?
This video is for any coach working with high school, college, or pro players. The primary target is the high school coach - both boys and girls. But we think college and pro coaches will pick up some good ideas too.
Doesn't matter which category you fit into...
Are you looking for a secret weapon?
Do you have lots of talent?
Do you have NO talent?
Do you have average talent?
If you answered yes to any of those questions, then this video set is a good fit for you. It is extremely effective with any talent level -- big kids, slow kids, fast kids, short kids. In high school you just never know what you'll get so the system is designed so that the talent doesn't matter.


Even "Man to Man" Coaches Will Benefit from This
Are you a man to man defense coach? Believe it or not, you will still benefit from this video...
In fact, I am personally a man-to-man defense coach, but I have picked up drills and concepts that I can apply to man to man and improve our defense. It also makes it easy for me to incorporate a really GOOD zone as a secondary defense, if I need to.
You can implement this as your primary defense or as a secondary defense. We think all high school coaches will benefit from this video.


What You'll Get in this Video & eBook Package
Video #1
Chapter 1 - Introduction and Keys to a Successful Zone Defense
Why the Al Marshall Zone works.
The 3 critical goals that drive your defense.
The 3 critical principles you need to emphasize to make the defense effective.
Who should use the zone defense.
Chapter 2 - Initial Setup and Basic Slides
Whiteboard and on court demonstrations.
Basic slides and positioning.
How to handle various passes and situations.
How to handle screens and movement.
How to cover the short corner and high post.
Keys to a quick defense.
How to take away the easy shots.
Chapter 3 - 12 Drills to Build Your Defense
Drills to develop quickness and anticipation.
Drills to keep players in their stance.
Close out drills.
Situational drills.
Overload drills.
All the drills that Al Marshall uses to build his defense.
Chapter 4 - The 2-3 Zone in Action
Live demonstration of the zone defense.
Key teaching points.
See how the defense comes together, takes away easy shots, and frustrates the offense.
Video #2
Chapter 5 - Common Offenses & Teaching Points
Learn how to defend various offenses like 4-out 1-in, short corner, and so on.
See Coach Marshall make corrections and teach in a practice environment.
Learn key teaching points and tips to make your zone defense more effective.
Chapter 6 - Defending Set Plays
Learn how to defend against set plays.
See how Coach Marshall defends the common set plays that he runs into.
Chapter 7 - How to Make Adjustments
One of the keys to their success is making adjustments. Learn how Al Marshall makes defensive adjustments.
Learn how to make in-game adjustments.
Learn how to make adjustments based on your personnel.
Learn how to make adjustments based on your opponent.
Learn how to adjust your zone to accommodate athletic guards.
How to stop great shooters.
How to stop great post players.
Alternate coverages for you to consider.
How to extend the zone and apply more pressure.
Chapter 8 - Q & A with Al Marshall
Find out the keys to his success.
Learn how your offense can affect your defense.
Learn how to get players to buy in.
Learn how to incorporate the defense into your own program and situation.
Keys to getting a competitive edge.
Chapter 9 - Closing Thoughts
Final words of wisdom.
What you should do next and incorporating the defense in your program.
Approx. running time is 110 minutes.
23 Page Supplemental eBook
For your convenience, we have diagrammed the 12 drills included in the Al Marshall 2-3 zone video and documented a step-by-step process for you to implement the zone defense.


Instant Access
In addition to receiving the DVDs, you get immediate access to the eBook and streaming videos.
After completing your order, you'll get access to a password protected area where you can watch the videos and download the eBook. The streaming videos requires high speed internet and can be viewed on any computer or tablet connected to the internet.


60 Day Money Back Guarantee
Just like any reputable bookstore or retail business, we have a 100% money back guarantee too.

If for any reason, your purchase is not what you expected, just send us a message and we'll give you a full refund. No questions asked.


Once you click the "Join Now" button, you'll be taken to the "My Cart" page to review your order.
From there, simply click "Proceed to Checkout" and you'll be taken to our 100% Secure Payment page.
Just enter your contact and billing information to complete your purchase.
If you'd like to order by telephone, call us at 1-866-846-7892 (toll free).
If you have any questions, don't hesitate to contact us.


Customer Reviews
Most Helpful First
Newest First
---

Carlos Lopez from Pueblo , CO says:


10/12/2011

at 1:52:32 PM


I have purchased every zone defense book and video out there. Coach Al Marshall's video is the best I have seen. The past videos that I have purchased did not explain how to defend the short corner. Coach Marshall explains this in detail and shares different ways to make adjustments in the short corner. He also explains how to defend different quick hitters. I believe the only thing left out was defense transition into the Zone. Everything else was accomplished. You will not be disappointed!

This review is helpful
2 people found this review helpful.
---

George Steyer from Medina, OH says:


10/18/2011

at 3:37:24 PM


I started coaching high school basketball in the early '70s and have used a wide variety of resources since then -books, articles,audio tapes, video tapes, DVD's, etc. Many times I was disappointed in the resource and felt it was a waste of my time and money. Coach Marshall's DVD does not disappoint you -it is everything the promo promises it will be! It is one of the best resources I have seen in my coaching career. Coach Al gives you everything you need in an easy to follow step-by-step format to incorporate the 2-3 zone with your team - philosophy, drills,slides, adjustments for different offenses, varations of the zone, etc.

This review is helpful
2 people found this review helpful.
---

Coach Ramsey from Hugoton, KS says:


10/14/2016

at 12:28:46 PM


The coaching staff for the Hugoton Lady Eagles purchased this DVD back in the fall of 2012 and started using the 2-3 zone defense. The drills are exceptional in teaching the players how to move within the zone and once the players understood how it works the results have been unbelievable... 81 wins over the last 4 seasons against only 14 losses! Also won the Kansas 4A Div 2 state championship in the 2015 season and finished 3rd in 2016 season. GREAT DEFENSE!

This review is helpful
2 people found this review helpful.
---

Allen says:


10/3/2011

at 12:46:34 PM


This is a great defensive system dvd. It covers more than you would need to put in the 2-3 zone. The video has grea detail in teaching and does not just gloss over the material leaving you wanting for more. The way shooters struggle in todays game and every kids wants to dribble the ball this defense stops that. Great product!!

This review is helpful
1 person found this review helpful.
---

Van says:


10/3/2011

at 3:14:27 PM


This DVD package is very thorough and informative. Al does a nice job presenting the defense, how he breaks it down into positions, and drills, and adjustments he may make to a variety of offenses and plays. The DVD and ebook packaged together give you a very good idea of how Cascade runs their 2-3 Zone. It is not a clinic setting. Al uses his own players and the information he presents is easily understood and complete. A great addition to any library!

This review is helpful
1 person found this review helpful.
---

Rocky Verbeck from Chewelah, WA says:


10/16/2011

at 5:08:20 PM


This dvd did a good job of showing drills to teach the 2-3 zone. The drills broke down the shifts and bumps. I liked the 1-1-3 set up as another twist. Well presented!

This review is helpful
1 person found this review helpful.
---

Michael from Corydon, IN says:


4/22/2014

at 3:24:09 PM


I think this is one of better videos I have purchased over the years. Coach Marshall dud a very good job presenting common movements, rotations, slides, drills, and outlined how his teams played against certain offenses. The one knock, which would have made this the perfect DVD for me, would have been an explanation of how the defense rotates for rebounding purposes. Overall impressed!

This review is helpful
1 person found this review helpful.
---

Terrance Rone from Granville, NSW says:


10/26/2011

at 4:38:22 AM


Great active zone defense.

As a coach that does not like playing zone, will definitely introduce this zone into my defensive schemes.



This review is helpful
---

Gary Mahe from Sheridan, OR says:


11/16/2011

at 5:22:05 PM


A great resource for teaching the 2/3 zone defense. Very complete with tips that are usable. A comprehensive look at the 2/3 zone and some variations that coaches will appreciate.

This review is helpful
---

tim from Erlangen, None says:


12/10/2011

at 3:39:03 AM


hi, who would you defend a situation with a player in the coerner, short corner, wing and highpost all ballside. the fifth offensive player is flex position weakside.
the offense starts with 4 out 1 in (highpost). the wing passes to the corner and cuts to the short corner.
the weakside flex player fills the wing spot ballside and the weakside cornerplayer fils the weakside flex spot.
greetings tim

This review is helpful
---

Johnny Griffith from Exeter, NH says:


12/10/2011

at 7:47:24 AM


This is a terrific DVD set. The teaching of the 2-3 itself is not that different from what you'll see in, say, Jim Boeheim's videos, etc. What really sets this DVD apart is the clarity of the teaching and, even more so, the breakdown drills that Al Marshall so clearly illustrates with his players. More than any other DVD I've ever seen, Al takes the time to break things down clearly and coherently and doesn't leave you wondering how he teaches his players the progressions or how he breaks the defense down into its composite parts.

I highly recommend this for any coach interested in installing and running a 2-3 zone.

This review is helpful
---

Coach H from Howard, OH says:


3/7/2012

at 2:39:11 PM


Love the Al Marshall's 2-3 Zone DVD. Outstanding! I love the drills and the examples. Very thorough. I can't wait to work with my team and incorporate this system. This is one of the best defensive DVDs I have seen.

This review is helpful
---

Doug from Clive, AB says:


3/10/2012

at 4:18:06 PM


I think Coach Marshall does a really good job of explaining and teaching the 2-3 zone. I found it was easy to take his system and put it into practice.

This review is helpful
---

Craig from Woodberry Forest, VA says:


6/19/2013

at 9:38:40 AM


Outstanding video. Coach Marshall has done a great job outlining and explaining the drills & concepts. I plan to use this defense this season and can't wait to install it! This is a must buy product!

This review is helpful
---

Stuart Schultz from Fredericksburg, TX says:


4/24/2014

at 7:20:51 PM


Al does a wonderful job explaining the defense. I can see why he is so successful with his eye for detail in explaining how the defense is supposed to work. It is the little things that Al does.
Great video!

This review is helpful
---

Mark Elers from Rotorua, None says:


4/27/2014

at 4:15:32 PM


Great DVDs, i am going to implement with my team, I like how they is always pressure on the offense and no easy baskets. Al does a good job of getting the information across and doesn't leave you guessing

This review is helpful
---

cobalt187 from Vienna, VA says:


4/30/2014

at 2:54:08 PM


To anyone looking to improve their 2-3 Zone defense I've found this to be an exciting find. Although I've ran a 2-3 for the last few seasons I did not realize how much I was missing to make it more effective against overloads and big guys sliding on the free throw line.

Just the boiler plate basics explained simply, but in greater detail, helped my defense understand exactly why they were doing what they were doing and when to do it.

This has really made our team and tougher team to score on, which is a must if you are shy on good shooters. It made our defense better because it really works on pushing offensive opponents to one side, pinning them there and forcing teams into taking low percentage shots.

I have no doubt if you are new to the 2-3 or have been running it for years you will learn something from this.

Five Stars + and well worth my money..

This review is helpful
---

Dave from Frostburg, MD says:


9/21/2014

at 9:15:49 AM


Excellent DVD Easy to understand 5 star


This review is helpful
---

William hugg from Dresher, PA says:


3/3/2015

at 6:13:30 PM


Good-however have found that many coaches instruct their players to spread the arms and hands on defense instead of hands straight up.Please comment.

Also the three point shot has changed the game.Would like to see comments on defending the 3 point shot in a game in a man to man situation.(besides the press 100 percent of the time).

Sincerely,Bill Hugg

This review is helpful
---

Craig from Maricopa, AZ says:


8/22/2015

at 11:12:06 PM


One of the best videos ever on 2-3 zone. Simple, reproducible each year and real relatable drills. It's the go to for high school 2-3.

This review is helpful
---

Danny from Elmwood PArk, NJ says:


2/6/2016

at 3:12:43 PM


I coach a 6th grade travel girls team in our second year. To keep us competitive, I use the teachings in these DVD's 15-20 minutes each practice. The results in games are unbelievable and I have received many complements from coaches, parents and refs on our defensive play. I have begun to teach man on man concepts to the team to help in there development ,but use the 2-3 as a fall back as we learn. I recommend most Breakthrough basketball DVD's but I highly recommend Coach Marshall's 2-3 defense.

This review is helpful
---

Coach R says:


8/12/2016

at 12:29:31 AM


Coach Marshall does an outstanding job is his presentation, his organization and progression of teaching his 2-3 zone defense. 1st rate, I highly recommend this DVD to rookie or veteran coaches from youth to pro.

This review is helpful
---

Coach P says:


10/14/2016

at 11:30:01 AM


Great DVD! I have always ran a 2-3 zone but after watching this and using the drills and tips my teams defense has improved greatly. Every coach should watch this DVD.

This review is helpful
---

morrie cook from Baron Heads, Vic says:


10/24/2016

at 12:16:55 AM


Content excellent - would have liked to see a little more on the correct defensive stance.

DVD are old technology these days. Delivery via computer/internet would be beneficial and would enable the information to be viewed on a tablet or lap top.

Unable to access the e book as lap top does not have a disc drive.

This review is helpful
---

Steve says:


10/24/2016

at 6:47:55 AM


Pretty basic info. I consider a video or clinic worth my time and effort if I can pick up 2 or 3 things to incorporate. I would say I got that out of this video. Would be real good for someone who has no knowledge of this defense.

This review is helpful
---

james cratin from havertown, PA says:


10/27/2016

at 4:28:14 AM


Helpful tips and drills to improve your teams overall defense.

This review is helpful
---

Tay from Cincinnati, OH says:


10/29/2016

at 11:40:09 PM


Great DVD. Very informative and exactly what I was looking for.
He gives you drills to implement, explains in great detail and gives you the adjustment you would need to make.


This review is helpful
---

Kent Smith from Walsenburg, CO says:


10/30/2016

at 12:05:49 PM


Excellent DVD - well organized and explain. The on the court demonstrations are very good.

This review is helpful
---

Kevin G. Caballero from Denham Springs, LA says:


11/1/2016

at 11:14:51 AM


Information on the disk is very good. However, often the video begins to break up and the disc must be stopped and restarted. I thought it could be the computer, may well be, but I am not having trouble with any other disk.

This review is helpful
---

Jerald Crowley from Morganton, NC says:


8/15/2017

at 6:12:30 AM


I purchased this DVD last year before the beginning of my season. I coach a girls team at a deaf school. Yes, you heard that right...DEAF school. Al Marshall really broke down the drills and the defense in an effective way. I was stunned how my girls with little or no basketball skill turned into a seasoned veterans and attacked their opponents like a rabid dog. We entered our annual tournament as the smallest team with only 6 girls and our tallest girl was only 5'9. We nearly knocked off teams twice our sizes. People couldn't stop praising my girls for their aggressiveness on defense. But I had a secret...it was All Marshall's defense!!

This review is helpful
---

Scott Raper from Oklahoman City, OK says:


10/8/2017

at 11:16:26 PM


Great job of teaching the zone. Coach does a good job of the daily breakdowns. Worth the money.

This review is helpful
---

Ernie says:


1/5/2018

at 10:31:34 AM


I did not really like the video. It just talks about the slides and drills he uses. I already use those. I was hoping for more ideas on trapping and the corresponding drills and coaching points he might use. Disappointed.

This review is helpful
---

Bruce Aulabaugh from MAYLANDS, WA, 6931, WA says:


1/11/2018

at 6:12:51 PM


Thanks Al Marsh and Breakthrough Basketball!
I'm giving 5 stars on the basis that the material that is included is top quality and the best 2-3 zone defense discussion and demonstration that I've seen in a single package.

Having said that, I also would have like to have seen the following included (in a second edition, perhaps?):
a) some short clips of game footage showing the zone in action against 'full, live, zone offenses featuring good perimeter shooters and some good post players'; and
b) some demonstration of the 221 press being used in defensive transition leading to the 2-3 half court zone play.
Thanks and regards
Bruce Aulabaugh

This review is helpful
---

MICHAEL MEEHAN from NORTHAMPTON, MA says:


8/18/2018

at 6:33:06 PM


AL MARSHALL SHOWS HOW TO RUN THE 2-3 ZONE DEFENSE VERY WELL IN THESE DVDS. AL MENTIONS THE KEY POINTS IN THESE DVDS BUT I WILL TALK ABOUT TWO THAT WEREN'T MISSED BY AL BUT ARE BY MOST TEAMS TODAY. THE FIRST IS THE NECESSITY OF THE HIGH HANDS! YOUNG PLAYERS FIGHT HIGH HANDS ALL THE TIME. I WAS GLAD TO SEE COACH MARSHALL HAS A FEW DRILLS FOR HIGH HANDS AND STRESSES THE POINT WITH HIS PLAYERS.
THE SECOND POINT THAT INTERESTED ME AND SHOULD INTEREST OTHER COACHES, IS HOW COACH MARSHALL PACKS THE GUARDS IN THE PAINT WHEN THE BALL GOES LOW.. MANY COACHES DON'T DO THIS AND THEN WONDER WHY THE OFFENSE IS GETTING SO MANY SHOTS FROM THE HIGH PAINT! I THINK COACH COULD HAVE EMPHASIZED IT A BIT MORE BUT IT IS OBVIOUS ON THE DVD FOOTAGE.
I ALSO LIKED COACH MARSHALL'S DRILLS FOR USE IN BOTH MAN AND ZONE DEFENSE.


This review is helpful
---

Craig Lundberg from Lovell, WY says:


2/22/2019

at 12:27:43 PM


Great videos!!! I love the breakdown of the slides. I also love the fact that Coach Marshall is using his own kids to show the defense. I have purchased a lot of instructional videos and this is by far one of the best that I have purchased. It is definitely worth the money. I would give it more stars if I could.

This review is helpful
---

Fred Priester from Fairfax, VA says:


9/17/2019

at 4:46:06 PM


Solid teaching video with good information about the 2-3 . Good emphases on stance and high hands and sprinting to coverage as well as help and recovery. Good coverage of how to handle specific zone attacks. I favor more ball pressure than was shown in order to limit the possibilities of skip passes.

I wonder how he would cover some things that we see often:

First: 5 - out ( all shooters) with weak side flashers to the high post and/or short corner;
Second: 5 out with wing through action on the pass to the corner and rotation on the perimeter

This review is helpful
---