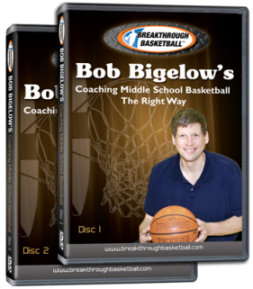 See All Reviews
Write a Review
Bob Bigelow Coaching Middle School Basketball the Right Way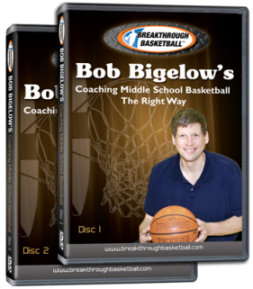 $59.00
In Stock
60 Day Money-Back Guarantee
(2 DVDs - 3 Hours and 10 Minutes)
DVD 2-Pack -- Coaching Middle School Level Basketball the Right Way - Focusing on Fundamentals, Proper Technique, and Developmental Drills
Dear Basketball Coach,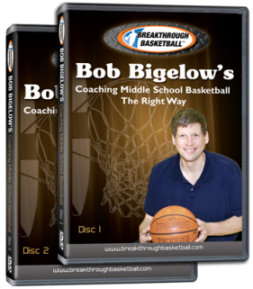 In this two DVD set Bob Bigelow takes you through a variety of drills, fundamentals, and teaching points specifically targeting coaches that work with players around the 5th, 6th, 7th, and 8th grade levels.
In some cases, this DVD set will also apply to intermediate and advanced 4th and 5th graders or beginner 9th graders. But generally speaking, the content is intended for coaches working with typical 5th, 6th, 7th, and 8th grade basketball players.
Here are a few things you'll get from this 2-DVD set:
Warm up drills and techniques.


Body control tips, tactics, and drills. Learn how to reduce turnovers and score more points by improving your players' body control and footwork skills.


Footwork. Learn how to teach footwork, reduce traveling, and improve your players' offensive footwork skills.


Dribbling fundamentals, tips, and drills. Learn a variety of dribbling drills and techniques that work well with middle school level players.


Passing and catching tips, techniques, and drills. Learn some new twists on old drills that allow you to get more done, keep players engaged, and multi-task skill development.


Shooting tips, techniques, and drills. Learn when to teach the jump shot, common myths about shooting development, how to improve shooting percentage, and some new drills.


Rebounding tips, tactics, and drills. Learn how to get their attention and convince 6th, 7th, and 8th graders the importance of rebounding and blocking out.


Individual offense, moves, and footwork. Learn how to teach footwork and foundational moves to middle school level players. Learn the proper technique, fundamentals, and key teaching points.


Team offense. Learn basic offensive principles, the right way to teach offense to young kids, and a simple yet effective offense for you to teach.


Post play fundamentals, technique, and drills. Learn the basic moves you should teach young post players and some simple drills to hone their skills.


Practice planning tips - get players more touches and learn about the "thousand touch practice".


Overall there are 50+ drill variations and 190 minutes of footage in this 2-DVD set.
Who is Bob Bigelow?
Bob is a world-renown expert on youth sports and coaching youth basketball.
Former 1st Round NBA Draft Pick.
Played for the Kansas City Kings, Boston Celtics, and San Diego Clippers.
Played for three Top 20 teams at the University of Pennsylvania (Penn).
Played at Penn for Basketball Hall of Fame Coach Chuck Daly - the Coach of the 1992 Olympic Gold Medal "Dream Team".
Conducted over 2500 Talks and Clinics on Youth Sports and Basketball since 1990.
Bob has studied youth sports and youth basketball for the last 20 years and he's a world-leading authority on the subject. His focus is on coaching youth basketball the RIGHT WAY.
His approach is focused on what is best for the players and their future development. Unfortunately, few youth coaches know how to do this or have the expertise to properly handle the unique challenges of developing youth basketball players. In this new DVD, Bob shares his knowledge so we can all develop better players.
If you would like to buy in bulk, please
contact us
for special pricing.
60 Day Money Back Guarantee
Just like any reputable bookstore or retail business, we have a 100% money back guarantee too.
If for any reason, your purchase is not what you expected, just
send us a message
and we'll give you a full refund. No questions asked.
"Claim Your Copy Now"
If you'd like to order by telephone, call us at 1-866-846-7892 (toll free).
If you have any questions, don't hesitate to
contact us
.
Customer Reviews
Most Helpful First
Newest First
---

Steve Phillips from Severna Park, MD says:


3/24/2011

at 6:03:21 AM


This is exactly what I was looking for. The variety of drills to build fundamentals that are presented will let me spend time on those skills without boring the kids to tears.

I especially liked the shooting and passing drills. At this level, kids have all kinds of shooting styles. Building on the one-handed shot right in front of the basket lets them get a feel for how to do it right and then extend out from there. The passing drills are challenging enough to engage all levels of players.

I have ten years experience coaching kids from 8-15 years old, and would recommend this video to every coach at this level.

This review is helpful
5 people found this review helpful.
---

Jim Davis from NEW CUMBERLAND, WV says:


3/24/2011

at 7:43:39 AM


Although pitched as a "middle school" instrutional video, this is an excellent resource for high school coaches also. I note that in the video he states he uses these drills with his high school team. I can see why as the drills work on balance, passing, pivoting etc. and can be used to improve just about any player. I have coached players from 7-18 years of age and currently coach high school girls. These drills will help improve any player I have ever coached.

This review is helpful
3 people found this review helpful.
---

Donald Johnson from Douglasville, GA says:


3/24/2011

at 9:18:33 AM


Excellent!! I have already began to use these drills, and the kids are responding. The pivot and pass drills, along with the balance drills really reinforce what I am trying to get accomplished with my girls.

This review is helpful
1 person found this review helpful.
---

David Frey from LIVERMORE, ME says:


3/25/2011

at 6:50:04 AM


The videos were awesome,many of the drills can be used at all levels.The drills in the videos are many of the drills i use in my practices.I would tell all coaches it's a great investment to purchase both videos.I was very impressed.All fundamentals of basketball are covered in the videos.

This review is helpful
1 person found this review helpful.
---

Scott says:


4/3/2011

at 7:35:43 PM


Great video set. I have a large library of basketball videos, but this is set is one of the best, offering some awesome drills and some very good fundamental concepts which are key to successful basketball teams. Great job Bob Bigelow, your a terrif instructor!!!!

This review is helpful
1 person found this review helpful.
---

Dan Covey from Oklahoma City, OK says:


3/24/2011

at 8:25:18 AM


Finally, some DVD's specifically for Middle School. This was a big help in breaking down the fundumentals for the age group I coach. It also reinforces me movement towards fundamentals over winning at all costs.

This review is helpful
---

Dan B. from Southborough, MA says:


3/24/2011

at 10:11:14 AM


Great videos, the drills are really age appropriate. Definitely recommend.

This review is helpful
---

Bob Wieberg from Jefferson City, MO says:


3/24/2011

at 11:03:06 AM


These are great videos. They really do a good job of going through the key fundamentals that the kids need to improve as players. They are right on the money for middle school kids. I can't wait to get the kids back on the court and run them through some of these drills.

This review is helpful
---

Shep Guyton from Myrtle Beach, SC says:


3/24/2011

at 1:13:37 PM


Good content. Enough variety in all of the fundamental drills to give everyone something to work with.

This review is helpful
---

Sebastian from Bethesda, MD says:


3/24/2011

at 1:57:21 PM


I liked these videos very much. Plenty of content with strong emphasis on the fundamentals but with some creative wrinkles in a numbe of the drills. I really like the passing drills which focus on hand-eye quickness and wrist-arm strength to get kids to make much crsper passes.

This review is helpful
---

Marcel from Doncaster, Vic says:


3/24/2011

at 6:05:17 PM


Solid basis for good players are taught clearly and with good timing.

Many of the drills can be used or modified for ALL levels of basketball players. These drills will help my players be effective players.

- A well produced DVD product.

This review is helpful
---

Bobby Bishop from Fayetteville , TN says:


3/26/2011

at 1:46:27 PM


The videos were extremely informative.I really liked the reinforcing of the fundamentals of all the drills and how it transitions into game situations.It provided great insight and will add some fun to our practices.A great educational tool.

This review is helpful
---

Rich Williams from Ellicott City, MD says:


3/26/2011

at 2:25:10 PM


This is a great DVD set. Bob does a great job of showing what to teach this age group as well as why to teach it. I highly recommend it to all middle school coaches and parents.

This review is helpful
---

Bruce Aulabaugh from Maylands, None says:


4/2/2011

at 4:06:02 AM


Loved the videos. Well done Bob and well done to Breakthrough Basketball for distributing them.

This review is helpful
---

Jose Gonzalez from SPRINGFIELD, OR says:


12/9/2011

at 2:47:47 PM


I am very pleased with the content in these DVD's. The drills and concepts in these DVD's has helped me as a coach and more importantly helped the kids understand the basic fundamentals which will build the foundation for their basketball futures. I coach 7th grade boys who have been playing for up to six or seven years and I can see immediate positive results from the drills and concepts of the DVD's. What it really builds in the boys is confidence and that to me is priceless.

This review is helpful
---

Daniel Freeman from Charlotte, NC says:


12/9/2011

at 3:06:04 PM


It amazes me how coaches present all these dribbling drills and very little info on how to do them. I enjoyed most of side one. I liked most of his passing drills provided you have enough balls. To me his rebounding phase was weak. No foot movement, no hand and arm position. The offense left a lot to be desired also. Jerry krause puts out one that is much better, in my opinion.

This review is helpful
---

Michael Mulholland from Picnic Point, NSW says:


12/9/2011

at 6:21:45 PM


I seriously have problems with this dvd. It is the biggest waste of money I have ever spent. If I did not live in Australia I would have returned it within the first few days. I have never enjoyed a 'talk' video. I much prefer the 'do'. There was no correction of the players when they were obviously performing the fundamentals incorrectly and very little team concepts. I am a huge fan of Jamie Angeli and to be honest this dvd just doesn't rate in my estimation.

This review is helpful
---

Tim Snow from Sanbornton, NH says:


12/15/2011

at 10:29:31 AM


VIdeos were very good - alot of useful information. Would like to see offensive sets run against a live defense in the videos for future reference. Had our 1st middle school "B" team game last week after using video information during the weeks of practice leading up to the game, good results.

This review is helpful
---

Jason Murillo from antioch, IL says:


12/19/2011

at 7:46:53 PM


This video is great for what it's target audience is, middle school players. Basics fundamentals and ball touches. I am relatively new to coaching and I know almost all of these drills. This video gives me a format to better use these fundamentals. I've even let a few of my player watch the video. Youth players aren't perfect or fully developed. Bob's video helped me build a repetitive regimine for my boys and girls to learn from. Well worth the money I spent.

This review is helpful
---

Bob Crotty from Boerne, TX says:


1/10/2012

at 3:54:54 AM


Excellent. Kids at this age need to learn fundamentals and Bob does a terrific job in teaching the basics. The drills are great.
One of the subtleties that we coaches can learn from, is the rapport that Bob develops with the kids. That establishes a teaching / learning environment that facilitates, and accelerates the process substantially. It helps the kids learn better and faster. Good stuff!

This review is helpful
---

Joe P from Downers Grove, IL says:


1/11/2013

at 11:48:29 AM


Bob - Not only was it a pleasure talking with you, your videos are great. I really like the drills and they are definetly helping our team with thier individual growth and progress.

Thanks once again and looking forward to more videos in the future.

This review is helpful
---

Kirk Carolan from Huntington Woods, MI says:


1/11/2013

at 1:11:52 PM


The videos are very good! I've always believed developing fundamental skills will help younger players master any basketball concepts as they continue to play. Bob's videos keep things very simple for coaches to use and kids to understand. The bottom line is that the information in the videos makes sense for kids to be successful in the game of basketball. My 5th grade girls have done very well with the things we have introduced from the videos. I'd recommend them to any youth or middle school coach.

This review is helpful
---

TJ Smith from Clifton, VA says:


4/3/2013

at 4:46:38 AM


Simply put, great job on the video.

This review is helpful
---

Phil Joyal from Lyndonville, VT says:


3/15/2014

at 11:33:08 AM


The material in the dvd is solid and I would highly recommend this dvd for a novice coach or a youth coach looking to find a way to teach the basics. This is not a dvd for advanced middle school coaches/players or high school coaches. The material is very basic.

This review is helpful
---

Edward, NC from Goldsboro, NC says:


4/29/2014

at 1:05:14 AM


The dvd can be used by any middle or high school coach teaching fundamentals to non skilled players. I coach varsity girls and they have not been taught any of the fundamentals in this video and they are now in high school. They come directly from middle school to varsity (no JV team) without any of the skills. As ninth graders you are teaching basic footwork, dribbling, and shooting skills.

This review is helpful
---

Tomas from Kaunas, None says:


9/12/2014

at 2:13:53 PM


Very helpfull material. Bob talk about very fundamental things and show certain drills. Because without right fundamentals players have problems in high school or higher level basketball. I`m working with 1-4 gr.group, with 5th gr.advanced and with 16-20rs. and can tell, in last group is more difficult fix mistakes, stance or wrong dribbling, passing or shooting, and other things, then teach guys in 5gr. in right way. Thanks Bob for right way DVD series.

This review is helpful
---

Lee from Seattle, WA says:


2/26/2016

at 7:19:17 PM


Good drills for kids this age

This review is helpful
---

jim from bremerton, WA says:


7/9/2016

at 11:38:37 PM


Seattle, Washington,

Quite frankly, this guy understands basketball and what he's teaching all the way through the program. I would recommend it to the level he says it is for, very highly. We need more teachers like him in all areas of this game. Tell him thanks , the next time you see him.

Jim

This review is helpful
---

Alon Noy from jerusalem, None says:


8/2/2016

at 11:19:31 PM


This is exacly what i needed.
Im going to use everything in this videos.
Thank

This review is helpful
---

Linda Baron from Coaldale, AB says:


11/24/2016

at 11:47:32 PM


Just received. One disc sliding around loose because container is damaged. Will try DVD hope it is not damaged.

This review is helpful
---

Richard says:


12/11/2016

at 9:49:48 PM


I bought this in hopes of learning a lot of new drills, and feel at this price I should've. However, after purchasing this and 2 other dvds at the same time was a mistake. A lot of the same type stuff was mentioned. What I disliked the most was all the time spent on Bobs opinions on what should and shouldn't be done in youth basketball. Maybe my expectations were higher based on the amount paid for the 3 dvds. I actually found a YouTube video with more drills and no extra talking. All in all, if you know nothing about basketball, you should get one, but don't buy more than one. He knows his stuff, it's just the same stuff over and over it seems.

This review is helpful
---

Chris Princing from Hemlock, MI says:


1/31/2017

at 8:41:44 AM


As a first time coach of 4th and 5th graders, I knew nothing. Sure I played basketball, 30 years ago. Sure I watch hoops on TV and still follow college ball, but I knew nothing about how to teach young kids how to play.

So I hit Google and the name that kept popping up was Bob Bigelow. So I did a little research on him and found out that he has some beliefs regarding kids that I also shared, so I bought the first DVD, coaching Youth Basketball the Right Way.

I figured, why re invent the wheel. Well Bob invented some fun ways to keep the kids interested. My group in particular is 9-10 year old girls, half of who never played before. By practice three, we had them all shooting and making layups! Dribbling with both hands! Now granted, these kids are not ready for the WNBA yet, but you would be shocked at the improvement in each of them and now we are 5 practices in.

Don't re invent the wheel, use Bob's DVD's as your base, and then you can add other drills and plays as you progress.


This review is helpful
---

Jennie M from Boise, ID says:


2/1/2017

at 12:53:20 PM


New in coaching Middle School. The videos are great and have exactly what I needed. I think it covers about everything so far. Very happy with the product! Thanks for putting all together in one place!



This review is helpful
---

Mike C from Oakland, CA from San Leandro, CA says:


2/1/2017

at 1:53:20 PM


These videos are great for giving coaches a solid foundation on which to teach the fundamentals of basketball. I used Bob's Coaching Youth Basketball for 4th and 5th grades and had great success. We will see how the kids react to these middle school principles. With hard work and a little luck we'll hang another banner in the gym. Thanks Bob.

This review is helpful
---

Gary Tipton from Stow, OH says:


4/18/2017

at 8:15:14 AM


Excellent DVD for coaches working with grade or middle school kids. the drills displayed are first rate combining skill development, variety and fun. Can be used as a practice planning tool as well. Highly recommend.

This review is helpful
---

Christopher from Kingston, WA says:


7/6/2018

at 1:19:41 PM


I liked the basic fundamental approach to the game in the videos. I felt Bob presented important skills that children and teens need to build upon to develop into well-rounded basketball players.

This review is helpful
---